The Johnson Center in partnership with the Alabama Policy Institute is examining occupational licensing. Occupational licensing imposes mandatory professional requirements on individuals seeking entry into a profession. Over time, licensure requirements have been extended to cover more and more occupations, and can include educational and experience requirements in addition to a wide assortment of fees.
Our first study is The Costs of Occupational Licensing in Alabama and was released in March, 2018. Given the extensive burdens that occupational licensing can impose on vulnerable groups as well as the general population, it is important to carefully monitor the extent and cost of licensing. This is especially true in a low income state like Alabama. This study provides a comprehensive review of the current state of occupational licensing in Alabama and provides an estimate of the burden it places on Alabama workers and consumers.
Study highlights include:
Licensing reduces economic mobility, restricts the right to earn a living, and raises prices for consumers.
Alabama currently licenses 151 occupations, covering 430,000 workers or 21 percent of the state labor force.
Practitioners paid an estimated $122 million to the state in initial licensing fees, and another $45 million annually to renew licenses.
The education and training costs for current practitioners amounted to $65 billion, while continuing education requirements cost another $243 million annually.
Click on the image below for the full report.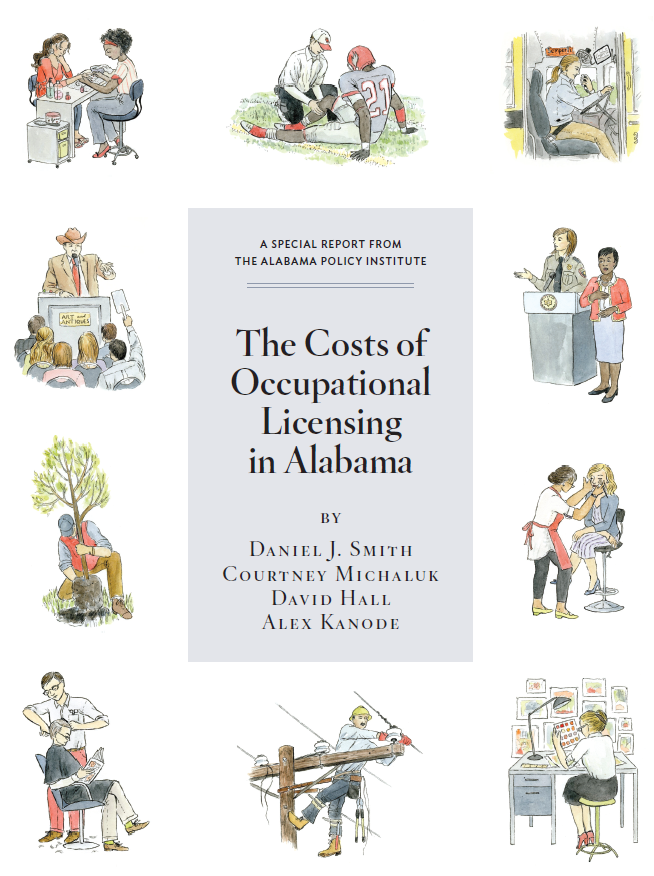 The Johnson Center's Econversations television show has featured two episodes on The Costs of Occupational Licensing in Alabama. Here Johnson Center policy analyst and study author Courtney Joslin discusses occupational licensing restricts mobility and employment freedom of Alabamians and how licensing in Alabama compares with other states.
On this show, Dr. Daniel Smith talks about the estimates of the costs of licensing in Alabama.