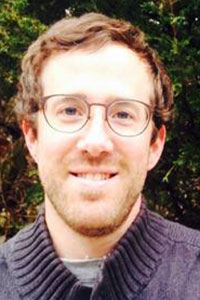 Luke Ritter
Lecturer
TROY University
Troy, Alabama 36082
McCartha Hall 200B
Telephone:
1-334-808-6506
Education:
B.A. Lindenwood University-St. Charles, Missouri
M.A. Saint Louis University
Ph.D. Saint Louis University
Areas Expertise
Nineteenth-century U.S. history with special interests in ethnicity and immigration, religion and politics, and the West
Biography:
Dr. Luke Ritter is the author of numerous peer-reviewed articles and book reviews. His first book, Inventing America's First Immigration Crisis: Political Nativism in the Antebellum West, is forthcoming with Fordham University Press in the fall of 2020. Why have Americans expressed concern about immigration to the United States at some times but not at others? In pursuit of an answer, Ritter's book examines America's first nativist movement. As most studies on nativism have focused on the coasts, historians have not yet produced a complete explanation for why Midwesterners joined the ranks of the National American, or "Know Nothing," Party in such great numbers in 1854 and why the nation's bloodiest election-day riots erupted in Midwestern cities – namely Chicago, Cincinnati, Louisville, and St. Louis. Cultural issues and the potential increase in immigrant voting power intensified economic-related resentment among the native-born population and resulted in the large-scale outbreak of political nativism in 1854. Political nativism, the exception, replaced tolerance, the rule, when people panicked that assimilation, conversion, and economic progress were not happening quickly enough. Political nativism manifested as a way to pressure immigrants to adopt American values more dependably and at a quicker rate. Nativists seized the reins of political power at the national level for only a few years in the mid-1850s, but they never gave up on their main ploy. The conclusion reflects on some lessons that might be applied to more recent bouts of anti-Asian, anti-Latinx, and anti-Islamic sentiment in American politics.
Courses Taught at TROY:
His 1101, Western Civilization to 1750
His 1102, Western Civilization since 1750
His 1111 U.S. History Before 1877
His 1112 U.S. History Since 1877
His 3302, History of Religion in the United States
His 3375, Research and Methodology
His 4448 The West in American History
His 6632, American Historiography
Recent Publications
"Immigrants, Crime, and the Economic Origins of Nativism in the Antebellum West," Journal of American Ethnic History, Forthcoming Winter 2020.
"Mothers Against the Bomb: The Baby Tooth Survey and the Nuclear Test Ban Movement in St. Louis, 1954-1969," Missouri Historical Review 112, 2 (January 2018): 107-138.
"The American Revolution on the Periphery of Empires: Don Bernardo de Galvez and the Spanish-American Alliance, 1763-1783," Journal of Early American History 7, 2 (Leiden, Netherlands: Brill, July 2017): 177-201.
"Boltonlands: John Francis Bannon and Borderlands History," Journal of the West 55, 3 (ABC-CLIO, Fall 2016): 3-10.
"Friedrich Weyerhӓuser: The Timber King and the Transformation of the American Lumber Industry," Immigrant Entrepreneurship: German-American Business Biographies, 1720 to the Present, Vol. 3, Giles R. Hoyt, ed. (Washington, D.C.: German Historical Institute, May 2015) <http://www.immigrantentrepreneurship.org/entry.php?rec=239>.
"The Discriminating Priority of Integration: Open Housing Activism in St. Louis County, 1968-1977," Journal of the Illinois State Historical Society 106, 2 (Summer 2013): 224-242.
"The St. Louis 'Know-Nothing' Riot of 1854: Political Violence and the Rise of the Irish," Gateway Heritage Magazine 32 (November 2012): 10-19.
"Sunday Regulation and the Formation of German American Identity," Missouri Historical Review 107, 1 (October 2012): 23-40.
"Anatomy, Grave-Robbing, and Spiritualism in Antebellum St. Louis," The Confluence Magazine 3, 2 (August 2012): 32-44.
Awards
2018 winner of the Missouri Historical Review Article Award ($750), recognizing "Mothers Against the Bomb: The Baby Tooth Survey and the Nuclear Test Ban Movement in St. Louis, 1954-1969" as the article best contributing to an understanding of Missouri history in the most recent volume of the journal
2018 recipient of the William E. Foley Research Fellowship of $1,500 to defray expenses incurred when visiting the Missouri State Archives for my project, "Immigrants and Crime in the Nineteenth-Century Midwest"
2016 winner of the Environment in Missouri History Fellowship, State Historical Society of Missouri, Center for Missouri Studies, which carries a stipend of $5,000 for the completion of a scholarly article to be submitted to the Missouri Historical Review
Research Grant ($1,400), Transatlantic Program of the Government of the Federal Republic of Germany through funds of the European Recovery Program of the Federal Ministry of Economics and Technology, June 17-21, 2014: Research trip to the Minnesota Historical Society in Minneapolis, Minnesota
Thomas P. Neill Award ($250) for Best Dissertation in the History Department, Saint Louis University, May 2014
2013 winner of the Missouri Historical Review Article Award ($750), recognizing "Sunday Regulation and the Formation of German American Identity in St. Louis, 1840-1860" as the article best contributing to an understanding of Missouri history in the most recent volume of the journal
Filson Fellowship ($500), Filson Historical Society, March 2013: Research trip to the Filson Historical Society in Louisville, Kentucky