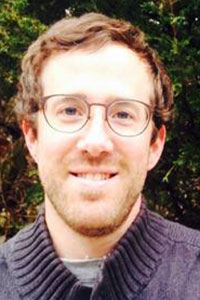 Luke Ritter
Lecturer
TROY University
Troy, Alabama 36082
McCartha Hall 200B
Telephone:
1-334-808-6506
Education:
B.A. Lindenwood University-St. Charles, Missouri
M.A. Saint Louis University
Ph.D. Saint Louis University
Areas Expertise
Nineteenth-century U.S. history with special interests in ethnicity and immigration, religion and politics, and the West
Biography:
Dr. Luke Ritter's dissertation, "Anti-Catholic America: Nativism and Religious Freedom in the Antebellum West," investigates the nativist movement in the antebellum western cities of Chicago, Cincinnati, Louisville, and St. Louis and argues that nativists were most concerned with the religious character of immigrants. Dr. Ritter's research interests include U.S. immigration and naturalization policy, citizenship, the incorporation of western territories, public education, and ultimately the proper role of religion in American politics and public institutions. He is the author of several articles in academic journals, including the Journal of the Illinois Historical Society, the Missouri Historical Review, and Immigrant Entrepreneurship. He also served as a research and writing consultant for the Missouri History Museum's 2014 exhibit commemorating the 250th anniversary of St. Louis.
Courses Taught at TROY:
His 1101, Western Civilization to 1750
His 1102, Western Civilization since 1750
His 1111 U.S. History Before 1877
His 1112 U.S. History Since 1877
His 3302, History of Religion in the United States
His 3375, Research and Methodology
His 4448 The West in American History
Recent Publications
"Mothers Against the Bomb: The Baby Tooth Survey and the Nuclear Test Ban Movement in St. Louis, 1954-1969,"Missouri Historical Review 112, 2 (January 2018): 107-138.
"The American Revolution on the Periphery of Empires: Don Bernardo de Galvez and the Spanish-American Alliance, 1763-1783," Journal of Early American History 7, 2 (Leiden, Netherlands: Brill, July 2017): 177-201.
"Boltonlands: John Francis Bannon and Borderlands History," Journal of the West 55, 3 (ABC-CLIO, Fall 2016): 3-10.
"Friedrich Weyerhӓuser: The Timber King and the Transformation of the American Lumber Industry," Immigrant Entrepreneurship: German-American Business Biographies, 1720 to the Present, Vol. 3, Giles R. Hoyt, ed. (Washington, D.C.: German Historical Institute, May 2015)