2022 CHINA TRIP ANNOUNCEMENT
Confucius Institute at Troy University (CITU) and Study Abroad at Troy University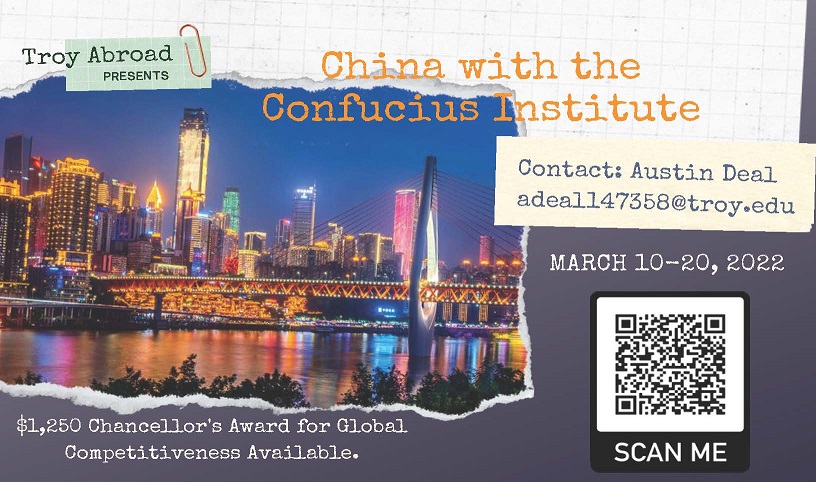 What: The Confucius Institute at Troy University (CITU) and Study Abroad at Troy University host another trip to China this upcoming Spring of 2022. CITU has supported more than 700 Alabamians to visit China since 2009.
Who: All Troy University students and faculty are eligible to participate.
Where: We will visit key education, economic, and tourist hot-spots in Guangzhou, Chongqing, Beijing, and Tianjing (tentative)
When: 3/10/2022 - 3/20/2022
Why: China is a dynamic country with many opportunities to enhance your academic and career choices. This trip allows one to learn about Chinese culture in a hands-on fashion, boost students' future employment potential by providing unique international experiences, and lays a foundation for studying the Chinese language.
Cost: All in-China lodging, meals, and ticket fees are paid for by CITU (excluding extra cities). Approximate price for entire trip is ~$1,750. Don't forget about the Chancellor's Award for Global Competitiveness which offsets the price by $1,250!
To learn more about the trip itinerary and registration information please contact Austin Deal at 334‐808‐6544 or adeal147358@troy.edu. You may stop by the Confucius Institute at any time for more information. Just go to room 023 John Robert Lewis Hall (basement-level) and ask about this trip.
For information regarding the Chancellor's Award for Global Competitiveness, please contact Sarah McKenzie at 334‐808‐6128 or semckenzie@troy.edu
China Trip Spring 2019
TROY Abroad
Studying abroad provides both faculty and students quality-learning experiences that increase students' knowledge on an array of issues, advances their critical thinking, tolerance, and understanding of cultural diversity. Studying abroad helps students to gain international awareness, global competency, and to better compete in the worldwide job market. It aids young graduates and professionals to aptly function in multicultural settings and the constantly changing environments of a globalize society.
Students return home with lasting memories, a more cosmopolitan understanding of their surroundings and their own belief systems, and improved capacity to function in multicultural settings. Typically, studies abroad help students to advance their self-confidence and critical thinking that are important factors in gaining access to work opportunities, job interviews, and work performance.
Faculty members who accept the challenges of leading study abroad programs do a great service to the nation, Troy University, and their students, and deserve praise for all their efforts.
VISIT TROY ABROAD