Appreciation From the Community
2017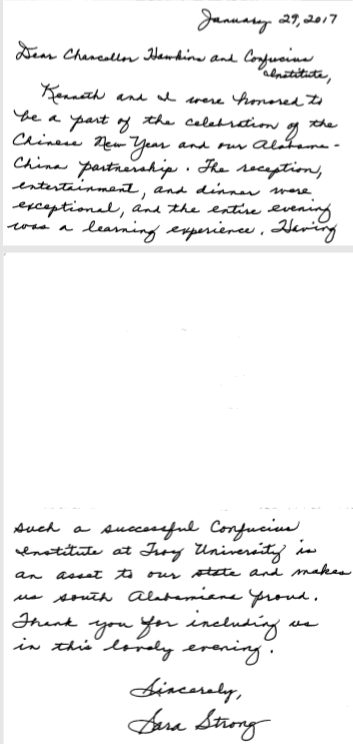 January 29, 2017

Dear Chancellor Hawkins and Confucius Institute,

Kenneth and I were honored to be a part of the celebration of the Chinese New Year and new Alabama - China partnership. The reception entertainment, and dinner were exceptional, and the entire evening was a laerning experience. Having such a successful Confucius Institute at Troy University is an asset to our state and make us South Alabaminan proud. Thank you for including us in this lovely evening.

Sincerely,
Sara Strong
2015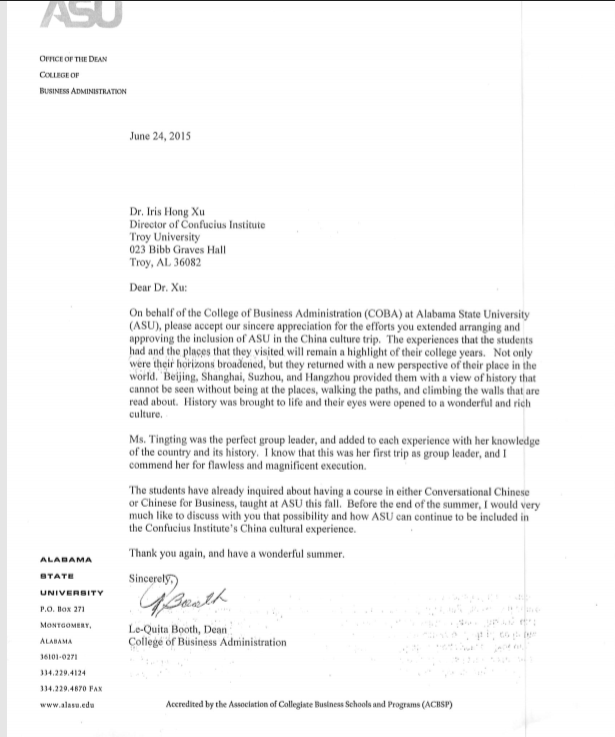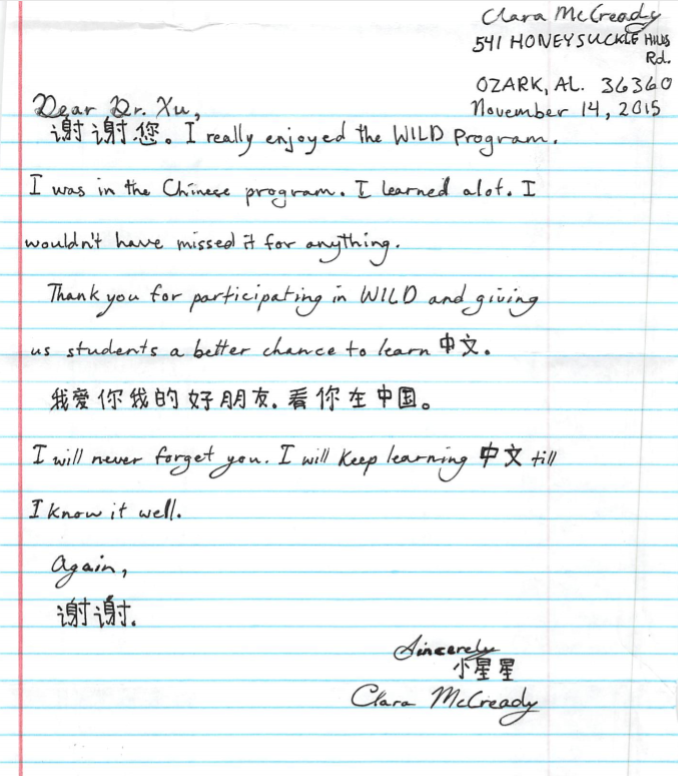 Dear Dr. Xu,
Thank you (Chinese). I really enjoyed the WILD program. I was in the Chinese program. I learned alot. I wouldn't have missed it for anything.
Thank you for participating in WILD and giving us students a better chance to learn Chinese.
I love you my good friend. See you in China. (Chinese)
I will never forget you. will keep learning Chinese till I know it well.
Again thank you (Chinese).
Sincerely,
Clara McCready.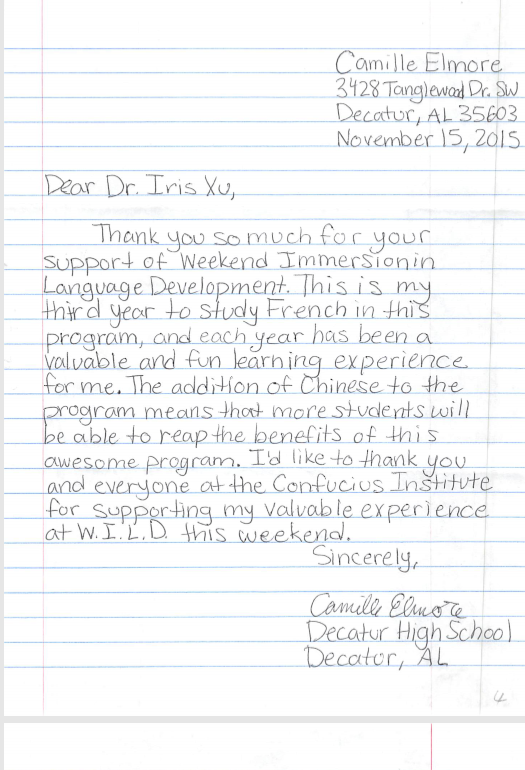 Dear Dr. Iris Xu,
Thank you so much for your support of Weekend Immersion in Languafe Development. This is my third year to study French in this program, and each year had been a valuable and fun learning experience for me. The addition of Chinese in the program means that more students will be able to reap the benefits of this program. I'd like to thank you and everyone at the Confucius Institute for supprting my valuable experience at WILD this weekend.
Sincerely,
Emille Elmore
Decatur High School
Decatur, AL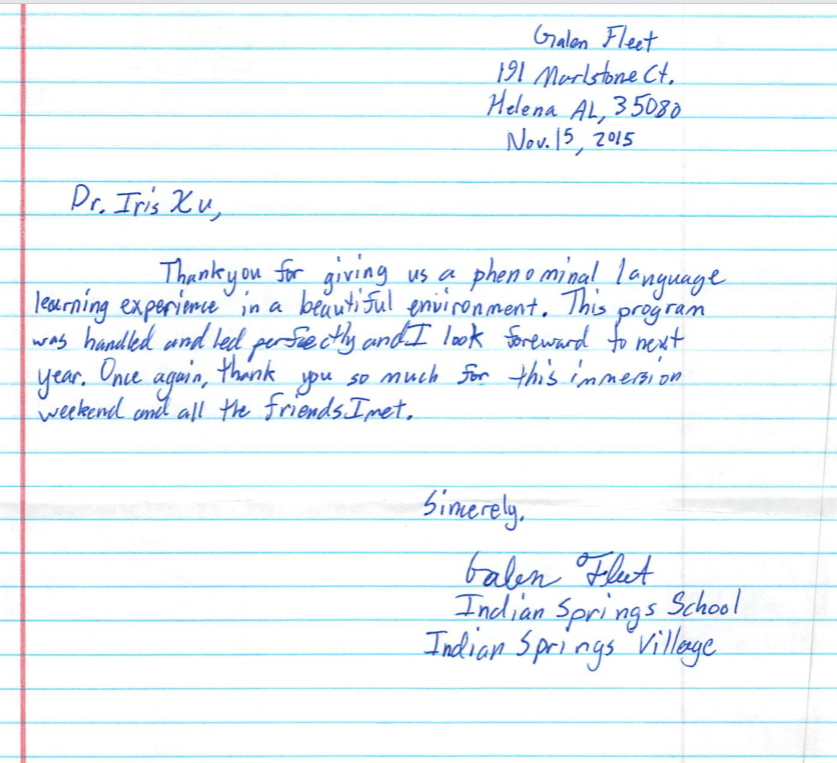 Dr. Iris Xu,
Thank you for giving us a phenominal language learning experience in a beautiful enviroment. This program was handled and led perfectl and I look forward to next year. Once again, thank you so much for this immersion weekend and all the friends I met.
Sincerely,
Cralon Fleet
Indian Springs School
Indian Springs Village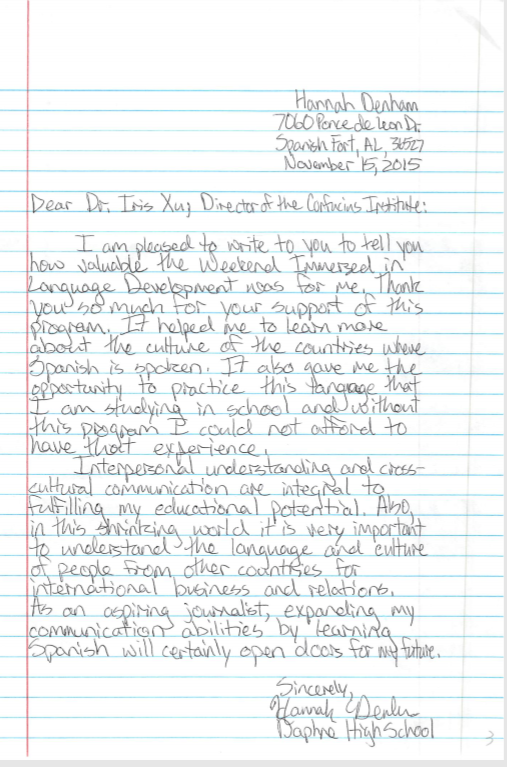 Dear Dr. Iris Xu, Director of the Confucius Institute:
I am pleased to write to you to tell tou how valuable the Weekend Immersed in Language Development was for me. Thank you so much for your support of this program. It helped me to learn more about the culture of the countries where Spanish is spoken. It also gave me the opportunity to practie this language that I am studying in school and without this program I could not afford to have that experience.
Interpersonal understanding and cross-cultural communication are tintegral to fulfilling my edcuational potential. Also, in this shrinking world it is very improtant to understand the language and culture of people from other countries for international business and relations. As an aspriring journalist, expanding my communication abilitites by learning Spanish will certainly open doors for my future.
Sincerely,
Hannah Denham
Daphe High School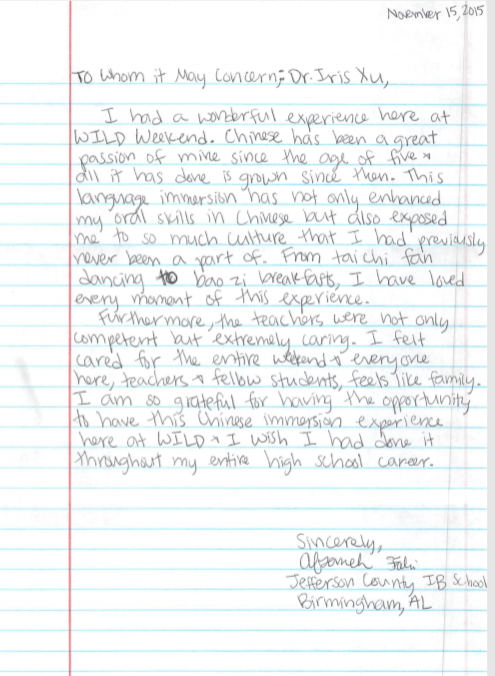 To whome it may concern; Dr. Iris Xu,
I had a wonderful experience here at WILD weekend. Chinese has been a great passion of mine since the afe of five and all it has done is grown since then. This language immersion had not only enhanced my oral skills in Chinese but also exposed me to so much culture that I had previously never been a part of. From Taichi fan dancing to Baozi breakfast, I have loved every moment of this experience.
Furthermore, the teachers were not only competent but extremely caring. I felt cared for the entire weekend and everyone here, teachers and fellow studetns, feel like family. I am so grateful for having the opportunity to have this Chinese immersion experience here at WILD and I wish I had done it throughout my entire high school career.
Sincerely,
Afreneh Fahi
Jeffereson County IB School
Birmmingham, AL

2014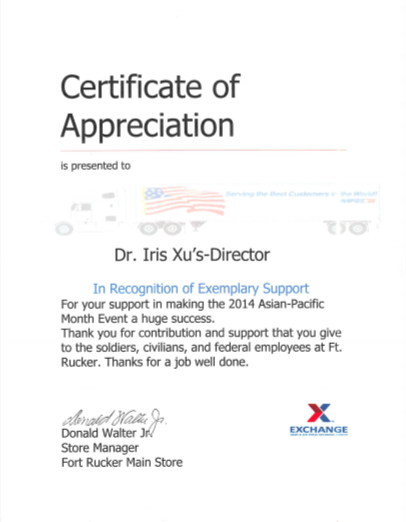 2012
2011