Artists
Fred "Nall" Hollis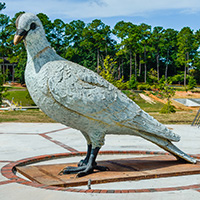 Nall, who was born in Troy, Alabama, in 1948, is a modern day Renaissance man who has created extraordinary works of art for 50 years living entirely from his art. A multi-talented fine artist, he has traveled the world studying diverse cultures and exploring art, architecture and indigenous craft. Although classically trained, Nall is not a conventional artist who follows tradition regarding use of media, style or subject. Recent retrospective exhibitions of Nall's work were exhibited at the Mobile Museum of Art, Mobile, Alabama, Miami Dade College, Miami, Florida, Menton Museum of Art, Menton, France, the Basilica of St. Francis in Assisi, the Museum of St. Augustine, Pietrasanta, Italy, and the National Arts Club, New York City. The artwork in the exhibitions included finely detailed drawings from his "Alice in Wonderland" series, remarkable botanical paintings and prints, complex mosaics, graphite portraits encased in elaborate frames, intricate line engravings and masterful watercolors. In addition to fine art, Nall's exceptional talent extends to commissions in R. Haviland and C. Parlon of Limoges porcelain, Murano glassware and jewelry as well as having his artwork chosen for a recent series of official postage stamps for the Principality of Monaco. In 2005, the artist was selected by the Puccini Festival Foundation to design the sets, costumes lighting for "La Fancuilla del West" ("The Golden Girl of the West") in Torre del Lago, Italy, as part of its "Sculpting the Opera" program. The opera was so successful that the Puccini Festival commissioned Nall to do another opera, "La Rondine" which according to La Republica, was the best production in the history of their 50 year repertoires. Nall has created Nall Foundation and the N.A.L.L. Art Association, which helps educate young artists, writers and musicians with a sober work ethic and establishment into the real world.
Huo Bao Zhu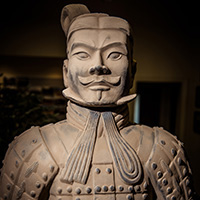 Dr. Huo Bao Zhu is a longtime friend of Troy University and owner of China's Shaanxi Yuan Kun Sculptural Arts company. While his foundry is based in Xi'an, China, Dr. Huo's sculptures can be found around the globe. In 2002, TROY felt Dr. Huo's generosity when he gave TROY the first round of many sculptures—"Trojan Warriors," "The Statue of Li Po" (created in honor of a famous Tang poet), a replica of Rodin's "The Thinker" and several terracotta warrior bronze sculptures— all of which can be found on the Troy Campus. In view of his outstanding contribution and dedication to art achievement, Dr. Huo received his honorary doctorate from TROY in 2014.
Frank Marquette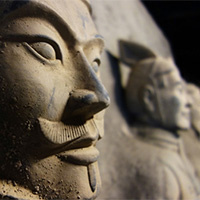 For the past 25 years Frank Marquette has been a commercial artist and industrial designer creating environments and sculpture for a long list of clients both private and corporate. Starting off on the American West Coast constructing water features he eventually found himself in New Zealand operating his creative construction company building movie sets for Peter Jackson's Lord of the Rings franchise and consulting Walt Disney Imagineering about new theme park attractions. The artistic and design disciplines Marquette has embraced over these years have focused mainly on environmental simulation. Always striving to create an atmosphere supporting a story or a special setting has been his life's challenge and reward.
With an appreciation of the integration of opposites, or at least a blending of concepts that may appear at first to be unexpectedly complimentary, Marquette looks for a dramatic clash of ideas and elements that give birth to extraordinary transformations. When it works, these treatments demonstrate an underlying fit that lies hidden behind the seemingly incongruent complexity.
As an artist, Marquette reflects back and witnesses how his creations over the years have been an evolving expression of his connection to life. Marquette feels a growing awareness with the ever expanding range of experiences life has presented and tries to integrate these into the next creation, the next moment.
Elana Hagler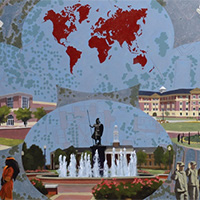 Elana Hagler was born in Tel Aviv, Israel, and immigrated to the United States at the age of five. She received a Bachelor of Arts in both studio art and psychology from Brandeis University in Boston, and continued her studies for two years at the Master Class of the Jerusalem Studio School and in Umbria, Italy. She, then, received her Master of Fine Arts from the Pennsylvania Academy of the Fine Arts in Philadelphia. Elana has won multiple prizes in painting and drawing and has exhibited her work across the United States and internationally. She has taught fine art at Cornell College, the Delaware College of Art and Design and at Swarthmore College. She lives and teaches in Montgomery, Alabama, and is a staff writer for the popular art blog Painting Perceptions.
Giclees and prints of Elana Hagler's artwork are available for sale. Purchases can be made onsite at the International Arts Center. Please contact us at (334) 808-6412 for more information.
Bruce Larsen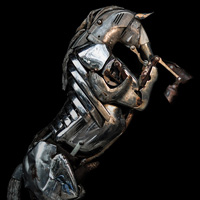 Alabama native Bruce Larsen is a sculptor, an animatronic artist, a story creator and teller, and a modern archaeologist. He lives and makes art in Fairhope, Alabama, but his work can be found around the globe as well as in the private collections of celebrities such as Bill Clinton, Sting and the Crown Prince of Bahrain.
A graduate of Auburn University with a Bachelor of Art in Illustration, Bruce has found his artistic path tangled among artifacts of the forgotten past and discarded objects that he finds in his surroundings. His sculptures bring these abandoned objects back to life in the form of animals, people, and geometric patterns. His work has been coined as Repo-Renaissance for its ability to portray the power of classical figures while boasting a contemporary approach of ecological awareness. His style reveals his passion for recycling and also reflects his talent for creating very convincing creatures and animatronic animals for Hollywood films.
Notable awards include being inducted into the Inaugural Alabama Artist Hall of Fame at the Alabama Center for Arts in Decatur, Alabama, in 2016. The United States Sports Academy named Bruce Sport Artist of the Year in 2009. In 2008 The Alabama State Arts Council sent Bruce, along with Alabama artist Charlie Lucas, on a cultural exchange to Pietrasanta, Italy. The two produced a major art exhibition in only two weeks using found objects from the city and the beach. In 2006 he was selected as one of 12 Alabama artists for a museum collection and book representing the culture and fair of Alabama art, Nall Alchemy, published by the Nall Foundation.
Bruce also annually creates the Big Fish Award for Riverkeeper, a non-profit international environmental organization focused on protection of waterways. Bruce offers his time annually creating artwork with members of the local Exceptional Foundation to raise funds for their program. He also provides local children's theater with sets and special effects.