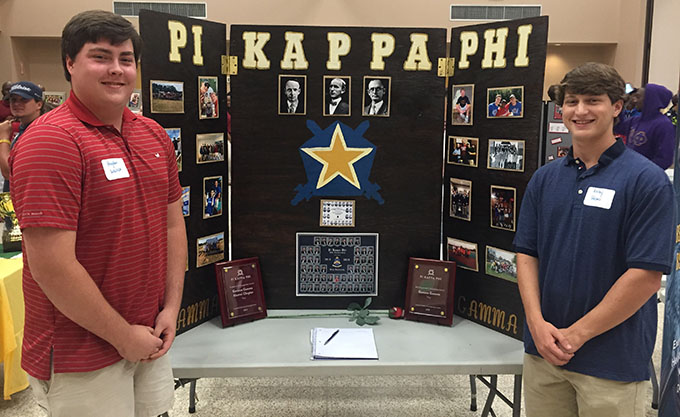 Spring 2019 Recruitment (Rush)
Registration for Spring Recruitment will begin on December 1, 2018.
IFC Recruitment is the process through which a male student seeks to become a member of a fraternity. This process is facilitated through Spring Recruitment. In order to participate in IFC Spring Recruitment, each participant must complete the online registration form and pay the recruitment fee of $35.00. A t-shirt is included with your registration fee.
A 2.5 high school GPA is required of incoming freshman. Transfer students or students who were enrolled in Troy University during the fall semester, must have a GPA of 2.0 in order to participate.
No alcohol is allowed during any recruitment event associated with Troy University.
Spring Recruitment – January 22-25, 2019
Spring Recruitment begins with Fraternity Convocation on January 22nd at 7:00 P.M. in the Trojan Center Ballrooms. Here you will have an opportunity to speak with members of each of our fraternities and learn more about their organizations. Convocation is mandatory for the Spring Recruitment process.
The following night, January 23rd, you will visit each of the fraternity houses for an official tour. This will begin at 6:00 P.M. After you have toured all of the houses, you are free to return to any fraternity house that you wish to visit. The meeting location for the tours will be discussed during Convocation.
If the fraternity chooses you as a potential new member of their organization, they will offer you an official "bid" to join. Fraternities will begin to offer their official bids on January 24th. You can receive multiple bids, but you can only join one fraternity. When a bid is offered, you can 1) accept it, meaning that you wish to join that fraternity, 2) hold it, meaning that you are uncertain about joining that fraternity and will make a decision at a later date, or 3) decline it, meaning that you do not wish to join that fraternity. When accepting a bid, the fraternity will have you sign their bid card and the Buckley Form (University Agreement Form). At that time, you will then be considered a new member of that fraternity.
Bidding will continue until 8 p.m. on Friday, January 25th when Spring Recruitment ends. At that time chapters may host parties at their fraternity houses to celebrate Spring Recruitment.
Suggested attire for all recruitment events is business casual.
Buckley Form
Once a Buckley Form (University Agreement Form) is signed, the new member is bound to that organization. If the new member drops for any reason and wishes to disassociate with the chapter, then that individual is subject to a waiting period to be determined by the IFC before they can participate in recruitment and accept another bid from another fraternity.
If the individual drops out of the fraternity within the first two weeks following Spring Recruitment, then he will have to wait a week to receive a Continuous Open Bid (COB) from an organization. Each time a student drops one organization and joins another, he will be assessed with another $35.00 Recruitment Fee.
Important Dates to Remember
IFC Spring Recruitment Registration: December 1, 2018-January 21, 2019 at 5:00 p.m.
Once you have registered online, your information is shared with all IFC fraternities.
Spring Recruitment: January 22, 2019-January 25, 2019