The Panhellenic Council Welcomes You to TROY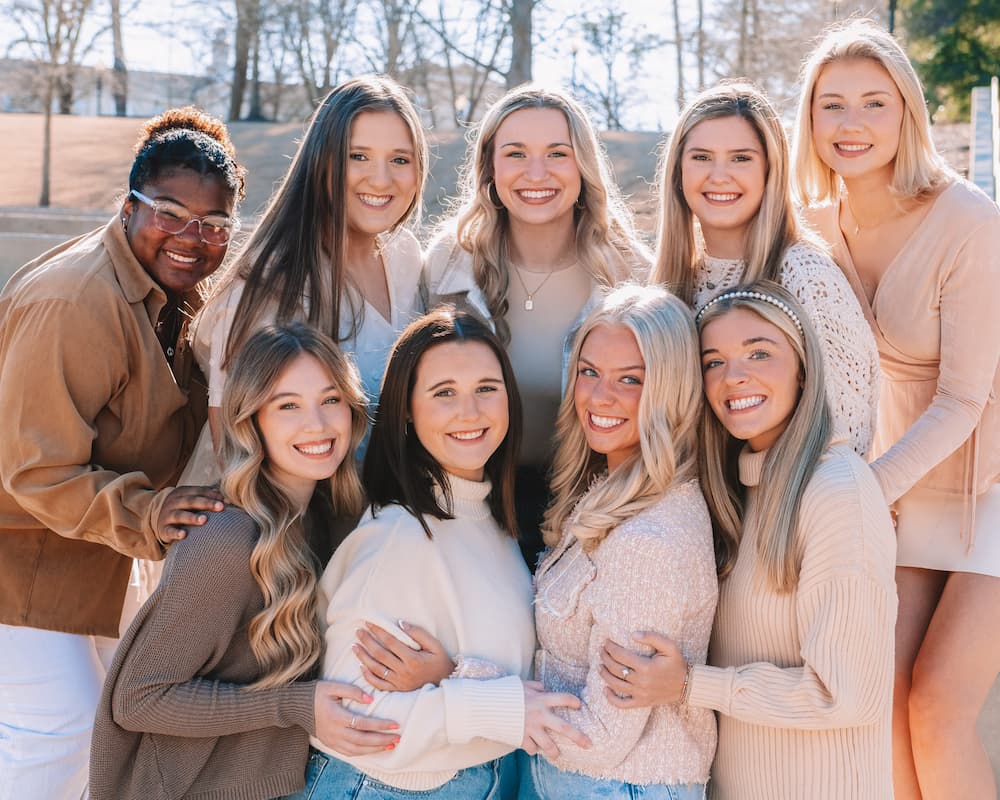 Meet our Leadership Team
2023 Panhellenic Council

Jane Vickers
Panhellenic President

I am so excited for our 6 amazing chapters to get new members during formal recruitment in the fall! Sorority life is so special here at Troy and the chapters truly make a lasting impression and difference in our women's lives. Go Greek!

Jenna Nabors
External VP Recruitment
I am so thrilled to have the amazing opportunity to serve on Panhellenic Council and am so pumped for fall recruitment! I am so incredibly excited to meet all the potential new members coming to Troy! Joining a sorority is such a life-changing thing and I cannot wait to welcome PC' 23 into the experience of a lifetime!

Julia Rutland
Internal VP Recruitment
I am so excited for fall recruitment and can't wait for so many incredible women to experience Greek life!

Allee Alexander
VP Administration & Finance
I am so excited to serve on Panhellenic council, and I cannot wait for fall recruitment! I am looking forward to meeting new people, creating new memories, and watching each chapter welcome an amazing new pledge class!

Kariann Thornburg
VP Public Relations
I am so excited for fall recruitment and to serve on Panhellenic this year as PR! I can't wait to meet all of you!

Olivia McNeal
VP Service & Greek Affairs
I am so excited to serve on the Panhellenic council this year and can't wait to see how all of our chapters will serve the community and our school this year!

Fairby Caldwell
Head Recruitment Counselor
I am so excited to meet everyone and watch all the relationships that are going to grow throughout the recruitment process!

Ashlyn Simpson
Director of Spiritual Life
I am so excited for all the opportunities and relationships that Panhellenic will bring, and I am so excited to watch recruitment from this side and see all the relationships and memories that will form!

Sequoia Tinnin
Director of DEIE
I am so excited for fall recruitment so young women can experience and learn what Panhellenic is all about as well as the sororities.
Panhellenic Creed
We, the undergraduate members of women's fraternities, stand for good scholarship, for guarding of good health, for maintenance of fine standards, and for serving, to the best of our ability, our college community. Cooperation for furthering fraternity life, in harmony with its best possibilities, is the ideal that shall guide our fraternity activities.
We, as Fraternity Women, stand for service through the development of character inspired by the close contact and deep friendship of individual fraternity and Panhellenic life. The opportunity for wide and wise human service, through mutual respect and helpfulness, is the tenet by which we strive to live.
Empowered women empower women.
Our Sorority Women Speak
---
Testimonials
"To me, sisterhood means knowing there are always people there for me. Whether it is someone to sit with on the first day of class or someone to call when my car fails to crank, I know there are multiple people who will be there for me at any time of the day or night. I am grateful to have an older sister majoring in the same area of business as me who advises me about classes, reads over countless resumes, and encourages me to put my best foot forward when meeting company representatives at career fairs. I know she will continue to cheer me on long after graduation. As a member of Alpha Delta Pi, I can honestly say I see our open motto "we live for each other" played out in the lives of my sisters. "
–Ashley Rollins – Alpha Delta Pi Sister
"Sisterhood is having a constant support system. It's celebrating together through the ups and encouraging each other through the downs."
-Alex Jolly, Alpha Omicron Pi Sister
"Sisterhood is something so special that not everyone gets to experience. We are sisters by choice and over time we create a bond like no other because we share the same values and goals. My sisters encourage me to be the best I can be and give me support like no other. Without the help of my sisters I wouldn't have tried to obtain my leadership role in Alpha Gam. One of my favorite things about sisterhood is learning about one another and helping each other grow into the women we strive to be! In the beginning of the year the girls in my pledge class were strangers and I knew nothing about them. We all came from different backgrounds and it has been a privilege to create so many memories with them already! I don't know how I would have gotten through my first year of college without them."
–Elizabeth Keiser – Alpha Gamma Delta Social Media Chair
"Chi Omega has been my saving grace. I went through a period of time where I wanted to go home and never look back, but because of this sisterhood, I stayed. So many women have poured into me and have loved me when I was completely unlovable, completely undeserving. Chi Omega is more than just a home away from home. It is a safe place I can run to whenever I've had too much school, too much stress, too much work. This sisterhood has so many amazing young women and so much so that even I, a junior, can look up to a freshman. I love my sisters and thank them all for being "a symphony of high purpose and helpfulness in which there is no discordant note!" "
–Bronte Pruitt – Chi Omega Sister
"Helen Keller once said "I would rather walk with a friend in the dark, than alone in the light." After joining a sorority, it's clear that everything is better with a sister by my side. The friendships I've made within my sisterhood are more special than I could ever express in words. Sisterhood is the unconditional love we have for one another. It is growing as women together with our shared values and beliefs. Sisterhood is never ending loyalty, understanding, and trust. It is knowing that no matter how bad my day is, I will have a sister there to help me pick up the pieces. I have learned through these aspects of sisterhood that I am never alone. I will always have a support system and friends to lean on. Attending school 900 miles away from home can be a challenge at times, but sharing this special bond with my sisters makes it easier. I see that sisterhood is a friendship that is made to endure for a lifetime. "
–Madison Linnihan – Kappa Delta Sister
"When asked why I love Phi Mu thousands of reasons and memories pop in my mind. From running with my new found best friend to the house on Bid Day to big/little reveal when I got to jump in the arms of my perfect biggie and everything in between I love Phi Mu. Phi Mu has given me 185 sisters that I can count on for absolutely anything. I love Phi Mu because it has pushed me to be the absolute best that I can be. From my grades to campus involvement Phi Mu is always there helping me. Phi Mu also hasn't tried to change who I am as a person, it accepted me for who I am from the beginning. I now have opportunities I never imagined before like going to Children's Hospital in Birmingham to see what amazing things our philanthropy money is doing in the lives of those children. Phi Mu has given me girls that are there for me when I think my world is falling apart, but they're also there for me to celebrate the small victories in life. I now have a huge support system that encourages me to try new things even if I'm not the best at those things. During Greek Week I thought I would be a fabulous boxcar driver, but I was so wrong. Instead of being upset that we didn't win the competition my girls were more worried about my safety. Phi Mu isn't just for four years, it's for life and I know there are so many girls that are never going to leave my side. They're going to be there for me when I graduate, when I walk down the aisle, and sitting right beside me in the rocking chairs in the nursing home telling stories about our crazy college years. Phi Mu is so much more than a social club or something to do. Phi Mu is something to love and give back to because the sisters of Phi Mu will be there no matter what. Phi Mu has given me the B. Davis to my P. Sawyer and the Christina Yang to my Meredith Grey and I will forever be grateful!"
–Phi Mu Sister
---
About Us
"Through high school, sorority life was something that I was completely unfamiliar with, and coming to Troy I had no intention of going through recruitment. However, after some convincing from my IMPACT Leader and costs established to give my parents, I registered last minute! My roommate and I went through together, making a few friends along the way, caught up i the whirlwind of events and many, many new faces. Because I had no prior knowledge of any of the houses, I was able to come into Recruitment with a completely clean slate.
It was a tough week of prioritizing what I wanted out of my Greek experience, but the best advice came from a sister I spoke with halfway through the week. She told me to search for the sorority that I felt I could be myself, the most comfortable, and where I could thrive and grow as a woman of virtue! I want to share this advice with you as you potentially embark on this adventure of recruitment as it helped me to find my home in Chi Omega. Since joining the sorority over five years ago, I have been overwhelmed with the amazing experiences, growth, and connections Greek life has given me. From encouragement in my scholastics and my faith, to networking for my future job opportunities, I couldn't be more thankful for Greek life here at Troy, and the advice given to me by a sister during my recruitment week!"
Sarah Talbot, Troy University Chi Omega alumnae