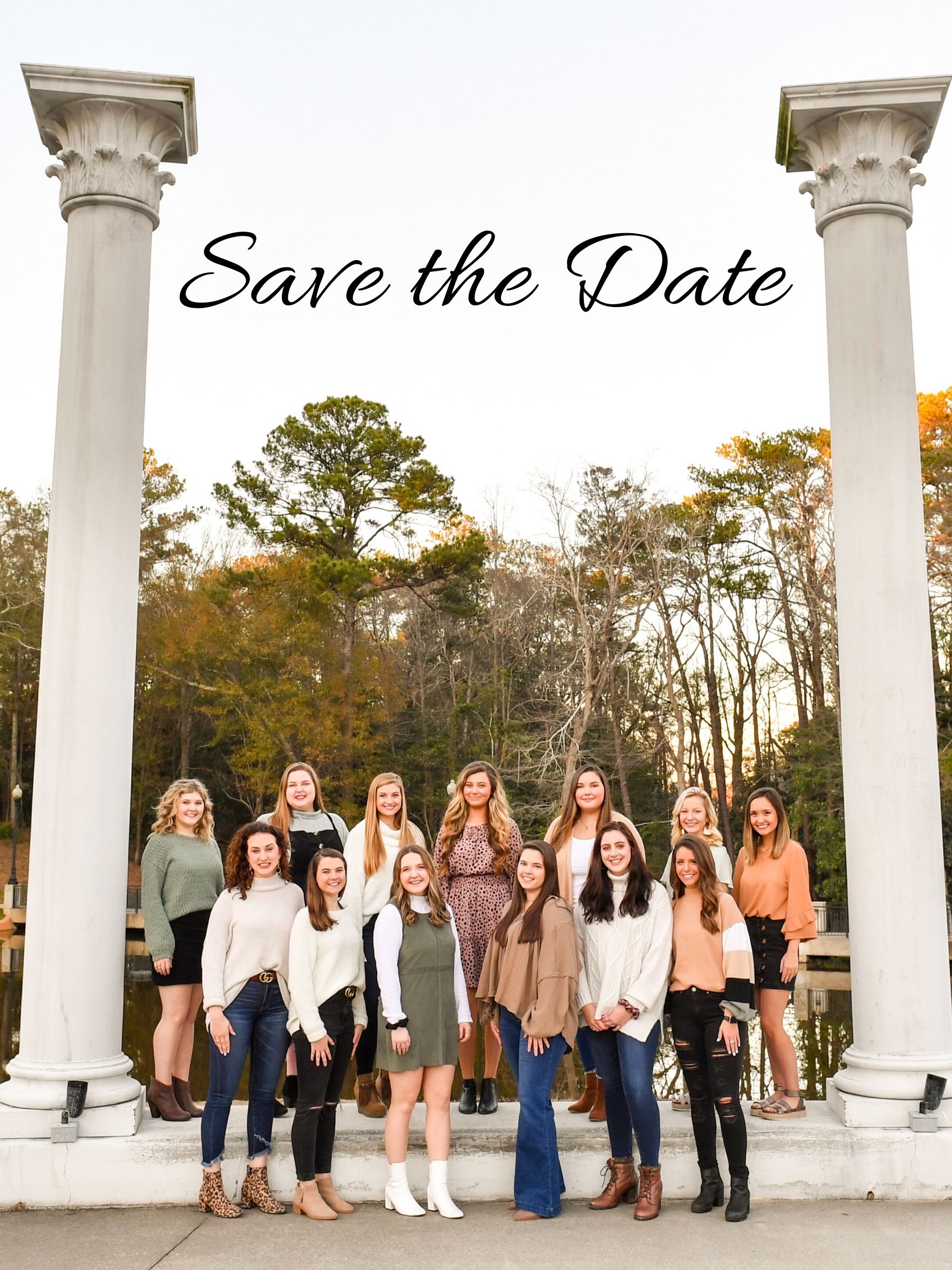 Save the Date
Sorority Recruitment 2020
August 3 – 8, 2020
Online Registration begins May 1, 2020
Please check out our guide from Recruitment 2019. The guide will give you information on how to register, information on housing during recruitment week, what to expect and wear during recruitment week and our social media. Please start following Panhellenic and all our sororities on social media. The 2020 guide will be available on March 31, 2020 with updated dates and event information.
A Message From Our Recruitment Chairs
Online Guide to Sorority Recruitment
NPC
"As values-based organizations, the 26 members of NPC live their missions, with their members providing millions of dollars in philanthropic support to dozens of worthy causes and pursuing millions of additional hours in community service. From supporting victims of sexual assault, to leading bystander intervention programs, to fighting for body-positive campus cultures, sorority women are at the forefront of solving some of the most pressing challenges facing collegiate women today."
---
---
Common Questions about Recruitment
Friday, May 1 - Recruitment Registration Begins
Friday, July 17 - Registration fee goes from $80 to $95
Friday, July 24 - Last day to request recruitment refund of $60
Sunday, July 26 – Midnight- Sorority Recruitment Registration ends
Monday, July 27 - No refunds of recruitment registration fee
Saturday, August 1 - Sorority recruits move in to residence hall from 8 am to 5 pm
Sunday, August 2 - Sorority recruits move in to residence hall from 8 am to 5 pm
Sunday, August 2 – Sorority Recruitment Orientation, 4:30 pm—5:30 pm, Claudia Crosby Theater
Monday and Tuesday, August 3 and 4 - Philanthropy Day
Wednesday and Thursday, August 5 and 6 - Sisterhood Day
Friday, August 7 - Preference Day
Saturday, August 8 - Bid Day at 10:30 a.m., PNMs at gym by 9:30 a.m., parents on the hill by 10:00 a.m.
Saturday, August 8 Meal plan begins
Please note that when our 2020 Online Recruitment Guide is completed there will be detailed explanations for all of these dates. You can review the 2019 Online Guide to get an idea of what recruitment is like at Troy.
A letter of recommendation is also known as "rec", is a recruitment information form written by an alumna in order to introduce a potential new member to the sorority chapter. Sorority alumna must get forms from the national website of their organization by logging in. Forms are not available on public websites or from the Panhellenic office. There is not a specific due date for recommendations, but it is helpful to have them in by Sunday, July 26, 2020.
Alpha Delta Pi
Troy Box 821104
Troy, AL 36082
Alphadeltapi@troy.edu
Alpha Gamma Delta
Troy Box 820981
Troy, AL 36082
alphagam@troy.edu
Alpha Omicron Pi
www.alphaomicronpi.org/membership-information-forms
(must be submitted online)
Chi Omega
Troy Box 821769
Troy, AL 36082
chiomega@troy.edu
Kappa Delta
Troy Box 821004
Troy, AL 36082
kappadelta@troy.edu
Phi Mu
Troy Box 822185
Troy, AL 36082
phimu@troy.edu
Alpha Delta Pi
Alpha Omicron Pi
Alpha Gamma Delta
Chi Omega
Kappa Delta
Phi Mu
High school graduates must have a 2.2 overall GPA (on a 4.0 scale) & be accepted to Troy University
Upperclassmen at Troy must have a 2.2 GPA average
Transfer students must have a 2.2 overall average based on 12 hours; if a transfer student has fewer than 12 hours, her eligibility will be based on her high school grade point average. This eligibility policy for recruitment is designed to help new students become academically oriented at the University, before becoming involved in the sorority aspect of campus life. The Panhellenic Council's membership recruitment eligibility policy is a minimum requirement. Each sorority sets their wn academic standards for joining. The sorority women will carefully evaluate the grades and high school activities of each individual going through recruitment, when making membership decisions.
The Potential Member's Bill of Rights was adopted unanimously at the 1989 NPC Biennial Conference.
The right to be treated as an individual
The right to be fully informed about the recruitment process.
The right to ask questions and receive true and objective answers from recruitment counselors and members
The right to be treated with respect. The right to be treated as a capable and mature person without being patronized.
The right to ask how and why and receive straight answers.
The right to have and express opinions to recruitment counselors.
The right to have inviolable confidentiality when sharing information with recruitment counselors.
The right to make informed choices without undue pressure from others.
The right to be fully informed about the binding agreements implicit in the preference card signing.
The right to make one's own choice and decision and accept full responsibility for the results of that decision.
The right to have a positive, safe and enriching recruitment and membership experience.
We know that parents and their daughters have serious discussions about whether they will be able to afford a sorority. Just as you need to be informed regarding the cost associated with a college education, you need to understand the financial obligation associated with sorority membership.
Each woman joining a sorority should be aware of the dues, fees and other expenses that are involved and should consider these when making financial plans to attend college. During formal recruitment, a potential member should ask sorority members about financial obligations and payment options. Each sorority sets its own fees and payment schedules.
As with other organizations, there are financial obligations to be met when you join a sorority. Some responsibilities are:
To pay the new member fee, house fee (if charged), initiation fee and purchase your pin. These fees are paid only once. The new member fee is paid at the time of pledging. The initiation fee and pin are paid for at the time of initiation which is generally fall semester. Housing fees are paid at different times, depending on the sorority.
To pay monthly dues on time.
To pay for optional services such as t-shirts and party pictures.
To discuss fully with parents or guardians your financial situation and arrive at a mutual understanding of financial requirements before pledging.
Please be aware that the cost of living in a sorority house is the same as living in the residence halls.
It may cost a little more the first year, but it will be your sorority for the rest of your years at TROY. It will become a circle of friends, a group to belong to, for the rest of your life.
AVERAGE SORORITY COSTS:

New Member Fee: $75.00
Initiation Fee: $200.00
Sister's Pin: $150.00
Monthly Fee: $130.00
Recruitment week is a busy and fun-filled week. We have found that those of you who are going through recruitment in the fall need someone to help you throughout the week. Panhellenic has selected sorority women to take on this special role.
These women are called Pi Chis and have been carefully selected to assist you and answer all your questions. They have been specially trained for this particular role. The counselors are well versed in university and Panhellenic procedure and policies. They are able to give information and advice on almost any aspect of sorority and campus life. For that week, they will not associate with their sorority; they will be there just for you. Helping you during the busy, yet fun-filled days, explaining membership recruitment rules, suggesting what to wear for events and assisting with any problems that arise during the week are among the duties of a Pi Chi.
Most importantly, the Pi Chi's will lead small group meetings every night to carefully explain the next day's activities. During these meetings, feel free to discuss any questions or problems with your Pi Chi. She will be a true friend to you.
The Troy University National Panhellenic Council would like to welcome you to Troy University and is so excited that you have considered joining sorority recruitment! Sorority recruitment is a great way to make friendships that will last a lifetime. Many women find that through a sorority they get adjusted to campus life quicker and easier, because that is what a sorority is here to help them do.
Troy University Panhellenic will take in new members at the beginning of the fall semester. Interested women must register online to participate in recruitment.
**Registration will begin on May 1, 2020 and ends July 26, 2020**
The registration form is a step by step process and will ask for general information that will be distributed to the sororities so they will know who you are. Once you begin filling out the online form you are not able to stop and save the form. We encourage you to gather the information below before you begin registering.
Your high school address and phone number.
A digital picture of yourself on your computer that you can download to the registration form.
A debit card, credit card or check information to pay on-line.
Your e-mail address. Please be very careful to enter your e-mail address correctly, we correspond by e-mail to you and every year we have women who enter this incorrectly and we can't get them important information.
Your high school GPA
The name, addresses, phone numbers of one guardian
If you have attended college, your hours completed and GPA
A listing of your high school activities. Think about what student groups you belonged to, what offices you held, church group activities, community activities and volunteer activities. If you are a transfer student or a current Troy student, you will also want to list your college activities.
You will be able to attach a resume to the application if you wish.
Please note that you will be asked for your student id number and where you will be living fall semester. Do not delay registering because you do not know this information. When this information becomes available to our office we will add that information to your form.
The online registration form is best used in Google Chrome and Moxilla Firefox. It can be used in other internet browsers. We have had some students register and get to the payment section and have problems paying. If you have this problem, DO NOT register a second time. If you have a problem with payment, e-mail greeklife@troy.edu and we will check to see if your payment and registration went through. If your payment did not go through we will send you a payment link.
Carefully review your information before submitting the registration form. The form may only be submitted one time. On-line registration ends on July 26, 2020. We encourage you to register as early as possible. If you have any questions please contact Barbara Patterson, Panhellenic Advisor at 334-670-3204.
Beginning May 1, 2020
BEGIN SORORITY RECRUITMENT REGISTRATION!
Please review the information below for more information about sorority recruitment at Troy University and contact us if you have any questions!
The University Meal ticket program begins on Saturday, August 8, 2020. Dining Services are offering an optional meal ticket bundle for sorority recruitment that you may purchase . This will allow you one meal per day in the dining hall from Sunday, August 2 to Friday, August 8, 2020. The recruitment meal ticket will be $48.00 plus tax, which is around $8.00 per meal. Most meals in the cafeteria run around $12.00 a meal if you pay for them outside of the meal ticket. If you want a recruitment meal ticket please purchase by Sunday, July 26 at https://shop-troydining.sodexomyway.com/tickets-event-generic-10.
Also, your recruitment group will be eating together one meal each day off campus, please be prepared to pay for this. We also recommend having snacks and drinks in your residence hall room during the week.
Scenes from Sorority Hill