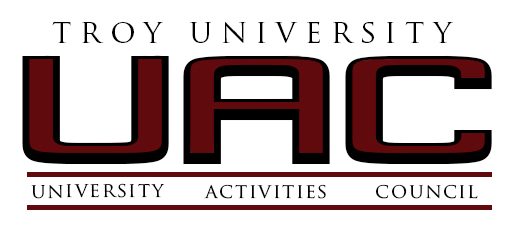 The purpose of the University Activities Council (UAC) is to serve students by providing for their social well being through coordinated program of activities appealing to a broad student base. Programs may be tailored to specific interests and requests. All programs will conform to acceptable standards.
The UAC will cultivate the social skills of the university community and strive to improve upon the personal standard of ethics and values while providing opportunities that enhance the sense of the university. In support of the tradition at TROY University, the UAC board members will become actively involve in the social life of students in all aspects outside the classroom. Lastly, these learning opportunities will add to one's life experiences, creating future community leaders and enlightened citizens.
University Activities Council hosts activities every Wednesday night.
Troy University students can participate for FREE!
It's a fun way to get involved on campus!
Interested in becoming a member of the University Activities Council?
the UAC Committee meets every Monday at 5:00 PM in Trojan Center 212
President: De'Korrius Johnson | Email: djohnson149909@troy.edu | Phone: (334) 670-5768