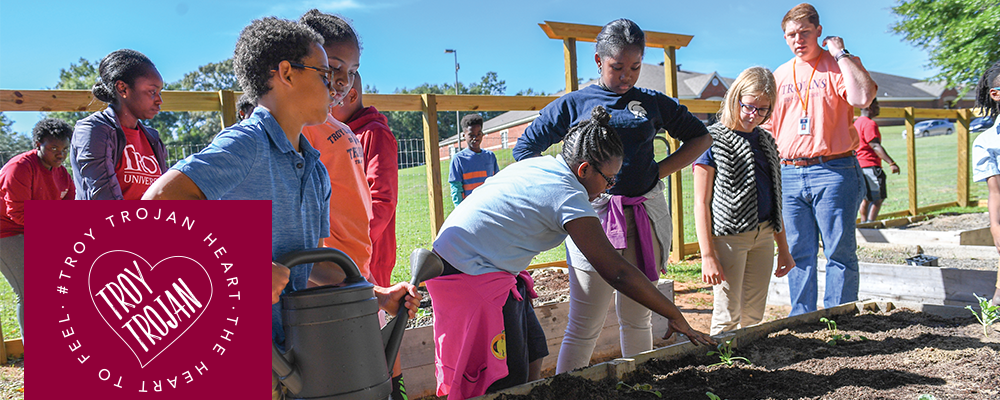 CATCH A TROJAN MAKING A DIFFERENCE? TELL US!
WIN $1,000 FOR CHARITY!


Any Trojan is eligible to win
Nominations will be collected through March 31, 2020. You can nominate a Trojan online or download the nomination form, and deliver it to the Office of Civic Engagement at 122 Eldridge Hall on the Troy Campus.
Each submission should name a person who has made a difference through an act of service or kindness for someone else or the community, and briefly state why this act deserves recognition.
It's All About Heart
From Troy University's founding in 1887, we embraced a belief that we have a "heart to serve." From the collective heart of all Trojans since, a culture of caring, compassion, and service has separated Troy University as a unique institution of higher learning. At Troy University, we believe, as individuals and as a whole, that we have been granted the rich and rare opportunity of servant leadership to those around us. We believe that we are blessed so that those blessings can be shared with others.
In a day and age where there is often much uncertainty, great confusion and troubling fears, Troy University reaffirms its commitment to our creed of having a mind to think, a heart to feel, and a body to act. It is our strong desire to understand the needs of those we encounter now, and throughout our lives. It is our belief that we have the great power, greater privilege and greatest responsibility to encourage those around us and to make our world a richer, safer, better place for all people.
For these reasons, we seek to start an initiative on campus of recognizing those who have a "Trojan Heart." Through the efforts of the John W. Schmidt Center for Student Success, Panhellenic Council, Interfraternity Council, Student Government Association, Tropolitan, and Office of Civic Engagement, we intend to collect and share the stories best reflecting the Trojan Heart of our Troy University students, faculty and staff. Each submission should name a person who has done a good deed for someone else and briefly state why this act deserves recognition. Those who perform the most noteworthy good deeds will be honored through cash donations to their favorite nonprofits.
Past Awards
Montgomery student wins second Trojan Heart award
A Troy University student with a passion for giving won the second annual TROY Trojan Heart during a ceremony at the International Arts Center.
Jasmine Denson, a senior sociology major at TROY's Montgomery Campus, won the award, which is given to the individual who best embodies TROY's motto: "Educate the mind to think, the heart to feel and the body to act."
Dothan student named first Trojan Heart Challenge winner
Troy University named Dothan resident Ashley Calloway the winner of the inaugural Trojan Heart Challenge.
TROY Chancellor Dr. Jack Hawkins Jr., and his wife, Janice Hawkins, presented Calloway with a $1,000 check to be donated to the charity of her choice, the Dothan chapter of Chicktime, a nonprofit aimed at connecting women to volunteer opportunities in their communities.

At Troy University, this is who we are and what we believe.
This is our #TROYTrojanHeart.