Troy University Police Department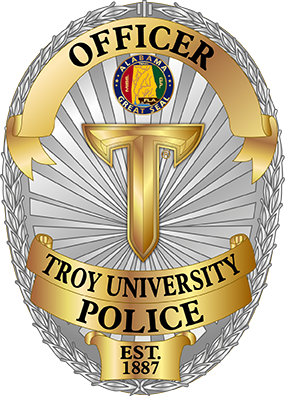 Welcome to the Troy University Police website. All of us here at the Troy University Police Department hope that the introduction of our website is useful and informative. The men and women that are a part of the Troy University Police Department are committed to the highest quality of protection of life and property. This can be upheld through our philosophy of Community Policing.
Community Policing involves being a part of the community by addressing the public's problems and working to resolve and solve them. The Troy University Police is wholly dedicated in the maintenance and promotion of individual rights and human dignity. I would like to thank you for visiting our website.
Crime Statistics
View our Annual Safety Report, learn about how we comply with the Clery Act, and learn about sex offender registry.
Important Numbers
Emergency: 911
Police Department 24/7 Non-Emergency: (334) 670-3215
Chief Beaudry Cell: (334) 372-3238
Student Services: (334) 670-3202
Student Mental Health Services: (334) 670-3700
Student Health Center: (334) 670-3452
Student Housing: (334) 670-3346
Night Shuttle Service until 10:00 PM: (334) 697-0060
Police Services
Troy University Police Department provides many services for the students of Troy. Some examples are, but not limited to:
24 hour/ 7 days a week security and police services are provided by the University Police Department in the form of car and foot patrols. The police have primary responsibility for patrolling all areas of the campus. They also provide building checks and perform crime prevention tasks on the campus. Police are dispatched through the Pike County 911 Communications Center.
Operation ID is the service in which a student can bring personal belongings, such as a computer, to the police department where we will the put the item in our computers and mark it so that if stolen it may be identified later.
R.A.D. is the Rape Aggression Defense system that is a realistic, self-defense tactics and techniques seminar provided by instructors from both Troy City P.D. and University P.D.
S.A.V.E. Project stands for Sexual Assault and Violence Education. It was established at Troy University in 1996 and is a program that provides information and helps better educate the students about issues including: dating and domestic violence, rape, date rape, stress management, and eating disorders just to name a few.
Arrive Alive is a project that the police department participates in every year, the week before spring break, fall break, Christmas break, and summer break. There are University P.D. staff positioned at traffic lights and stop signs, passing out flyers with safety tips.
Escorts are given at anytime when a student feels unsafe walking back to their dorm or car.
Vehicle unlocking and jump starting car batteries - Troy University P.D. will assist students with dead batteries and students that have accidentally locked their keys in a vehicle that is located on campus.
Safety talks - Throughout the school year, the University Police Department host safety talks concerning a number of different subjects that are not limited to residential safety, self-defense, and protection against domestic violence and rape.
Traffic and parking monitors - there are traffic/ parking monitors that patrol the campus throughout the week, ensuring that vehicles follow the rules and regulations of the university.
Security checks are done throughout the nights checking dorms to ensure all the doors are locked and windows are closed. Parking lots and other areas of low light are checked to make certain these areas have the proper lighting.
Secret Witness Hotline
Troy University police officers are often unable to know everything that is going on in the community, citizen participation in law enforcement and crime prevention is crucial. The Troy University Secret Witness Hotline is a way for community members to become more involved in crime prevention and resolution.
Please call or email if you have any information on crime prevention. Your call or email will be completely protected.
Troy Campus