Welcome to Troy University's Alumni Association
Join us for an exciting trip to the Big Apple & West Point
Oct. 12-15, 2023
TROY vs. Army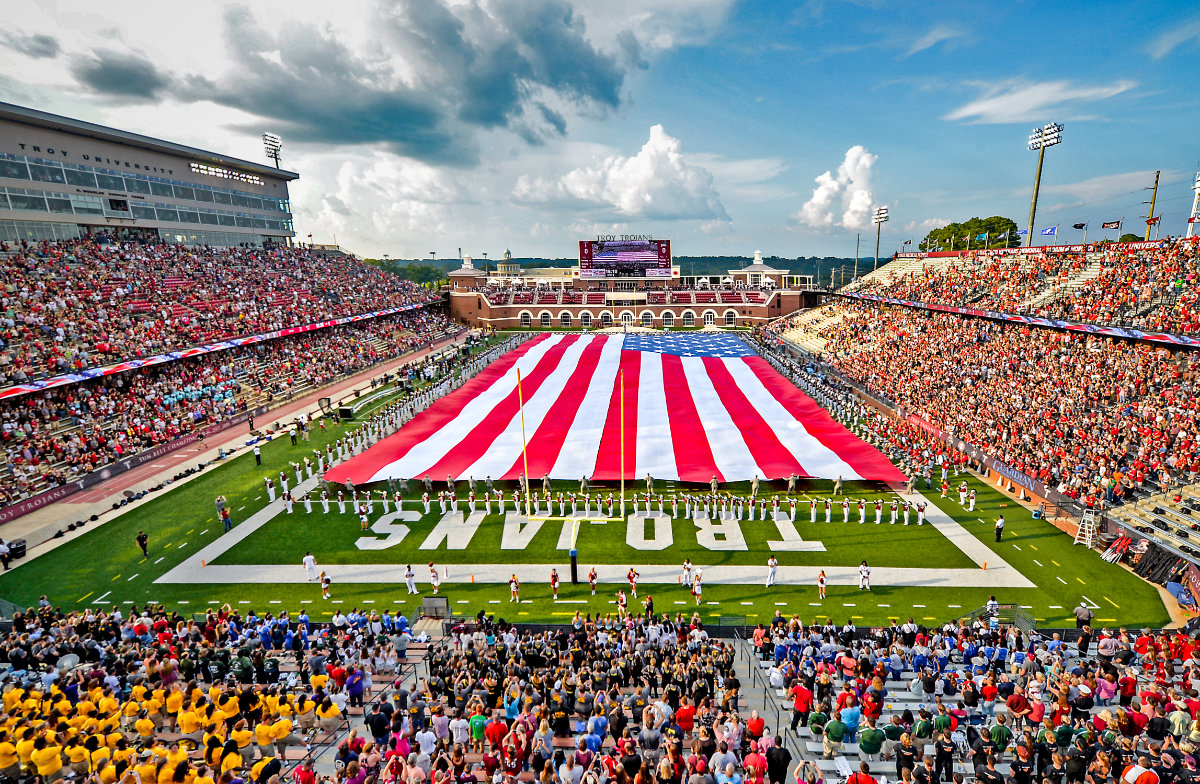 Three Night Air Package
Round-trip flight on Southwest Airlines from ATL to NY
Airport to hotel transfers via private motor coach
Three nights at the Westin Times Square
Gameday Hotel/Stadium Transportation
Troy University Pre-game event
On-site travel directors provided by Total Sports Travel
Three Night Land-Only Package
Three nights at the Westin Times Square
Gameday Hotel/Stadium Transportation
Troy University Pre-game event
On-site travel directors provided by Total Sports Travel
*Optional Friday, Oct. 13 tours available
DON'T MISS OUT - RESERVE YOUR SPACE TODAY
Official Fan Travel Partner of the Troy University Alumni Association | totalsportstravel.com | 888.455.4191
---
Dear Alumni & Friends,
This past March marked a milestone for me: I celebrated twenty-five years as the Alumni Director for Troy University and as the Executive Director of the Troy University Alumni Association. I am so very proud of all we have been able to accomplish. As we celebrate the future let's take a look back at our past.
The first diplomas were awarded at TROY in 1888 and the Alumni Association was organized in 1890 only to reorganize again in 1891 with 28 charter members. Edgar McBryde Wright, class of 1891, served as the first alumni president.
Service to the university has always been a hallmark of the Alumni Association dating back to 1910 when the Association donated $250 for the development of the athletic field on the north side of the campus with a ball field, bleachers, and tennis courts.
While the Association remained active throughout the 1920s, activities slowed a bit during the Great Depression and WWII. The post-war years saw a marked increase in the number of students at then Troy State College, with enrollments doubling due to returning veterans taking advantage of the G.I. bill. The increase in enrollment was matched by an increase in alumni activity. In 1947, alumnus Roy E. Jeffcoat wrote a new Alumni Association constitution, which was adopted at the Association's fall meeting.
In 1955, the Alumni Association began honoring alumni with the prestigious Alumni of the Year awards. These awards continue to be awarded every year at a ceremony during the Homecoming weekend festivities. To date, the Alumni Association has honored 167 alumni with these awards, and 58 have been inducted into the Alumni of the Year Society, which the Alumni Association began in 2017.
From 1965 to 1968, the Alumni Association engaged in its most significant project to date in the university's history, the raising of $100,000 toward the construction of a men's dormitory – Alumni Hall. McDowell Lee, who served our state as a representative from Barbour County from 1955 to 1963 and was secretary of the Alabama Senate from 1963 to 2011, was president of the Alumni Association at that time and led the campaign to raise the funds for this construction.
A full-time alumni affairs office was created in 1975, with Bob Cauthen, Class of 1973, as the first director. By 1992 there were 20 alumni chapters chartered and by 2002 there were a total of 36 alumni chapters, including the first international chapter in Kirov, Russia founded in 1999. In 1976, the very first Alumni scholarship was awarded in honor of Virgil Collins, a former professor in the math department who also served on the Alumni Board. That endowment has grown to over $1 million, allowing us the opportunity to continue giving scholarships to deserving TROY students.
The largest endeavor of the Alumni Association began in 2002 with the Quad Revitalization project under the leadership of then Alumni Association President Sammy Carr, who was Adjutant General of the Alabama National Guard and for whom our Alumni board room is named. Less than a year after the project's groundbreaking ceremonies, a red-letter day was proclaimed at Troy when university officials, dignitaries, and alumni joined together to dedicate the redesigned quad that now forms the centerpiece of our campus. This project has made a significant impact on the life of the university. It was perhaps the late Lamar Higgins, a former member of the TROY Board of Trustees, who shared the significance of the quad the best when he said, "Notice this quad has no walls because Troy University has no boundaries."
On October 2, 2004, the new Alumni House, located at 100 Highland Avenue, was dedicated. We continued our quest for inclusion and diversity when on that same day we also chartered the African American Alumni chapter making it the 41st alumni chapter. We now have 64 alumni chapters and these chapters play a pivotal role in keeping our alumni engaged. All chapters are required to give scholarships each year and nine of these 64 chapters have endowed scholarships. I can't believe that next year we will celebrate 20 years in our Alumni House.
In 2005, the University marked a milestone by uniting under a single accreditation, an initiative known as "One Great University." Under the leadership of then President Jimmy Gardner, the Alumni Association joined in supporting and celebrating this momentous event in the life of the University.
In 2015, the Student Alumni Association, an organization that fosters spirit, traditions, and pride, was established to connect students with alumni thus cultivating them to be loyal alums following graduation. I am so proud of this group as they have endowed their own scholarship and participate in Giving Day each year by giving to this endowment. This past year, they also gave to the new Football Fund for Excellence and purchased shakers and t-shirts given out during the basketball post-season, enabling fans to show their pride and spirit as they cheered on the Trojans. The Alumni Association works with them on how to harness their passion, amplify their giving, and how they can make a huge impact on TROY and the world around them.
With over 170,000 alumni worldwide, the Troy Alumni Association allows you – our alumni– to connect to the university.
Scholarships remain our biggest focus as we know they can be life-changing. They unlock barriers and open doors and create for our students and their families pathways to a future that would otherwise be unreachable. Our Alumni board so strongly believes in these scholarships that they recently raised $50,000 for another Legacy scholarship and then decided that was not enough, so they are currently working to raise even more to get that scholarship to $100,000. They are approximately $30,000.00 away from reaching their goal. To give to this scholarship fund, or to join the Alumni Association as a dues-paying member, please contact me at the Alumni House at (334) 670-3318.
In closing, after 25 years of service as your alumni director, I stand in amazement at the growth of this great university and what the alumni association, with your help, has been able to accomplish. Troy University holds a very special place in my heart as I know it does for you as well. Moving forward your support is more important than ever as we strive to ensure that great things continue to happen at our beloved alma mater. I want to encourage you to give generously of your time, treasure, and talent whenever possible. It is indeed my honor and my privilege to serve as your Alumni Director. I appreciate you and offer my sincere thanks for all you do for the Alumni Association and our university. I hope you have enjoyed this trip down memory lane as much as I have enjoyed sharing it with you. Here's to the school we love, we are Trojans one and all.
GO TROY!
Faith West Byrd
Troy University Alumni Director
---
Join or Renew Membership
All graduates, former students and fans are eligible to become active members of the Alumni Association.
Membership Dues:
$50 per person annually
$750 single lifetime membership
$1,250 couple lifetime membership
Payment plans available for all lifetime memberships.
Alumni of the Year
Accepting applications for 2023 nominations
The Troy University Alumni Association will recognize distinguished individuals through the Distinguished Alumni of the Year and the Honorary Alumnus of the Year Awards at Homecoming. The addition of the Honorary Alumnus of the Year reflects a change made by the Alumni Board of Directors so that deserving friends may be nominated. Individuals chosen as Distinguished Alumni of the Year are Troy University graduates. The Honorary Alumnus Award is given to a non-graduate who has served, promoted and loved the University in the tradition of loyal alumni.
ALUMNI OF THE YEAR AWARDS NOMINATION FORM
Alumni E-mail
Troy University provides a new lifetime email address for all alumni. This email account ends in @alum.troy.edu and is hosted by Microsoft.
If you would like to request an account, please visit https://helpdesk.troy.edu
REGISTER FOR AN ALUMNI E-MAIL ADDRESS
Continue the Tradition...One Brick at a Time
Join the Troy University Alumni Association's commitment to the excellence and growth of Troy University by becoming a part of the revitalization of the Academic Quad.
Please call 334-670-3318 or download the form below to order a brick.
Commemorative Ornaments
These keepsake ornaments, designed exclusively for the Alumni Association by ChemArt, depict special times throughout the University's history. These ornaments make memorable gifts for the Troy alumni in your life.