ONE DAY ● ONE PURPOSE ● ONE TROY!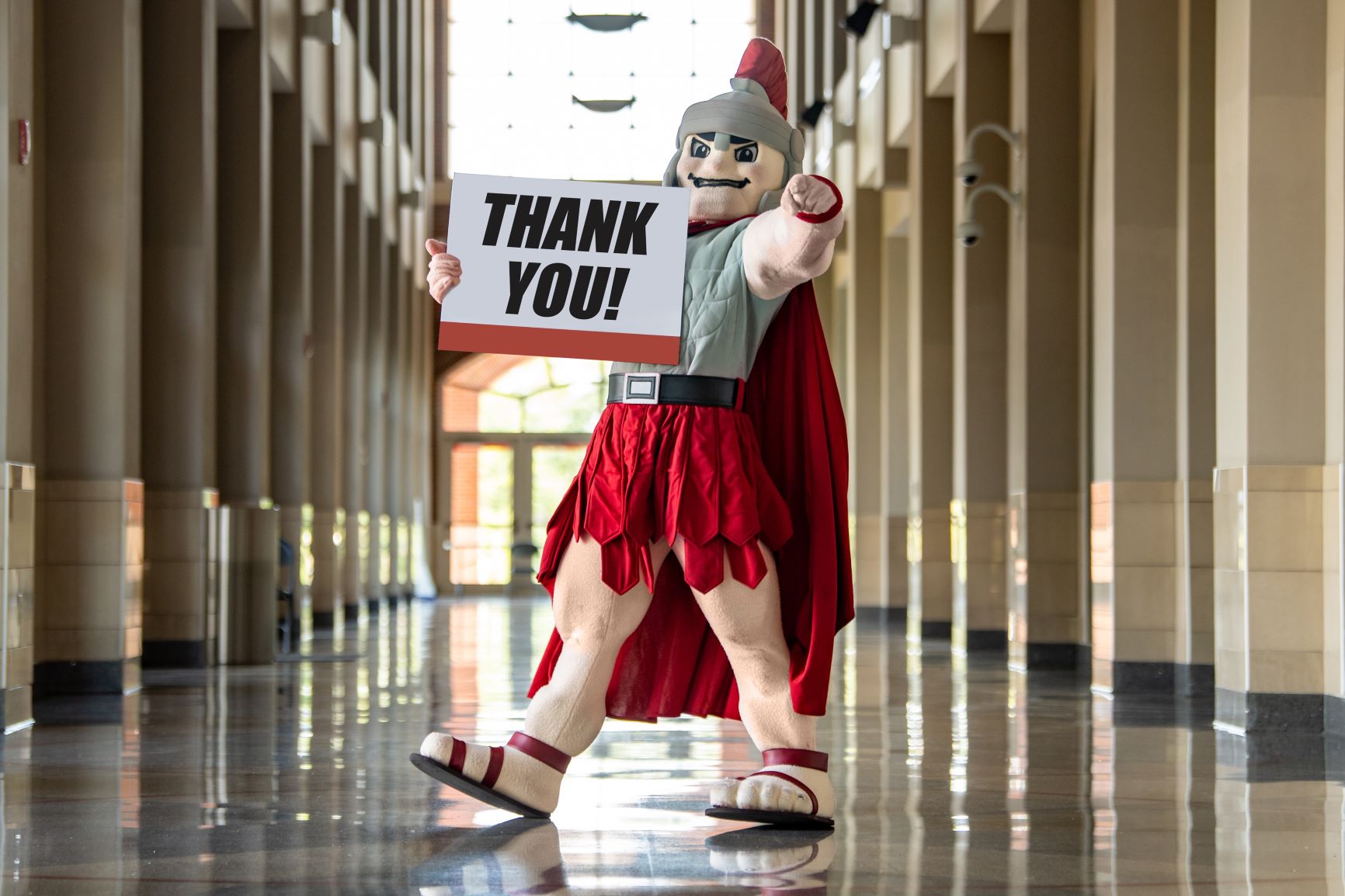 In just 24 hours, we raised $114,557 from 240 gifts, surpassing our goal of $75,000!
The support of the TROY family came from all over, with gifts from 22 states. Thank you for your generosity and for exemplifying what it truly means when we say the Trojan Family!
Giving Day is all about everyone coming together for one day to make a big impact, and we are incredibly grateful to all who joined us in being ONE TROY!
Welcome to Troy University's Office of Development
Our mission is to build partnerships between the institution and its friends and to solicit private financial support for the University. More and more each year, Troy University has to rely on private support to bridge the gap left by decreased state funding.
The Office of Development works closely with the Troy University Foundation to raise money to support Troy University across the globe. Gifts support scholarships, academic programs, new equipment purchases and faculty and staff enhancement programs. In addition, the Office of Development is actively involved in a myriad of ways with all current and future alumni through interaction with the Office of Alumni Affairs.
Please take some time to look around our website to see the many ways to give in support of Troy University and to see how you can help make a difference for our University. You may give annual unrestricted gifts or designate a specific campus or program to support. There are so many opportunities at Troy University to make a difference in the education of our students - at home and around the world. With your help we can make our plans and dreams a reality.
We would like to thank each of you who have given and continue to give so willingly to TROY. Your gifts will benefit current students and future generations of Trojans.
Please come back to TROY whenever and as often as you can. You will be proud of today's Troy University!
---
---
The Laliberte Family Endowed Scholarship
Dr. Jean Woodruff Laliberte, age 69, a longtime resident of Troy, Alabama, passed away unexpectedly Saturday, June 27, 2020. A funeral service will be held Wednesday, July 1, 2020, at 11 a.m. in the sanctuary of Park Memorial United Methodist Church with Rev. Danny Arnold officiating, special remarks by Dr. Jack Hawkins and Professor Steve Garrott, and Green Hills Funeral Home directing. Serving as pallbearers will be Nick Gruber, Brandon Burks, Taderion Myhand, and Demaris Harris. Honorary pallbearers will be the Bingo Babes, the Bingo Bunch, Monday night Bible study group, the Alpha Delta Kappa Sorority, the Troy University family, trusted friend Dorothea Fielder, and special family friend Hazel Cox. She will be laid to rest in Notre Dame Cemetery in South Hadley, Massachusetts.
In 1991, Dr. Laliberte came to Troy University as a professor of marketing and served in that position until 2005. In 2000, she was named the Associate Vice Chancellor for Development and served in that position until her retirement in 2017. Prior to her relocation, she held the positions as an Instructor of Marketing with Clemson University (1974-1981), Associate Professor of Marketing, Western New England College (1981-1987); and Associate Professor of Marketing and Finance with Elms College (1987-1991). Jean was a spirited patron of the Troy communities, contributing her time, expertise, and unwavering determination to the betterment of every organization of which she was a part. And there weren't many to which she didn't contribute. Her community involvements include serving as the local chapter and state treasure of Alpha Delta Kappa Sorority; Troy Rotary; DAR; secretary of the Troy Arts Council; Troy Arts Auxiliary; Republican Women; Mortar Board; New Century Club; Female Factor; Troy Regional Medical Foundation; Troy University Legacy Council; and Park Memorial UMC Circle of Benevolence. She received numerous awards for her collaborations, participation, and fundraising, most notably the National Honorary Troy University Alumna, 2017; C.A.S.E. paper awards (2005-2017) – Grand Award 2012; and her works to raise $256 million for Development (2000-2017). Socially, she was a strategic Bingo player, great carrot cake baker, and one of the greatest Troy Trojans found around town.
Dr. Laliberte is survived by her husband of 36 years, David Laliberte; daughter, Jennifer "Jeni" Laliberte-Gruber (Nick) of Lincoln, NE; grandchildren, John Harrison and Hawkins Gruber; mother, Jean Tulli of Clemson, SC; sisters, Jennifer Barbour of Clemson, SC and Anne Jordan of Statesville, NC; nieces and nephews, Faith Barbour of Greenwood, SC, Cameron Jordan McKinzie (Brian) of Chapel Hill, NC, Graham Jordan of Statesville, NC, and Braylon Barbour of Greenwood, SC; and brother-in-law, Paul Laliberte of Troy. She was preceded in death by her father, Alton Woodruff; and father and mother-in-law, John and Lois Laliberte.
In lieu of flowers, donations may be made out to the Troy University Foundation for the Dr. Jean Laliberte Scholarship (301 Adams Adm Bldg Troy, AL 36082 or 334-670-3608) or to the Park Memorial United Methodist Church, (P.O. Box 1291, Troy, AL 36081). A livestream of her service will be available for viewing. Friends and family can sign the guestbook online at greenhillsfuneralhome.net. The staff of Green Hills Funeral Home is honored to serve the Laliberte family.
To donate to the scholarship in memory of Dr. Laliberte please click the link below.
Donate IN Memory of Dr. Jean Laliberte