The Beginning
After researching food allocation and prisons, Dr. Everhardt and Dr. Carmody created a partnership program with the Julia Tutwiler Prison for Women in Wetumpka, Alabama.
The TROY-Tutwiler Garden Program, started in January 2019, is an educational program for female incarcerated participants run by Dr. Everhardt and Dr. Carmody, along with hands-on student involvement. The program was created to teach incarcerated participants about horticulture and nutrition through 15-week Fundamentals of Gardening Classes held every Wednesday, year-round.
In addition, there is also an advanced class for those incarcerated participants that have already graduated from the fundamentals class. These classes are also held on Wednesdays.
Troy University offers a certificate of completion for those incarcerated participants that finish these 15-week classes.
Win-Win
This TROY-Tutwiler Garden Program is a win-win for both students and incarcerated participants. During the classes, the incarcerated participants have access to healthy food and obtain skills that could help them secure employment upon release. And, the students involved, which is typically one to two at a time, are extremely hands on in data collection, curriculum development, teaching garden and nutrition classes, gardening with the incarcerated participants, promoting the program and more.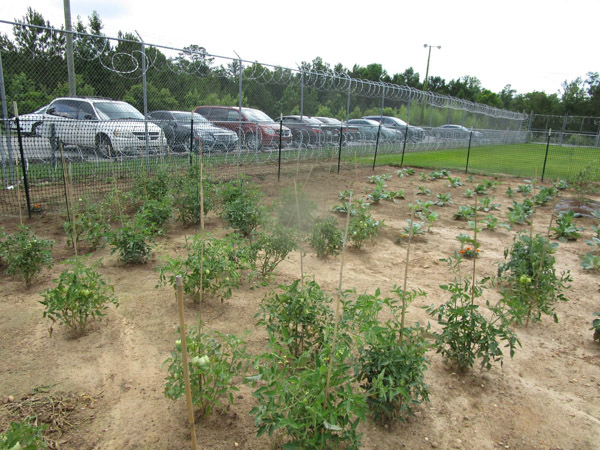 Making a Difference
This program is a lifeline for the women at Tutwiler Prison. After they join the program, a commitment is made to educate and support them. This commitment continues after they are released. The goal is to make the women productive members of society that never return to prison.
Around 60 incarcerated participants have participated in this program since it started, and there are success stories to tell about. One story in particular is about an incarcerated participant that left Tutwiler Prison in January 2020. She had completed the 15-week Fundamentals of Gardening Class and earned a Certificate of Completion from Troy University. She secured employment, a home and a car. She is still in contact with the program and is now considering going to college with encouragement from those in the program.
Quote from Warden Wright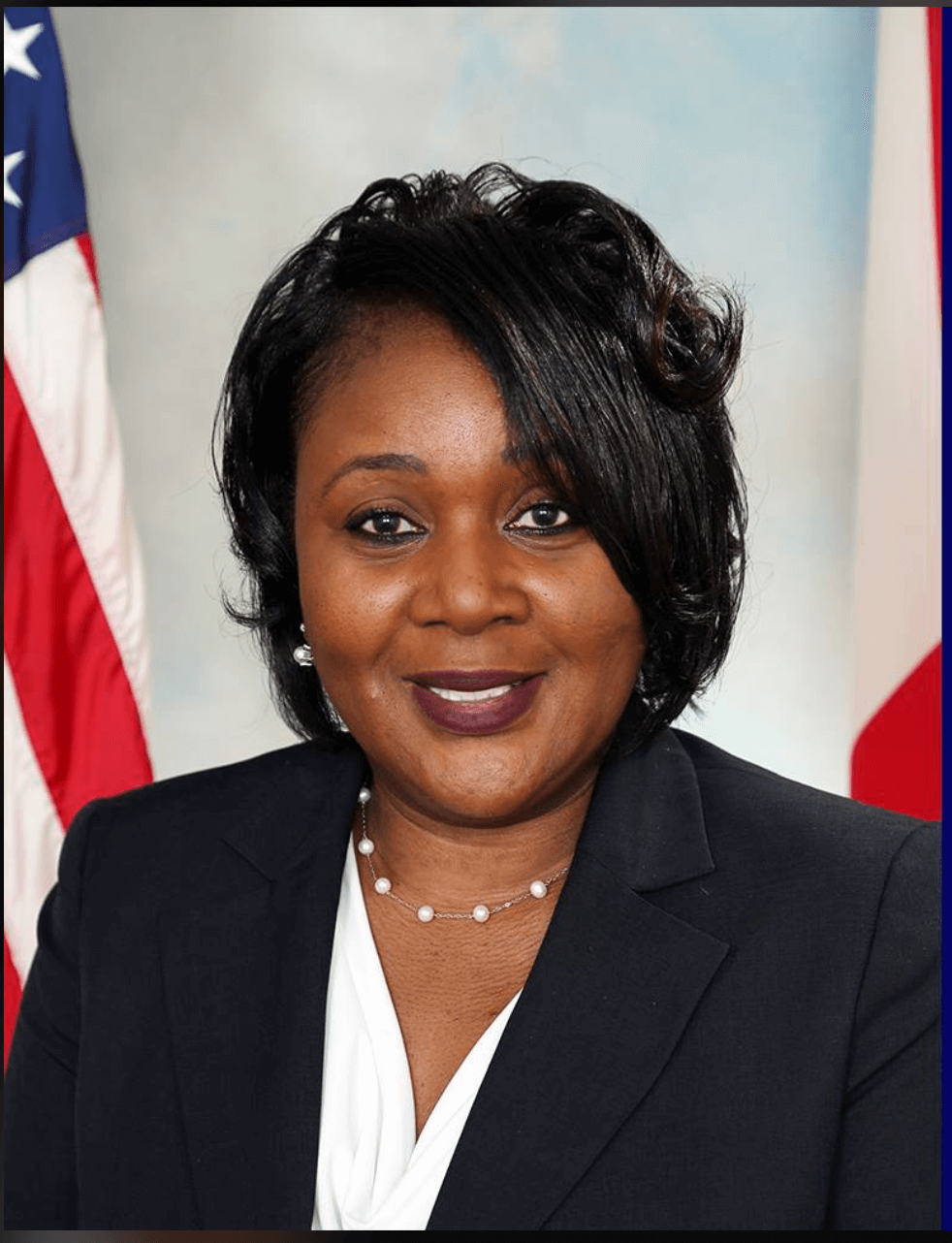 "The implementation of the Gardening Program at Tutwiler has been beneficial in many aspects. The program has had a transformative effect on the women as they're able to experience the process of growth first-hand, nurturing plants from seed to harvest. I have witnessed the garden's rejuvenative power, providing our women with a sense of responsibility and pride in their work. We are very appreciative of Troy University and its staff for facilitating the program. My hope is that the Tutwiler Garden Program will continue to grow and expand, and allow more interested women to participate."
Quote from Warden Drake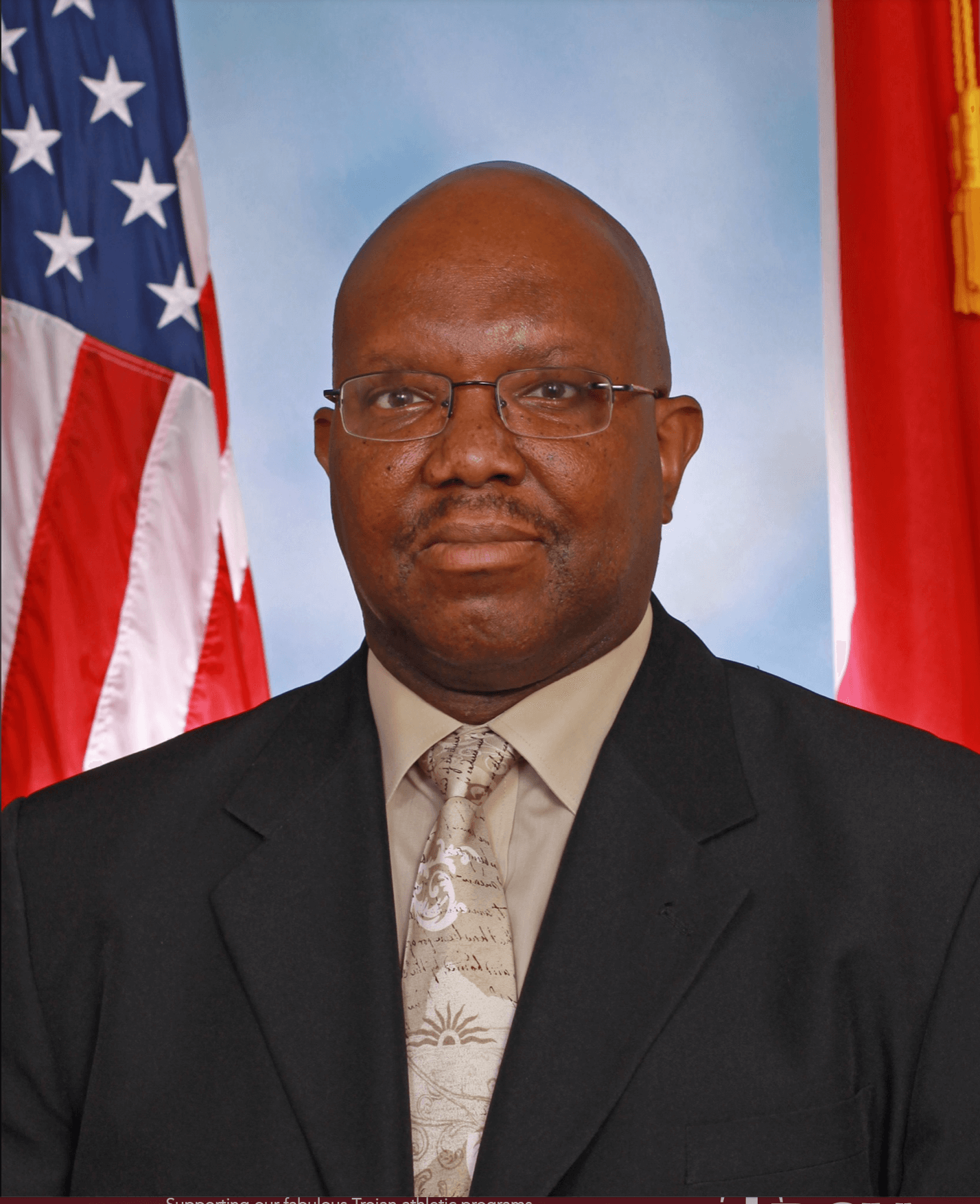 "The Gardening Program at Tutwiler has been a breath of life for our incarcerated participants. Since COVID-19, our incarcerated participants have really taken ownership of the garden and eagerly look forward to TROY's staff and students coming to provide instruction. I have seen incarcerated participants pour themselves into the garden and their work. They've watched the results that wind, rain, and sunshine can have on the garden's overall health, and make necessary adjustments along the way to provide care to the growing plants — very similar to the personal growth adjustments they are working on in their own lives. Our incarcerated participants have a lot of pride in the garden, which is reflected in its name, "The Garden of Perseverance."
Quote from Captain Davis
"The partnership between Julia Tutwiler Prison for women and Troy university has had a major and long-lasting impact upon all of us. In the Alabama Department of Corrections, our job is to help rehabilitate those individuals in our care, and The Garden of Perseverance has done just that and so much more. The garden has even helped our staff better understand the Department's overall mission by providing a bird's eye view into effective incarcerated participant rehabilitation. The garden is viewed as a trope, akin to real-world applications of the old adage, 'You get out of the world what you put into it.' I am grateful to the team at Troy university and the dedicated garden staff for showing me an up-close-and-personal life lesson, and for reigniting a fire in my own life to better serve our community."


Funding
Initially, the USDA provided some funds to start the program, however now the TROY-Tutwiler Garden Program is only funded through donations. If you would like to help this program, you can designate your contribution to this program through the annual fund.
If you would like to donate, please click the button below.
Our Team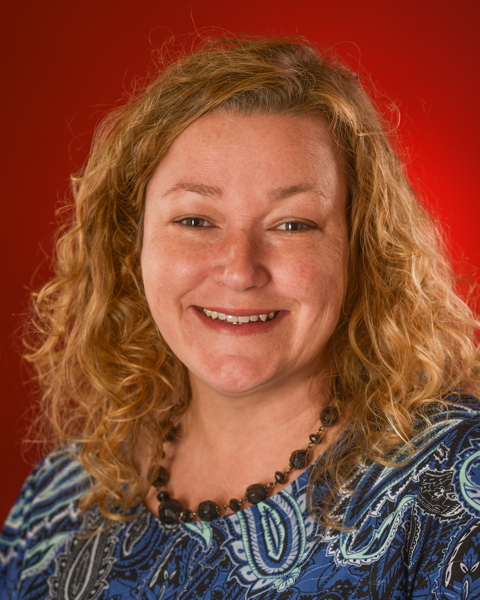 Sharon Everhardt, Ph.D.
Dr. Everhardt joined the Troy faculty in 2014. She teaches at both the undergraduate and graduate level. Her main research interests include the study of race, class, and gender, especially disenfranchised populations of women. In 2020, Dr. Everhardt earned certification as an AACS Clinical Sociologist who helps organizations and institutions resolve social issues related to the human condition. She is currently researching the impact of horticultural programs on nutritional knowledge and food insecurity among female incarcerated participants in women's correctional facilities. She has secured over $75,000 in USDA funding to support her gardens projects. In 2020, she spearheaded the pursuit of a 1.9 mil Department of Education's Strengthening Institutions Title III grant to improve student achievement and retention at Troy University. In December 2020, Dr. Hawkins awarded her with the Chancellor's Excellence Award for her grant work.
Further areas of interest include food, capital, self-sufficiency programs for low-income populations, and volunteerism. She enjoys incorporating service learning into her classes to allow students to gain real world understanding of the topics they are studying. Dr. Everhardt has been the recipient of numerous awards including the 2017 Teacher of the Year for Troy-Montgomery and the 2015 and the 2018 Troy-Montgomery Faculty Excellence Award.
Stephen Carmody, Ph.D.
Dr. Carmody is an anthropological archaeologist whose research focuses on the prehistoric use of plants in both religious and economic contexts in the southeastern U.S. His specialization in paleoethnobotany allows him to use plant remains recovered from archaeological sites as a lens into the human-environmental dynamics of the past. His primary research interests involve exploring the cultural and social consequences of the origins of agriculture, past, present, and future. He also explores the use of plants in ritual and religious ceremonies. Stephen has worked on or led archaeological excavations in Alabama, South Carolina, Tennessee, and West Virginia.
2023 Images
2019 Images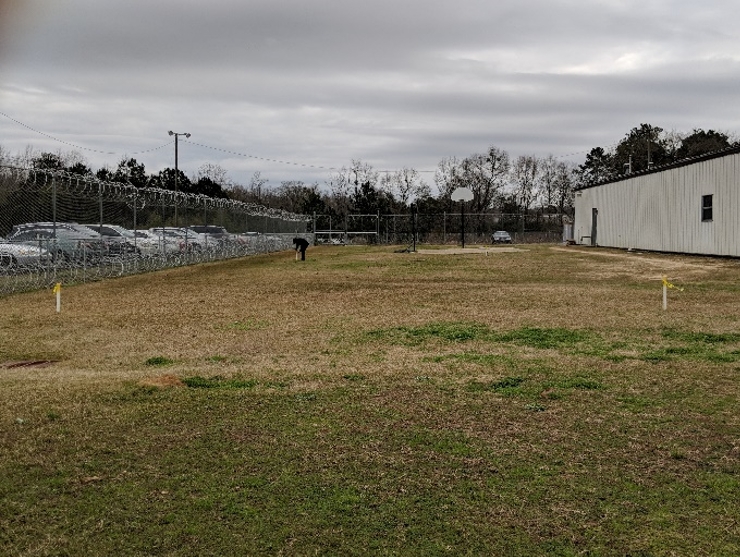 The beginning. An empty grass field within the fences of Tutwiler.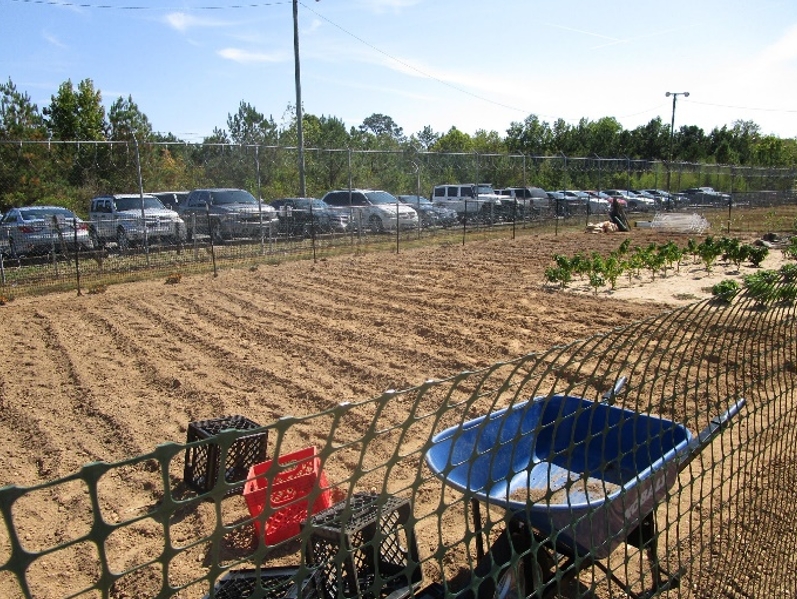 A plowed field. A blue wheelbarrow, 1 red milk crate, and 3 black milk crates lie in the foreground. In the background, rows of vibrant plants have dominated a corner of the new garden.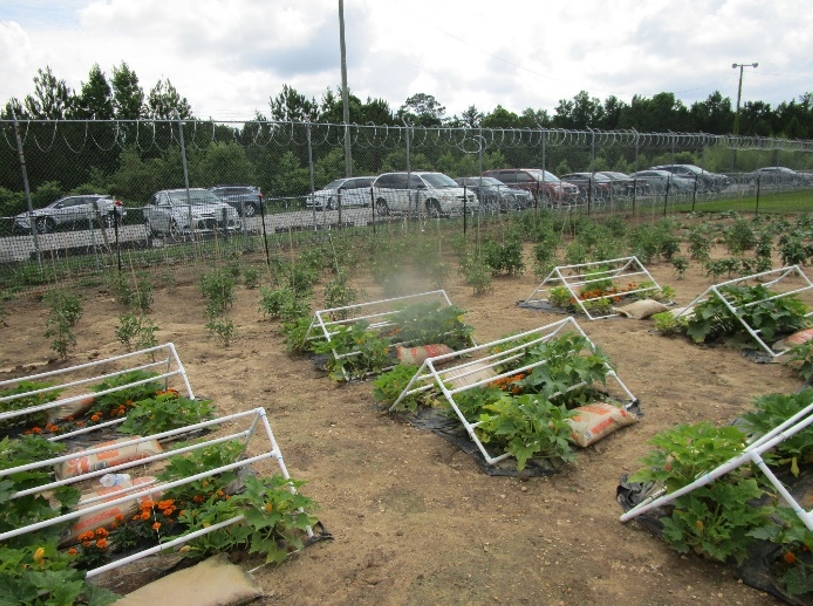 The garden, full of many healthy growing plants.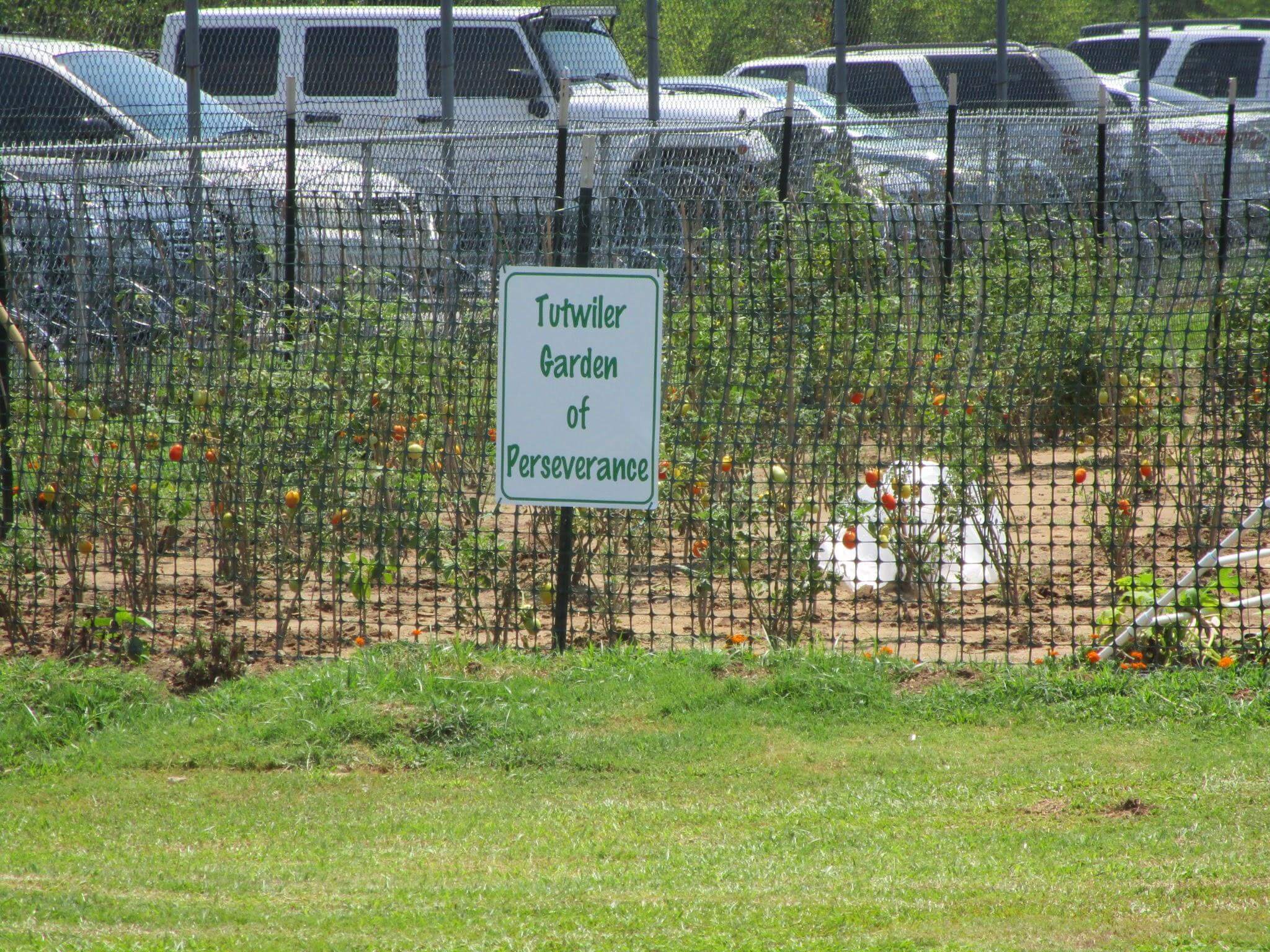 A sign that reads "Tutwiler Garden of Perseverance" in front of the garden's front edge of ripening tomato plants.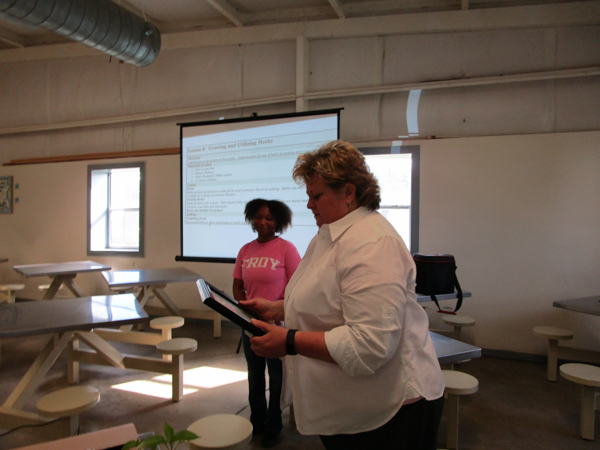 Jasmine Daughtry and Dr. Wendy Williams are standing in the class area. The board is displaying a projection of the lesson for that class.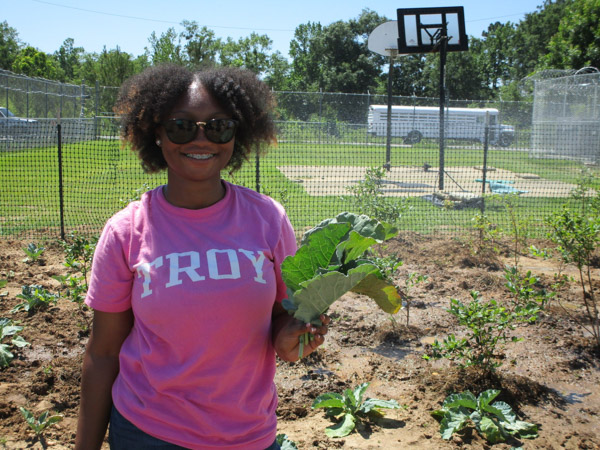 Jasmine Daughtry, a member of the 2019 team and grant coordinator, wearing a pink Troy shirt and holding harvested plants in the garden.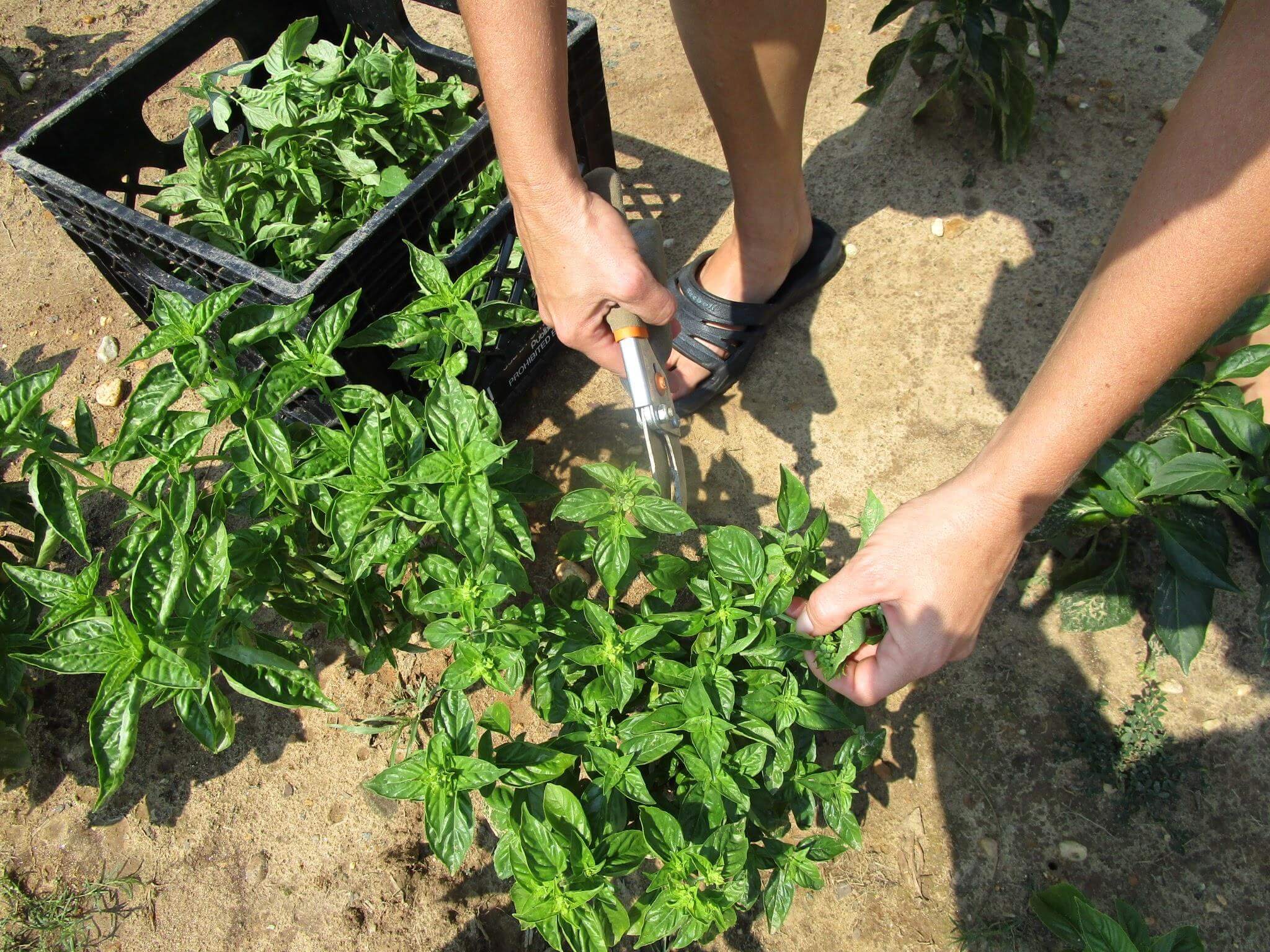 A garden participant working in the garden, holding a pair of gardening shears.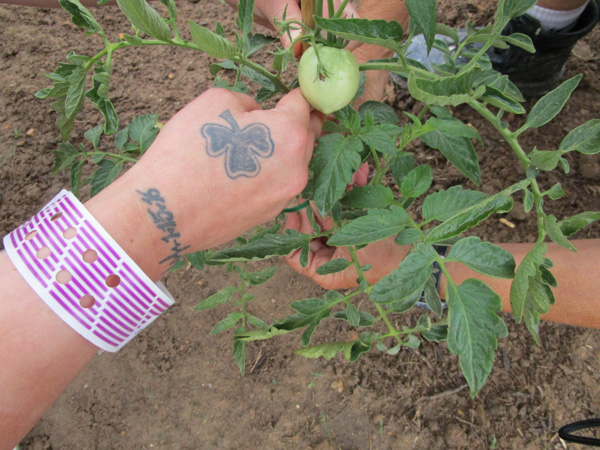 Garden participants working on a tomato in the garden.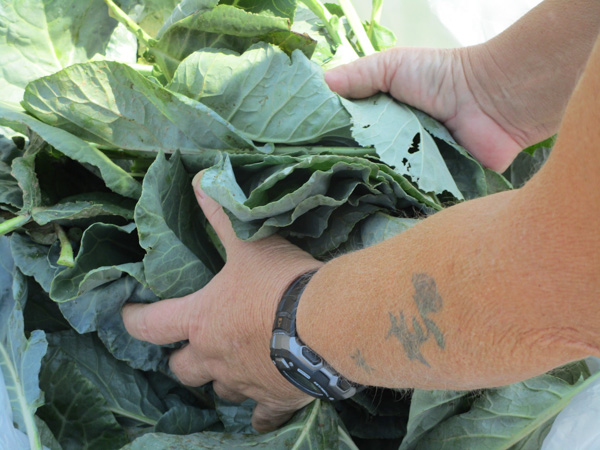 A garden participant at work, holding several large collard leaves.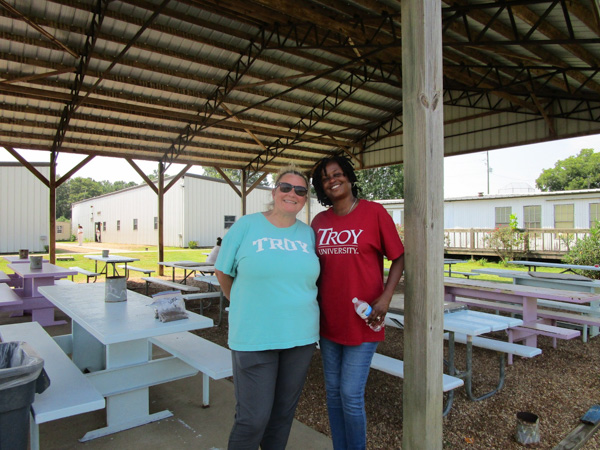 (from left to right)
Dr. Sharon Everhardt and Dr. Brenda Gill, standing in the common area of the Tutwiler Annex.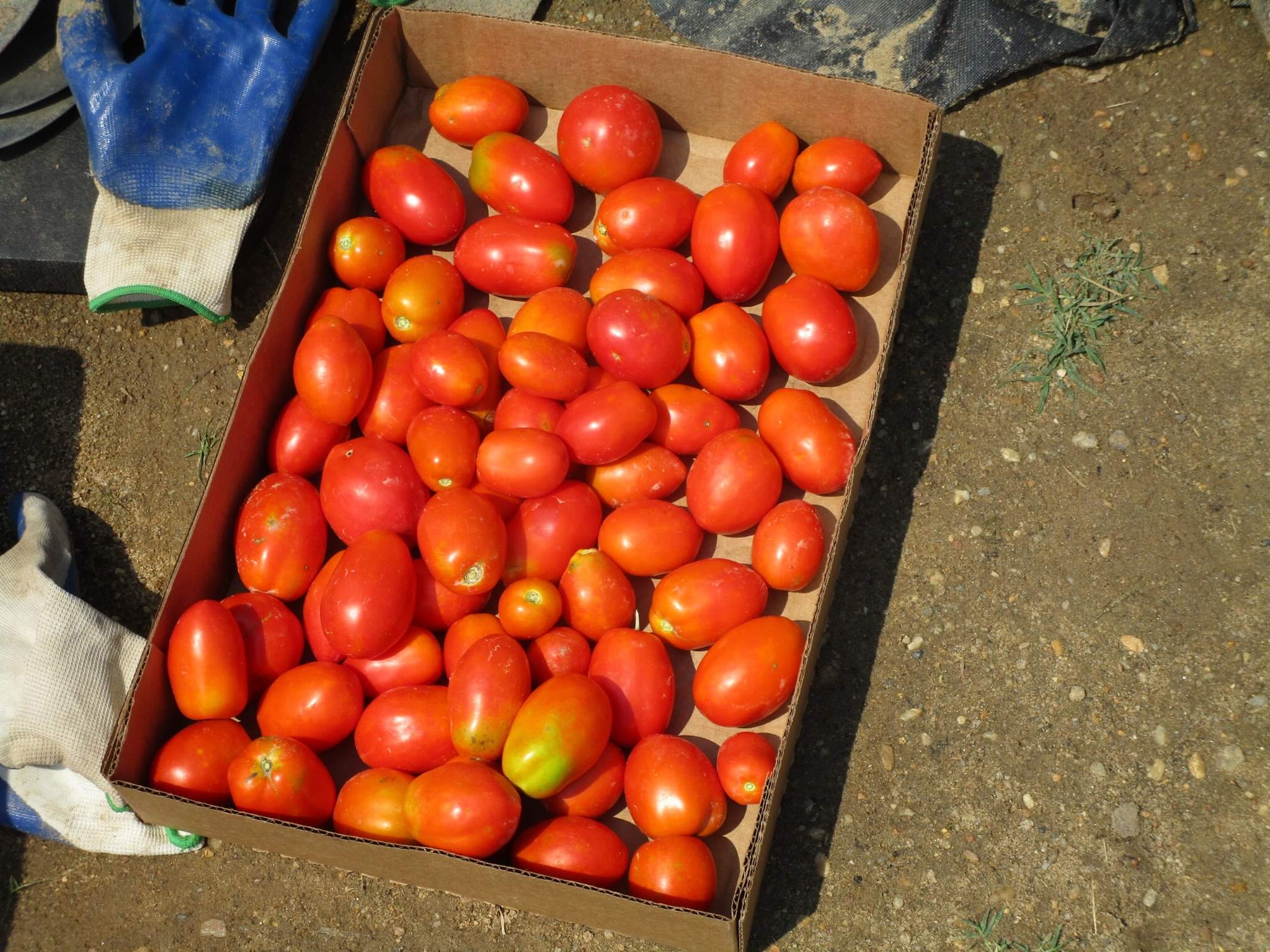 A rectangular cardboard box full of ripe red tomatoes.
2021 images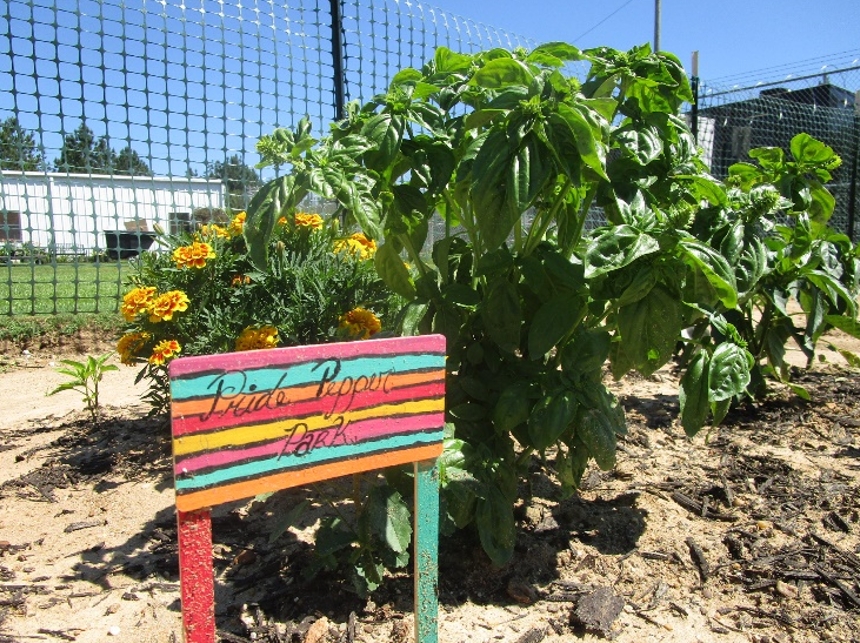 A basil plant with marigolds and peppers behind it. Before it is a sign with pink, blue, orange, hot pink, and yellow stripes reading "Pride Pepper Park."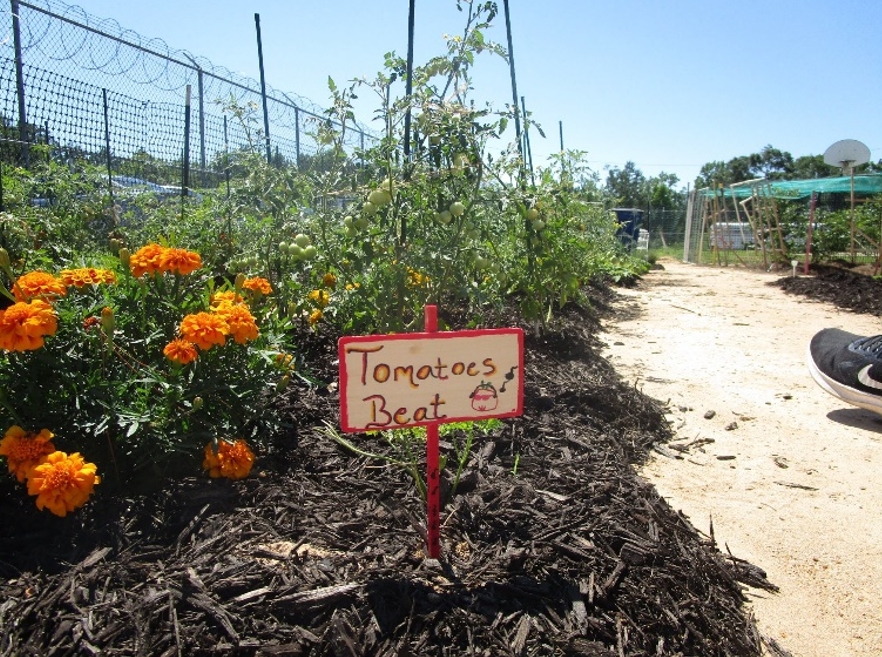 Marigold flowers, growing tomato plants, and a sign reading "Tomatoes Beat" with a drawing of a tomato wearing headphones and listening to music.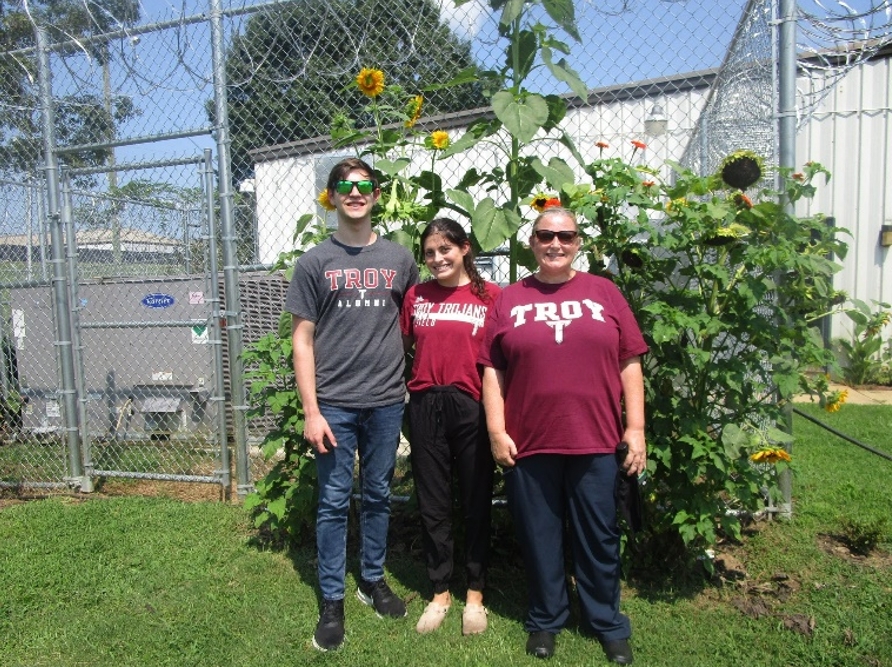 (left to right)
Ryan Howard, Christie Caruana, and Dr. Sharon Everhardt standing in front of the sunflower plants.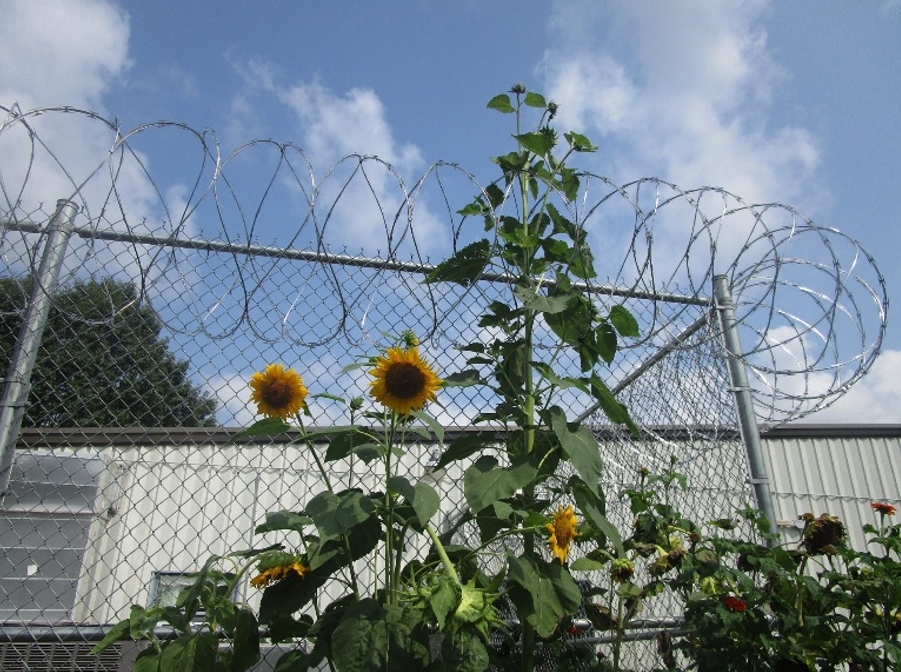 Bright yellow sunflowers, with one particularly tall flower growing straight through and beyond the fence's razor wire.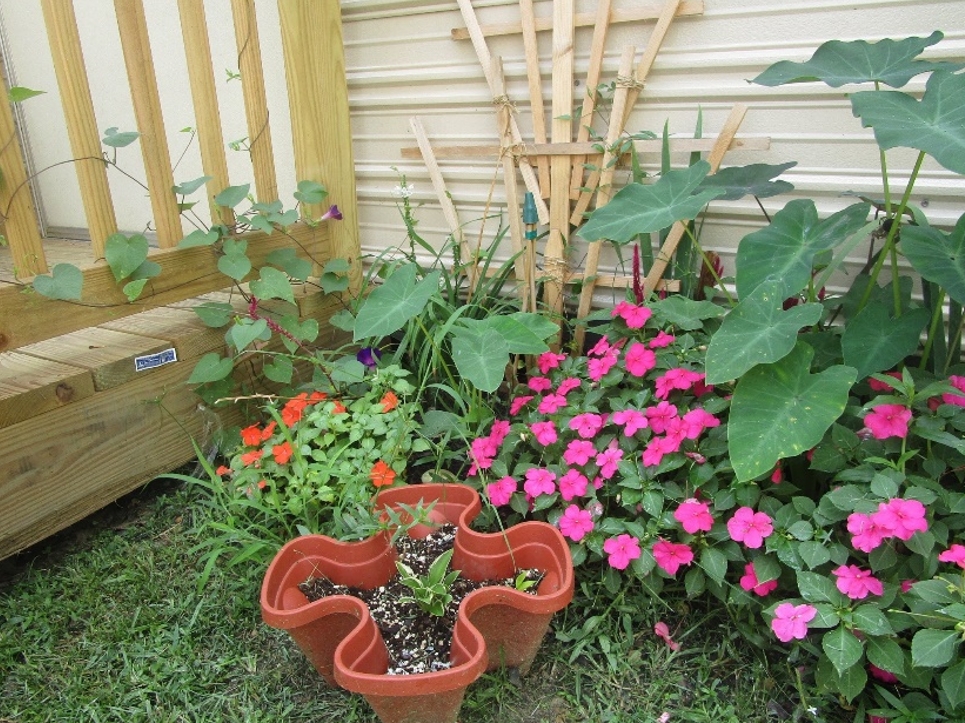 Pink, orange, and a few purple flowers growing at the front of a small building within the facility.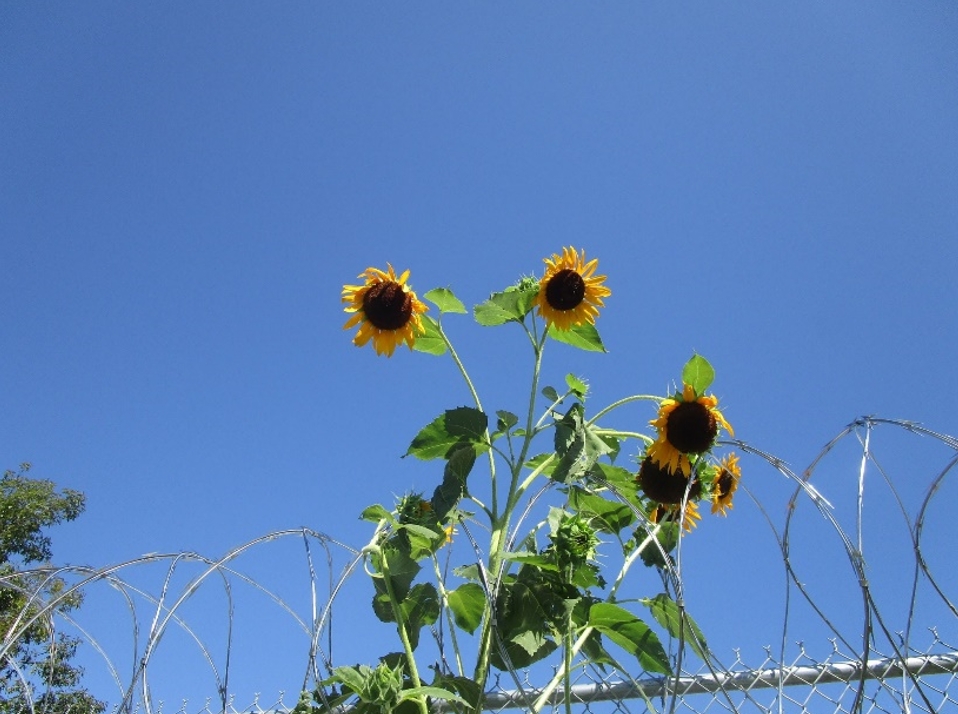 Five bright yellow sunflowers that have grown beyond the fence's razor wire.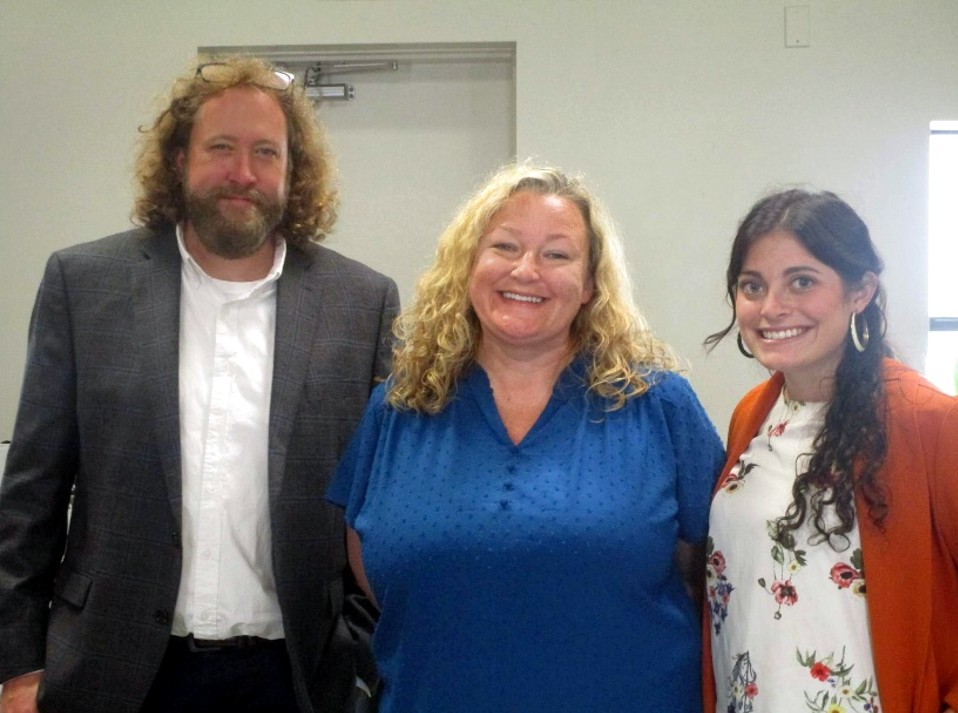 (left to right)
Dr. Stephen Carmody, Dr. Sharon Everhardt, and Christie Caruana at Tutwiler's main facility for the garden program graduation ceremony.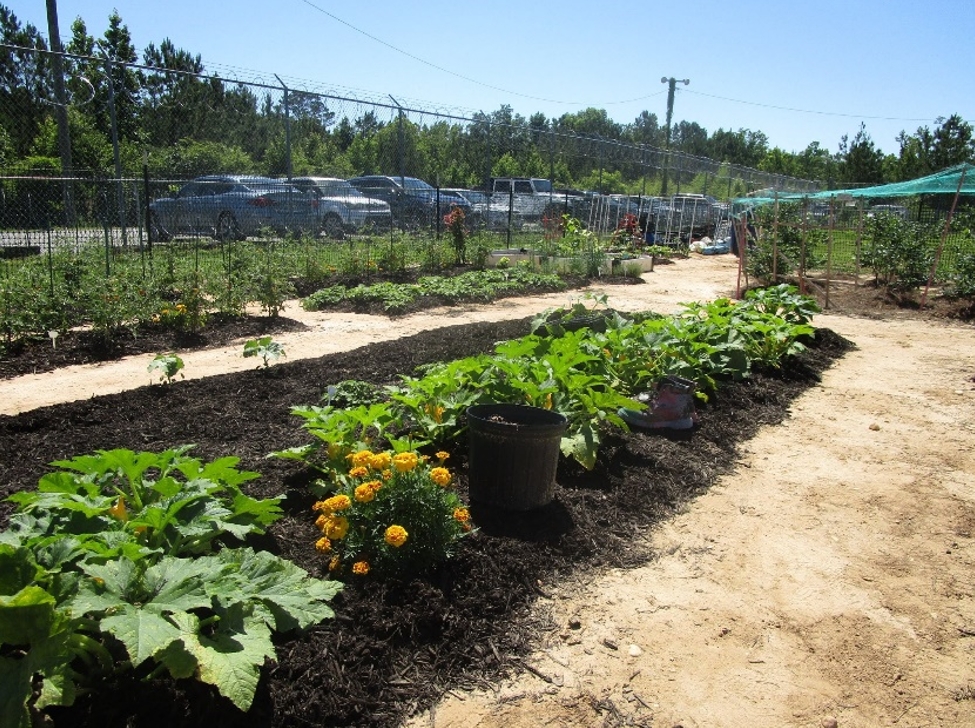 Marigolds, squash, and the blueberry plants in the top right corner.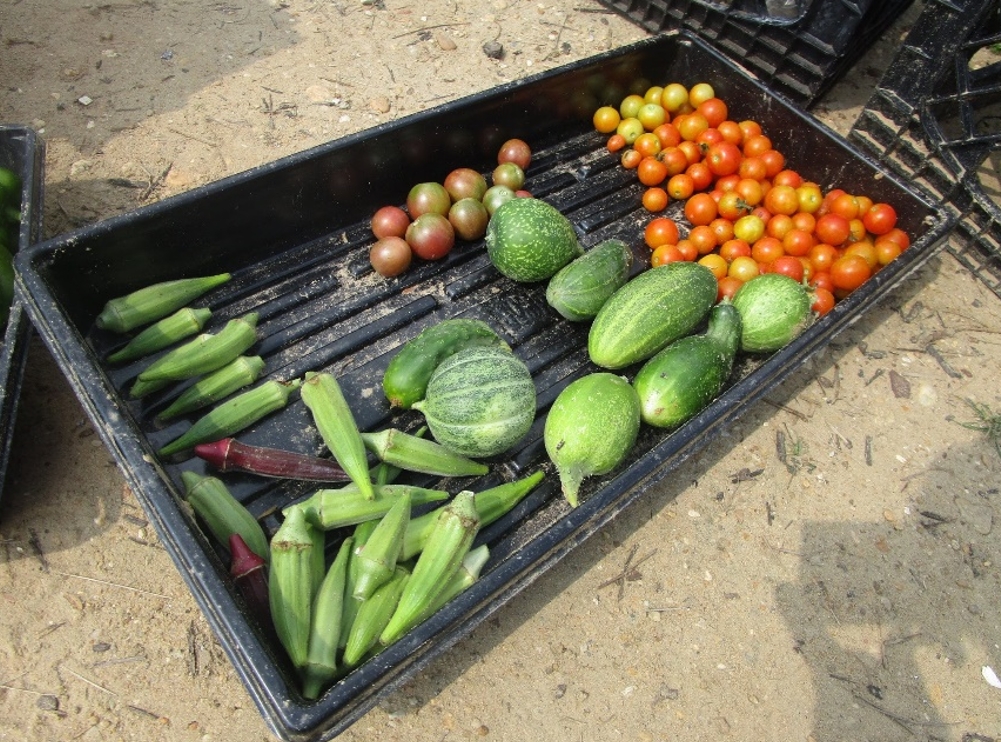 A bountiful harvest, including okra, cucumber, tomatoes, and more.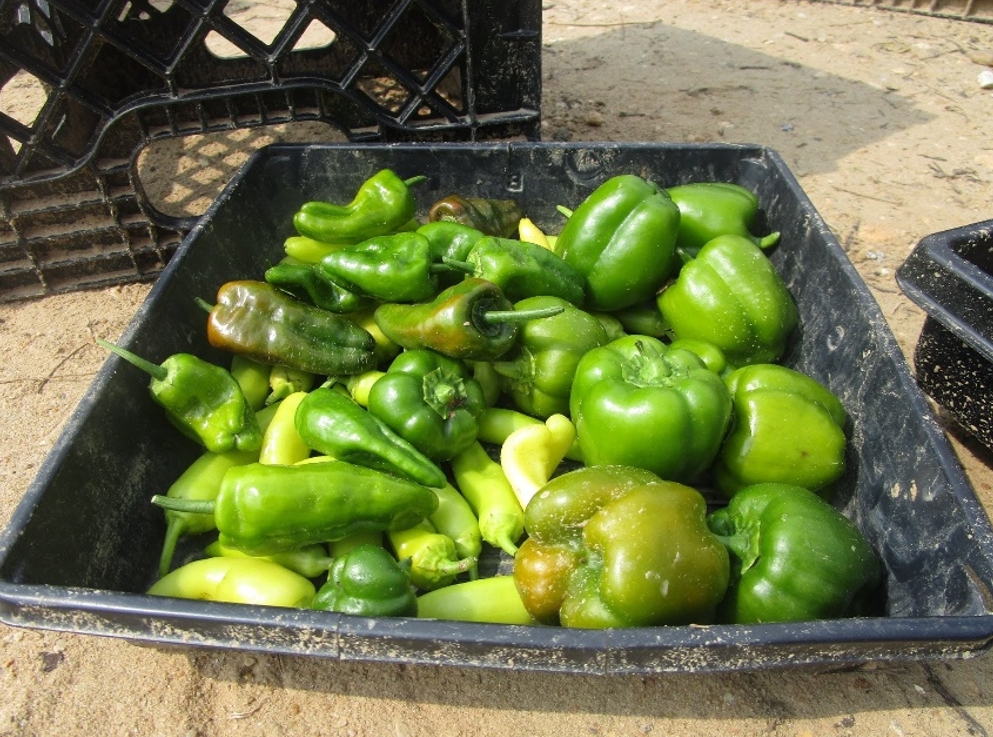 A harvest of various green peppers.