DTI.center
The Center for Design, Technology and Industry
CENTER
The Center for Design, Technology, and Industry, or DTI.center, was established in 2000 as a student-driven graphic design studio that develops graphics and other forms of visual communication for businesses and institutions. Through mentorship, real-world experience, competition and entrepreneurship, DTI.center is preparing its students for success.
DESIGN
DTI.center was founded on the idea that graphic design can serve as a catalyst for social change and economic growth. As such, it is integral to our global community; being a designer comes with a great responsibility both to its clients and audiences. DTI.center strives to create graphics that are beautiful, effective, innovative, and meaningful. Here, students learn to see graphic design as more than a job, but a way of thinking and seeing the world; graphic design is not only something beautiful to look at, but a powerful means of conveying a message. Students are encouraged to stay aware of what's happening in visual communication, to know the current, and evolving design meta, to be risk takers, and creative innovators.
TECHNOLOGY
Technology is essential in the field of graphic design and its rapid progression is constantly changing the role and responsibility of graphic designers. In this field, it's important to be aware of current and evolving technologies and analytics. This, combined with the dynamic trends and upheavals of design itself, pushes students even further to become adaptable and open to the unknown. DTI.center considers itself techno-centric, encouraging all of its students to exploit the creative tools as are available to them. Every design student is expected to own, maintain and subscribe to the latest technology and to master it. We also recognize the impact and value of social media marketing. Students learn how to establish a notable presence and to successfully influence an audience directly through technology.
INDUSTRY
A driving principle of DTI.center is the integration of business and design. In addition to providing full network communication services, DTI.center has established a collaborative partnership with the Marketing Department in the Sorrell College of Business. Design and Marketing students receive the valuable experience of going beyond the academic classroom by working alongside professional clientele and discovering effective, innovative visual solutions to each new client's specialized needs. Each student team competes in order to have their work chosen and published, and are capable of earning a commission.

Through our agency, clientele ranging from nonprofit organizations to established businesses gain access to a wide range of promising talent and fresh ideas.
For more information contact Ed Noriega by EMAIL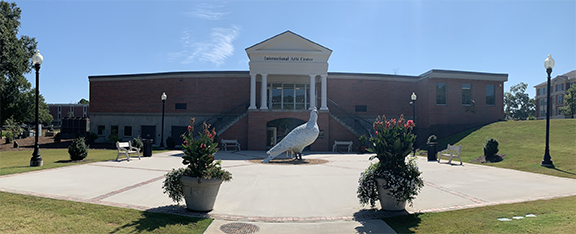 DESIGN CENTER |

International Arts Center

|

Troy, AL 36082

|

334 670 3391

|


© 2019