Summer Spotlight News & Info
World Premiere of the 2022 Film Camp Intensive Student-Short Film, "SHORTCUT"
Starring, Produced, Edited, and Directed By:
Brandon Beachboard, Brandon Underwood, Collin Hardin, Rory Stagner, Henry Gillam and Introducing Nate & Howie.
Faculty Advisor
Chris Stagl
Synopsis
A young man, Thomas, finds himself at a crossroad of running late to school or taking the terrifying shortcut through the forest.
One Sheet Poster Options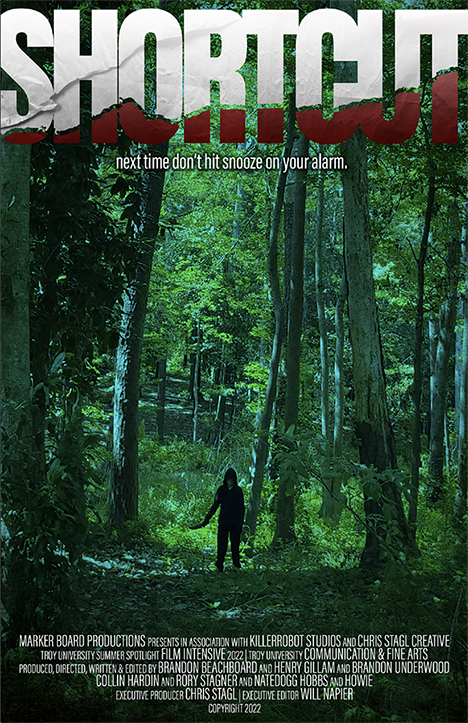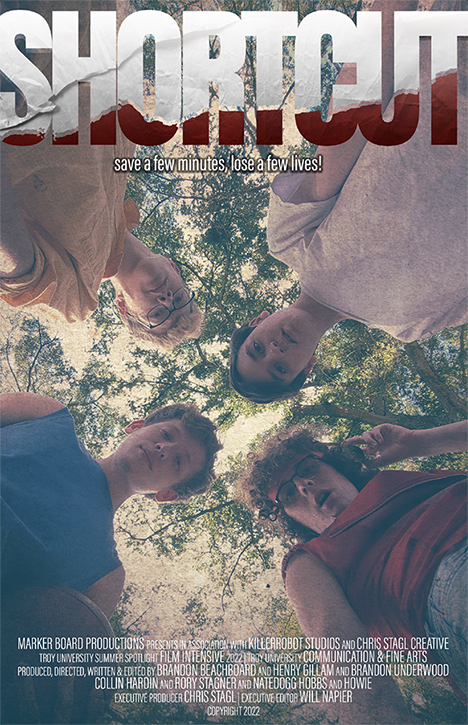 SHORTCUT named as Official Selection to Student World Impact Film Festival

For one week this past July, five students from various Alabama high schools and two Troy University Graphic Design students came together to create a short film titled, "SHORTCUT", during the annual Summer Spotlight Intensive hosted by the Department of Theatre and Dance. Less than one month later, "SHORTCUT" has been chosen as an official selection to The Student World Impact Film Festival (SWIFF) - the premier student film festival that attracts submissions from 5,000+ aspiring filmmakers in over 100 countries each year.
"Working on SHORTCUT was not only a fun experience but I worked with people who have forever changed my life and getting accepted into SWIFF is only the icing on the cake for me", said Collin Hardin, actor and crew on the film.
"It is crazy to me how our little murder film was able to make it this far," said Rory Stagner, actress and animator on the film. "So many people love SHORTCUT, and it is wonderful to see that people enjoy it as much as we enjoyed making it. I'm so happy that our hard work paid off, and I'm excited to see our film in the SWIFF festival!"
"Making "Shortcut" was an amazing time and I am so happy that I had the chance to work on this and so glad that it will be shown to people everywhere," said Henry Gillam, cast and crew.
"One of my favorite memories from this film is easily the late-night editing," said Nathan Hobbs, actor and crew. "Watching it unfold in front of our eyes really made it worth the long, hot, and stressful days. So happy that we had a crew that was willing to play around with different ideas and really make something special."
"The opportunity to work with other like-minded artists is something indie filmmakers our age don't get to experience," said Brandon Underwood, actor and crew member. "Through this camp we got to experience that opportunity and see the awesome results of our work."
The film camp is a new addition to the Summer Spotlight lineup and was hosted by Design Professor, Chris Stagl. "This has been an amazing opportunity to work with students from all over the state, including two of our own design students, and see this project come together," Stagl stated. "I gave some general directions, thoughts, and ideas they could try but ultimately, the students created this entire project on their own – they deserve every bit of the credit and kudos. I cannot believe they got their film into an International Festival so quickly – just goes to show the hard work they put in paid off!"
2022 ComiCamp RECAP Hosted by Greg Skaggs, Chair of Troy University's Art & Design Department
With Student Advisors Hannah Helms, Abi Erwin, Ophelia Walker, and Dawson Tidwell
2021 ComiCamp RECAP Hosted by Greg Skaggs, Chair of Troy University's Art & Design Department
With Student Advisors Dior Brown and Brandon Rice