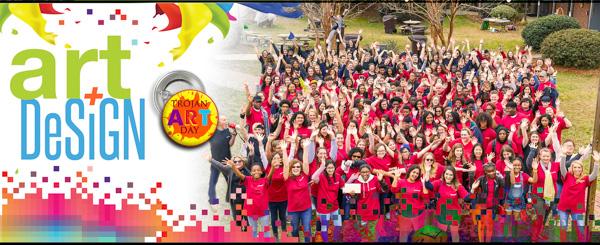 Trojan Art Day is held on a Friday during February each year, in conjunction with the culmination of the District II Visual Arts Achievement Week (VAAP) exhibition/competition. This is a special day we come together to celebrate the power of the visual arts and design. Middle and high school students along with their art teachers are invited to the Troy campus to partake in the day's activities. Trojan Art Day serves as TROY and the Department of Art and Designs' acknowledgement of the National Youth Art Month, administered by the Council for Art Education and the National Art Education Association.
Trojan Art Day offers workshops, demonstrations, and mini-competitions led by students and faculty from the Department of Art and Design. The mornings activities precede the District II Visual Arts Achievement Program awards ceremony, which is the conclusion to the week-long art competition sponsored by the Alabama State Council on the arts and exhibited in the Malone Gallery of Fine Arts. Both Trojan Art Day and VAAP are partially funded by a grant from the Alabama State Council on the Arts.
District II schools and teachers are encouraged to enter the VAAP competition and participate in Trojan Art Day. District II includes schools from Autauga, Barbour, Bullock, Butler, Chambers, Clay, Coffee, Coosa, Covington, Crenshaw, Dale, Dallas, Elmore, Geneva, Henry, Houston, Lee, Lowdnes, Macon, Montgomery, Pike, Russell, Randolph and Tallapoosa counties.
While the competition and exhibition are limited to schools within District II, Trojan Art Day is open to all Alabama public and private schools, as well as homeschooled groups and individuals.