Troy University Band Alumni Chapter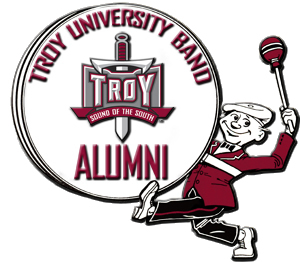 "The Troy University Band Alumni Association is a university affiliated alumni chapter whose mission is to support the Troy University Sound of the South band program through scholarships, financial assistance, service, and the fostering of relationships forged through membership in the band program that is Dr. Johnny Long's lasting legacy."
The TUBA board would like to thank everyone for such a great Reunion last year. Through your memberships, donations, purchasing Alumni spirit items and the "Fanfare" book we raised enough money to fulfill the $20,000 scholarship endowment!
TUBA Reunion weekend November 19-20
Schedule of Activities
Friday – November 19
Mixer in Hawkins Adams Long Hall - Hall of Fame - For TUBA Members and Troy University Symphony Band. Sponsored by Troy Alumni Affairs and Tau Beta Sigma immediately after Symphony Band Concert, estimated time 9-11 pm.
Saturday- November 20 – John M Long Hall Band Room
8:00 am – 9:30 am – REGISTRATION (pick up merchandise, shirts and tickets)
9:30 am– 10:00 am – BUSINESS MEETING (Officer Elections, Financial Report)
10:00 am- 10:45 am – INSIDE REHEARSAL with Robert Smith and Will Parker
11:00 am – 11:30 – OUTSIDE REHEARSAL (Practice Field) with James Smith, Ray Smith and Will Parker
12:15 – TROJAN WALK– LUNCH provided at Alumni House with membership Card
2:00 (approx.) PREGAME by the "Sound of the South"
2:30 pm kickoff
Halftime - Troy University Band Alumni HALFTIME SHOW
POST GAME CONCERT TO FOLLOW
REASONS TO JOIN T.U.B.A.:
Provide scholarships to deserving band students as recognized by the
Director.
Provide support and service to the current Director(s) and students.
Reconnect with former members of the SOTS and meet new ones.
Your TUBA membership gets you the same benefits as membership in the
Troy University National Alumni Association. Your membership with us is
your alumni chapter membership.
With TUBA membership, you can also enjoy discounts at the university
bookstore among many other places, as well as partake of the Alumni House
activities at every home game.

Membership in the Troy University Band Alumni (TUBA) is for anyone who participated in the band, and even friends and families of the band. You may participate in any of the alumni band activities so long as you are a member of any Troy University alumni chapter; however, we strongly encourage membership in TUBA because it has a direct connection with the current and former band members who have participated in the "Sound of the South" over the years. Our aim is to provide strong and continuous support for the current director and his students through scholarships and sponsorships. This is our best contribution to the legacy of the "Sound of the South" program and its related ensembles.