Biography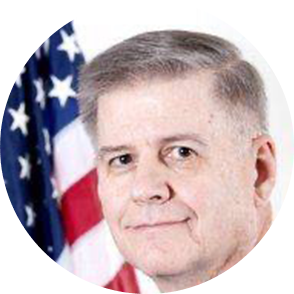 Dr. Read is a retired US Navy Captain. He served in a variety of sea and shore assignments to include command of the destroyer USS STUMP (DD 978) and the Naval ROTC Unit at the University of Missouri where he served as Chair of the Department of Naval Science. A Navy sub-specialist in international relations, he worked extensively with Caribbean and Latin American governments and navies to promote democratic principles of conduct and multi-national interoperability. He is a past Secretary General of the InterAmerican Naval Conference.
Following retirement from the Navy, Dr. Read served as President and Superintendent of Wentworth Military Academy and College in Lexington Missouri. From 2009 to 2019, he worked for the Federal Deposit Insurance Corporation's School of Leadership Development as a Professor of leadership and management and Associate Dean. In addition to leading the FDIC's leadership and management faculty, Dr. Read directed the Agency's Strategic Simulation program. This program enhanced the FDIC's ability to respond to crisis and provided training in failed bank resolution to bank examiners from around the world. Currently Dr. Read runs a leadership and management consulting service in Florida's Tampa Bay region.
Publications & Presentations
Read, J.B. (2020). A Decade of Teaching Followership: Retrospective and Guide. Journal of Industrial and Commercial Training. In publication.
Rahaman, A. & Read, J.B. (2020). Developing Adult Followers: An Instructional Approach to Followership. In Hurwitz, M. & Thompson, R. (eds.) New Directions for Student Leadership (Chapter 3). September.
Read, J.B. (2019). Follower Influence on Leader Decision Making. Proceedings of the Global Followership Conference.
Read, J.B. (2018). Authentic Followership: How Executive Assistants Influence Executive Decision-Making. Proceedings of the International Leadership Association.
Read, J.B. (2017). Changing Organizational Culture During a Global Crisis: FDIC and the Financial Crisis. Proceedings of the International Leadership Association.
Cheek, R. & Read, J.B. (2016). The Power of Simulations in Accelerating Leadership Development. Proceedings of the International Leadership Association.
Read III, J. B. (2014). Followership at the FDIC: A Case Study. Journal of Leadership Education. 13(4), 136-145.
Research Interests
Current research interests are:
Leadership
Followership
Ethics
Gatekeeping
Influence
Team Dynamics