Biography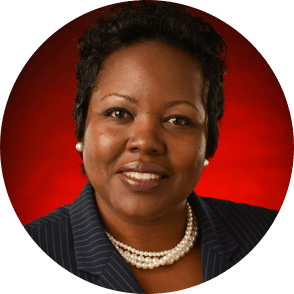 Dr. Dionne Rosser-Mims serves as a full professor of adult education and dean of the College of Education at Troy University. Dr. Rosser-Mims has nearly 20 years of adult education experience to include work in collegiate teaching as well as training and development. Over the past ten years she has engaged in a range of international-related work to include having led four study abroad experiences, negotiated agreements with Kyambogo University and Makerere University, and served as a 2019 workshop presenter and the inaugural year of the Higher Education Resource Services, East Africa (HERS-EA) Leadership Academy held at Makerere University, Kampala, Uganda. She has authored four books, published numerous articles and book chapters, and delivered numerous conference presentations at the regional, national, and international levels. She is the co-founder and former co-editor in chief of Dialogues in Social Justice: An Adult Education Journal, a peer-reviewed open-access journal.
Before joining Troy University, Dr. Rosser-Mims held a faculty position at the University of Georgia's Fanning Institute for Leadership. She worked on projects targeting first and second-tier counties suffering from economic, educational, and social disparities by providing program development, leadership training, and facilitation services. She continues to work with a range of audiences, including adult and youth community groups and advocacy groups to provide facilitation services in the areas of team-building, group dynamics, leadership assessments, conflict management, communication, board development, and strategic planning. Dr. Rosser-Mims holds a doctorate in adult education, and a master's in public administration from the University of Georgia.
Publications & Presentations
Rosser-Mims, D., McNellis, J., Johnson-Bailey, J., & Eagan, C. (Eds). (in press). Pathways Into the Political Arena: The Perspectives of Global Women Leaders.  Charlotte, NC: Information Age Publishing, Inc. 
Rosser-Mims, D., & Rodriquez, E. Connecting an international experience to the future.  32nd Annual Hispanic Association of Colleges and Universities. Atlanta GA. (October 2018).
Rosser-Mims, D. (2018). A legacy of leadership: Black female adult educators. Advancing Women in
Leadership Journal, 38, 21-26. 
Rosser-Mims, D., & Maloney, J. (2017).  Historical and contemporary relevance of the interconnectivity of community, community-based education, and transformative education.  International Journal of Adult Vocational Education and Technology, 8(1), 47 - 56.
Caldeirinha, C., Rosser-Mims, D., Watson, G. F., von Nkosi, M., & Koch-Mehrin, S. Influencing Decisions in Turbulent Times: The Strategic Role of Civil Society in Protecting Democracy (Panelist).  19th Annual Global Conference of the International Leadership Association. Brussels, Belgium. (October 2017).
Drayton, B., Rosser-Mims, D., Schwartz, J., & Guy, T. (Eds). (2016). Swimming upstream 2: Agency and urgency in the education of black men: New directions for adult and continuing education, Number 150.  San Francisco: Jossey-Bass.
Research Interests
Current research interests are:
Adult learning and development
Leadership development
International and comparative adult and continuing education
Women and leadership
Leadership and intersectionality theory