Online Insurance Pre-Licensing and Exam Prep
Become an insurance professional in your State. The online courses are designed to help you master terms and definitions and will prepare you to sit for the state exam. Choose Life and Health or Property and Casualty and begin your career with confidence.
Professionally developed by experienced instructors, you will learn in a clear, easy to understand style that will help you remember every aspect of Life and Health or Property and Casualty insurance.
"I wanted to thank you for the materials and the program offered by Troy. I took the P&C licensing exam this morning, and passed it (on the first try)." ---Connie
Everything you need to pass the state exam is here! Take advantage of all the prep tools available to pass the exam the first time and avoid having to pay the full cost of retaking the exam. Upon completion of the online course, students will receive a certificate of completion which can then be submitted to the state insurance regulatory office.
To receive your certificate of completion, you must notify the office of Continuing Education & Outreach in advance. Please allow a minimum of two business days for processing.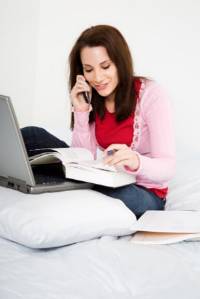 These courses offer affordable online training that meets state requirements and allows you to learn at your own pace. They are the most thorough pre-licensure courses offered on the market today. Each self-paced course includes:
Introductory videos
Audio-guided presentations
Flash cards
Quizzes to keep you on track
Also available is Exam4Caster® which is a unique exam simulation and diagnostic tool designed to address the challenges you face in seeking to qualify for a Producer's license.
"Thank you so much for your Property and Casualty Course. It is informative and filled with the needed information to be successful on the state exam. I took the practice tests over and over again until I reached an 89 on most of the tests. I took the State Exam last week and PASSED! I am 50 years old and it is never too late to pursue something you set your mind to achieve!" ---Dana M.
Take that next step in earning your license and beginning a career. Select your state from the list below for more information and registration.
*These courses will need to be completed within 12 months of registration. If the course is not completed within this time, the student will need to re-register for the class, and the current course rates will apply.
Alabama South Carolina Texas Georgia