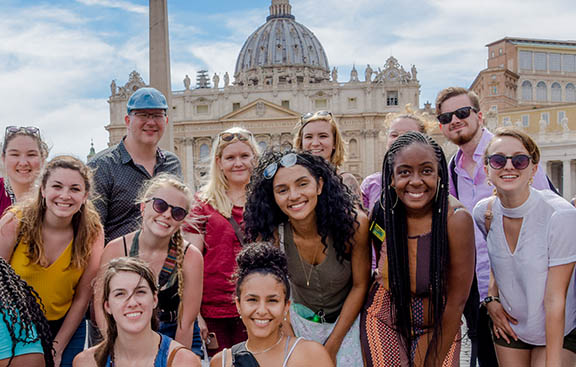 TROY Abroad
Studying abroad provides both faculty and students quality-learning experiences that increase students' knowledge on an array of issues, advances their critical thinking, tolerance, and understanding of cultural diversity. Studying abroad helps students to gain international awareness, global competency, and to better compete in the worldwide job market. It aids young graduates and professionals to aptly function in multicultural settings and the constantly changing environments of a globalize society.
Students return home with lasting memories, a more cosmopolitan understanding of their surroundings and their own belief systems, and improved capacity to function in multicultural settings. Typically, studies abroad help students to advance their self-confidence and critical thinking that are important factors in gaining access to work opportunities, job interviews and work performance.
Faculty members who accept the challenges of leading study abroad programs do a great service to the nation, Troy University, and their students, and deserve praise for all their efforts.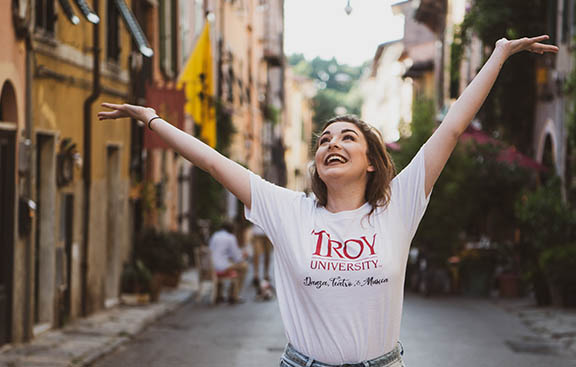 Mission Statement
Enhance students' perspectives of the global arena, their competitiveness in the world work market, and personal development by promoting and facilitating study abroad programs in a context of cultural diversity, international immersion, and opportunities to learn new language skills when possible.
Assist students (and faculty if possible) to gain an enhanced understanding about international professional and academic standards existing in their field or disciplines overseas.
Facilitate for students (and faculty if possible) overseas professional development opportunities such as internships, overseas work, and research and teaching opportunities.
Provide international venues for the continued building of academic freedom, critical thinking and curriculum enhancement.
Support the systematic construction of open-minded and accountable citizens, environment responsibility, world-wide peace, human compassion and solidarity and democratic values.
Chancellor's Award for Global Competitiveness (CAGC)
The purpose of the Award is to foster the international awareness and better assimilation of Troy University students in the worldwide work place. The awards, enabled by proceeds derived from the Troy Foundation's Troy Car Tag program and other international travel funding, will be available in $1,250.00 increments to qualified students participating in university-approved study abroad programs. These awards are governed by the eligibility requirements and conditions described below.
Available to all TROY graduate and undergraduate students one time per academic year.
Must have successfully completed at least one full semester at Troy University.
Be registered full-time.
Be in good academic standing.
Possess a minimum overall GPA of 2.5
Have completed the TroyAbroad application which includes the CAGC forms