Welcome to Troy University's Alumni Association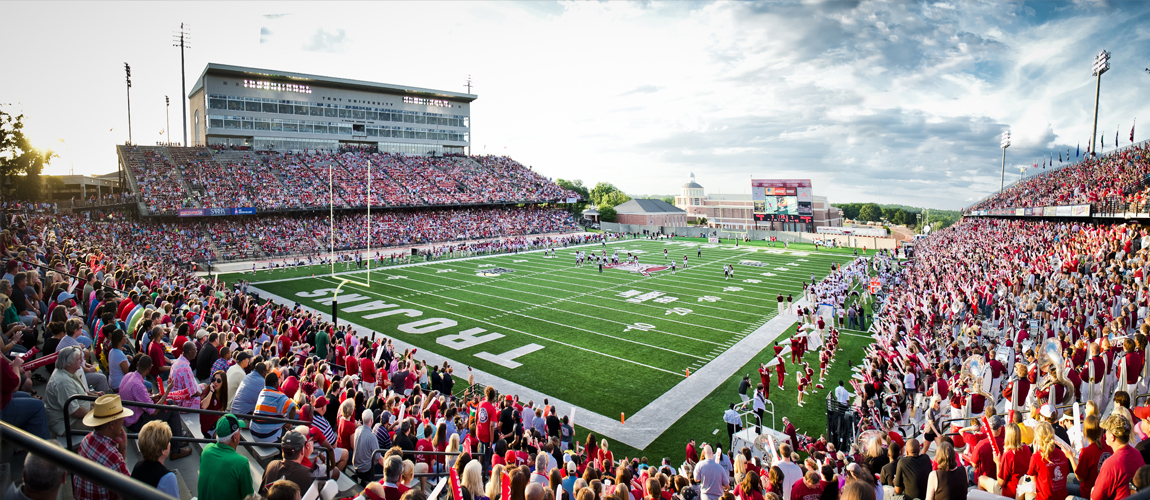 Troy University Needs Your Feedback!
The TROY Alumni Affairs Office is conducting an alumni survey to learn how the University can better serve the needs of Trojans, both before and after graduation. Your response to this survey will help TROY plan for future alumni classes and to stay in contact with you.
---
Dear Alumni, Donors and Friends,
The COVID-19 pandemic is affecting our lives in ways we could never have imagined only a few days ago. For example, more than a million U.S. workers are expected to lose their jobs by the end of March. Almost 300,000 workers applied for unemployment benefits last week, a 33 percent increase over the previous week, so the situation is dire indeed. Our hearts go out to the friends and families of those impacted. Please allow me to share ways we can help our Trojan family during this extraordinary time.
Supporting small businesses with a TROY connection. Please shop locally and help our TROY family businesses continue to serve our communities.
Support our students, faculty and staff. Many Trojans will need emergency assistance and we will establish a fund to help them. In fact, we still have students on campus who need assistance to get home. With student debt at an all-time high, many of our students can still benefit from scholarships. And just a few days ago, I heard from a Trojan who is facing homelessness due to a family financial crisis.
If you are able to support the critical needs of our students, faculty or staff, please make your checks payable to the TROY University Foundation for the COVID-19 Annual Fund and mail to: 301 Adams Admin., Troy, AL 36082. If you'd like to make a donation online, please do so by going to donate.troy.edu/Troy_Annual_Giving and designating to the Troy Annual Fund with the notation COVID-19.
During this challenging time, I hope you and your families remain safe and healthy. I want you to know we are thankful for your unwavering support and generosity. I am confident we will emerge from this crisis a stronger, more unified, Troy University.
Sincerely,
Jack Hawkins, Jr., Ph.D.
Chancellor
---
Join or Renew Membership
Membership in the Troy University Alumni Association is open to everyone. All graduates, former students and fans are eligible to become active members. Association dues help practically every area of the University—from student scholarships to faculty awards to athletics. We welcome new members and value our renewing members!
The cost of an Alumni Association membership is: $35 per person annually or $750 for lifetime single membership and $1,250 for lifetime couple membership. Payment plans are available for lifetime memberships.
Alumni of the Year
Accepting applications for 2022 nominations
The Troy University Alumni Association will recognize distinguished individuals through the Distinguished Alumni of the Year and the Honorary Alumnus of the Year Awards at Homecoming. The addition of the Honorary Alumnus of the Year reflects a change made by the Alumni Board of Directors so that deserving friends may be nominated. Individuals chosen as Distinguished Alumni of the Year are Troy University graduates. The Honorary Alumnus Award is given to a non-graduate who has served, promoted and loved the University in the tradition of loyal alumni.
ALUMNI OF THE YEAR AWARDS NOMINATION FORM
Alumni E-mail
Troy University is pleased to offer all graduates a Trojan Alumni email account ending in @alum.troy.edu, hosted by Microsoft.
Student accounts, including email, will remain active for approximately two years after graduation, or last date of attendance. These accounts are disabled after the two-year time period, unless the student reaffiliates with Troy University through employment or re-enrollment. Troy University provides a new lifetime email address for all alumni.
Some of the features include:
Free
Maintain a personal calendar
Store personal contacts
50 GBs of email storage
No Advertising
Function Changes:
No longer have free access to Office ProPlus (Desktop)
No longer have free access to Office Online and/or Mobile Apps
NOTE:
The Alumni Account is a new email account, and not the prior student account.
The prior student account will no longer be accessible, and will no longer be able to send/receive emails.
Automatic forwarding of e-mails to an external account is not permitted for any Troy University email accounts.
If you would like to request an account, please visit https://helpdesk.troy.edu
Alumni Accounts can be accessed through the website, Outlook.com
REGISTER FOR AN ALUMNI E-MAIL ADDRESS
Continue the Tradition...One Brick at a Time
Become a part of the revitalization of Academic Quad. Join those who support the Troy University Alumni Association's commitment to the excellence and growth of Troy University.
Please call the alumni office at 334-670-3318 to speak with someone about ordering a brick.
Commemorative Ornaments
Troy University Alumni Association is proud to present commemorative ornaments beginning with the 1999 edition. Each ornament is designed and produced exclusively for the Alumni Association by ChemArt. These keepsake ornaments depict special times in the University's history. In addition to their traditional use, the ornaments make memorable gifts for the Trojan alumni in your life. Call us at 334-670-3318 to order.
ORNAMENT ORDER FORM VIEW ALL AVAILABLE ORNAMENTS
Frame the Art of Your Success!
Diploma frames with Troy University logo are available in the Office of Alumni Affairs. For just $100, you can show off the reward of your success with a professional looking frame and customized mat designed to fit your diploma. Display your diploma in your place of business or in your home. The frame is versatile and will work in any type décor. This frame is always on display in the Alumni House, 100 Highland Avenue, Troy, Alabama, and will be on display in the Trojan Arena during commencement ceremonies.
Pick up yours today!
Troy University Alumni Association
100 Highland Avenue
Troy, AL 36082
334.670.3318
Liberty Mutual
A Message from Liberty Mutual Insurance - Special Offer on Auto and Home Insurance
As a Troy University Alum, you could save on Liberty Mutual Auto and Home Insurance. We offer personalized coverage, Multi-Policy Discounts, 24-Hour Claims Assistance and much more. Visit the Liberty Mutual Troy University portal for a free quote.
Discounts and savings are available where state laws and regulations allow, and may vary by state. Certain discounts apply to specific coverages only. To the extent permitted by law, applicants are individually underwritten; not all applicants may qualify. Please consult a Liberty Mutual sales representative for additional information.