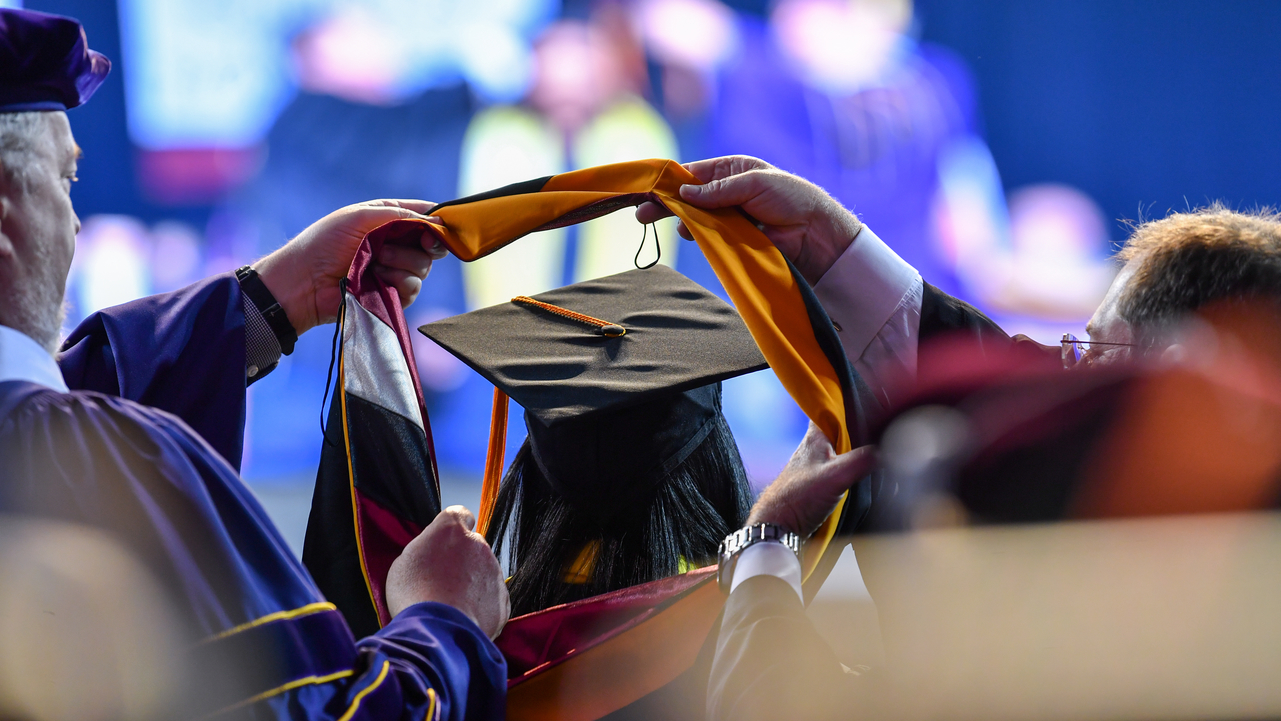 Masters Applicants
Continue reading on this page for more information on how to apply, admission types, or how to return to TROY.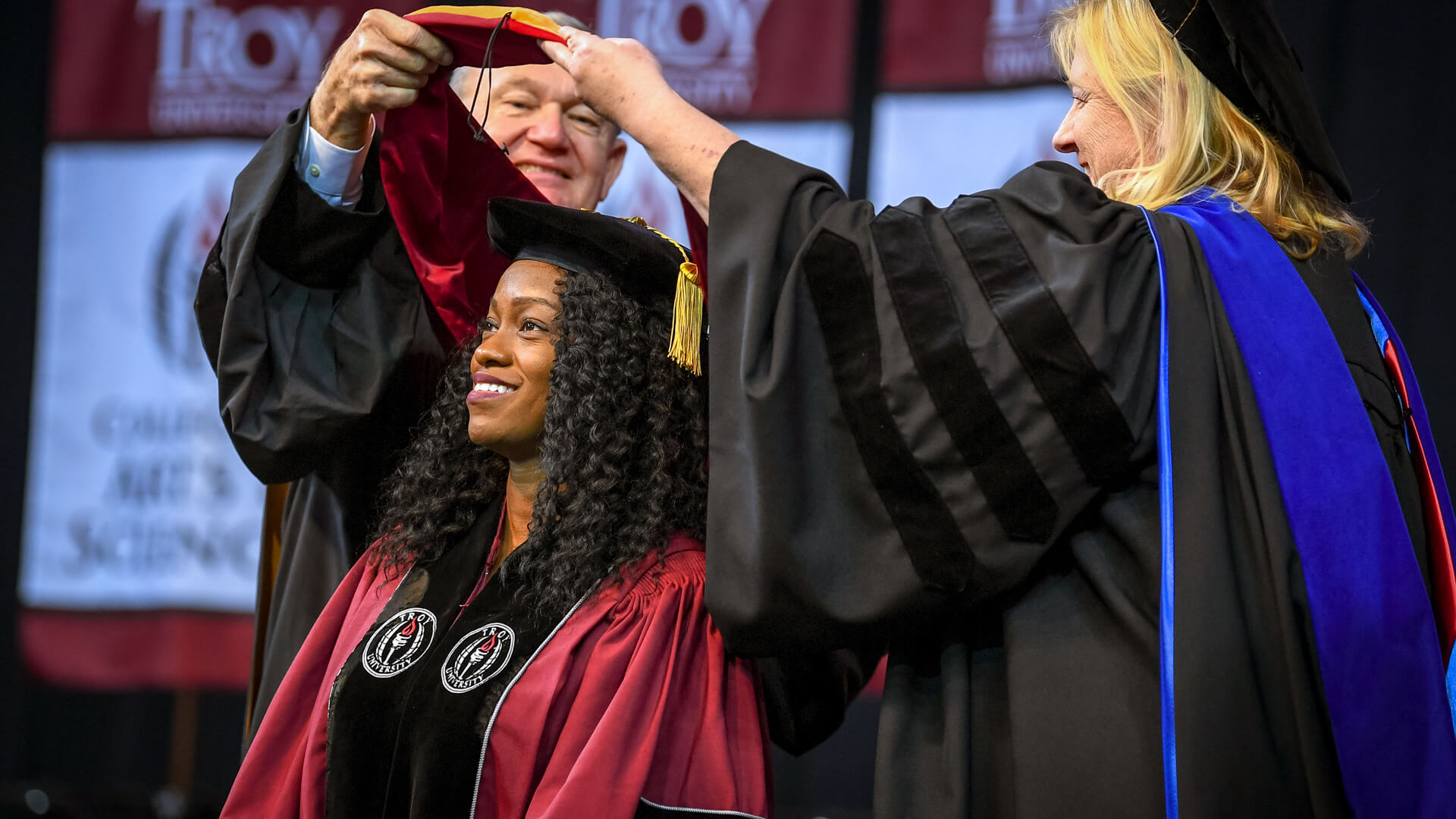 Doctoral Applicants
Click the link below to learn more about our most prestigious degree programs.
DOCTORAL STUDENT REQUIREMENTS
---
Steps to Apply: Masters Degree Applicants
If you've never applied for one of our graduate programs, follow these steps to apply for one today.
Prospective students interested in beginning a Graduate program with Troy University must first fill out an Application for Admission
Once an application has been submitted, please request all transcripts and test scores (Advanced Placement, ACT, SAT, etc.) to be sent electronically to transcripts@troy.edu or by mail to the address below
Troy University-Admissions
Attn: Transcripts
100 University Park
Troy, AL 36082
Submit final official transcripts from all colleges/universities attended (except Troy University). Degree granting university transcript must bear degree and date awarded.
You may upload unofficial transcripts and test scores to your TROY Application Profile for temporary admission consideration. Please note that temporary admission varies by program.
Test Scores - Submit official test score results for the GRE (Institution Code – 1738) (verbal and quantitative scores), MAT (Institution Code – 1013) or GMAT (GMAT does not use Institution Codes) as per program requirements.
The recommender should address the individual's potential for success in the selected graduate program and his/her written and oral communication skills. Letters submitted to meet specific program requirements may be used for admission to the Graduate School to satisfy this admission requirement. For instructions, please check your supplemental items on your TROY Application Profile.
Medical History Form: Submit completed Medical History Form with medical documentation as required for all Troy, AL Campus students and students attending the School of Nursing. For further information please contact the Mary E. Rich Health Center, Troy University, Troy, Alabama, 36082 at 1-334-670-3452.
University Housing: (Troy, AL Campus students only) Go to the Housing Office Webpage for more information on Troy campus housing options.
Programs not requiring graduate entrance exams: Master of Science in Criminal Justice, Master of Social Science, Master of Business Administration, Master of Science in Management, Master of Science in Adult Education, Master of Science in Sport Management, Master of Science in Counseling (Clinical Mental Health Counseling, Rehabilitation and School Counseling). Master of Science in Kinesiology, Master of Science in Strategic Communication, Master of Social Work, Master of Science in Education (Teacher Certification Programs), Master of Science in Education - Instructional Leadership and Administration (ILA), Master of Science in Secondary Language Instruction, Master of Science in Athletic Training
Programs temporarily waiving graduate entrance exams: Computer Science (through Term 2/Fall Semester 2024)
---
Steps to Apply: Non-Degree Applicants
Students from other accredited institutions who wish to take a course(s) from Troy University must:
Complete a standard ''Application for Admission,'' proof of baccalaureate degree (no official transcripts required), and pay the application fee.
Present a transient authorization form from the parent school to the Admissions office of the campus location where the course will be delivered. The authorization must identify the course(s) to be taken and the term in which it will be taken, or indicate that the course is to be taken at the student's discretion. The form must be signed by a designated official of the University or campus (i.e., Registrar, Director, etc.).
In all cases, such a student must meet all prerequisites and provide the documentation prior to being admitted to a particular course.
Application status for the semester is determined by the information supplied on the application for admission. Admission status may not be changed following the last day to add/drop for the semester.
Transient approval forms from institution currently attending and must receive medical clearance.
Students admitted in this category must hold the master's degree from a regionally accredited institution.
Complete a standard 'Application for Admission' and pay the application fee.
Submit all official undergraduate and graduate transcripts.
NOTE: Graduate credit taken while enrolled as a post master's degree student is not admissible as degree credit unless it is approved by the program director and is limited to a total of six semester hours.
Unofficial documents may be uploaded to the TROY Application Profile for consideration by our admissions staff.
Students interested in completing a certificate program, offered through the Graduate School, must apply to be unconditionally admitted into the Graduate School through the standard admission process. All certificate courses are graduate courses. We offer several certificate programs - consult the
graduate catalog
for specific certificate program admission requirements.
---
Types of Graduate Admission
To qualify for unconditional admission to a master's degree program, applicants must meet the following requirements:
Hold a master's or higher degree from a regionally accredited university. No test score or letter of recommendation is required for those who hold a master's or higher degree from accredited institutions.
Hold a baccalaureate degree from a regionally accredited university with a minimum overall undergraduate grade point average of 2.5 (4.0 scale) or a 3.0 grade point average on the last 30 semester hours and
Have an acceptable score on the appropriate entrance exam - official test score required,.
Provide an official letter of recommendation.
Meet the unconditional requirements of the desired program.
Special Note: Consult the specific program for admission score requirements since exam requirements vary by program. Requirements can be found in the appropriate Academic Catalog.
Students entering licensure and professional programs must meet specified grade point average and recommendation requirements.
Conditional admission may be granted under certain circumstances to applicants who cannot satisfy all unconditional admission requirements. Not applicable for Ed.S. students.
Students who have earned a baccalaureate degree from a regionally accredited college or university, but lack the required grade point average and/or acceptable test score (official test score required) to be admitted unconditionally, may be granted conditional admission for a maximum of nine semester hours. Conditionally admitted students will be cleared of their conditional status if, at the completion of nine semester hours, they have achieved a 3.0 grade point average or greater on all graduate work attempted. At the completion of nine semester hours, conditionally admitted students who have not attained a the required grade point average will be dropped from the graduate program for one calendar year after which they may petition the Dean of the Graduate School to re-enter.
(Nine-semester-hour maximum load for full time enrollment)
Temporary admission may be granted under certain circumstances to applicants who have not submitted all original documents including all official transcripts, the letter of recommendation or official exam score.
Note: Please consult the individual program test score requirement prior to taking exam since exam requirements vary by program. Students must provide, at a minimum, proof of eligibility, copy of bachelor's degree transcript, diploma or letter of completion to be initially considered as eligible for Temporary status. Temporarily admitted students must provide all official documents prior to the end of the term of temporary admission and are under the same grade point average requirement as conditionally admitted students.
Not applicable for Licensure programs, Ph.D., DNP, Ed.S., MSEd., M.Acc, MA.Eco., MBA, or MSN
students. Students from non-accredited or otherwise accredited institutions or students seeking dual enrollment are not eligible for temporary admission. (See Unaccredited or Otherwise Accredited Student Admission requirements.)
A student interested in earning graduate credit, but who is not an applicant for a graduate degree at Troy University, may be admitted as a ''Special Student'' with the approval of the Dean of the Graduate School or his/her designee.
Admission may be granted to qualified students holding a baccalaureate degree or higher from a regionally accredited institution or to students in good standing at another regionally accredited graduate school (copy of transcript must be provided).
Should a student apply later and be accepted to a degree program, a limit of six semester hours will be considered for credit toward the degree. It is the responsibility of the student to observe the limitations imposed on credit hours, coursework and transfer of credit.
Special students may not be admitted at a later date on a temporary admission. Credits taken in Special Admission status by students who are found not to be in good standing at their previous institution will be voided with the posting of no grade "NG" by the Registrar.
Can I transfer in my other graduate or military credits?
Graduate Transfer Students: Consult graduate bulletin for transfer hour limitations for your degree area. A Petition for Credit Form must be completed in order to apply credit. Consult your Faculty Advisor for more information on how to complete this process.
Professional Military Education Credit (PME): Troy University awards transfer credit for specific Professional Military Education (PME) courses completed at select military service schools for which credit is recommended by the American Council on Education and approved by each appropriate college's dean. The number of hours granted for each program is limited to a maximum of 12 semester hours. No credit may be granted for work that will be over eight years old at the time of graduation from the Troy University program for which transfer credit was requested. No waivers will be permitted.
Ready to return to TROY?
A returning student is an applicant who previously attended Troy University but withdrew or transferred to another institution and now desires to re-enroll at TROY.
Please use the appropriate procedure below to return to TROY:
(a) Students in academic good standing with the University who have not been enrolled for two years (from the last term/semester for which grades were received) must submit a new application for admission.
Former TROY students who enrolled at another institution since their last term/semester of enrollment must submit a new application for admission. Transcripts from that institution(s) must also be submitted.
Students who have not received a grade at TROY within two years and have not attended another institution must contact the Office of Admissions for further guidance on registering for classes. To contact us, please call 1-800-414-5756.
(b) You were dropped from your academic program AND you have served your one-year suspension.
If this option applies to you, you must petition to the Dean of the Graduate School for readmission. Please follow the instructions outlined in the graduate catalog to petition for readmission after suspension.
If you have questions about this information, please call 1-800-414-5756 and ask to speak to an admissions representative.
Student Residency
Requirements for Student Residency:

Pursuant to the Code of Alabama, Section 16-64-4, and for the purposes of admissions and tuition, students may be considered a residential student by meeting certain requirements.

Military service members, spouses, dependents and veterans who reside in the state of Alabama, or within 90 miles of a Troy University campus, will be granted in-state residency.

Students not affiliated with one of the categories above, may still meet residency requirements outlined in the Code of Alabama. Please refer to the Office of Admissions/Enrollment Management for residential eligibility.