The Davis Theatre for the Performing Arts
Grand Opening January 25, 1930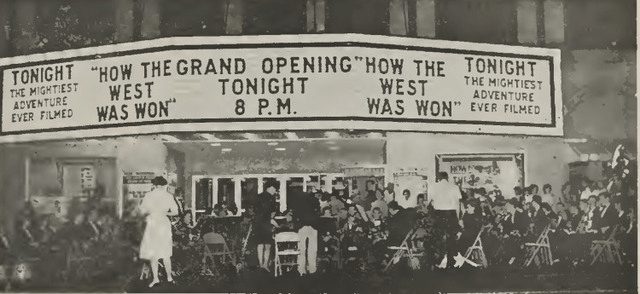 This grand theatre opened on January 25, 1930, as The Paramount Theatre. It was a Movie Palace, designed for the talkies and Vaudeville shows. Countless numbers of patrons not only enjoyed movies and shows in the palace, but many couples enjoyed their first date, first kiss or marriage proposal here. There were many weddings held on the stage of The Paramount!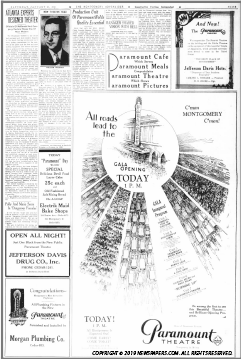 Gone With the Wind
In 1976, after the last feature Gone With the Wind, the majestic Paramount Theatre closed its doors. The theatre was purchased by Troy University and reopened in 1983 as The Davis Theatre for the Performing Arts. Named for the late Tine W. Davis and his wife Eunice, the major contributors to the restoration process.
The Davis Theatre is a downtown landmark and is one of only a handful of such theatre spaces still standing across the South. The acoustics are excellent, and with twelve-hundred seats, the size is perfect. It has a full-size orchestra pit, and the stage is easily seen from any seat in the house. There is a feeling of intimacy long since sacrificed in modern theatre design.
The Davis Theatre is ideal for Montgomery's needs in size, design and location; in the center of a revitalized downtown area where it is a perfect complement to the city's convention facilities.
The theatre hosts amateur and professional musicals, dramatic productions, chamber music groups, symphony orchestras, dance groups, ballets and instrumental performances of all types. Moreover, the theatre is available to civic, cultural and educational institutions to merge these programs with other activities to expand and enrich the life of the community. In the downtown Montgomery area, civic and convention groups have access to a lavish, nostalgic, first-rate, multi-purpose theatre.
Restoration Phases
The original plaster ornamentation have been reproduced exactly. The ornate chandeliers have been restored by hand to their original luster. In addition, the entire air conditioning, heating and electrical distribution systems have been replaced, and new carpeting installed throughout. The Davis Theatre for the Performing Arts reopened its doors with a Gala Grand Reopening on May 21, 1983. James Whitmore performed the title role in Will Rogers' U.S.A. for this historic event.
A complete state-of-the-art audio and lighting system was installed, all of the theatre seats were replaced, the rigging and curtains were replaced, and the stage and backstage areas were enlarged.
The complete exterior of the theatre was restored to its original beauty, including the grand marquee.