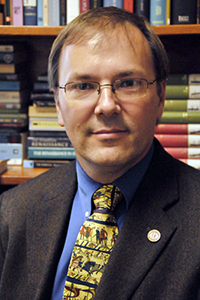 Allen E. Jones, Ph.D.
Professor/Chair of the History and Philosophy Department
Troy University
Troy, Alabama 36082
Patterson Hall 222
Telephone:
1-334-670-3512
Education:
B.S., Francis Marion College, 1987
M.A., University of South Carolina, 1992
Ph.D., University of South Carolina, 1998
Teaching Interests:
Social, Religious and Intellectual History, Late Antiquity, Middle Ages, Renaissance
Research Interests:
Late Antiquity, in particular Gaul and Gregory of Tours
Biography:
In 2009 Jones published Social Mobility in Late Antique Gaul: Strategies and Opportunities for the Non-Elite (Cambridge and New York: Cambridge University Press; reprinted in paperback, 2014). The work investigates the extent to which people who were not part of the power structures of Gaul impacted society as they pursued their own goals. It details how particular groupings of non-aristocrats--from lesser clerics and beggars registered at local churches to physicians and folk healers--cooperated and contended with others, adopting strategies not unlike those of society's elites to improve their lot in life.
Otherwise, Jones is engaged in an analysis of words relating to death in late antique texts including the corpus of Gregory of Tours to determine the extent to which the sixth-century bishop is original in exhibiting a willingness to share his opinions on the afterlife situation of many individual deceased souls.
Courses Taught at TROY:
HIS 1101 Western Civilization I
HIS 1102 Western Civilization II
HIS 1103 Western Civilization I (Honors)
HIS 1104 Western Civilization II (Honors)
CLA 3312 Civilization of Rome
HIS 4441 Medieval Europe
HIS 4442 Renaissance and Reformation
HIS 3343 Age of Absolutism
HIS 3344 Age of Reason
HIS 3375 Research and Methodology
HIS 4443 Late Antiquity
HIS 4444 Crusades
HIS 4490 Senior Seminar: Barbarian Gaul
HIS 4490 Senior Seminar: Death and Afterlife
HIS 6651 Thematic Historiography: The Fall of the Roman Empire
HIS 6665 Seminar in Medieval History