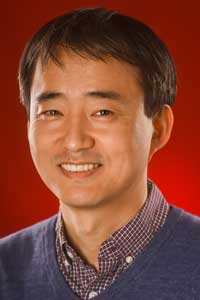 Joungbin Lim
Associate Professor
TROY University
Troy, Alabama 36082
Patterson Hall 226
Telephone:
1-334-670-3515
jlim@troy.edu
Education:
Ph.D. in Philosophy, University of Virginia
M.A. in Philosophy, Texas A&M University
M.A. in Theology, Southwestern Baptist Theological Seminary
B.A. in Philosophy, Chung-Ang University
Areas of Expertise:
Metaphysics (esp. personal ontology, personal identity over time, material constitution), Philosophy of Religion, Philosophy of Mind, Epistemology
Biography:
Joungbin Lim is an associate professor of philosophy. Before coming to Troy in 2015, he was an assistant professor of philosophy at Elizabeth City State University. He has also taught at the University of Virginia and Texas A&M University. Dr. Lim's primary research interest is in metaphysics, especially the ontology of persons, personal identity over time, material constitution, and related topics in the philosophy of mind and the philosophy of religion. He is also interested in epistemology, ethics, Asian philosophy, and early modern philosophy. He has presented a number of papers at professional conferences, including American Philosophical Association, World Congress of Philosophy, Midsouth Philosophy Conference, Society for Christian Philosophers, Evangelical Philosophical Society, and the Joint Meeting of North Carolina Philosophical Society and South Carolina Society for Philosophy. In 2012, he received the Excellence in Teaching Award from the National Society of Leadership and Success in recognition of his teaching excellence and dedication to student success.
Select Publications
· "What the Remnant Person Problem Really Implies"(forthcoming in print).
Acta Analytica
https://doi.org/10.1007/s12136-023-00545-4
· "In Defense of Physicalist Christology" (2021),
Sophia: International Journal of Philosophy and Traditions
60, pp. 193-208.

· "Are We Essentially Animals?" (2019), Philosophical Forum 50, pp. 383-409.

· "Is Mathematical Knowledge a Precedent for Modal Knowledge?: A Novel Objection to Lewis's Modal Epistemology" (2018), SATS: Northern European Journal of Philosophy 48, pp. 183-199.

· "Strategy for Animalism" (2018), Axiomathes 28, pp 419–433.

· "The Incompatibility of Animalism and Eliminativism" (2017), Philosophical Forum 48, pp. 395-407.

· "Physicalism and Neo-Lockeanism about Persons" (2016), Philosophical Psychology 29, pp. 1229-1240.

· "Derivative Properties and the Too Many Thinkers Problem" (2014), Metaphysica: International Journal for Ontology and Metaphysics 15, pp. 369-380.

· "Divine Providence and Human Freedom in the Tradition of Aquinas: A Defense of Theological Compatibilism" (2014), Testamentum Imperium: An International Theological Journal 2, pp. 1-14.
Courses Taught at TROY:
Introduction to Philosophy
Ethics and the Modern World
Logic
Critical Thinking
General Topics in Philosophy: Death
Western Philosophy
Applied Ethics
Philosophy of Religion
Selected Topics in Philosophy: Personal Identity