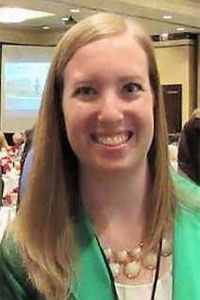 Kathryn Tucker , Ph.D.
Lecturer
TROY University
Troy, Alabama 36082
McCartha Hall 202 A
Telephone:
1-334-808-6627
Education:
B.A. Wake Forest University
M.A. University of Georgia
Ph.D. University of Georgia
Areas of Expertise:
Nineteenth and Twentieth century US South, Race Relations, Jim Crow, Civil Rights Movement, Legal and Social History, Gender History
Biography:
Dr. Kathryn Tucker is a lecturer of history at Troy University. She received her PhD in history in 2014 from the University of Georgia, where she also taught courses on US, southern, and African American history, and her BA in history from Wake Forest University. Her first book project focuses on the contrast between legal and social beliefs and practices regarding interracial marriage and mixed race in the Deep South, and spans from Reconstruction to the Civil Rights Movement. She has presented parts of this research at the Organization for American Historians Conference, and the European Association for American Studies meeting in The Hague, Netherlands.
At Troy University, Dr. Tucker has created and teaches a general education course for interested students on "The African American Experience," which explores American race relations and African American history, culture, art, politics, and legacy. Students in this course have performed original primary research to document lynchings and racial violence in the Troy area, as well as the ongoing impact of this violence and the beliefs that enabled it. Their findings were displayed in an exhibit, "Lynching in Lower Alabama," at the Troy University Library during the summer-fall of 2018, and are now available at: legacyoflynching.com.
Courses Taught at TROY:
Western Civilization I
Western Civilization II
US to 1877
US since 1877
African American Experience
Research and Methodology
African American History
Civil Rights Movement
History of American Women
Historiography of the Civil Rights Movement (Graduate)
Graduate Seminar in Ethnicity/Race in America (Graduate)