Events by Year: 2022
Announcement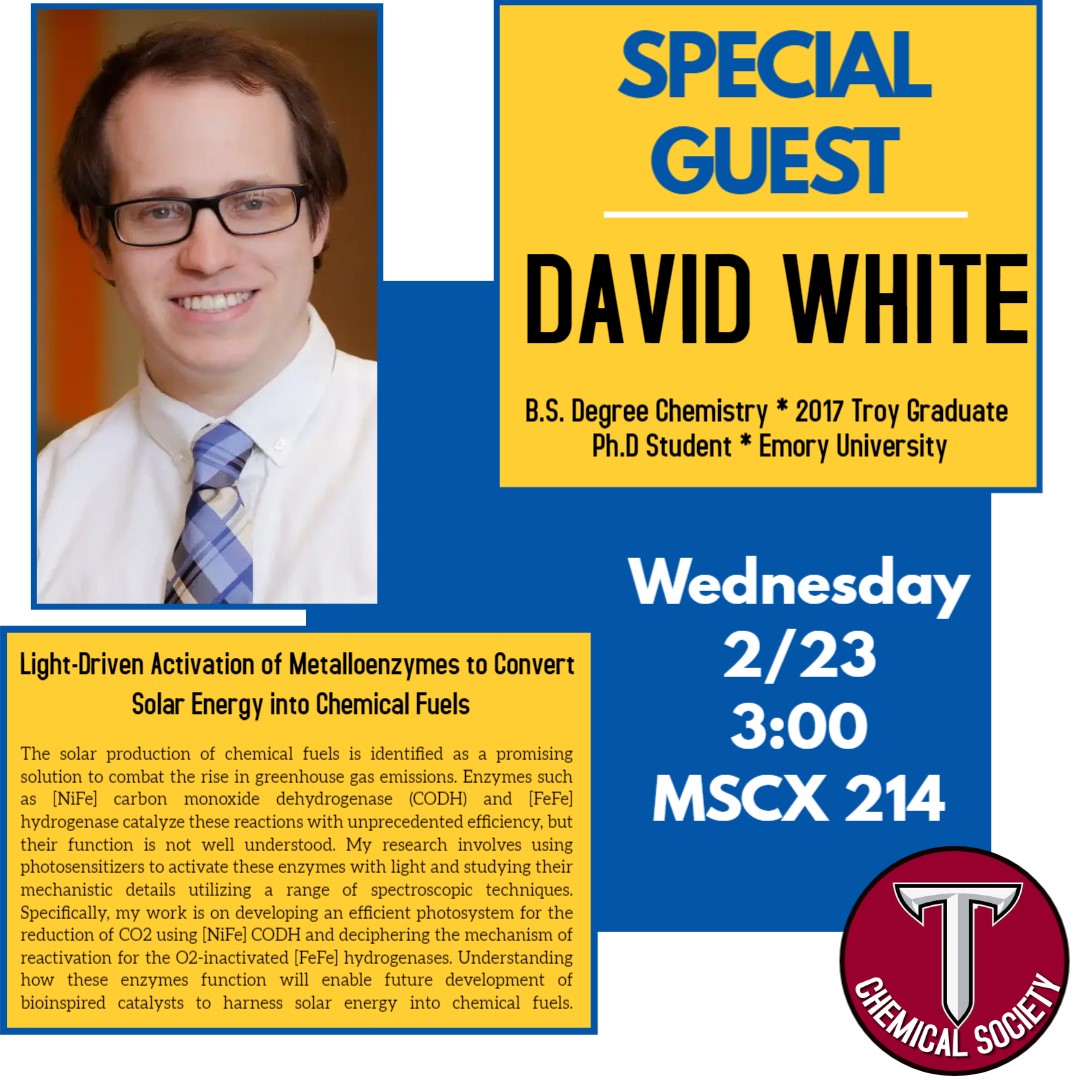 2022 Ole Miss Chemistry Summer Research Experience for Undergraduates (REU)
Program: The Ole Miss Chemistry Department seeks applicants for an NSF-funded summer Research Experience for Undergraduates (REU) program in 2022. Students who have completed their freshman year of college and who will not have graduated as of Fall 2022 can participate fully in "Ole Miss Physical Chemistry Summer Research Program" activities and work on a research project under the direction of a faculty mentor. Student participants will receive a $5,000 stipend, a housing and meal plan for ten weeks, and travel assistance.
Eligibility: Undergraduate student participants must have completed their freshmen year of college but not yet graduated, and must be citizens or permanent residents of the United States or its possessions. Underrepresented groups in science are strongly encouraged to apply, including minorities, women, and first-generation college students.
Key Dates and Deadlines:
03/07/2022: Applications Due
03/28/2022: Notice of Invitation to Participate
05/17/2022: Experience Begins (Move-In)
07/22/2022: Experience Ends (Move-Out

For more information, including a printable flyer, research projects and how to apply, see http://reu.chem.olemiss.edu or contact program director Dr. Nathan I. Hammer at nhammer@olemiss.edu.
Events By Year: 2021
Chemistry club Interest Meeting is on Wednesday, Sept. 1 at 3PM in MSCX 214.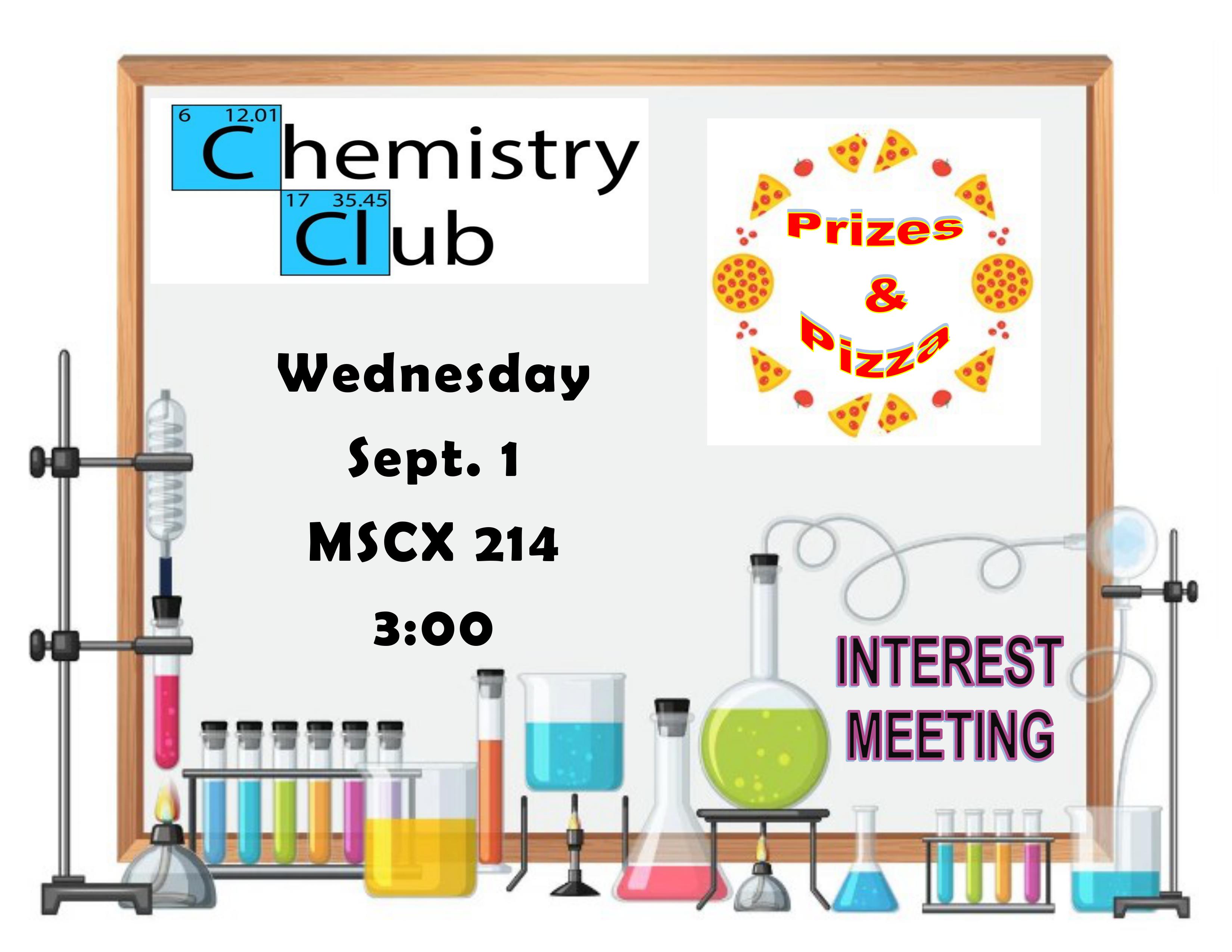 Events By Year: 2020
"Troy lecturer partners with ONY Biotech on life-saving COVID-19 research"
Read the full story at
https://www.wsfa.com/2020/05/04/troy-lecturer-partners-with-ony-biotech-life-saving-covid-research/
Events By Year : 2017-18
Congratulations
Congratulations to Ali Bradford who received a summer internship to work with Dr. Christian Goldsmith at Auburn University!
Talk Announcement
Professor Christian R. Goldsmith from Auburn University is presenting his research on "Development and Application of MRI Contrast Agent Sensors for H2O2".
It will be in room 318 MSCX at 4 P.M. on Tuesday,February 6th.
Talk Announcement
The participants get to meet AU faculty and graduate students, tour the Department, attend a research poster session, and interact with the AU folks at an informal, relaxed atmosphere.
Talk Announcement
Title: "Polymeric Sensing Materials for Volatile Organic Compound Sensors" Dr. Katherine M. E. Stewart, Ph.D.
Tuesday, October 24, 5:30-6:15 p.m. MSCX -Room 326
National Chemistry Week Speaker
Anasazi 60 MHz NMR instrument
Department of Chemistry and Physics at Troy campus has got an Anasazi 60MHz NMR instrument Friday (October 13).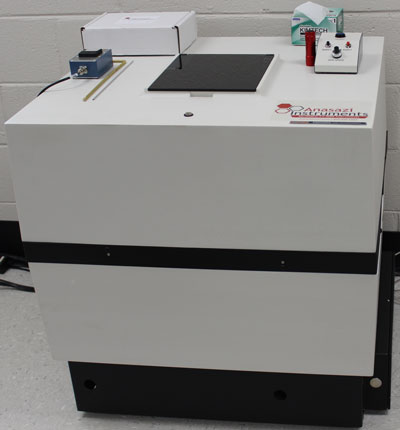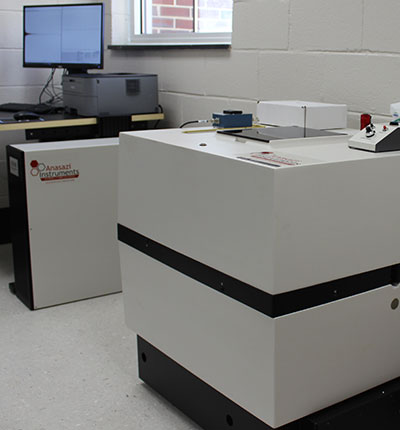 Events By Year : 2015
The Troy Chemistry Club hosted boy scouts from across Alabama as part of the Merit Badge Series organized by Troy University.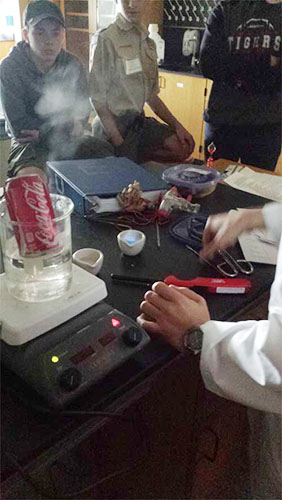 Zach Harvey and Katherine Clohan showing the flame test demo.
The Troy Chemistry Club conducted demos for prospective students during the Fall 2015 Trojan Day.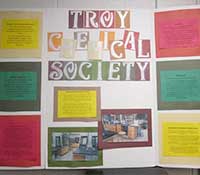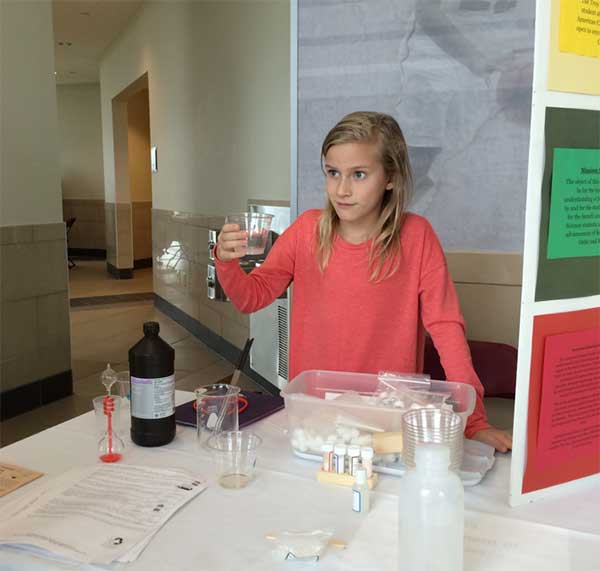 Junior and Senior Troy Chemistry students attended the Fall 2015 Invitational hosted by the Department of Chemistry and Biochemistry at Auburn University.