Partnership Overview
Troy University (TROY) in partnership with EdAssist provides opportunities for its clients to achieve personal and professional growth through TROY's undergraduate and graduate degree programs.
NEW SCHOLARSHIP exclusively for new Troy University students who are eligible for one of our corporate partnership programs! Click here for scholarship details, eligibility requirements, and to apply for this scholarship.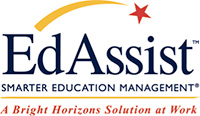 Features & Benefits
If you have any questions or would like more information, please contact TROY's partnership liaison, Staci Hutto, directly at (334) 372-6044 or via e-mail at sdhutto@troy.edu. For assistance with the employee tuition scholarship, please contact Carmen Foster at (706) 571-2430 or via e-mail at fosterc@troy.edu.
Degree Programs
Tuition
EdAssist clients receive a 10% tuition scholarship rates listed below.
Financial Aid
Troy University is committed to providing exceptional service to students and their families who apply for financial assistance. The Office of Financial Aid offers a variety of services and programs designed to help you find ways to meet the costs of education. We want you to succeed at Troy University.
For more information, go to troy.edu/financialaid/
Steps to receiving your partnership benefits
APPLICATION FEE WAIVER (for new students only):
TUITION scholarship (for new and existing students):
FAQs
Interested in Applying to TROY?