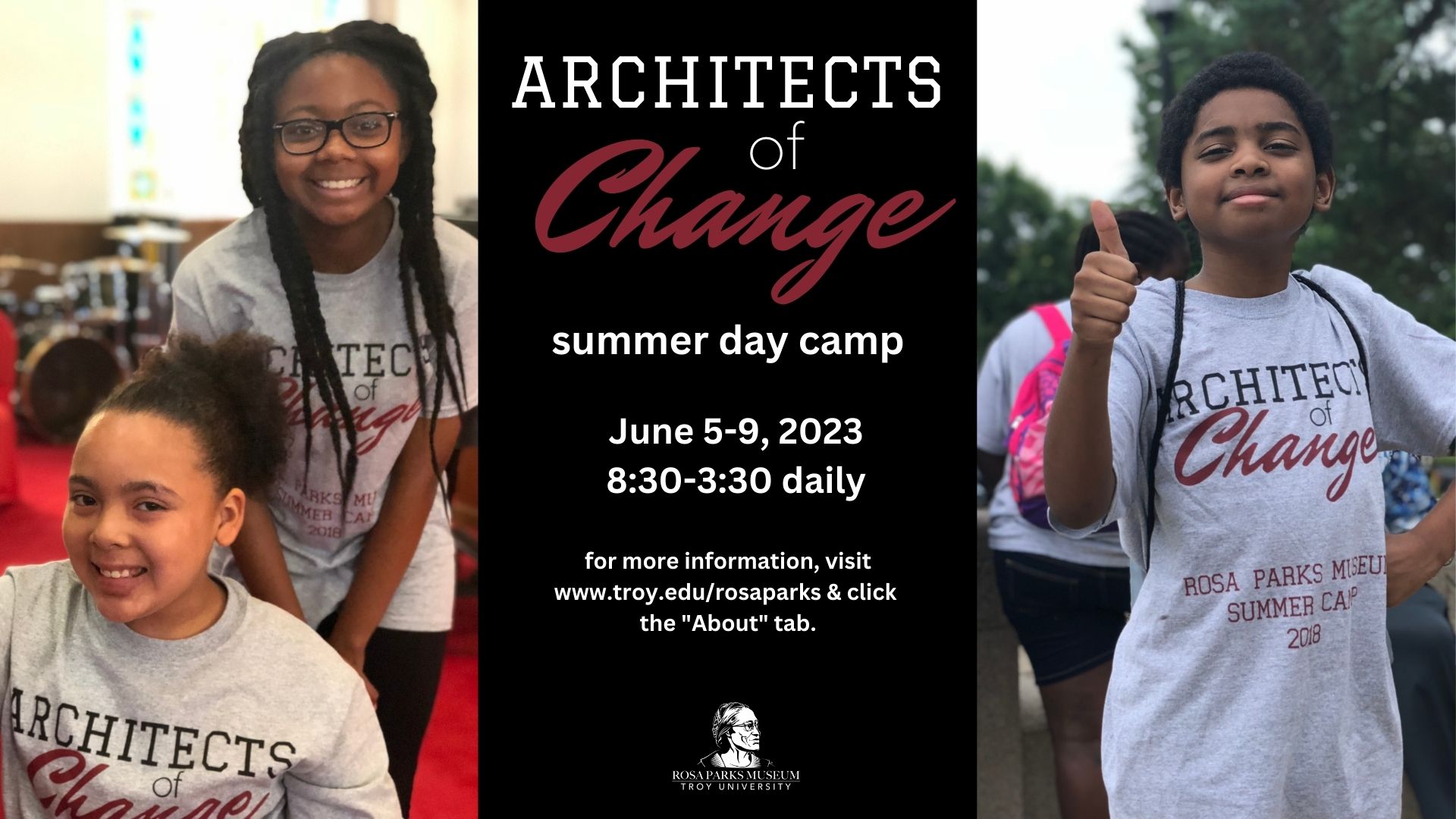 The Rosa Parks Museum's annual educational summer day camp, "Architects of Change," is open to all Montgomery-area middle and high school students who will be entering grades 6-12 during the 2023-2024 school year. The mission of the camp is to share the techniques of non-violent conflict resolution used by Mrs. Rosa Parks, Dr. Martin Luther King, Jr. and other leaders of the early Civil Rights Movement. Our goal is to connect past struggles in the quest for equal rights to social justice struggles that continue today.
About the camp…
Workshops led by New Way from the organization Something New (Atlanta, Georgia).
Training helps campers to handle conflict effectively and peacefully; embrace forgiveness, understanding and acceptance and respond to conflict with reconciliation instead of lashing out or holding grudges.
Connecting past Civil Rights events to modern social justice issues
Culminating art project
Field trips…
Rosa Parks Museum and Children's Wing
Walking tour of downtown Montgomery's civil rights historic sites
Tour of the Equal Justice Initiative's Legacy Museum and National Memorial for Peace and Justice
Tuskegee University and George Washington Carver Museum
Moten Field (Tuskegee, AL)
Birmingham Civil Rights Institute
16th Street Baptist Church
Fees and other important info…
Located at the Rosa Parks Museum (Troy University Montgomery)
June 5-9, 2023, from 8:30 AM to 3:30 PM daily
$100 per student (discounted rates for additional children within the same family)
Breakfast, lunch, and snacks provided daily
Non-refundable $20 deposit due with application no later than Friday, May 5, 2023
Balance due Friday, May 19, 2023.
Parents will receive camp itinerary no later than.
If you have questions or need more information, please contact:
McKenzie Walker, mwalker166145@troy.edu (334.241.9541)
Donna Beisel, dbeisel@troy.edu (334.832.7295)