Past Exhibitions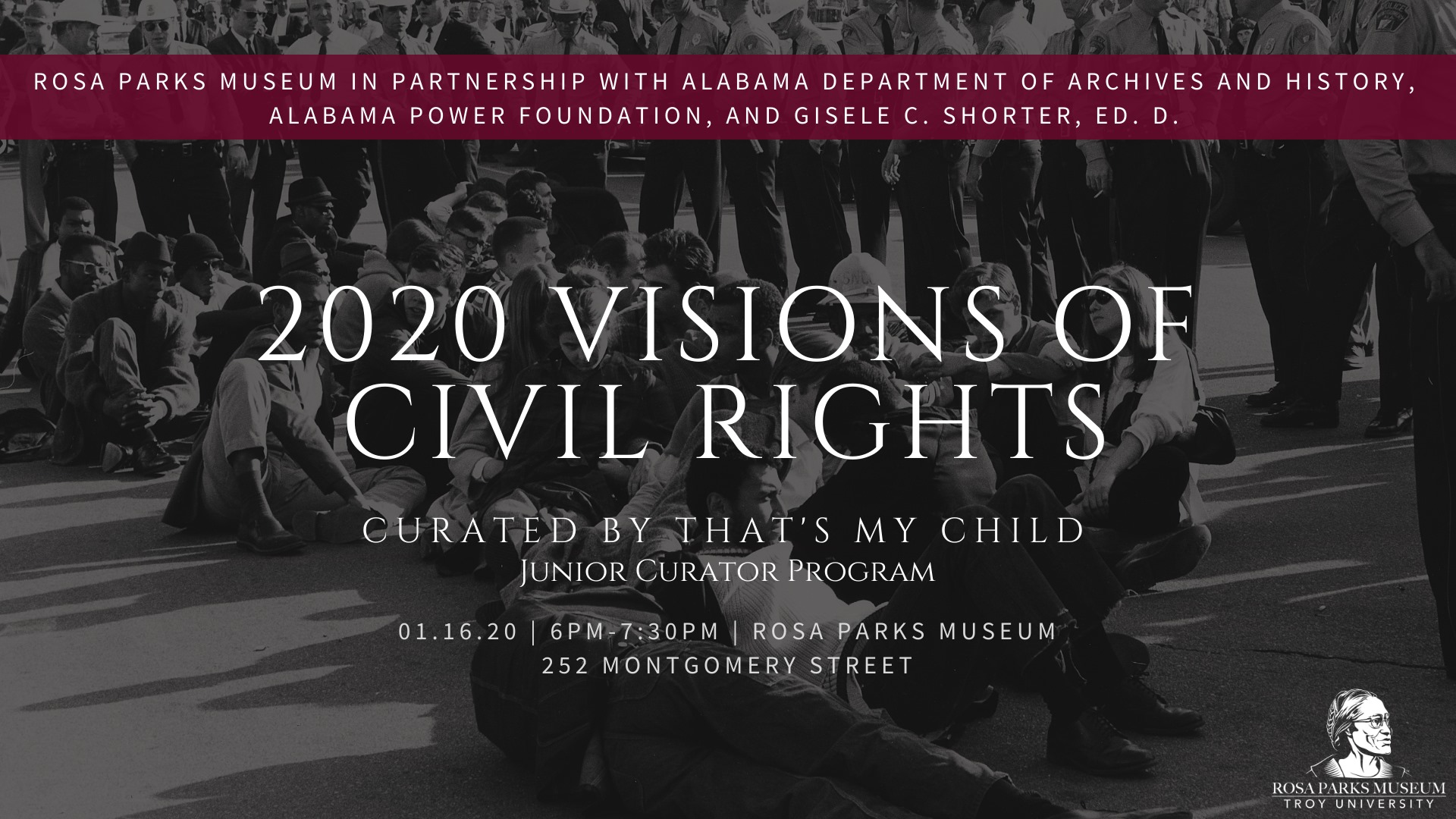 Troy University's Rosa Parks Museum is pleased to announce its second annual Junior Curator exhibition in collaboration with That's My Child. This exhibition features Civil Rights era photographs and documents hand selected by students at That's My Child, who wrote labels for each piece. These works are in celebration of Black History Month and depict how the fight for civil rights has evolved over time.
Special thanks to our partners: Alabama Department of Archives and History, Alabama Power Foundation, and Gisele C. Shorter, Ed.D.

Alabama Art: Inside Out originated as an artistic endeavor by the artist Nall to reveal to the world the work of fellow Alabamian artists who embodied the spirit of his home state. He saw these artists as courageous and ambitious. They were able to flourish despite the challenges presented by a predominately conservative environment. As an avid art collector, Nall was constantly obtaining art that fed his soul. He has a keen interest in local artists, seeing that they share much in common. The Rosa Parks Museum and the International Arts Center is proud to bring to light the work embodying a colorful, southern culture reflecting Nall's vision.

"Moving Targets" by Michael Jones
April 18, 2019 - October 28, 2019
Gun culture has become highly romanticized in American culture. Today, guns are marketed as objects of amusement and have a place in American idioms and sports jargon. In convenience stores, cap guns and water guns are readily accessible for visitors and children. African Americans have a long history of being profiled and marked as a target. Targets can be anything, which is why Jones feels the need to define them and get the audience involved by letting visitors create their own conclusion of what they see in each target.
Michael Jones was born in Dallas, Texas, where he attended the famed Booker T. Washington High School for Performing and Visual Arts. He relocated to Atlanta, Georgia in 1994 where he received his Bachelor's degree in Painting and Sculpture from Atlanta College of Art (SCAD) in 1998. His focus was in non-objective, abstract paintings. Newer works deal with definitions in which he uses mixed medium, collage, and found objects. In addition, he operates within interior and exterior urban spaces and honors the mundane materials that filter through our day-to-day lives. Please be advised this exhibition contains graphic content and may not be suitable for all ages.

"Rosa Parks: An Inspiration for a Movement" October 11, 2018 - January 4, 2019
The courageous act of Rosa Louise McCauley Parks, who refused to give up her seat on a segregated Montgomery city bus on December 1, 1955, sparked the 382-day Montgomery Bus Boycott. Poll taxes, discrimination, and deadly racial violence that disenfranchised African Americans was countered with a 54-mile march from Selma to Montgomery by about 3,200 protesters who demanded fairness in voter registration. Unfair wages and unsafe work conditions led Dr. Martin Luther King, Jr. to seek economic justice for striking sanitation workers in Memphis. Each of these historic events have inspired peaceful protests all over the world--from Tiananmen Square to Tahrir Square, from Kent State to Jackson State, and from Muhammad Ali to Colin Kaepernick. Tell us how you are inspired to make positive social change for justice and equality: #RosaParksMuseum, @RosaParksMuseum.
"Break Glass: A Conversation to End Hate" by artist V.L. Cox
April 19, 2018 - September 6, 2018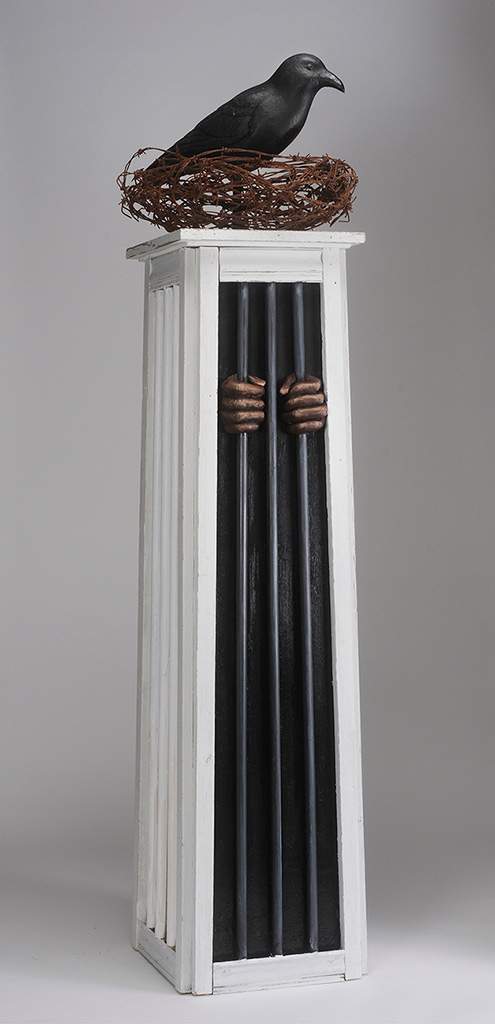 The Rosa Parks Museum is excited to announce the opening of our summer exhibition, "Break Glass: A Conversation to End Hate" by artist V.L. Cox. The End Hate Project is a narrative body of work that looks at our history of discrimination, gender issues, and social culture. The powerful pieces convey messages that are aggressive, violent, disturbing, irreverent, and even humorous--but all show us as a society where we've been before and where we cannot allow ourselves to go again.
Cox's recent work has been highly active in projects that involve human rights and equality. In 2015, she launched her National "End Hate" Installation Series, an anti-discrimination series that was placed twice on the steps of the Arkansas State Capitol and at the base of the Lincoln Memorial in Washington, D.C. This series employs authentic and found objects that create a visceral presentation commenting on raw emotions and relevant human rights issues that continue to be important topics in the 21st century. The work sets in motion strong emotions. Her creations are powerful, imaginative, and unprecedented in style. Cox has a keen and sensitive eye for three-dimensional detail and its impact on all aspects of design and composition in a work of art. In the eyes of the observers, Cox's paintings combine composition and depth, which are powerful and compel the viewer to interact with the artwork.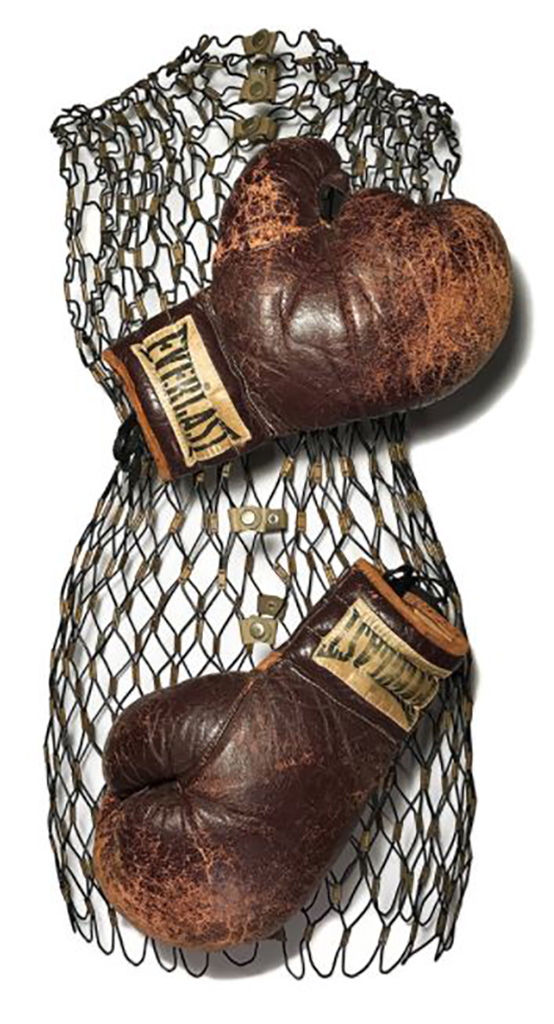 For more information about the artist, visit www.vlcox.com.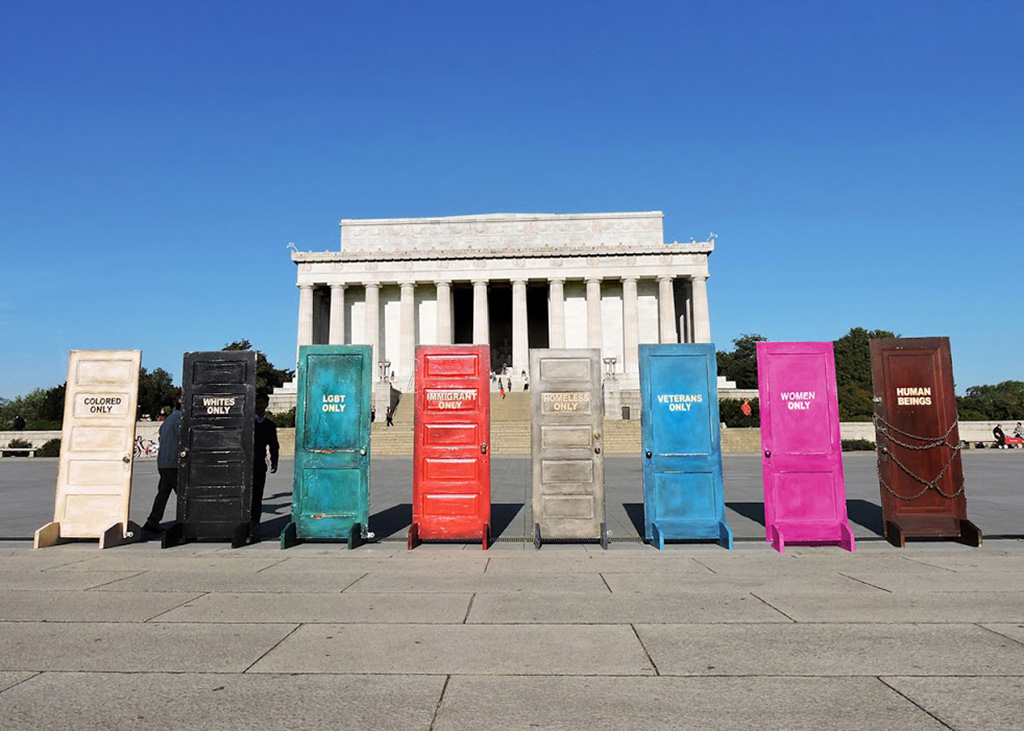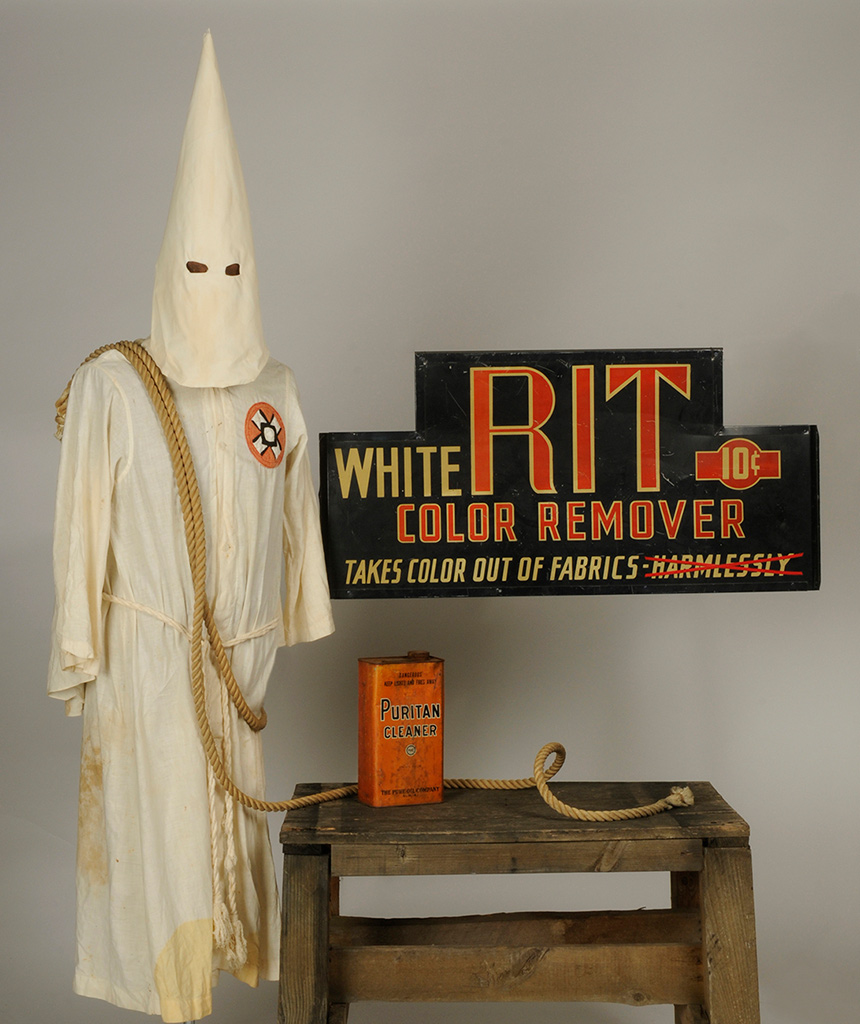 "Power & Beauty: Women in African Art" from the Collection of Donald & Kaye Kole
January 11 - March 19, 2018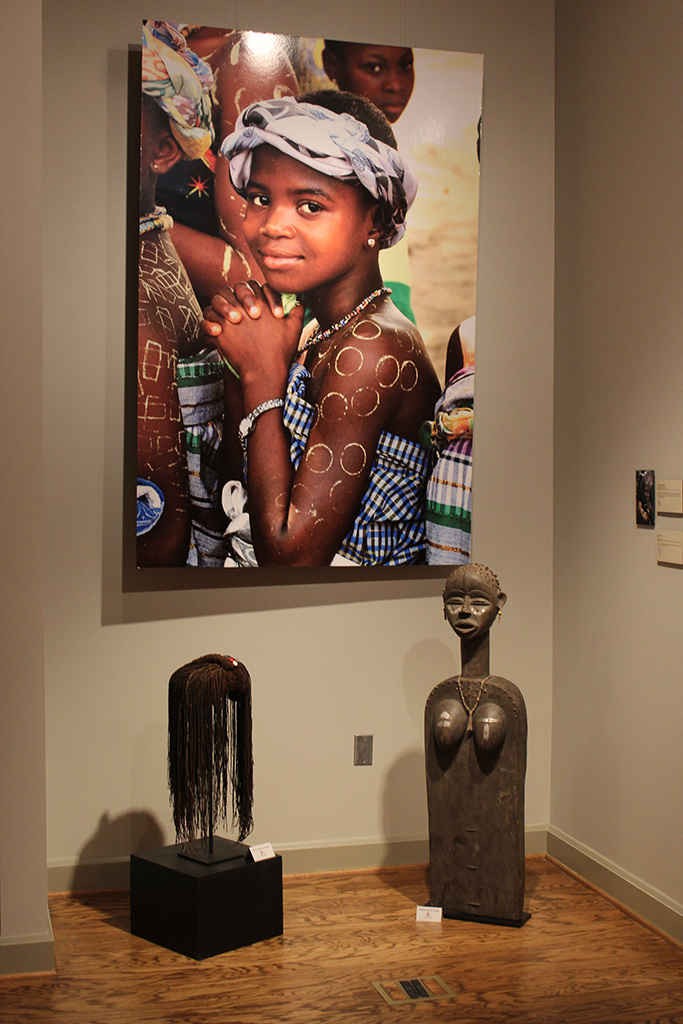 The experiences of African women past and present are diverse, sophisticated, and challenging. This exhibition celebrates the variety and complexity of these experiences through representations of African women and their artistic practices. Focused primarily on historical African art forms, the works here display the impact women have made historically in African culture. From images of women's power, spirit, and beauty to those of family and everyday life, the arts of Africa demonstrate the central place of female representations, gender concepts, and women artists in African culture.
Visit the Savannah African Art Museum to experience over 1,000 objects in the Donald and Kay Cole Collection: https://www.facebook.com/SavannahAfricanArtMuseum/.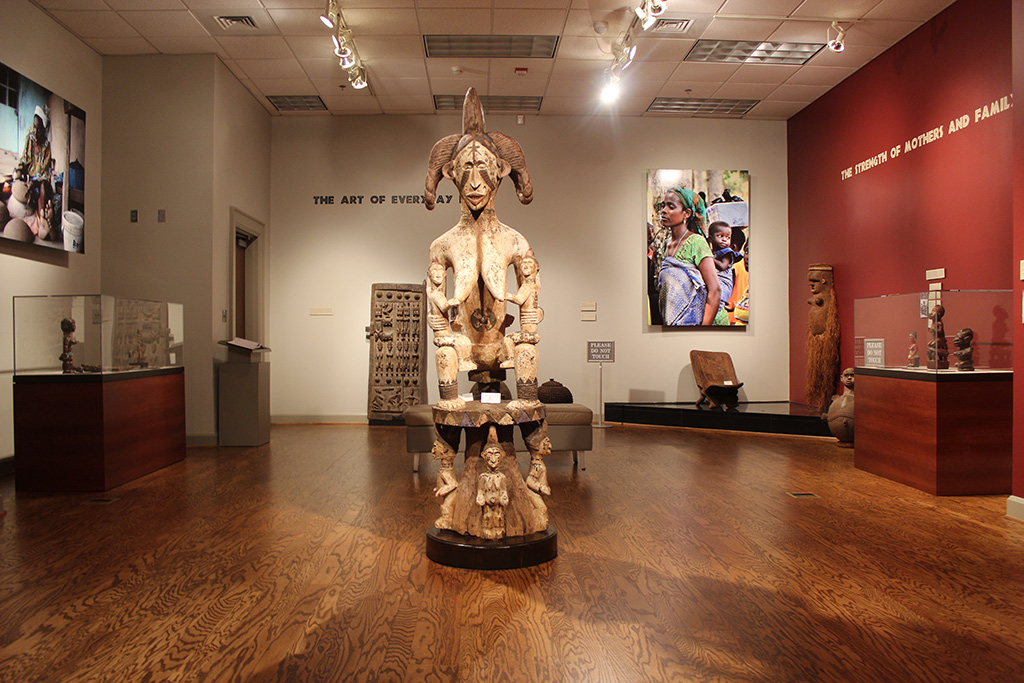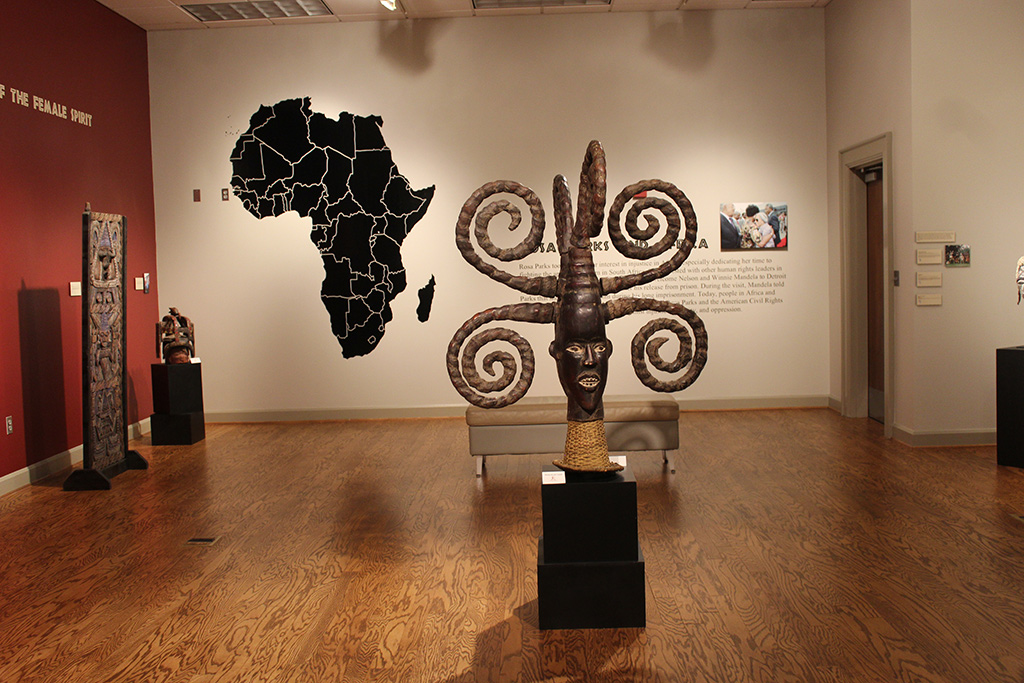 ---
"EO 9981: Escaping Jim Crow"
November 9, 2017 - June 1, 2018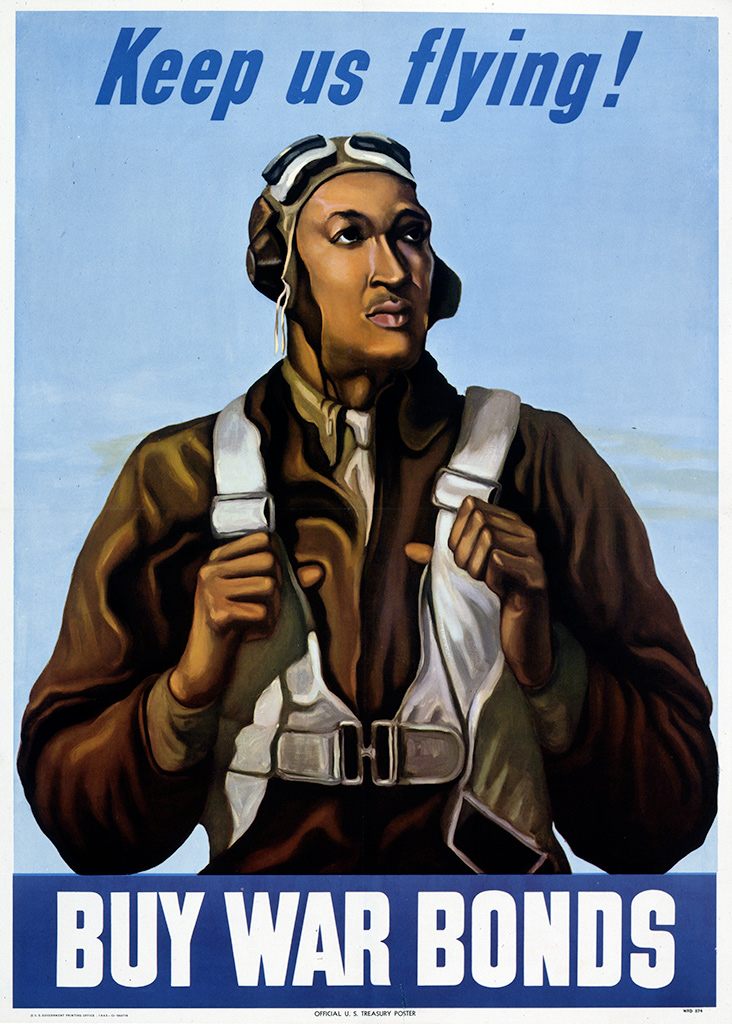 During World War II, African American airmen served with distinction in segregated units within the Army Air Forces. In 1948, President Harry S. Truman issued Executive Order 9981, ending segregation in the US Armed Forces. By 1950, the Air Force led the way by integrating its units and bases, including Maxwell Air Force Base in Montgomery, Alabama.
Working on bases allowed black service members and civilians to escape Jim Crow laws. Rosa Parks worked as a seamstress at Maxwell and her husband, Raymond, was a barber. "You might just say Maxwell opened my eyes up," said Mrs. Parks. "It was an alternative reality to the ugly policies of Jim Crow." Unfortunately, discrimination delayed progress within ranks and among civilian employees. "I did not experience any unpleasant incidents, but sometimes on base there were problems with individuals," said Rosa Parks.
The days of Jim Crow have passed. Since World War II, service men and women from all backgrounds have made remarkable achievements. Yet, the pursuit toward equality continues.
---
"The Fabric of Race" by artist Renee Billingslea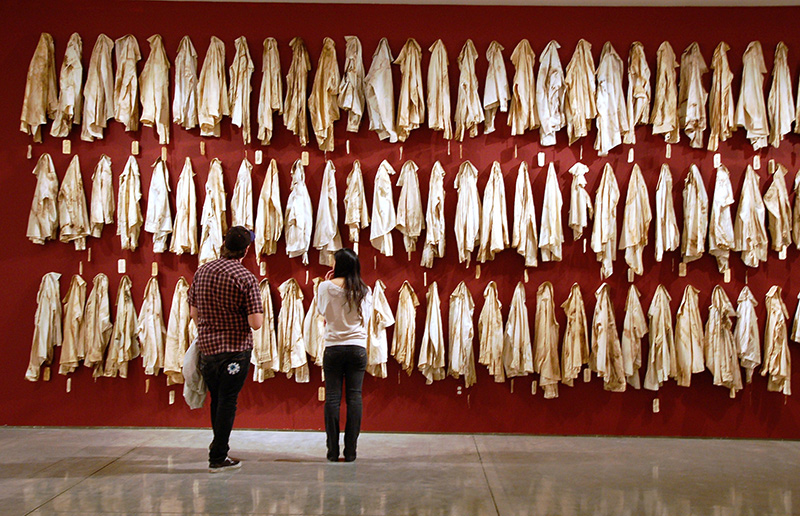 "The Fabric of Race," an exhibit by artist Renee Billingslea that examines racial violence and lynching in America, will open at Troy University's Rosa Parks Museum on April 20 with an opening reception set for 6 p.m.
---
"Cash Crop" by artist Stephen Hayes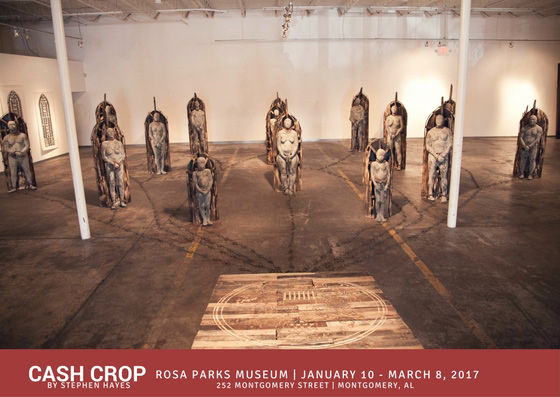 The Rosa Parks Museum is thrilled to announce our newest exhibition, Cash Crop by artist Stephen Hayes. This exhibition depicts the horrors of the Trans-Atlantic slave trade as well as creates a dialogue between human rights violations of the past and present. Hayes is an artist based in Durham, North Carolina. Hayes earned his undergraduate degree from North Carolina Central University and his Masters in Fine Arts in sculpture from the Savannah College of Art and Design. For more information on the artist, please watch this video on YouTube: https://www.youtube.com/watch?v=gvTcYjjbP7M.