Past Exhibitions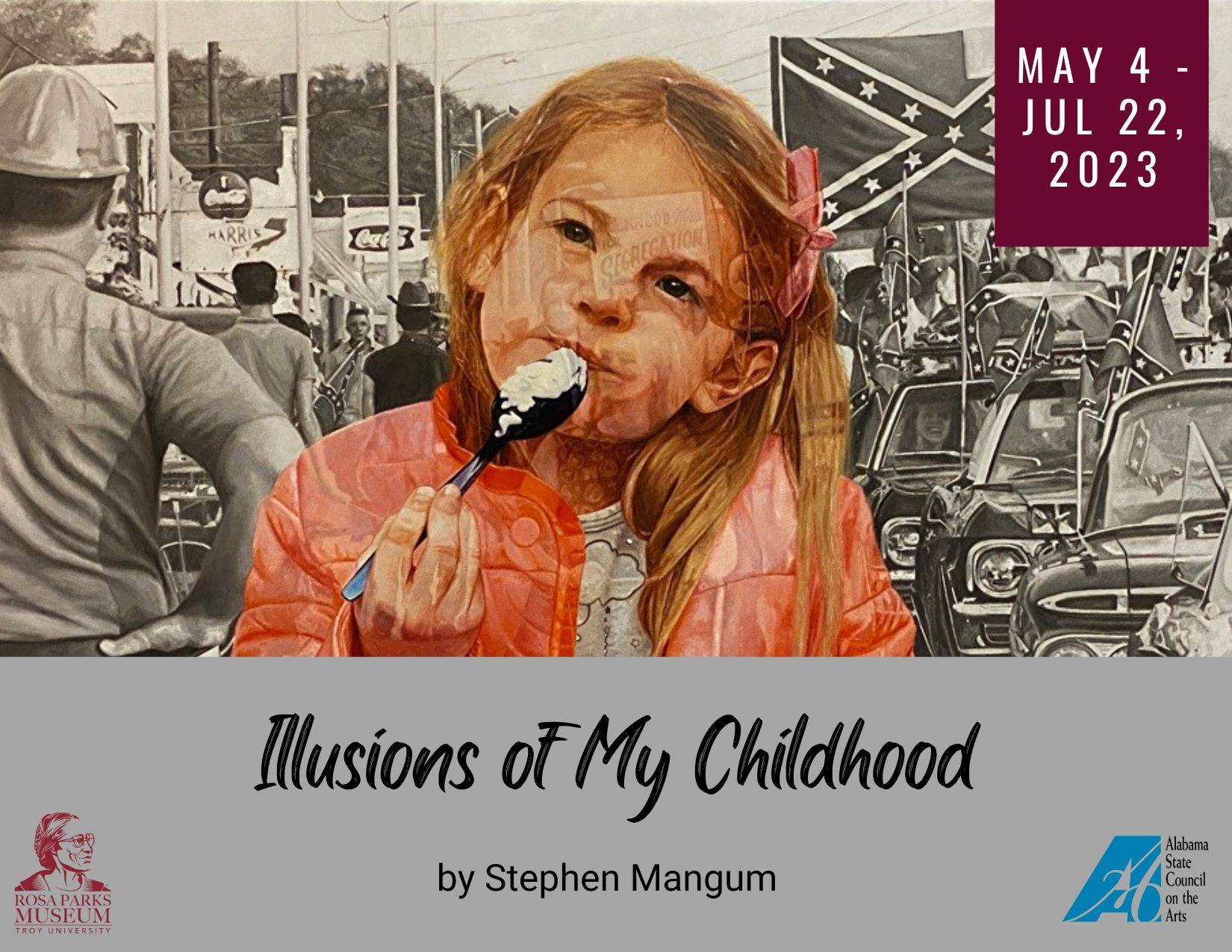 Stephen Mangum's new body of paintings confront his Southern heritage and explore racial injustice through the lens of white privilege. As a white child growing up in Greenwood, Mississippi, in the 1950s and '60s, his memories are of playing baseball and kick-the-can, riding his bike, and taking art lessons...not of the plight of Black citizens during that same time period. He was a toddler when Emmett Till was abducted and murdered in nearby Money, Mississippi, and was a third grader when Medgar Evers was assassinated in Jackson. As a teenager, however, when Dr. Martin Luther King, Jr. was gunned down in Memphis, Tennessee, Mangum became fully aware of the depth of the hatred and bigotry that surrounded him.
Recreating scenes from the struggle for Civil Rights by such 1960's photojournalists as Charles Moore, Matt Herron, and Bill Hudson, and then superimposing current day portraits of his grandchildren, Mangum's paintings link the past with the present. By illustrating that the racism and inhumanity of his childhood continue to permeate the American landscape, he hopes to encourage dialogue towards unity.
[Exhibit on display May 4 - July 22, 2023]
*Exhibit made possible in part through a generous grant from the Alabama State Council on the Arts.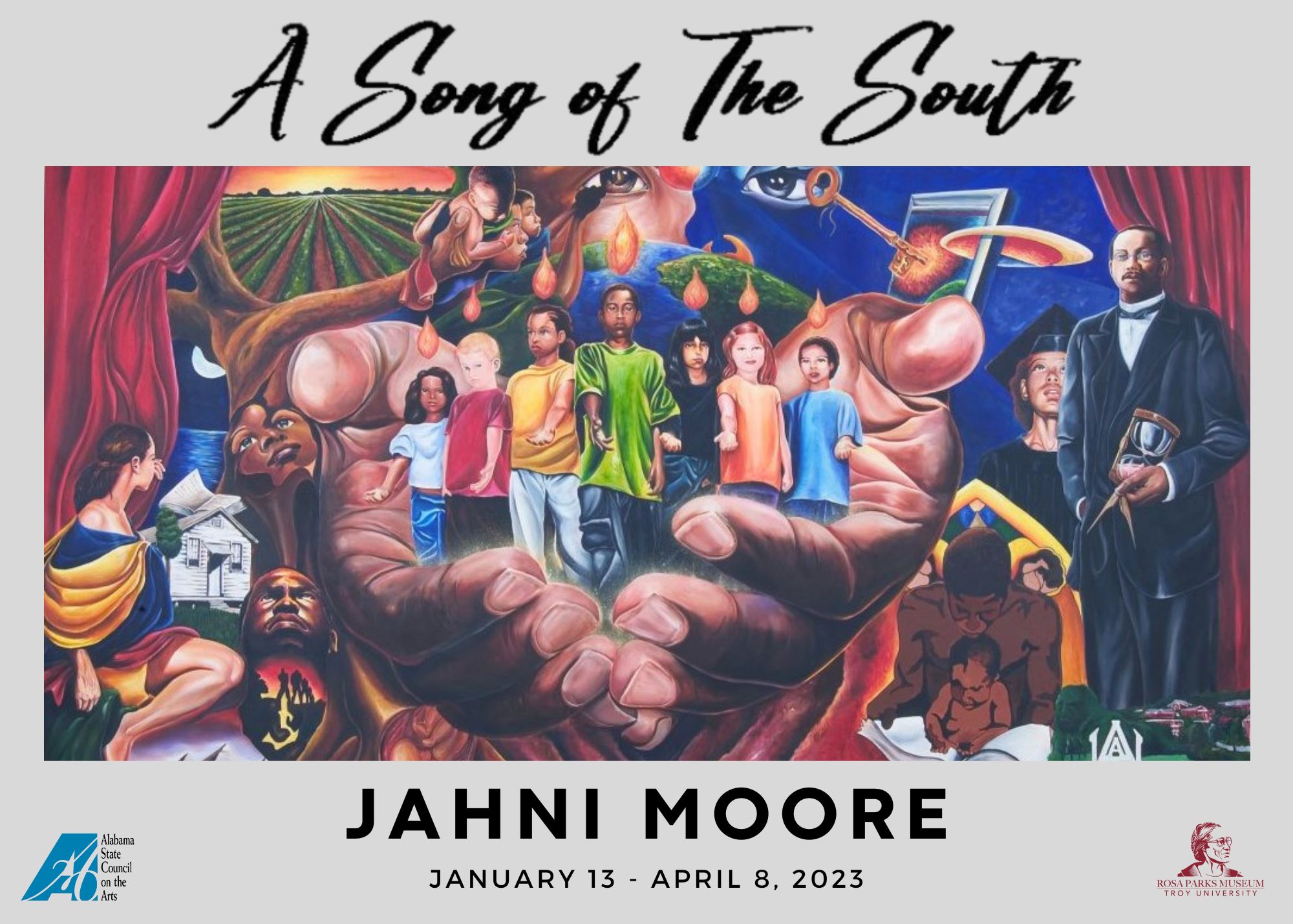 A Song of The South is a compilation of works by Alabama native son, John "Jahni" Moore. Jahni is a Southern-born artist who weaves the dichotomy of Southern tapestry into a vision of perspective and possibility.
"This exhibition speaks from a single lens with a panoramic view of past, present, and future. Each work pulls from the bedrock of the Southern experience. Not just from walking through the red clay of Alabama but by acknowledging the red clay as space / magic dust divinely cultivated into miracle territory. From the charcoal drawings and red clay paintings to the red clay-infused acrylic paintings, the work is charged with ancestral power and sanctity. From Redstone Arsenal in Huntsville to Red Mountain in Birmingham to the red riverbanks and shores of Montgomery down to Mobile, the magical red dust is the stuff of Alabama. This work is about resurrection, remembrance, and redemption. From this hallowed ground, we feel both the harmony and discord of our ancestors, the voices of those who came before and will come after, drifting in to us in visual verse - a song unique to this Southern plane." ~ Jahni the Artist
[Exhibit on display January 13 - April 8, 2023]
*Exhibit made possible through a generous grant from the Alabama State Council on the Arts.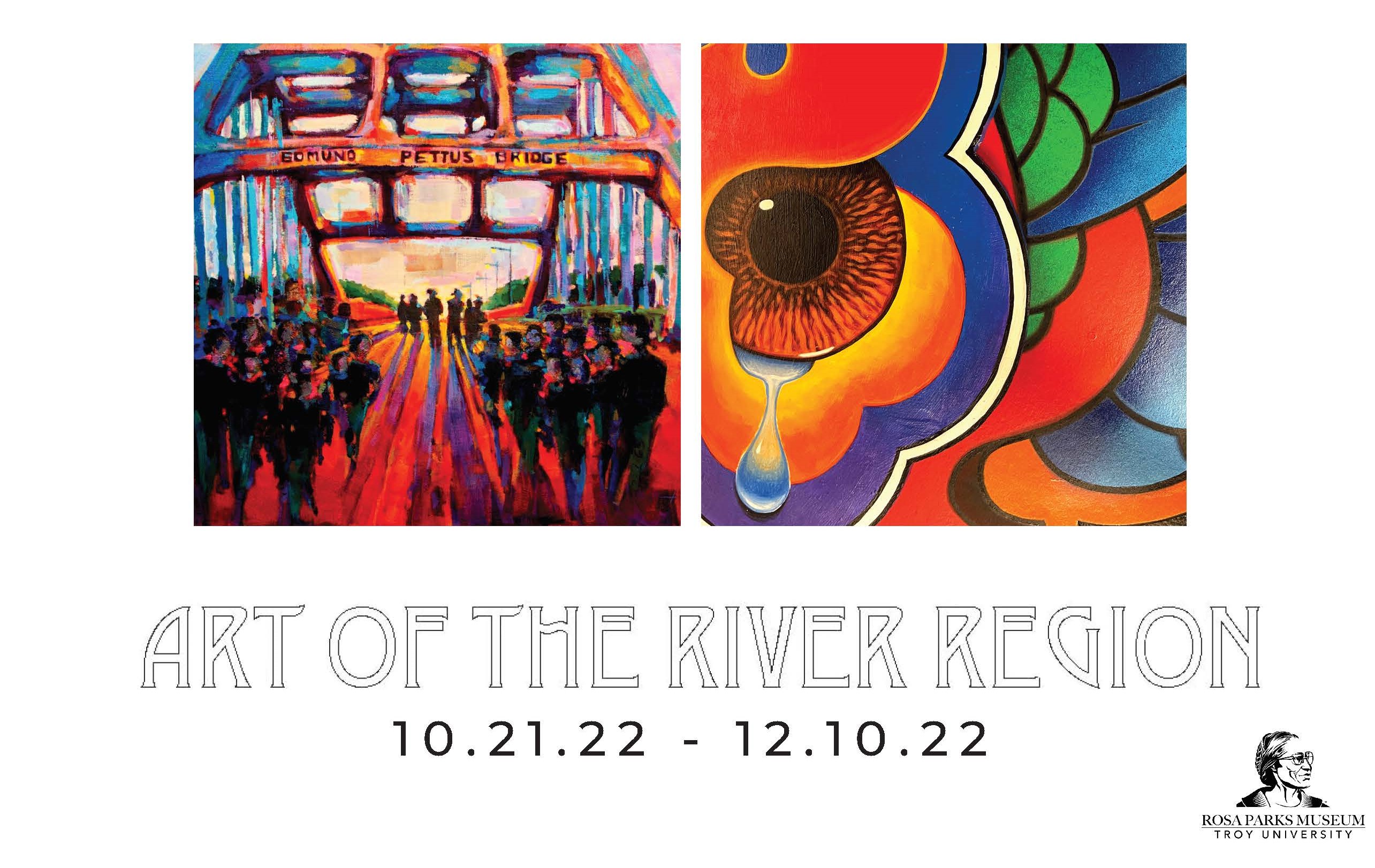 "Artists are the gatekeepers of truth. We are civilization's radical voice." – Paul Robeson
The River Region has a rich history of not only activism but of visual and performance art. Some of the world's most well-known artists have hailed from this area. Our current exhibit highlights current living River Region artists and their various styles, visions, and media. Featuring artists include Nathanial Allen, Alisa Beck, Madeline Burkhardt, Maalik Camp, Alana Enfinity, Sueann Gomez, Patricia Hackett, Keith J.R. Hollingsworth, Rebecca Olson, Jayla Poe, J. Felton Powell, Ashley Redic, Korey Rowswell, Tara Sartorius, Ciera Simone, Mary Soylu, Toni Toney, and Cleve Webber.
[Exhibit on display October 21 - December 10, 2022]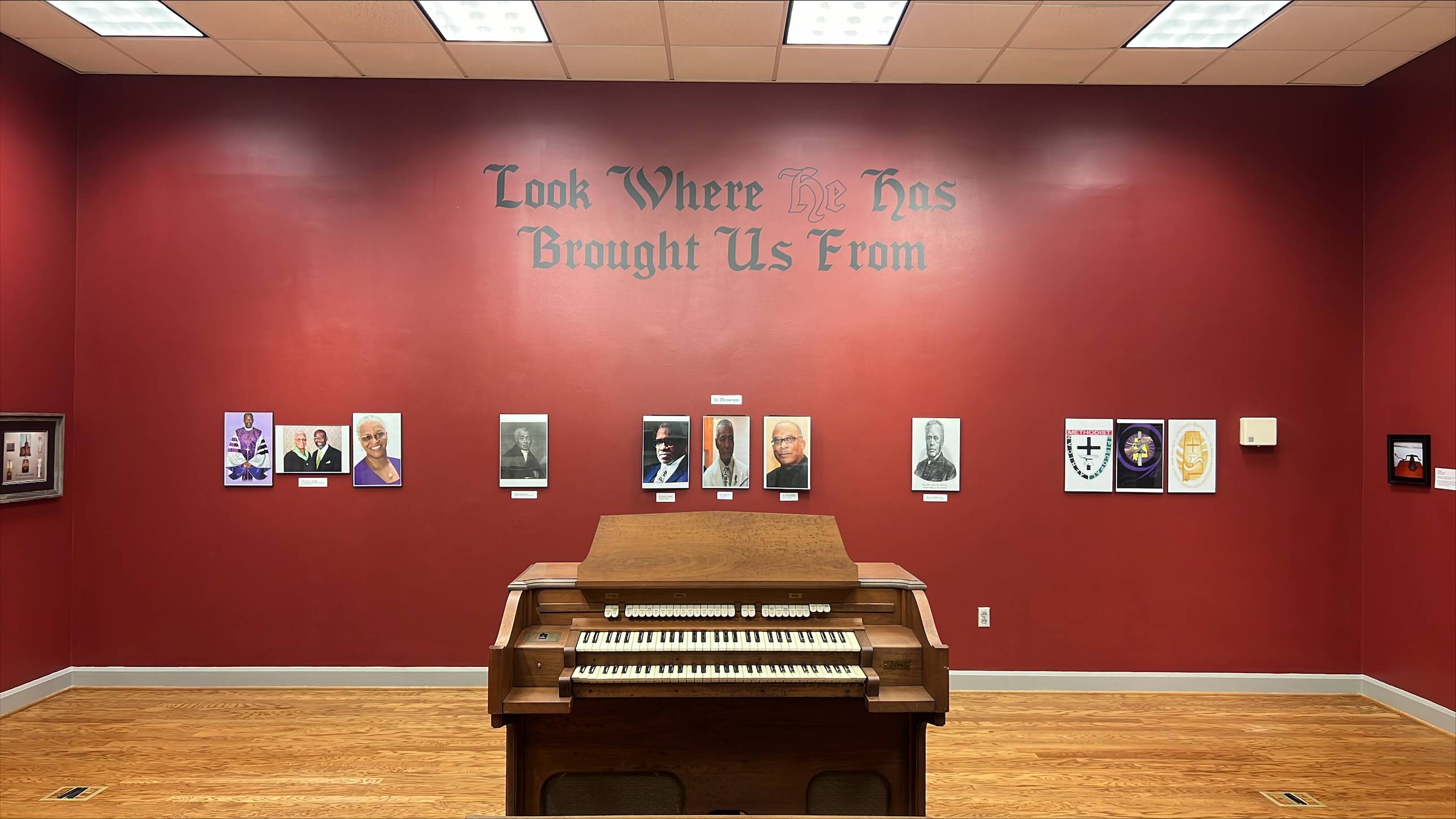 The Rosa Parks Museum's current exhibit Look Where He Has Brought Us From displays the history of the African Methodist Episcopal church in Alabama. In collaboration with the Selma-Montgomery district of the 9th District of Alabama, the exhibit displays documents, articles, and artifacts from the 150+ years of the AME church in the state. This exhibit was one of the last requests of former Troy University Board of Trustee member Lamar P. Higgins and is being hosted in his honor. Mr Higgins was instrumental in the history of the regional AME church and that of his home church (and Rosa Parks' home church) St. Paul AME, as well as the development and continued success of the Rosa Parks Museum.
[Exhibit on display through October 1, 2022]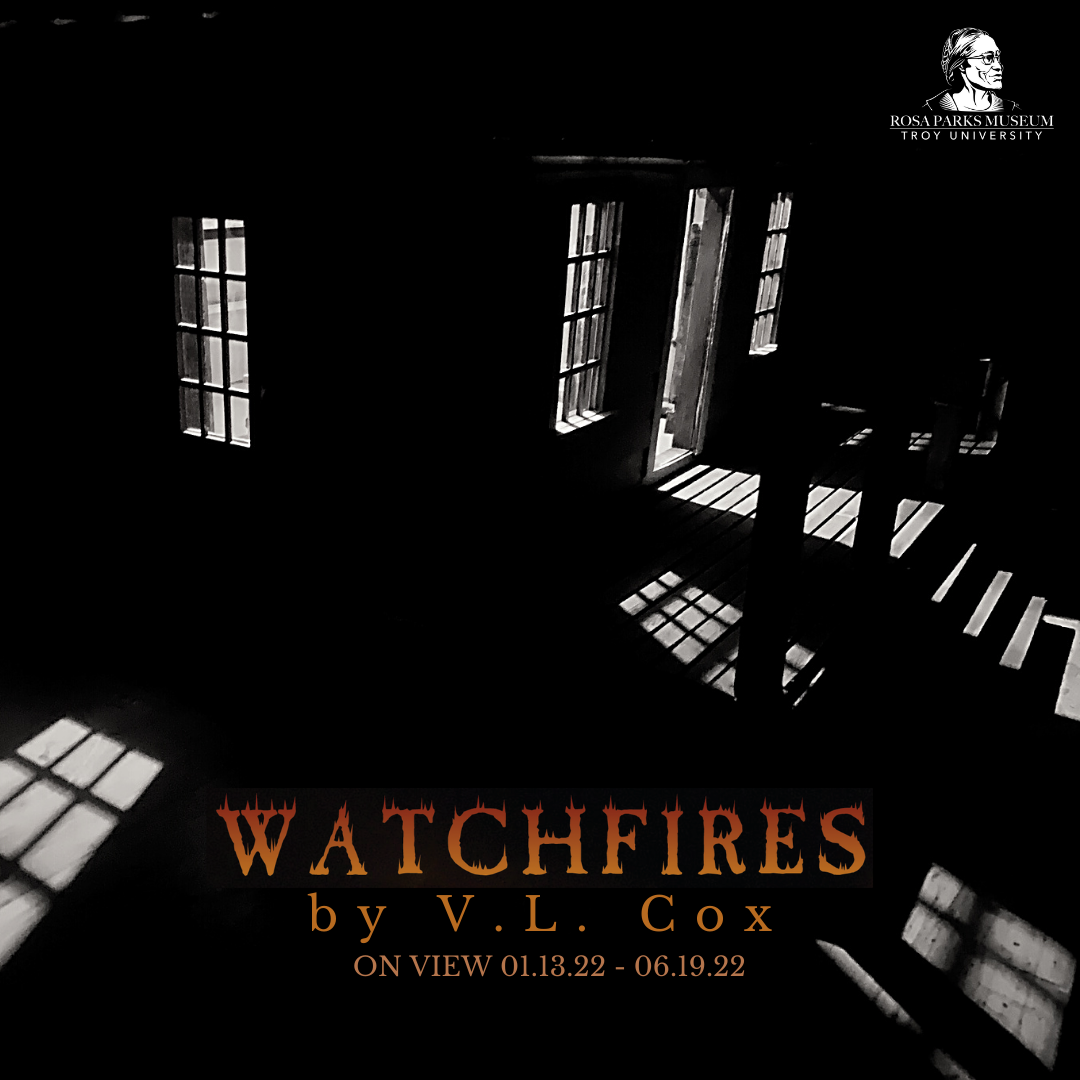 /ˈwäCHˌfī(ə)r/
"A fire maintained during the night as a signal or for the use of someone who is on watch."
– Lexico
In the artist's opinion, separations within the United States have reached dangerous levels, and the deadly global pandemic has made them worse.
Foreign countries actively encourage election interference. White Supremacists march openly in the streets. Gerrymandering and targeted removal of voting locations happens as we stand here now. Intoxicating greed and an insatiable lust for power infiltrates and taints
our current politics and religion. Manners and respect towards one another have been thrown out like yesterday's garbage. We have never truly been the "home of the free" and we continue fighting the same civil rights battles more than 66 years after Rosa Parks' arrest.
Noble veterans, both Black and white, who have paid the ultimate price to fight against the spread of evil, authoritarianism, and fascism, would be shocked at how the values they fought to protect are being purposefully eliminated. Those heroes and sentinels are gone.
Now is the time for us to pick up the light that has fallen and take their place – we must be the Watchfires.
Now more than ever, we need the Watchfires to burn again through the
night…
To light up the darkness as a beacon of hope, strength, freedom, equality, and civility,
To illuminate the path that once was traveled,
So people can find their way home.
[January 13 - June 19, 2022]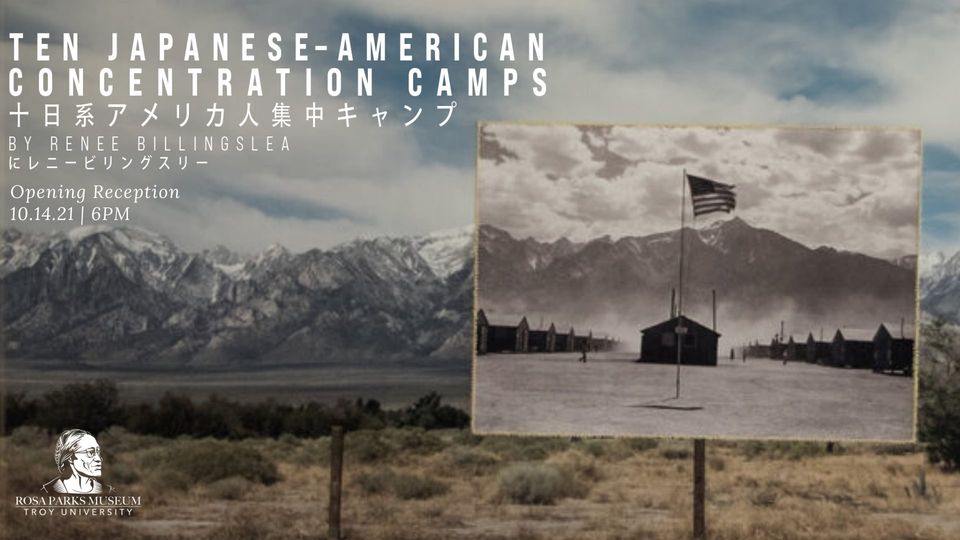 "Ten Japanese-American Concentration Camps" by returning artist Renee Billingslea is a photo documentation project that shows the drastic impact Executive Order 9066 had on society; many of these effects can still be seen today. This order called for the mass deportation and incarceration of more than 120,000 people of Japanese ancestry in 1942.
Billingslea's exhibit is a stark reminder that our history has shaped who we are as individuals and as a country in 2021. Her meshing of old photographs with present day images allows viewers to examine our past in ways that historical photos cannot. [October 14 - December 31, 2021]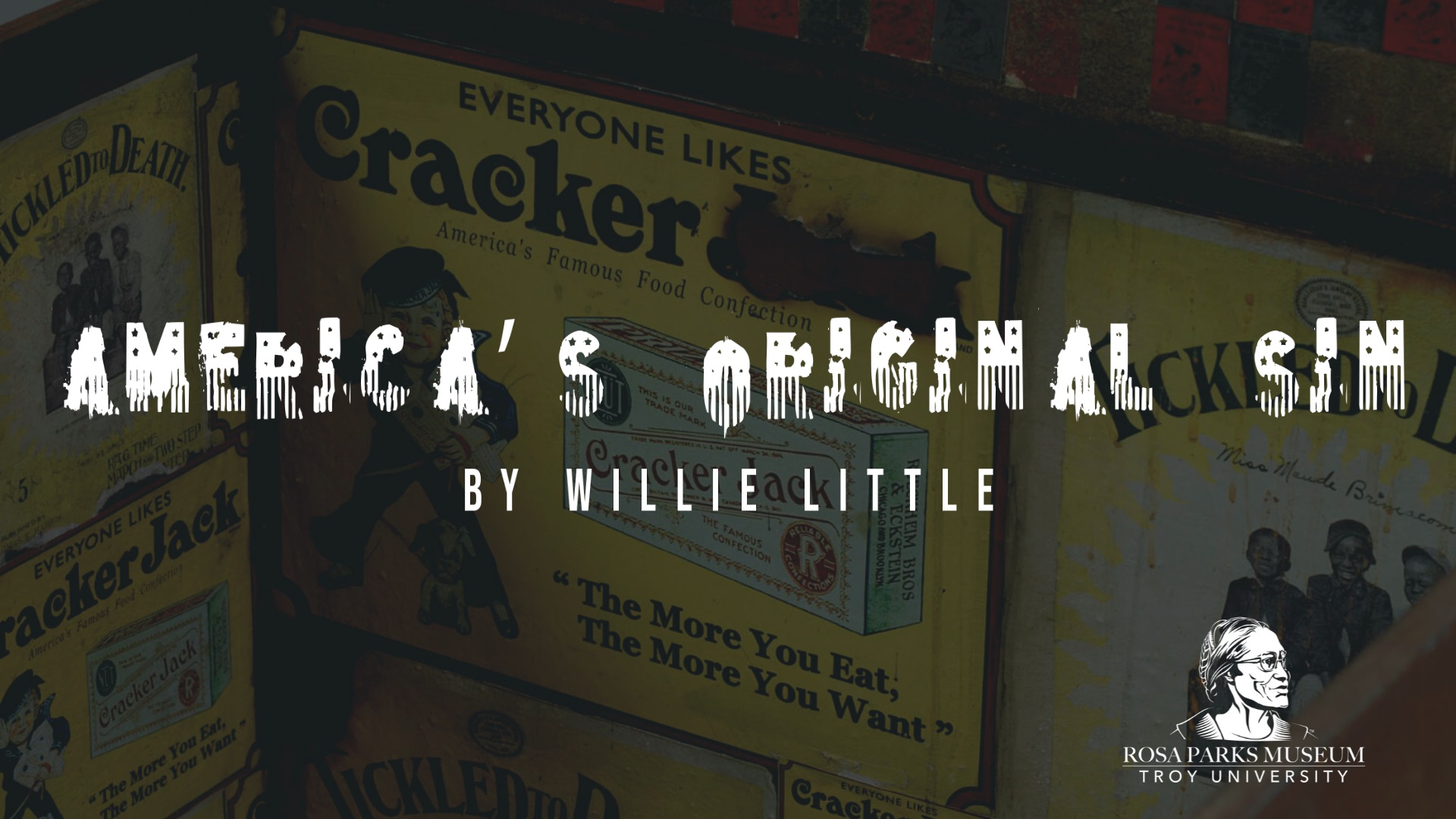 Willie Little's visual narratives document a fading part of rural southern life while also tackling topics of racism and Black Lives Matter, social justice, and the childhood memories of growing up on a tobacco farm in Eastern North Carolina. His work celebrates his rural upbringing while documenting a fading part of the American landscape.
Assemblage and installation pieces are layered with humor, irony, complexity, and contradiction. Found objects come alive in the work as they speak with an unabashed honesty. Compositions engulf environments with a surreal sense of reality as they critique portions of America's social dilemmas. They invite us to open our minds and hearts to seek unexpected truths.
Little is an artist whose genius incorporates sculpture, painting, sound installations, re-constructed architecture, re-cycled memorabilia, and real-life stories. Willie pours out his soul for all to see as he relives growing up during a time of radical change. The common thread in all the work he creates is his examination of the manifestations of physical and societal decay in American culture.
In the series Nodder Doll/ Living Doll, the "nodder" (bobble head) picaninny banks, made of ceramic and chalk, were popular in Japan in the 1950s. They were marketed and sold to white Americans as a souvenir to "represent" Black Americana. Little defiantly repossesses and repurposes them, to elevate and celebrate their beauty from the ill-conceived form of degradation in their original intent. The assemblages sit proudly beside large-scale figurative portrait-like paintings on canvas and wood panels. The works hint and suggest the pieces could be living, breathing modern day adult manifestations of today's Black woman. The works become a trumpet or a mouth piece speaking to the subversive nature of racism in the past and present. Little reclaims the disrespectful and insulting imagery and uses found objects to embrace contemporary real-life issues and attempts to evoke the challenges, strength, and resilience of modern Black women. [July 1 - September 30, 2021]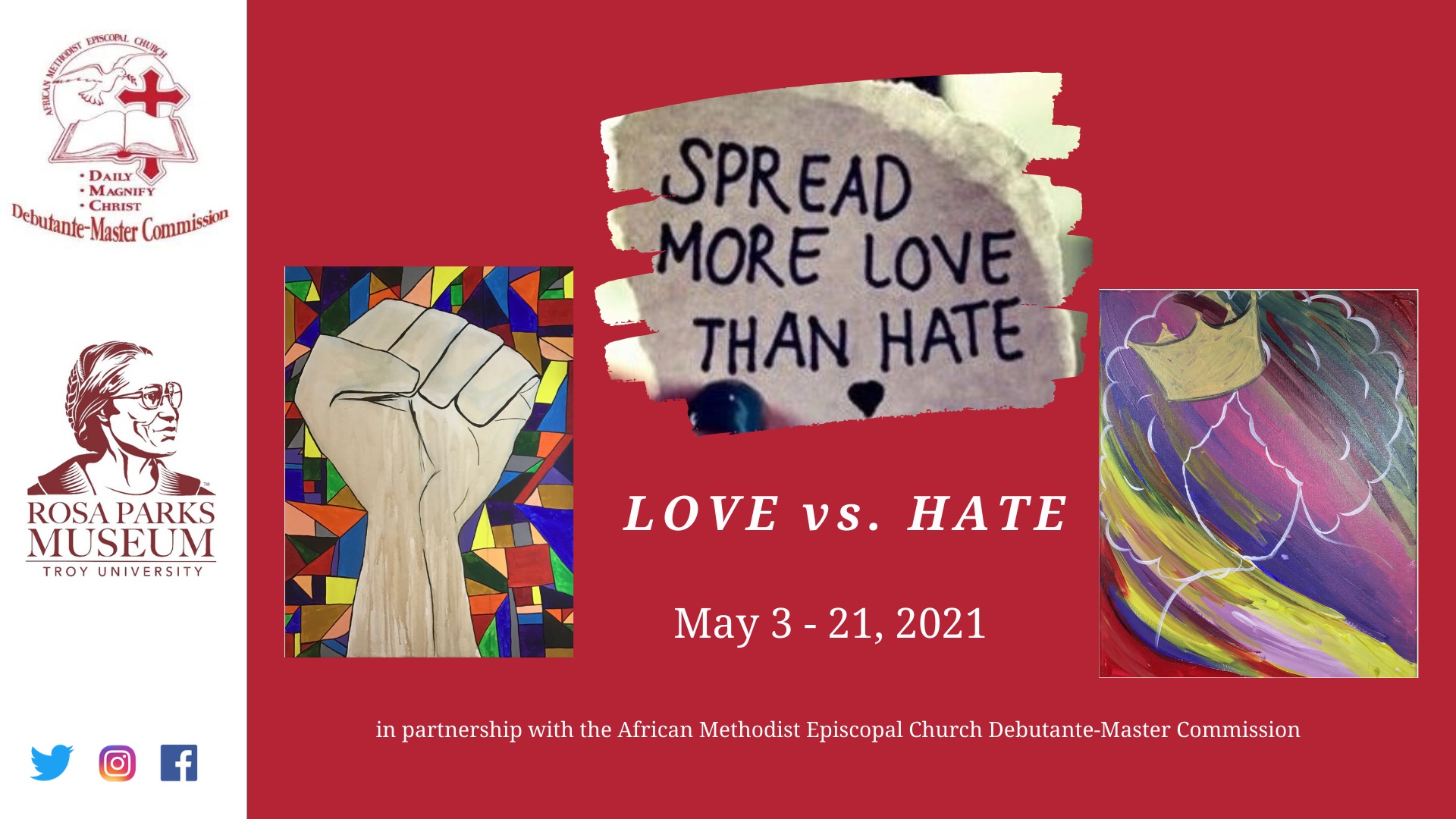 The Christian Debutante-Master Dedication Commission (CDMC) of the African Methodist Episcopal Church introduces young people to Christian society and celebrates their transition to adulthood through spiritual growth and development. They work collaboratively and diligently in fulfilling the A.M.E. commitment to "creating a future worthy of our past."
This year, the CDMC students were tasked with researching and creating works of art that focus on love overcoming hate. The works in this exhibit show that we as a community and a nation have much work to do in overcoming the hate that is still present in society. As Dr. King said, "Hate cannot drive out hate; only love can do that. I have decided to stick with love. Hate is too great a burden to bear." [May 3 - 21, 2021]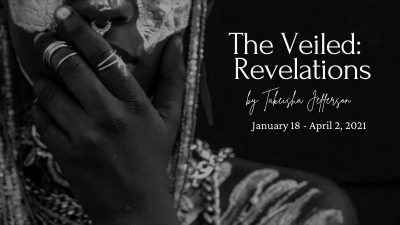 Veils can be an obvious covering; however, in this series, Takeisha Jefferson uses the veil in a multifaceted way. The artist wants the viewer to decide where the veil is for them. Is it literal or is it figurative? Some of the veils in her work are overt, while others can only be interpreted by the subject or audience.
Finding artistry in her ancestry, the artworks give life to forgotten and unknown members of the artist's family, which sometimes challenges narratives. With her Veiled series, Jefferson has captured reflections of her ancestors from mainly photographing her four children. Many memories for us can be found through images of family members we have never met. Jefferson's intent is to provide a glimpse into her family's lost history with her photographic storytelling. [January 18 - April 2, 2021]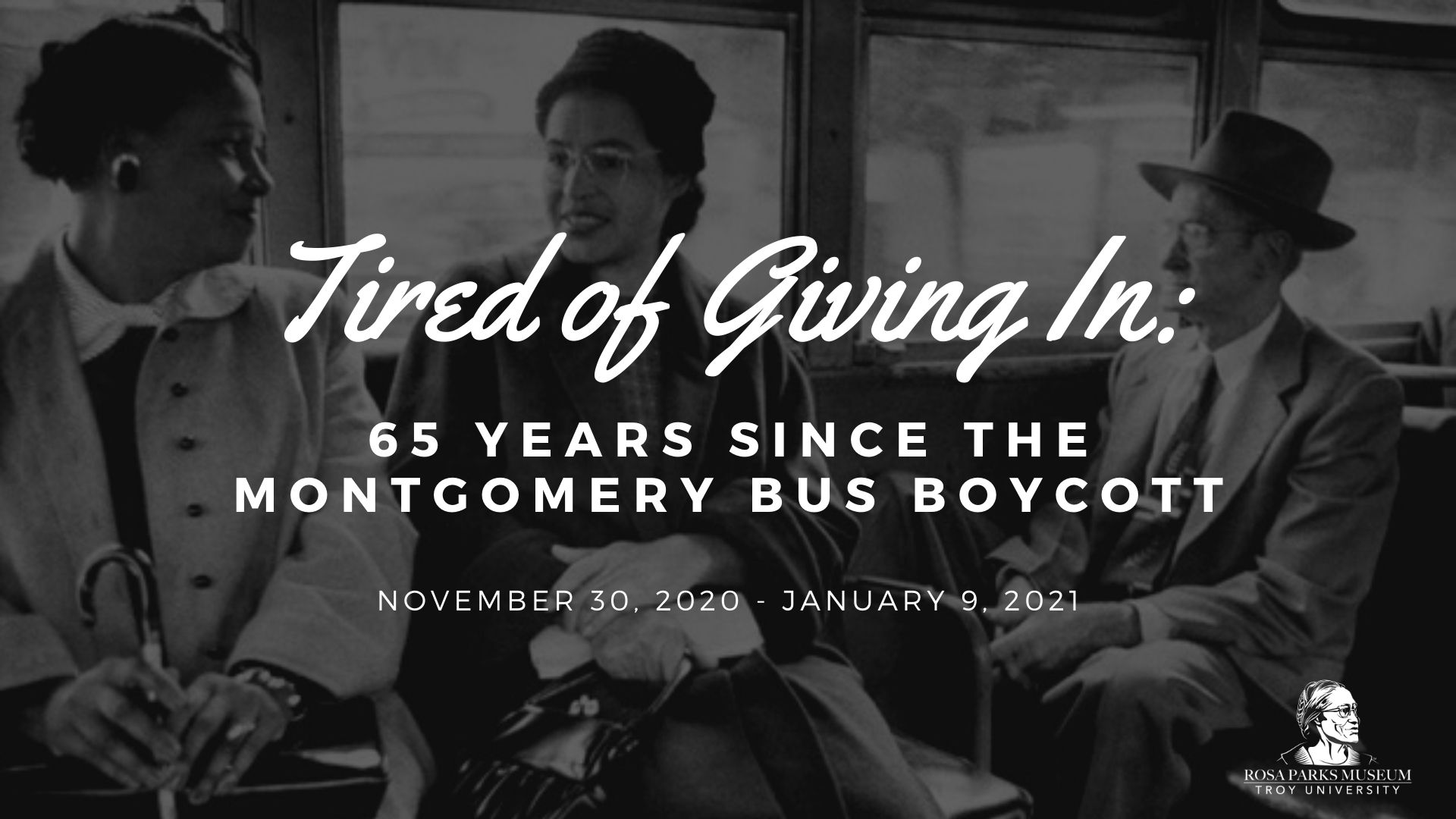 Known as the "Mother of the Civil Rights Movement," Rosa Louise McCauley Parks was the catalyst behind a movement that would forever change the world. On the evening of December 1, 1955, Mrs. Parks left her job at Montgomery Fair department store tired – not physically, but spiritually and emotionally. She had been involved in the fight for equality and social change for over 20 years prior to her arrest. She was involved in trying to free the Scottsboro Boys, was secretary and a sexual assault investigator for the local NAACP chapter, and an activist for education, voting rights, and youth leadership. Mrs. Parks and her family were driven out of town after the boycott, but that did not deter her activism. After moving to Detroit, Michigan, in 1957, she continued campaigning for voting rights, workers' rights, and women's rights as well as fighting against apartheid in South Africa, poverty, and unfair and unequal housing practices.
Racial discrimination did not end when Rosa Parks refused to move from her seat. However, her courage helped spark a movement that had been simmering for decades. For 382 days, foot soldiers walked and carpooled through the Alabama heat, rain, and cold. The model used by the boycott leaders has influenced the organization of protests and marches to this day. Although these actions were extraordinary, they happened because of the passion and togetherness of ordinary individuals. Dr. King was a 26-year-old newcomer to Montgomery. Rosa Parks was a well-known seamstress. Claudette Colvin was a high school student. Jo Ann Robinson was a professor. Georgia Gilmore was a baker and chef. Sixty-five years after the Boycott, we know that one person can change everything. [November 30, 2020 - January 9, 2021]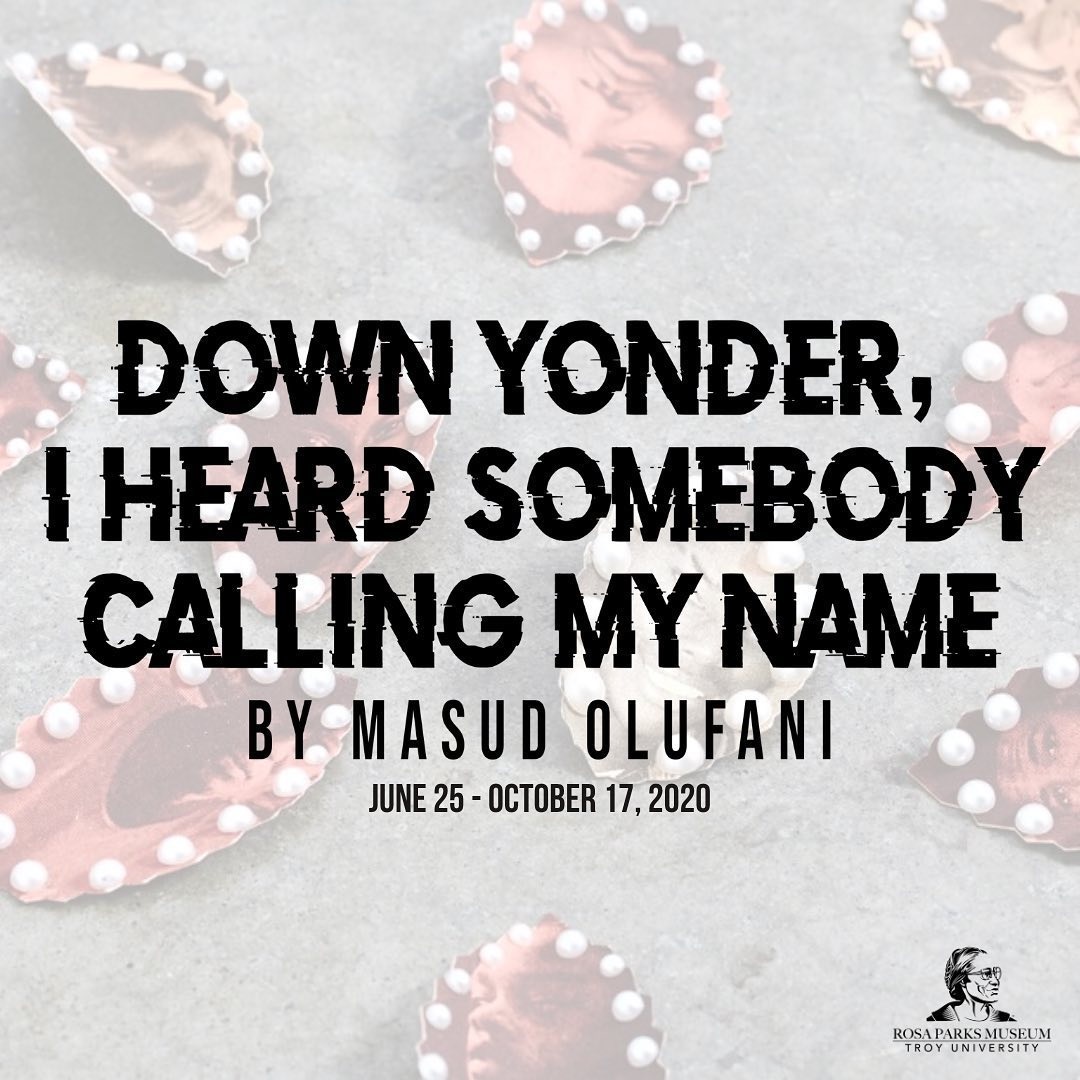 This exhibition draws its conceptual inspiration from the ecstatic tradition of 'call and response', an essential element of the African American worship experience. Developed as a mechanism for democratic participation, the practice--which involves the vocal response to something being said in public gatherings, civic affairs, religious services and musical performances--traces its roots to cultural groups of Sub-Saharan Africa. Examples of the form can be found broadly in the worship style common to the Black Church in which ministers often say: "can I get a witness", as the parishioners answer with "yes sir", or "amen". The practice was also a widespread feature of the 'field holler songs' during the time of slavery. An overseer or driver would sing a metered chant that the field workers would respond to vocally, creating a rhythmic pace for the days work.
In the context of this exhibition, the title refers to an internal calling of the soul that I attempt to answer through the language of visual art. The phrase also has an elasticity that can accommodate multiple meanings. This is a characteristic feature of the black vernacular tradition which often operates multivalently with the same word denoting different meanings depending on the context and the intonation of the speaker. In a similar fashion, the 'Down yonder' in the title refers both to the deep south--the ancestral home of most African Americans--and the vast dimensions of the transcendent soul. Drawing on past and present moments in American history as points of inspiration--particularly those that coalesce around the enduring conundrum of race--this exhibition is one artist's response to the spiritual and material blight of bigotry and injustice.
"Racism retards the unfoldment of the boundless potentialities of its victims, corrupts its perpetrators, and​ blights human progress. Recognition of the oneness of mankind, implemented by appropriate legal measures, must be universally upheld if this problem is to be overcome." ~ The Baha'i writings [June 25 - October 17, 2020]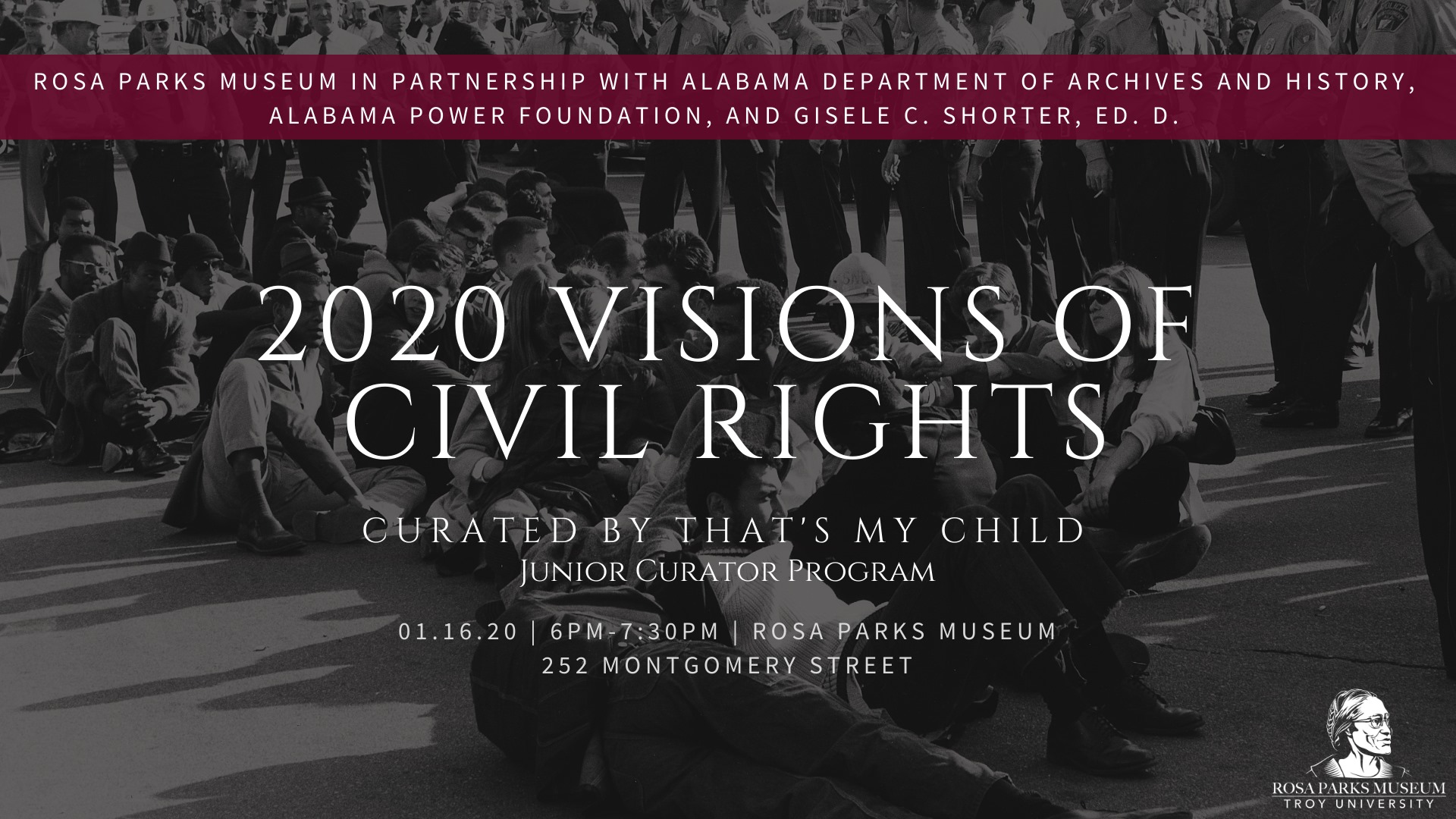 Troy University's Rosa Parks Museum is pleased to announce its second annual Junior Curator exhibition in collaboration with That's My Child. This exhibition features Civil Rights era photographs and documents hand selected by students at That's My Child, who wrote labels for each piece. These works are in celebration of Black History Month and depict how the fight for civil rights has evolved over time.
Special thanks to our partners: Alabama Department of Archives and History, Alabama Power Foundation, and Gisele C. Shorter, Ed.D. [January 16 - April 30, 2020]

Alabama Art: Inside Out originated as an artistic endeavor by the artist Nall to reveal to the world the work of fellow Alabamian artists who embodied the spirit of his home state. He saw these artists as courageous and ambitious. They were able to flourish despite the challenges presented by a predominately conservative environment. As an avid art collector, Nall was constantly obtaining art that fed his soul. He has a keen interest in local artists, seeing that they share much in common. The Rosa Parks Museum and the International Arts Center is proud to bring to light the work embodying a colorful, southern culture reflecting Nall's vision.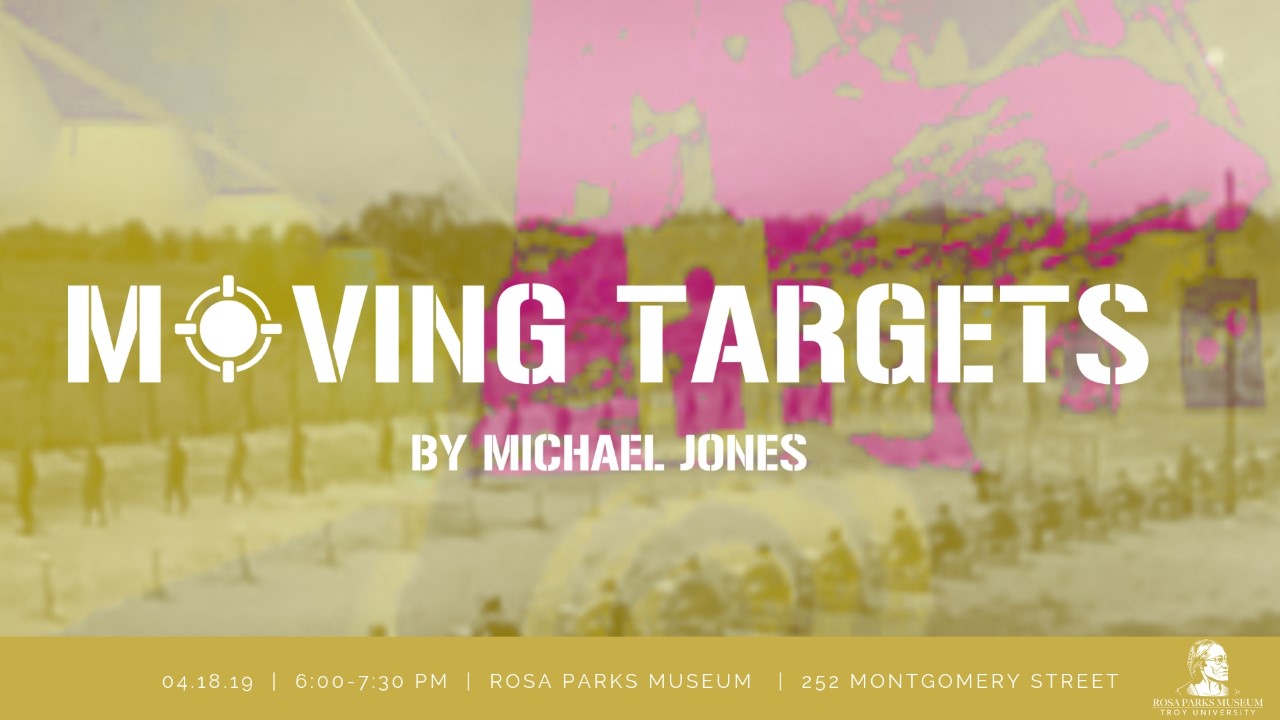 "Moving Targets" by Michael Jones
April 18, 2019 - October 28, 2019
Gun culture has become highly romanticized in American culture. Today, guns are marketed as objects of amusement and have a place in American idioms and sports jargon. In convenience stores, cap guns and water guns are readily accessible for visitors and children. African Americans have a long history of being profiled and marked as a target. Targets can be anything, which is why Jones feels the need to define them and get the audience involved by letting visitors create their own conclusion of what they see in each target.
Michael Jones was born in Dallas, Texas, where he attended the famed Booker T. Washington High School for Performing and Visual Arts. He relocated to Atlanta, Georgia in 1994 where he received his Bachelor's degree in Painting and Sculpture from Atlanta College of Art (SCAD) in 1998. His focus was in non-objective, abstract paintings. Newer works deal with definitions in which he uses mixed medium, collage, and found objects. In addition, he operates within interior and exterior urban spaces and honors the mundane materials that filter through our day-to-day lives. Please be advised this exhibition contains graphic content and may not be suitable for all ages.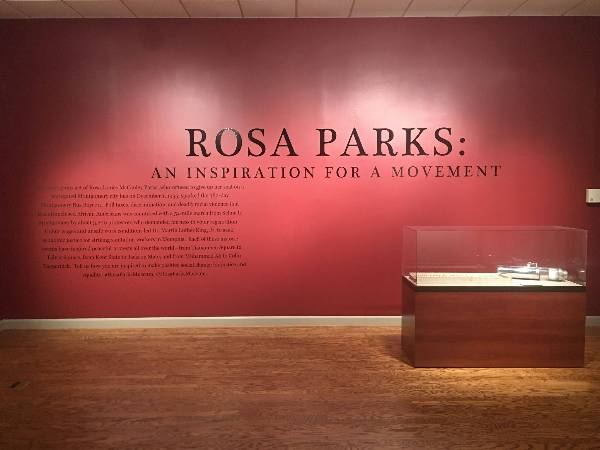 "Rosa Parks: An Inspiration for a Movement" October 11, 2018 - January 4, 2019
The courageous act of Rosa Louise McCauley Parks, who refused to give up her seat on a segregated Montgomery city bus on December 1, 1955, sparked the 382-day Montgomery Bus Boycott. Poll taxes, discrimination, and deadly racial violence that disenfranchised African Americans was countered with a 54-mile march from Selma to Montgomery by about 3,200 protesters who demanded fairness in voter registration. Unfair wages and unsafe work conditions led Dr. Martin Luther King, Jr. to seek economic justice for striking sanitation workers in Memphis. Each of these historic events have inspired peaceful protests all over the world--from Tiananmen Square to Tahrir Square, from Kent State to Jackson State, and from Muhammad Ali to Colin Kaepernick. Tell us how you are inspired to make positive social change for justice and equality: #RosaParksMuseum, @RosaParksMuseum.
"Break Glass: A Conversation to End Hate" by artist V.L. Cox
April 19, 2018 - September 6, 2018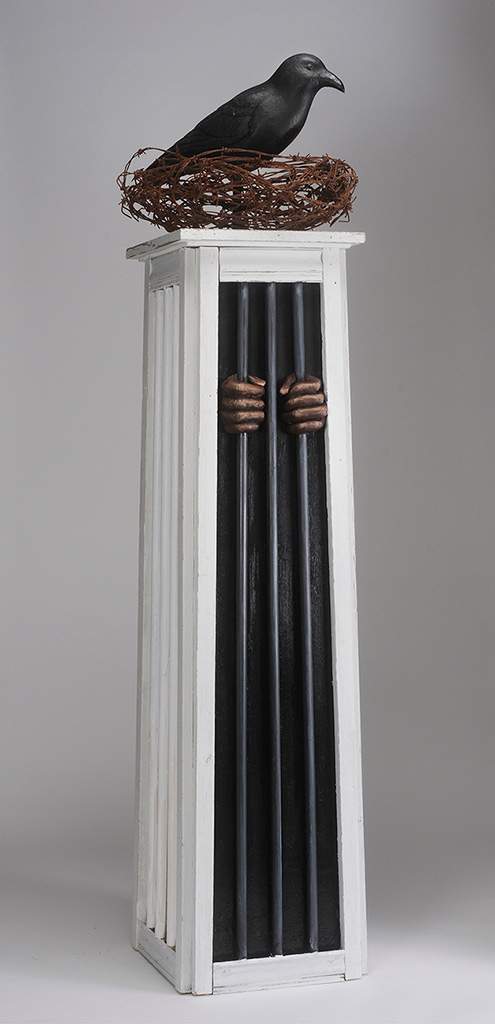 The Rosa Parks Museum is excited to announce the opening of our summer exhibition, "Break Glass: A Conversation to End Hate" by artist V.L. Cox. The End Hate Project is a narrative body of work that looks at our history of discrimination, gender issues, and social culture. The powerful pieces convey messages that are aggressive, violent, disturbing, irreverent, and even humorous--but all show us as a society where we've been before and where we cannot allow ourselves to go again.
Cox's recent work has been highly active in projects that involve human rights and equality. In 2015, she launched her National "End Hate" Installation Series, an anti-discrimination series that was placed twice on the steps of the Arkansas State Capitol and at the base of the Lincoln Memorial in Washington, D.C. This series employs authentic and found objects that create a visceral presentation commenting on raw emotions and relevant human rights issues that continue to be important topics in the 21st century. The work sets in motion strong emotions. Her creations are powerful, imaginative, and unprecedented in style. Cox has a keen and sensitive eye for three-dimensional detail and its impact on all aspects of design and composition in a work of art. In the eyes of the observers, Cox's paintings combine composition and depth, which are powerful and compel the viewer to interact with the artwork.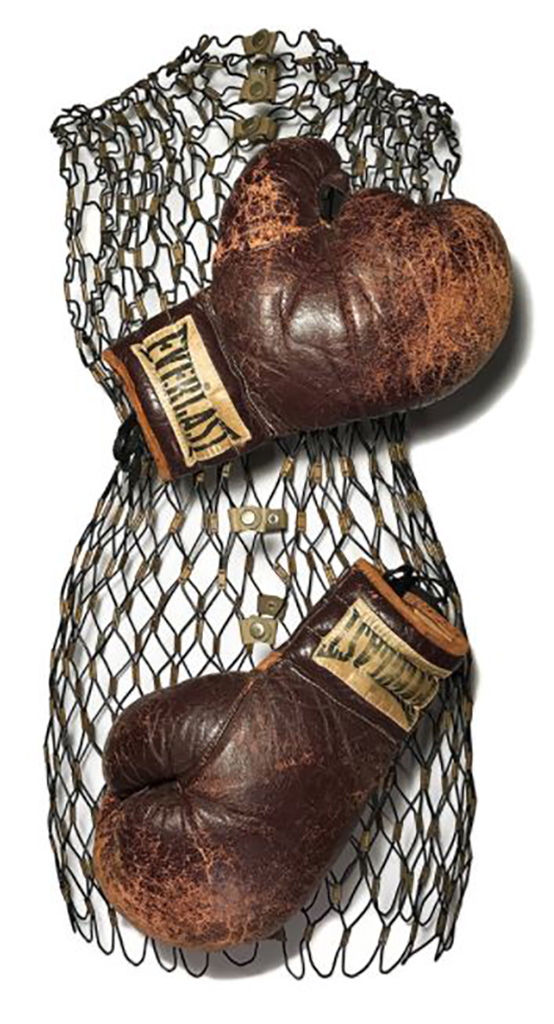 For more information about the artist, visit www.vlcox.com.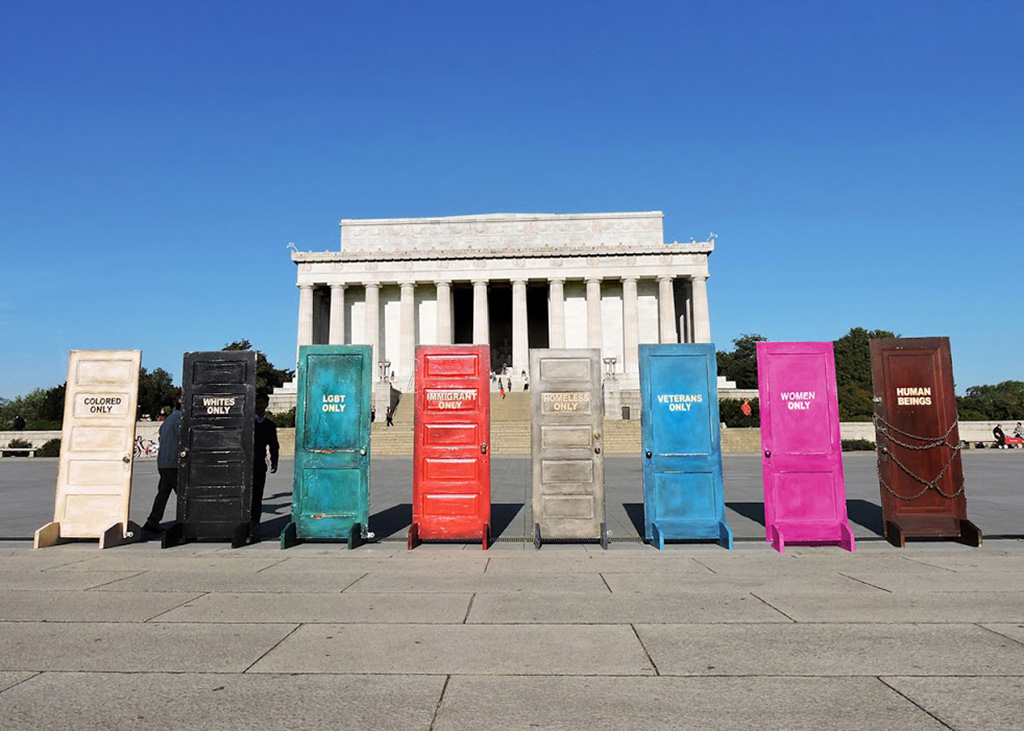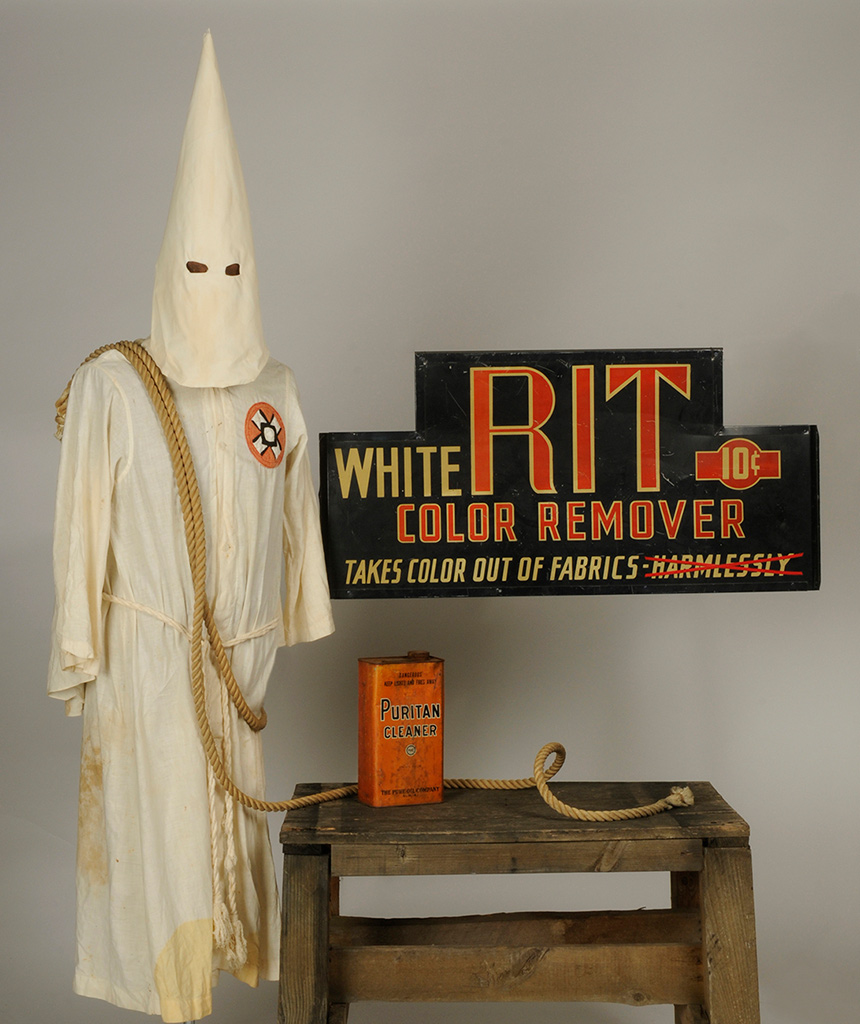 "Power & Beauty: Women in African Art" from the Collection of Donald & Kaye Kole
January 11 - March 19, 2018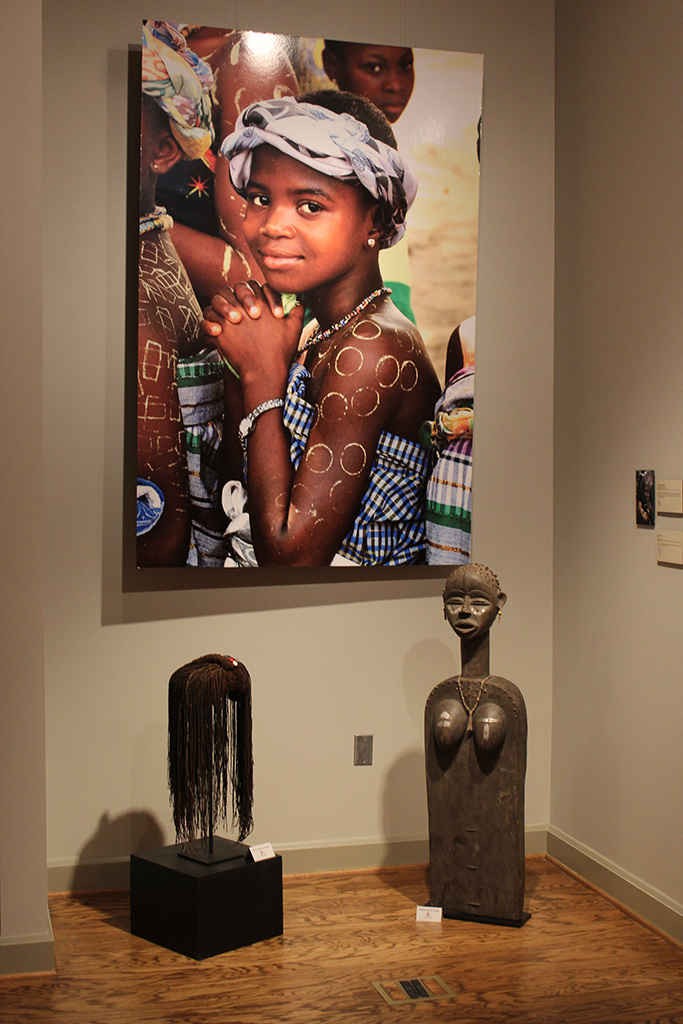 The experiences of African women past and present are diverse, sophisticated, and challenging. This exhibition celebrates the variety and complexity of these experiences through representations of African women and their artistic practices. Focused primarily on historical African art forms, the works here display the impact women have made historically in African culture. From images of women's power, spirit, and beauty to those of family and everyday life, the arts of Africa demonstrate the central place of female representations, gender concepts, and women artists in African culture.
Visit the Savannah African Art Museum to experience over 1,000 objects in the Donald and Kay Cole Collection: https://www.facebook.com/SavannahAfricanArtMuseum/.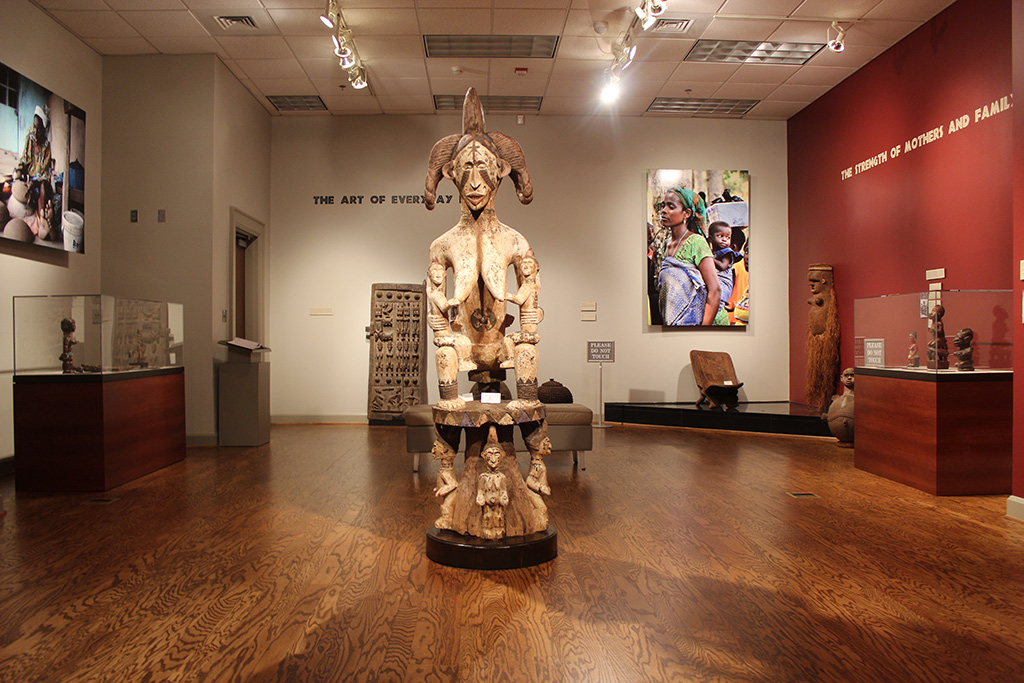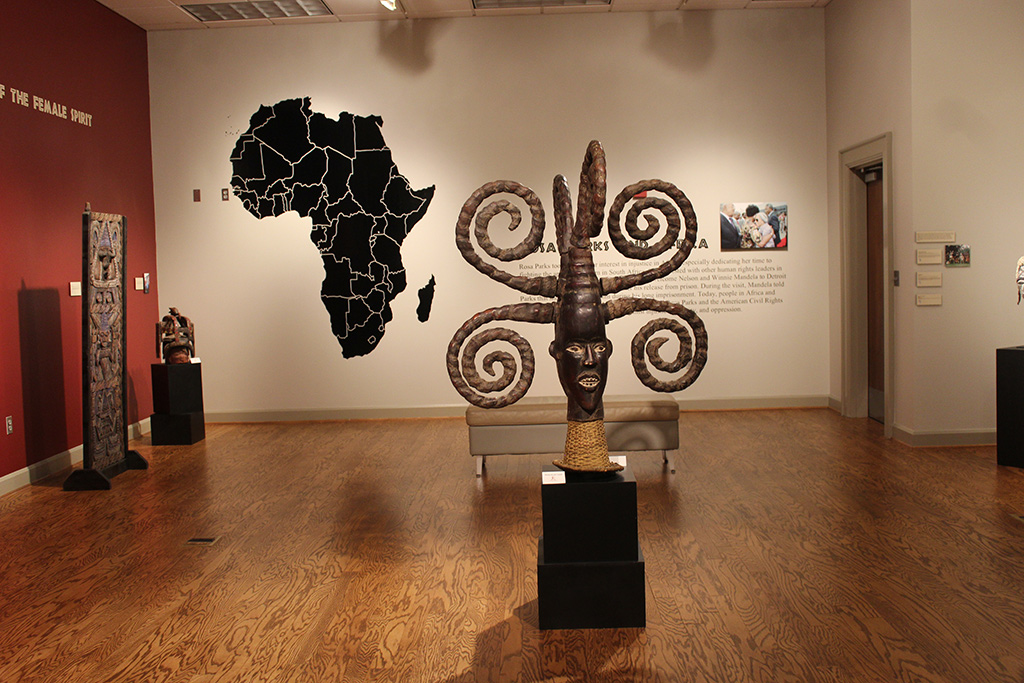 ---
"EO 9981: Escaping Jim Crow"
November 9, 2017 - June 1, 2018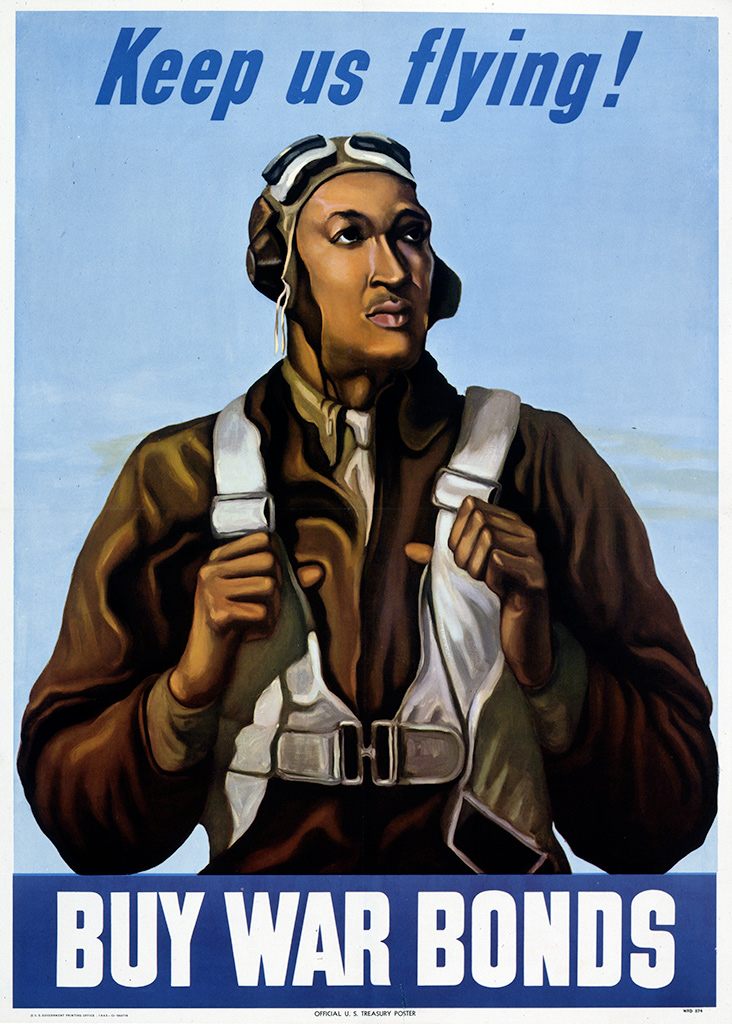 During World War II, African American airmen served with distinction in segregated units within the Army Air Forces. In 1948, President Harry S. Truman issued Executive Order 9981, ending segregation in the US Armed Forces. By 1950, the Air Force led the way by integrating its units and bases, including Maxwell Air Force Base in Montgomery, Alabama.
Working on bases allowed black service members and civilians to escape Jim Crow laws. Rosa Parks worked as a seamstress at Maxwell and her husband, Raymond, was a barber. "You might just say Maxwell opened my eyes up," said Mrs. Parks. "It was an alternative reality to the ugly policies of Jim Crow." Unfortunately, discrimination delayed progress within ranks and among civilian employees. "I did not experience any unpleasant incidents, but sometimes on base there were problems with individuals," said Rosa Parks.
The days of Jim Crow have passed. Since World War II, service men and women from all backgrounds have made remarkable achievements. Yet, the pursuit toward equality continues.
---
"The Fabric of Race" by artist Renee Billingslea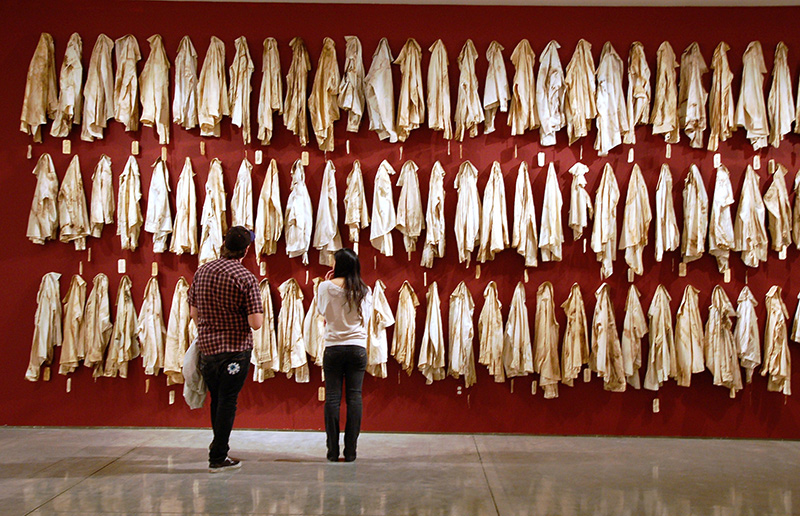 "The Fabric of Race," an exhibit by artist Renee Billingslea that examines racial violence and lynching in America, will open at Troy University's Rosa Parks Museum on April 20 with an opening reception set for 6 p.m.
---
"Cash Crop" by artist Stephen Hayes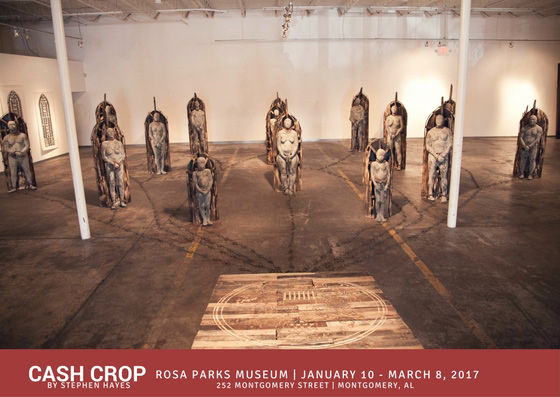 The Rosa Parks Museum is thrilled to announce our newest exhibition, Cash Crop by artist Stephen Hayes. This exhibition depicts the horrors of the Trans-Atlantic slave trade as well as creates a dialogue between human rights violations of the past and present. Hayes is an artist based in Durham, North Carolina. Hayes earned his undergraduate degree from North Carolina Central University and his Masters in Fine Arts in sculpture from the Savannah College of Art and Design. For more information on the artist, please watch this video on YouTube: https://www.youtube.com/watch?v=gvTcYjjbP7M.