From the President of the NPHC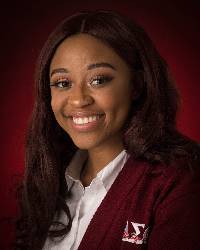 Troy Trojans,
We are very proud of our Greek community here at Troy University. Greek students are extremely active and involved members of the university and the Troy community. On behalf of the National Pan-Hellenic Council community here at Troy University, I would like for you to take some time to consider joining our Greek community, especially our NPHC community.
The National Pan-Hellenic Council is composed of eight International Greek letter Sororities and Fraternities: Alpha Phi Alpha Fraternity Inc., Alpha Kappa Alpha Sorority Inc., Kappa Alpha Psi Fraternity Inc., Omega Psi Phi Fraternity Inc., Delta Sigma Theta Sorority Inc., Phi Beta Sigma Fraternity Inc., Zeta Phi Beta Sorority Inc., Sigma Gamma Rho Sorority Inc., and Iota Phi Theta Fraternity Inc... These organizations promote and commit to excellence through scholarship, community service and community involvement.
Here at Troy, our council is comprised of five of the nine international organizations. The NPHC community at Troy provides an immediate connection to a close-knit group of men and women, helping to make Troy feel more like home. NPHC Greeks also provides opportunities for leadership, scholastic support, community service, and philanthropy. NPHC Greeks are some of the most active leaders on campus and can introduce you to the multitude of other student organizations and leadership opportunities. Participation in Greek Life is a great way to ensure a well-rounded undergraduate experience.
Through this website we hope to give you a better understanding of what the NPHC community has to offer you here at Troy. Becoming a part of the NPHC community is a full time commitment. NPHC is not only limited to be African American community, but is a diverse group of individuals. Becoming Greek will put you in an elite group of students, not only here at Troy but internationally. This elite class has gone on to excel in every profession and has many accomplishments ahead of us in the future. Being Greek will be one of many decisions you will be presented with during your time here at Troy, the choice is yours, but one decision you won't regret.
With Trojan Pride,
Chelsea Blunt
2019 NPHC President