Homecoming 2021: Hall of Fame
Each Fall semester, TROY celebrates homecoming by inviting alumni, family and friends to come celebrate with our current students. Activities during this week include student activities, residence hall displays, banner competitions, and football game. Important annual events are featured below. Check this page often for updates and announcements regarding Homecoming 2021 activities. We hope to see you there!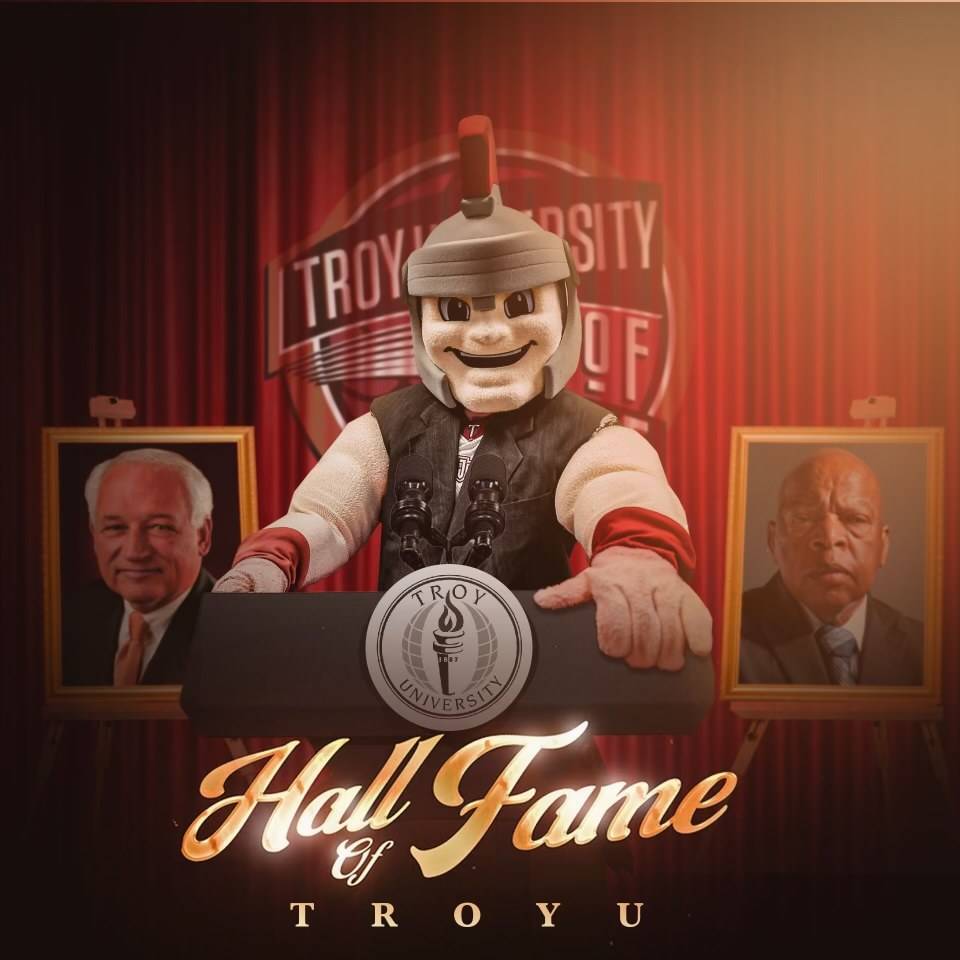 Trojan Family,
On behalf of Troy University's Student Government Association, we thank you for your willingness to participate in our 2021 Homecoming Week. The year 2021 has been nothing short of everyone trying to return to a normal life, with life itself being adjusted to the current times we are in. All we want to do is have some fun in '21. That being said, SGA wants you all to have a week that will unite us as a Trojan family – a week that will give us hope to look forward and keep the spirit alive. I believe there is a pride that comes with being a Trojan, and we have a deep rich history of amazing individuals and moments. You have become a vital part of that rich history, and this week is about continuing to add to your legacy as a member in the Trojan Family. SGA wanted a homecoming that is all about us honoring the great ones from our past and giving credit to the awesome students we have on campus right now. Your passion to show your Trojan Pride with us will make this Homecoming go down in the history books as one of the best ever. With that being said...
YOU ARE FORMALLY INVITED TO THE TROY U HALL OF FAME AND GO TROJANS!
Myles Camel
Vice President of Campus Affairs
Carlton Jones
Homecoming Director 2021
Xada Ingram
Homecoming Director 2021
---
Event Information
Homecoming 2021
Monday, October 4th
Homecoming Chair Interest Meeting, Patterson 205 at 7pm
Monday, October 11th
Homecoming Chair Mandatory Meeting, Patterson 205 at 7pm
Monday, October 18th
Homecoming Chair Mandatory Meeting, Patterson 205 at 7pm
Tuesday, October 19th and Wednesday, October 20th
Blood Drive, TC Ballrooms from 9am - 5pm
Monday, October 25th
Homecoming Chair Mandatory Meeting, Patterson 205 at 7pm
Sunday, November 7th
3 pm, Chalk the Quad, John Lewis Hall Quad
4 pm, Float Judging, University Avenue
Monday, November 8th
Meme Monday/Anything But a Book Bag Day
4 pm, Banner Competition, Riddle-Pace Field
6 pm, Carnival on the Quad, John Lewis Hall Quad
Tuesday, November 9th
Celebrity Look Alike Day
Basketball Tip Off, Trojan Arena:
5:30 pm, Women's game
TBA, Men's game
Tailgate, Trojan Arena, will take place in between the Women's game and the Men's game.
Wednesday, November 10th
Band/Artist Shirt Day
9 am to 4 pm, Picture Day, Trojan Center
6 pm, Dance Night, Trojan Arena
Thursday, November 11th
Jersday Thursday
8 am to 12 pm, Philanthropy Items Due, Trojan Center 215
11 am - 5 pm, Dodgeball, Rec Center
5:30 pm, Pep Rally, Trojan Arena
Friday, November 12th
Troy Colors Day
6 pm, Skit Night, Amphitheater
Saturday, November 13th
10 am, Homecoming Parade, 3 Notch Street
2:30 pm, Homecoming Game, Veterans Memorial Stadium against Louisiana Ragin Cajuns
Senior Homecoming Court announced at Pre-Game
Homecoming Queen and King announced at half-time
Official 2021 TROY Homecoming Packet HOMECOMING COMPETITION APPLICATION