Homecoming 2020: Home Sweet Troy
Each Fall semester, TROY celebrates homecoming by inviting alumni, family and friends to come celebrate with our current students. Activities during this week include student activities, residence hall displays, banner competitions, and football game. Important annual events are featured below. Check this page often for updates and announcements regarding Homecoming 2020 activities. We hope to see you there!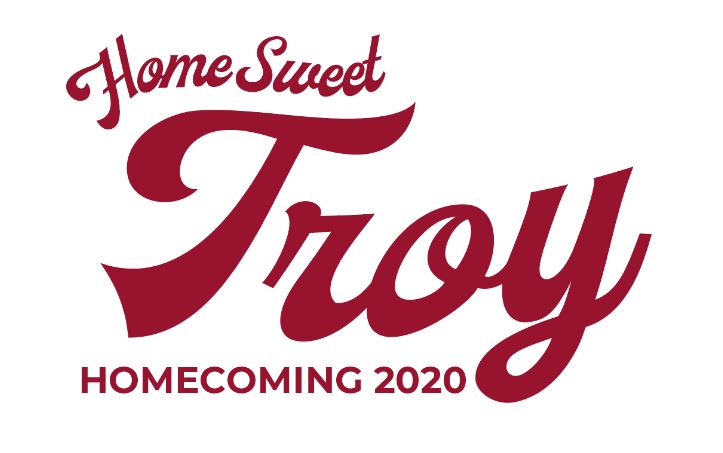 Trojans,
On behalf of Troy University's Student Government Association, we thank you for your willingness to participate in our 2020 Homecoming Week. The year 2020 has been nothing short of stressful for everyone, with life itself being adjusted to the current times we are in. That being said, SGA wants you guys to have a week that will unite us as a Trojan family – a week that will give us hope to look
forward and keep a grand vision. When the coronavirus started to impact the United States, everyone had to hit pause on their life, along with the suspension of so many other highly anticipated things. I believe there is a pride that comes with being one of the first schools in Alabama to announce a return in the fall. We won't let this difficult start to the decade hold us back and hurt our bright future as an institution. Because of this SGA wanted a homecoming that is all about us coming back home, moving forward and looking for a hopeful future for Troy University. Because of your desire to move forward with us we are able to make this happen. That being said...
WELCOME HOME and GO TROJANS!
Dominic Williams
Vice President of Campus Affairs
Claudia Harris
Homecoming Director 2020
Mackenzie Martin
Homecoming Director 2020
---
Event Information
The following dates reflect 2020 events. New information for 2021 Homecoming events will be added in fall 2021.
All participants are required to wear a mask and adhere to social distancing guidelines in accordance with the State of Alabama and CDC recommendations. Learn more about our protocols online at the Troy University Coronavirus Information Center.
The events listed below are intended for current students only. In order to mitigate the risks presented by COVID-19 and adhere to social distancing guidelines, we ask that ONLY current students attend the below events.
Friday, October 16
Homecoming Banners will be judged
Banners, 4 pm John Lewis Quad
Floats, 5 pm University Ave.
Saturday, October 17
Community Service Project: The student organizations will be making faculty appreciation gifts to be given out during Homecoming week. Selected community organizations who are front line workers will be delivered a meal.
12 pm, Trojan Center Ballroom
Sunday, October 18
Homecoming Kick Off, John Lewis Quad, 5 pm
Chalk the Quad, John Lewis Quad
Aux Wars, John Lewis Quad, 6 pm
Introduction of Homecoming Court and Junior Attendants
Monday, October 19
Dance Night, Veterans Memorial Stadium, 7 pm
Tuesday, October 20
American Red Cross Blood Drive, Elm Street Gym, 9 am to 5 pm
Wednesday, October 21
American Red Cross Blood Drive, Elm Street Gym, 9 am to 5 pm
Election for Homecoming Queen
Skit Night, John Lewis Quad, 7 pm
Palladium Pictures, Trojan Center, 9 am - 4 pm
Thursday, October 22
Kickball Tournament, Franklin Fields, 9 am
Friday, October 23
Field Day, Football practice fields, 7 pm
Saturday, October 24
Homecoming Game, Veterans Memorial Stadium. 3 pm
Official 2020 TROY Homecoming Packet HOMECOMING COMPETITION APPLICATION