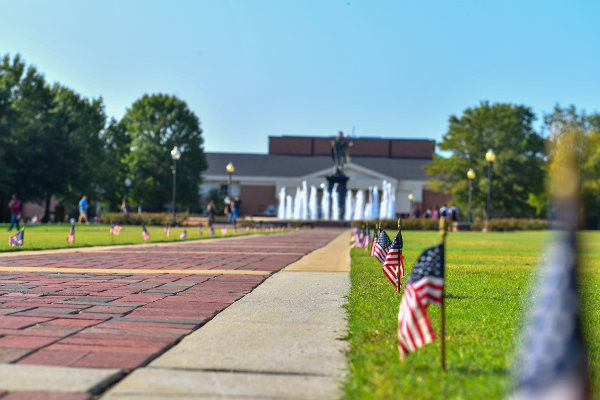 A MESSAGE TO PARENTS
Chancellor Jack Hawkins, Jr.
A national survey on civics and government conducted by a prominent Ivy League university revealed that only 47 percent of adults could name all three branches of government. Only 24 percent could identify freedom of religion as a right guaranteed by the First Amendment to the U.S. Constitution.
This ignorance of America's founding values is disturbing and runs counter to our values at Troy University. Building the next generation of leaders is a cornerstone principle at TROY. This University believes in the greatness of the United States of America, and a knowledge of history and civics is crucial, not only to potential leaders, but to anyone who wishes to be a productive citizen.
This is why Troy University is entering into a partnership with the American Village in Montevallo, Alabama, which is a replica of an American colonial village where visitors are given an overview of the founding tenets of our nation. Founded in 1994, the American Village is an Alabama treasure.
Through this partnership, TROY and the American Village will collaborate on projects that will strengthen civics education across Alabama. I am proud Alabama schoolchildren take two semesters of civics education and must pass a 100-question civics education test to graduate high school. I am concerned, however, that only 14 states require a similar test, and 11 U.S. states have no formal civics requirement.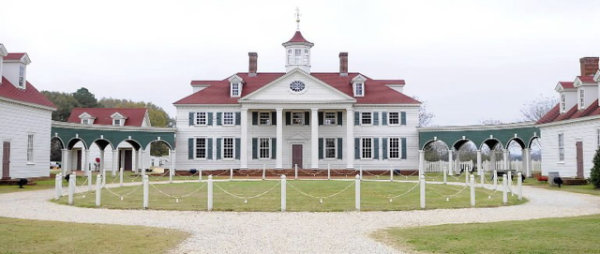 Our agreement with the American Village will assist K-12 students in passing the civics graduation exit exam, develop a young leaders program, and provide special continuing education courses in civics for Alabama's teachers.
We are also going to lead by example by upgrading our freshman orientation course to include a civics education component for TROY students. The course will replace Leadership 1100 and will include orientation/civics and leadership. It's important for our TROY parents to understand our values and priorities, and I hope you will encourage your student to make good citizenship a priority.
TROY continues to shine in rankings
We are proud that others are noticing the outstanding work of our faculty. In fact, the prestigious rankings service, Intelligent.com, ranked the following online programs among the best in the nation:
Bachelor's in Social Work — 17th
Bachelor's in Sport Management — 17th
Bachelor's in Psychology — 38th
Master's in History — 18th
Master's in Sport Management (in class) — 4th
Master's in Nursing (in class) — 10th
These rankings help us evaluate our performance in these critical academic areas. I included the master's rankings as a reminder that lifelong learning is more important than ever. When the time comes for your student to earn a master's degree, I hope TROY is the preferred destination for graduate school.
Your student should consider studying abroad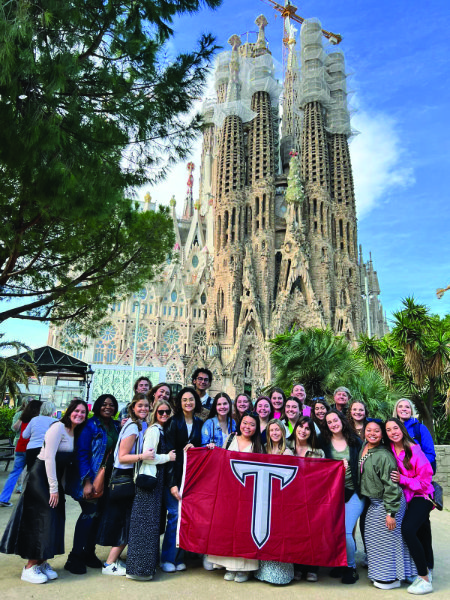 TROY is known far and wide as Alabama's International University not only for the students who come to study with us from around the world but also because of our study-abroad program. Last year, more than 350 students traveled to more than 30 nations, including Spain, South Africa, Germany, the Bahamas, Korea, Thailand, Cuba, and the United Kingdom.
TROY provides $1,250 in study-abroad scholarships, available to all our students, both undergraduate, graduate and online, who have successfully completed one full semester at TROY, are registered full time, are in good academic standing, possess a minimum overall GPA of 2.5 and have completed the TROY Abroad application. Students may apply annually, which means students can receive $5,000 in assistance for international study during their academic career. Encourage your student to consider a study-abroad experience as part of his or her academic career.
The scholarship is funded through sales of TROY license plates for automobiles or boats to Alabama residents. The gift is tax-deductible, and $48 of the cost goes to scholarships. Purchasing a plate means cash savings for you, as we reduce the $100 student parking fee to $25 if your student's vehicle has a TROY license plate.
National Pan-Hellenic Council Plaza dedicated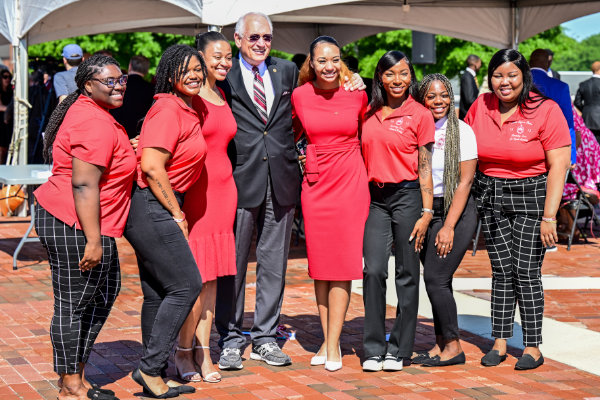 In April, we dedicated our new National Pan-Hellenic Council Plaza to honor our African-American fraternities and sororities. These organizations, informally called the "Divine Nine" are a cornerstone of our Greek System. The idea for the Plaza was conceived by the late Lamar P. Higgins, a member of our Board of Trustees. Mr. Higgins was a former two-time Student Government Association President and a founding member of one of our traditional African-American Greek organizations. The Plaza is located in a place of prominence between Veterans Memorial Stadium and Trojan Arena, and it will be a place of reverence and respect for many of our alumni for generations to come.
Construction projects on schedule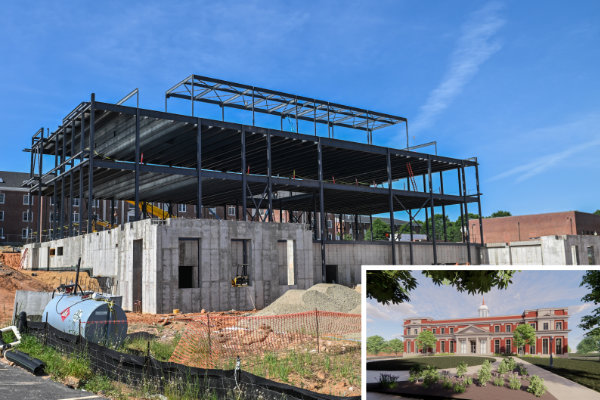 Construction of two new buildings on campus has begun in earnest and both are scheduled to come online in spring of 2024. The Center for Materials and Manufacturing Sciences will focus on research in polymer science and plastics. Jones Hall, named for alumnus Billy Jones, will house the College of Health and Human Services. In addition, the major upgrade to our baseball facility, Riddle-Pace Field, will be finalized this spring. When completed, our Trojans will play in the "Gem of the Sun Belt," the best baseball facility in our league and one of the finest in the Southeast.
Help us grow TROY!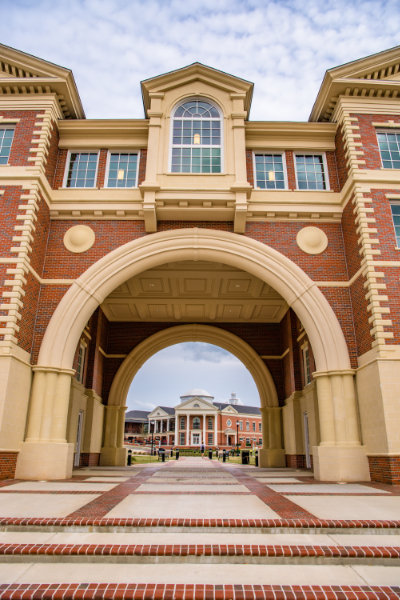 If you know of any student in your community who still has not decided where to attend college this fall, please consider steering them toward TROY. We take seriously our role of serving your student. I say often that the students are the heart of the University, and the most important thing we do is serve them and lead them. If you are pleased with your student's experience at TROY, please let others in your community know and send more excellent students to us. I can assure you we are committed to providing the best University experience on the most beautiful campus in Alabama!
Sincerely,

Jack Hawkins, Jr., Ph.D.
Chancellor