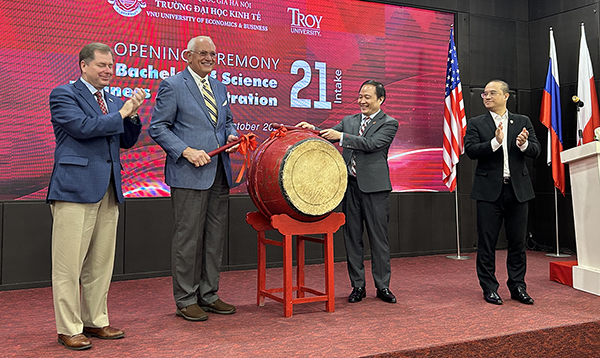 A MESSAGE TO PARENTS
Chancellor Jack Hawkins, Jr.
On a recent trip to Vietnam, where Troy University offers degree programs through four partner universities, I was reminded of the great reverence the Vietnamese people hold for education and educators. I contrasted that level of respect to the situation we face in the USA.
When I left Mobile, Ala., in the fall of 1963 to attend Alabama College in Montevallo, I was certain, however, if I applied myself and earned a degree it would be worth the money, time and effort in career earnings, quality of life, upward social mobility and leadership opportunities. I am certain the vast majority of Americans from all walks of life believed likewise.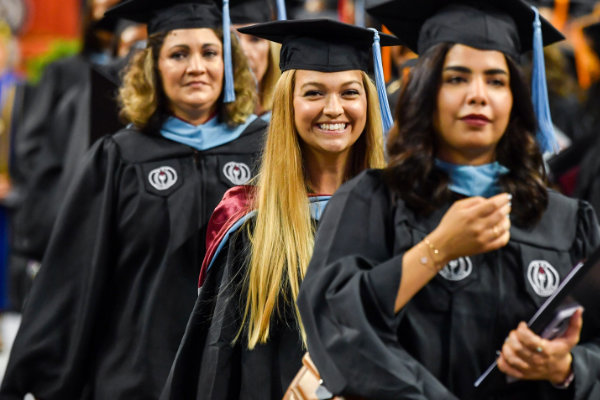 Not today, sadly. Gallup data show less than 50 percent of survey respondents are confident U.S. higher education is worth the investment, down from 81 percent in 2010. Further, a survey by New America reveals that only 58 percent of Americans believe colleges are a positive force on the country, down from almost 70 percent just two years ago!
I believe the source of public discontent can be found in three primary areas:
Rising costs of university attendance. From 1985 to 2021, the rising cost to attend college has exceeded inflation. As a result, more students—and their parents—borrow money to finance college. Today, student debt surpasses $1.8 trillion.
Perceived quality issues. Scandals plaguing for-profit universities in recent years have fueled this fire. Accusations of deceptive marketing practices, lying about graduation rates and illegally collecting high-interest loans marketed to students led to the shutdown of several major for-profit colleges.
The character question. There is a growing perception, that universities are failing to teach the values we once held dear. A 2021 survey by Rasmussen Reports revealed that 78 percent of U.S. voters say it is important for schools—kindergarten through college—to teach the traditional values of western civilization. Another perception that must be addressed is that 60 percent of U.S. university personnel identify as liberal or far-left, compared to just 12 percent who identify as conservative. We have become polarized as a society -- and polarization is magnified within the academy.
I am proud Troy University is meeting these challenges head-on; and I am pleased by the results.
Regarding student debt, the average national debt is about $30,000, but TROY students average $18,608. We encourage our students to take out loans as a last resort—and as an investment in their futures. Perhaps more important to you, TROY is also fighting student debt by holding the line on tuition for four straight years, which runs counter to recent national trends.
Unlike other institutions, TROY does not have a perception problem when it comes to quality academic programs. And, we are addressing student outcome by promoting internships—where students receive practical experience to complement their in-class learning—in all academic disciplines. This leads to a more employable TROY graduate.
The values question is also not an issue here. We realize parents want their children to receive a university education without abandoning the values they were taught at home. TROY is a flag-waving institution that embraces traditional American values. And, we realize that once-venerated campus institutions that have come under fire elsewhere in recent years, such as ROTC training and the Greek System, still have value.
In summary, our commitment to serving students and giving them the opportunity to reach their full potential is not a marketing slogan, it's a way of life at Troy University!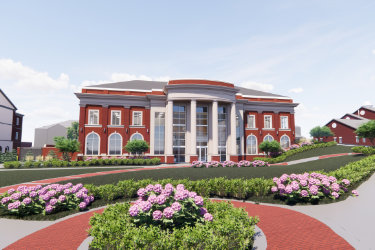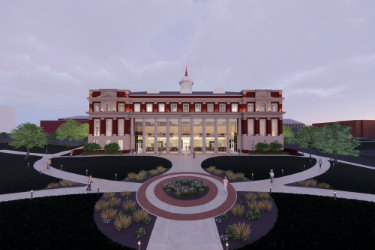 Two major construction projects underway
This fall, we held groundbreaking ceremonies for two significant capital improvement projects: The Center for Materials and Manufacturing Sciences (CMMS) , a polymer science research facility, and a new health sciences building which will be the home of our College of Health and Human Services.
The CMMS will be a 25,000 square-foot structure where our School of Science and Technology will conduct research in polymer science and plastics research. This will be our first major foray into research, and has the potential to change TROY forever.
The Health and Human Services Building will be a 60,000 square-foot project, will be furnished with the latest technology to instruct students in nursing, athletic training, kinesiology and exercise science.


Study-abroad Programs rebounding
After suffering strict cutbacks due to travel restrictions imposed by the pandemic, Troy University's study-abroad programs have rebounded in the 2021-22 academic year. Almost 250 students traveled to 15 separate nations last year, including Ecuador, Italy, France, Peru, Switzerland, Greece, the Galapagos, and many other destinations.
TROY provides $1,250 in study-abroad scholarships, available to all our students, both undergraduate, graduate and online, who have successfully completed one full semester at Troy are have registered full-time, are in good academic standing, possess a minimum overall GPA of 2.5 and have completed the TroyAbroad application. Students may apply annually, which means students can receive $5,000 in assistance for international study during their academic career.
Encourage your student to consider a study-abroad experience as part of his or her academic career.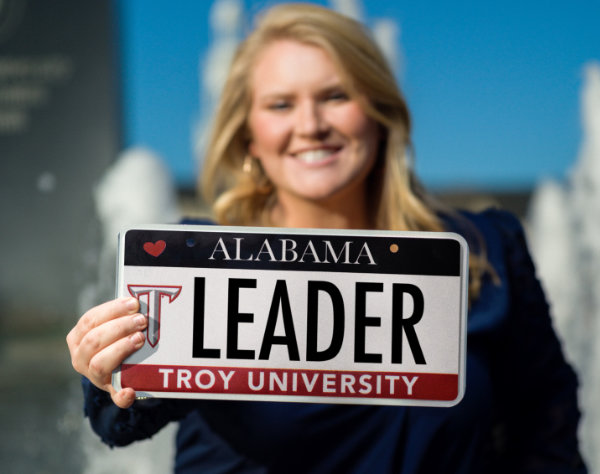 The scholarship is funded through sales of TROY license plates for automobiles or boats to Alabama residents. The gift is tax-deductible, and $48 of the cost goes to scholarships. Purchasing a plate means cash savings for you, as we reduce the $100 student parking fee to $25 if your student's vehicle has a TROY license plate.
Latest rankings indicate quality of TROY academics
Troy University continues to be ranked by the most prestigious services in the nation, which we embrace as validation of our programs. Here are a few of our latest rankings:
We were named to the "Best in the Southeast" list by The Princeton Review for the 18th straight year. TROY was one of only 143 colleges and universities in the 12-state region to receive this designation.
The rankings released by U.S. News and World Report, considered widely as the most authoritative and prestigious in the nation, ranked TROY 44th among all regional universities in the south and 17th among public regional universities in the south.
In addition, our commitment to serving military-affiliated students earned us the 21st spot in U.S. News' Best Colleges for Veterans rankings, which recognizes colleges and universities that make pursuing a college education more affordable for veterans and active-duty service members. Nearly 30 percent of TROY's student body is made up of military-affiliated students.
Other validation of our service to the military came in the form of recognition as the only Alabama institution to be named to the 2022 Military Times Best for Vets rankings. We were ranked 13th in the southeast among "Best for Vets: Colleges" and 41st in the nation among public colleges and universities.

TROY football is back!
Coach Jon Sumrall's Trojans capped off an amazing season on December 3 with a convincing 45-26 win over Coastal Carolina in the Sun Belt Conference Football Championship game. This has been a season to remember as the Trojans posted a 12-2 record in Coach Sumrall's first year, after winning only five games last year. And the Trojan's are not finished yet, as we face the University of Texas-San Antonio, the Conference USA champions, on December 16 in the Cure Bowl in Orlando, Florida. Our Trojans finished the regular season ranked number 23 in the AP football poll and number 24 in the College Football Playoff poll. What a season!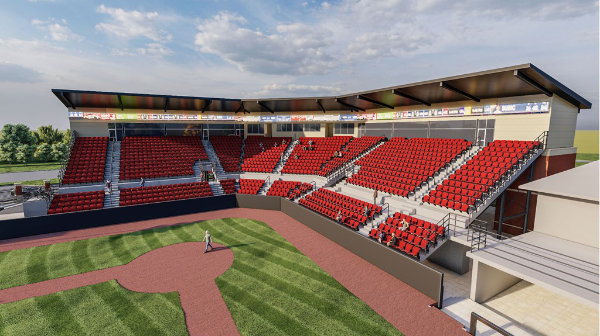 In other sports news, we are wrapping up the expansion of Riddle-Pace Field, home of our baseball program. We have invested almost $12 million in the renovations, which will create the "Gem of the Sun Belt" and give our program a first-class facility. We are investing in our baseball program because we have lofty goals, as we have set our sights on making the College World Series in Omaha.
In closing, please accept my best wishes for a blessed Christmas season and a happy new year! It's an honor to lead and guide your student.
Sincerely,

Jack Hawkins, Jr., Ph.D.
Chancellor