About Qualtrics
Qualtrics is an easy-to-use online survey tool which is available to support research, teaching, and administration. Qualtrics combines exceptional ease of use with an advanced set of features and is designed to permit the creation of survey instruments, distribution of surveys, data storage and analysis. Learn more about Qualtrics at http://www.qualtrics.com.
Campus Use Policy

Troy University has a licensing agreement which allows faculty, staff and students to use the Qualtrics web survey application for research interests, advanced survey research projects, assignments and university-related business. Using Qualtrics for personal, commercial or other non-university use is prohibited. Use of Qualtrics is subject to acceptance of the Acceptable Use Statement. This licensing agreement is managed by Troy University's Office of Institutional Research, Planning and Effectiveness. To contact the university's Qualtrics administrator, please send an email to surveys@troy.edu.
***DISCLAIMER: Please be aware that ALL survey research requiring the use of human subjects MUST follow the approval policies and procedures from the Institutional Review Board. It is the responsibility of the Qualtrics account holder/researcher to obtain proper IRB approval before running a survey.***
Creating a New Account/Log into your account

Go to https://troy.qualtrics.com.
Log in with your Trojan email account user name and password.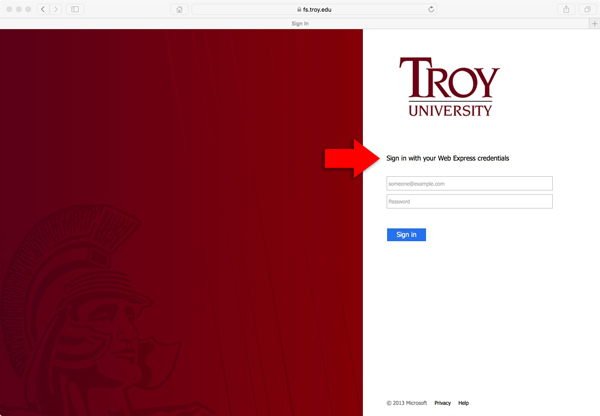 After logging in with your Trojan email account credentials, you will see the following screen. First-time users will need to click "I don't have a Qualtrics account."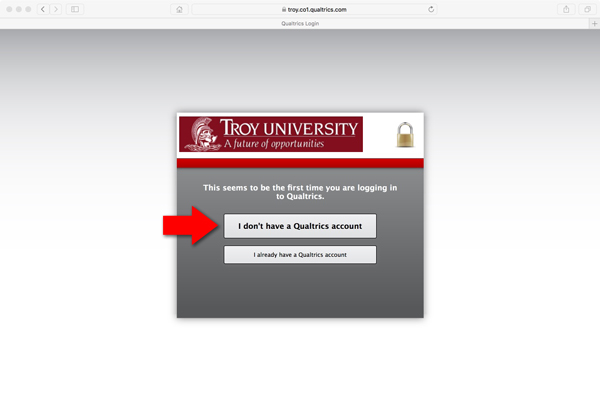 An account will be created for you. Read and accept the Terms of Agreement.



Once you accept the Terms of Agreement, you will be taken to the Qualtrics Dashboard page.
Once you have created an account you will be free to use the Qualtrics dashboard and create surveys. In order to activate and launch your survey, you will need to link your account to your university college/division affiliation. You will need an upgrade code for this task. Upgrade codes for faculty, staff and students can be requested via email at surveys@troy.edu.

Non-TROY Qualtrics accounts
If you already use Qualtrics, our new license agreement requires that you login using your Trojan email account ID and password through at troy.qualtrics.com. You will be able to migrate your existing projects into our institutional instance of Qualtrics by indicating that you already have an account after you log in with your Trojan email account ID and password.
Terms of Use

When you use Qualtrics, you agree to Troy University's Information Technology Usage Policy and the Qualtrics Terms of Service.
Related Links

Additional Qualtrics Help