Welcome to the Sorrell 360 Center for Professional Life
A Message from the Assistant Dean
Welcome to the Sorrell 360 Center for Professional Life! The 360 Center was established in 2021 to promote holistic, "360 degree" professional development in the Sorrell College of Business. Our programs, events, and student services are designed to serve the GEEKS mission and vision of the Sorrell College of Business:
Whether you are a current or prospective student, parent, alumni, faculty, business professional, or have any other interest in the 360 Center, I invite you to explore our website to learn more about our vision, programs, and upcoming events.
I encourage you to reach out to us with any questions you may have or to schedule a visit to the Sorrell College of Business. Our success depends on meeting the needs of our students and their prospective employers. We always welcome feedback and ideas on how we can meet your needs, as well as your support!
You can also follow us on social media to stay in the loop about Center activities and events—click below to get in touch!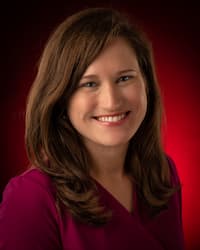 Laura R. Dove, JD
Assistant Dean
Sorrell 360 Center for Professional Life
Sorrell College of Business
Troy University
Phone: (334) 808-6607