Lieutenant Colonel Erin M. Dunagan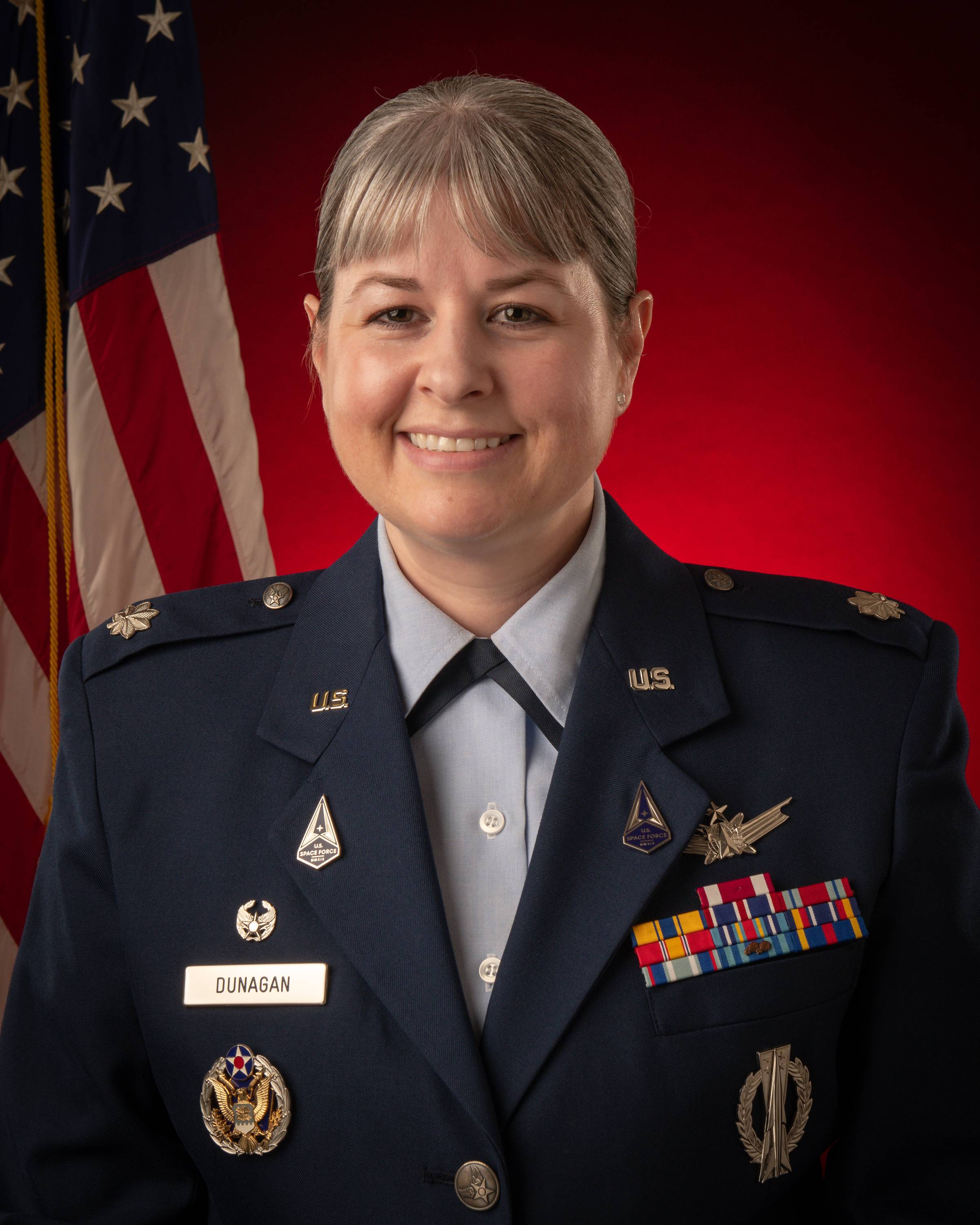 Lieutenant Colonel Erin Dunagan is the Commander and Professor of Aerospace Studies of Air Force Reserve Officer Training Corps (AFROTC) Detachment 017 at Troy University. She serves as head of Troy University's Aerospace Studies department, instructs senior courses on national security affairs, supervises five faculty and staff members, and has overall responsibility for training and mentoring more than 50 students preparing to become Air Force or Space Force officers.
Lt Col Erin Dunagan graduated from Troy University in 2000 with a Bachelor's in Political Science and Spanish. She entered the Air Force in December 2002 after receiving her commission through the Alabama State University ROTC program. Later she attended the University of Cincinnati, earning a Master's degree in Criminal Justice in 2007.
She began her Air Force career as an Intercontinental Ballistic Missile crew member, instructor, and flight commander at the 91st Missile Wing, Minot, ND. Her next assignment was at the 614th Air and Space Operations Center at Vandenburg AFB, CA at the Chief of the Orbital Protection Cell followed by the Chief of Training for the Operations Support Division. She served as Chief of Space Training at Headquarters Air Force, Pentagon, DC where she provided policy/oversight for initial skills, joint/allied, and executive space training and exercises. She continued her space career at the Commander, 18th Space Control Squadron, Detachment One responsible for the employment of the Space Data Mission Processing weapon system as well directing the Distributive Space Command and Control-Dahlgren mission through 24/7 surveillance of more than 22 thousand space objects while providing continuous operations of $13 million detachment.
EDUCATION:
2000, Bachelor of Arts, Political Science, Troy University, Troy, AL
2003, Air and Space Basic Course, Air University, Maxwell AFB, AL
2004, Officer Space Prerequisite Training, Vandenburg AFB, CA
2004, Intercontinental Ballistic Missile Initial Qualification Training, Vandenburg AFB, CA
2007, Master of Science, Criminal Justice, University of Cincinnati, Cincinnati, OH
2008, Space Warfighter Prep Course, Advanced Space Operations School, Colorado Springs, CO
2009, Squadron Officer School (Residence), Air University, Maxwell AFB, AL
2010, Space 200, National Security Space Institute, Colorado Springs, CO
2012, Air Command and Staff College, correspondence, Maxwell AFB, AL
2015, Space 300, National Security Space Institute, Colorado Springs, CO
2021, Air War College, correspondence, Maxwell AFB, AL
ASSIGNMENTS:
| | |
| --- | --- |
| February 2004 - October 2004 | Space and Missile Operations Student, 392st Training Group, Vandenburg AFB, CA |
| October 2004 - December 2005 | Intercontinental Ballistic Missile Combat Crew Deputy Commander, 742d Missile Squadron, Minot AFB, ND |
| December 2005 - January 2007 | Intercontinental Ballistic Missile Combat Crew Instructor Deputy Commander, 91st Operations Support Squadron, Minot AFB, ND |
| January 2007 - May 2007 | Intercontinental Ballistic Missile Combat Crew Assistant Flight Commander, 742d Missile Squadron, Minot AFB, ND |
| May 2007 - August 2009 | Intercontinental Ballistic Missile Combat Crew Flight Commander, 742d Missile Squadron, Minot AFB, ND |
| August 2009 - June 2010 | Orbital Protection Duty Officer, 614th Air and Space Operations Center, Vandenburg AFB, CA |
| June 2010 - May 2011 | Chief, Orbital Protection Operations, 614th Air and Space Operations Center, Vandenburg AFB, CA |
| May 2011 - June 2012 | Chief, Space Analysis Cell, 614th Air and Space Operations Center, Vandenburg AFB, CA |
| June 2012 - April 2013 | Chief, 614 Air and Space Operations Center Training, 614th Air and Space Operations Center, Vandenburg AFB, CA |
| April 2013 - May 2015 | Chief, Space Training Branch, Headquarters Air Force, Pentagon, DC |
| | |
| --- | --- |
| June 2015 - June 2016 | Commander, 614th Air Operations Center, Detachment 1, Dahlgren, VA |
| June 2016 - June 2018 | Commander, 18th Space Control Squadron, Detachment 1, Dahlgren, VA |
| June 2018 - June 2020 | Director of Operations, 21st Student Squadron, Air Command and Staff College, Maxwell AFB, AL |
| June 2020 - June 2021 | Chief of Cadre Training, Standardization and Evaluation, Headquarters Air Force Reserve Officer Training Corps, Maxwell AFB, AL |
| June 2021 - Present | Commander, AFROTC Detachment 017, Troy University, AL |
AWARDS AND DECORATIONS:
Meritorious Service Medal with four oak leaf clusters
Air Force Commendation Medal
Air Force Outstanding Unit Award
Combat Readiness Medal
National Defense Service Medal
Global War on Terrorism Expeditionary Medal
Global War on Terrorism Service Medal
Air and Space Campaign Medal
EFFECTIVE DATES OF PROMOTION:
Second Lieutenant - 13 December 2002
First Lieutenant - 13 December 2004
Captain - 13 December 2006
Major - 01 November 2012
Lieutenant Colonel - 01 September 2017
(Current as of February 2022)