Major Kazumi U. Sims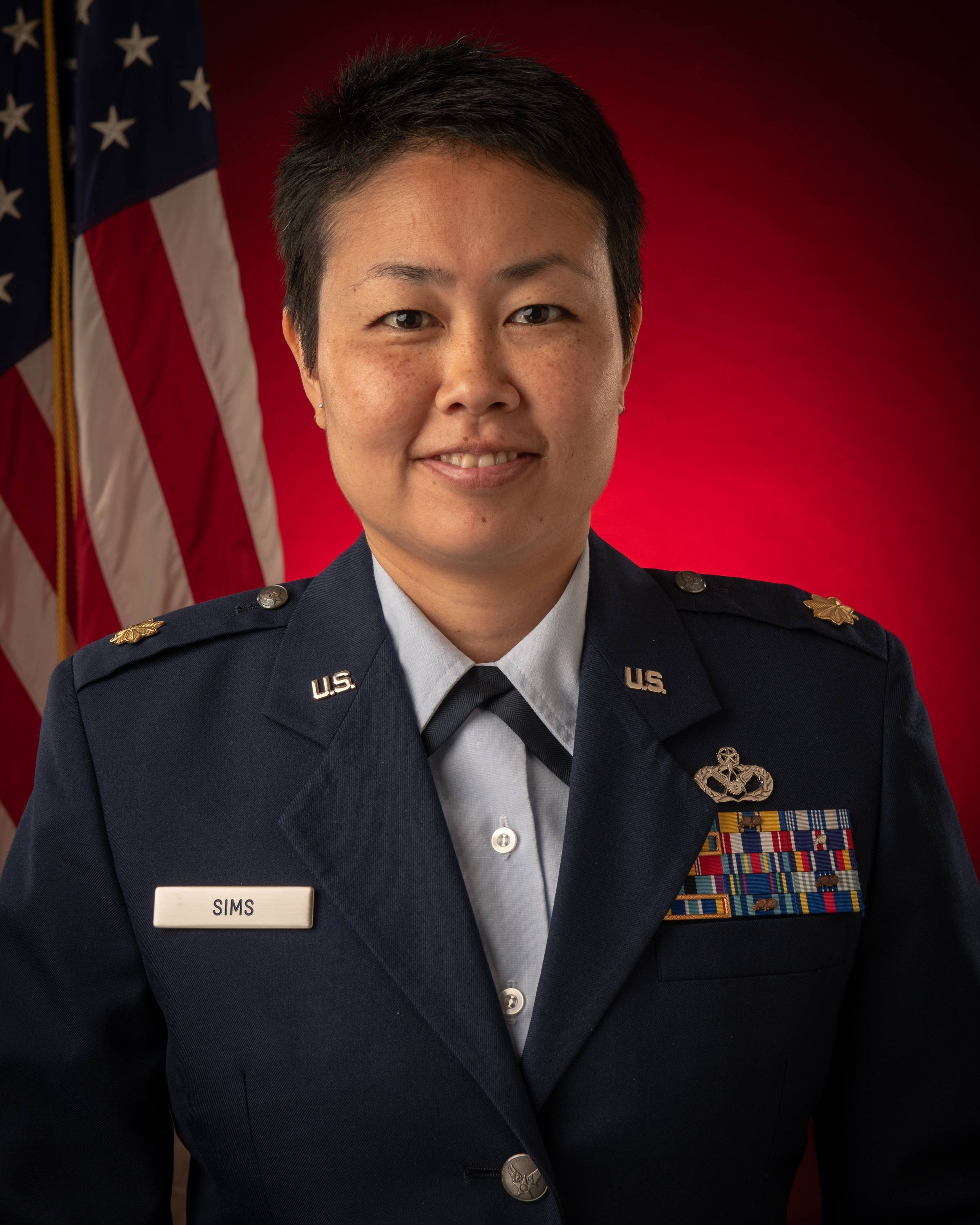 Major Kazumi Sims is Operations Flight Commander, Recruiting Officer and Professor of Aerospace Studies of Air Force Reserve Officer Training Corps (AFROTC) Detachment 017 at Troy University. She was born on Guam and graduated with two Bachelor's Degrees in Bioengineering and Mathematics from Walla Walla College, WA in 2001. She commissioned through the ROTC program at Oregon State University, while earning her Master's Degree in Mechanical Engineering in 2004.
Major Sims was previously assigned to the Cyberspace Operations Division, Fifth Air Force, Yokota Air Base, Japan. As the Deputy Director, she advised 14 personnel who were in support of a 129-member staff and supported 4 major regional and bilateral engagements programs. She executed USINDOPACOM's Theater Campaign Plan through Command, Control, Communications, Computer and Intelligence programs and cyber operations partnership with the Japan Air Self-Defense Force, where she planned, coordinated and oversaw the Fifth Air Force's Command and Control projects. She was also responsible for implementing bilateral command and control programs, guided contingency operations, and provided mission support to the Fifth Air Force Commander in his role as the Commander of the Joint Air Component Coordination Element, Japan.
Previously, as the Division Chief of Civil Engineering under the Logistics, Engineering and Force Protection Division, she developed and fostered bilateral relationships and interoperability to support contingency operations in the Pacific Area of Responsibility and for the defense of Japan. Major Sims was responsible for the planning, programming and execution of the 2.4 billion-dollar host nation funded construction programs for three United States Air Force installations and 53,000 military and civilian personnel. She also administered environmental, real estate, encroachment and strategic basing programs with Pacific Air Forces, United States Forces Japan and the Government of Japan.
Major Sims has held various Civil Engineer positions in Air Forces Central Command, Air Force Global Strike Command, Defense Threat Reduction Agency and the Pacific Air Forces. She is a qualified instructor and the curriculum writer for the Nuclear Weapons Incident Response Training Course, with over 7,000 student contact hours. As a linguist, Major Sims has served as an interpreter for the Chief of Defense Conference, numerous Bilateral Exercises, as well as briefings on behalf of Fifth Air Force, United States Forces Japan and the United Nations Command-Rear. She has worldwide deployments in support of Operations TOMODACHI, ENDURING FREEDOM, INHERENT RESOLVE, FREEDOM'S SENTINAL and Defense of the Arabian Gulf. Prior to her previous assignment, Major Sims was the Commander, Operations Flight, 341st Civil Engineer Squadron at Malmstrom AFB, MT. Some notable awards that Major Sims has earned include the Meritorious Service Medal, Joint Commendation Medal, Wing Field Grade Officer of the Year, PACAF Federal Engineer of the Year and Base Federal Woman of the Year.
EDUCATION:
2001, Bachelors of Science, Bioengineering and Mathematics, Walla Walla College, WA
2004, Masters of Science, Mechanical Engineering, Oregon State University, OR
2004, Air Force Civil Engineer Basic Course, Air Force Institute of Technology, Wright Patterson AFB, OH
2006, Air and Space Basic Course, Air University, Maxwell AFB, AL
2008, Squadron Officer School, Air University, Maxwell AFB, AL
2011, Basic Instructor Course, Goodfellow AFB, TX
2017, Air Command and Staff College (Correspondence), Air University, Maxwell AFB, AL
2018, Contingency War Planning Course, Air University, Maxwell AFB, AL
2021, Academic Instructor Course, Air University, Maxwell AFB, AL
ASSIGNMENTS:
| | |
| --- | --- |
| September 2004 - June 2006 | Infrastructure Engineering Element Chief, 36th Civil Engineer Squadron, Andersen AB, GU |
| June 2006 - July 2008 | Simplified Acquisitions and Base Engineer Requirements Chief, 15th Civil Engineer Squadron, Hickam AFB, HI |
| March 2007 - September 2007 | (Deployed) Horizontal Construction Chief, 376th Expeditionary Civil Engineer Squadron, Manas AB, Kyrgyzstan |
| July 2008 - July 2011 | Air Defense Command Relocations Program Management Office Chief, Asset Management Flight, Deputy; Executive Officer; 374th Civil Engineer Squadron, Yokota AB, Japan |
| July 2011 - June 2014 | Nuclear Weapons Incident Response Training Course Manager, Curriculum Developer, Defense Nuclear Weapons School, Kirtland AFB, NM |
| June 2014 - July 2015 | Operations Flight Commander, Executive Officer, 379th Expeditionary Civil Engineer Squadron, Al Udeid AB, Qatar |
| July 2015 - July 2018 | Operations Flight Commander, 341st Civil Engineer Squadron, Malmstrom AFB, MT |
| July 2018 - July 2021 | Civil Engineering Division Chief, Cyberspace Operations Deputy Director, Fifth Air Force, Yokota AB, Japan |
| July 2021 - Present | Assistant Professor of Aerospace Studies, AFROTC Detachment 017, Troy University, AL |
AWARDS AND DECORATIONS:
Meritorious Service Medal with one oak leaf cluster
Joint Service Commendation Medal
Air Force Commendation Medal with two oak leaf clusters
Air Force Achievement Medal
EFFECTIVE DATES OF PROMOTION:
Second Lieutenant - June 2004
First Lieutenant - June 2006
Captain - June 2008
Major - December 2014
(Current as of February 2022)