Social Work/Counseling Seminar
The Social Work/ Counseling Seminar is open to counselors, therapists, social workers, mental health professionals, Juvenile Probation Officers, students, and the general public. This seminar will award six contact hours including one hour of ethics to those needing professional development time. Topics will be focused along the professional lines of dealing with Ethics, Depression, Anxiety, Behavioral Health, Mental Illness and Emotional Issues.
Friday, November 3, 2023 9:00am-4:30pm; check-in begins at 8:00am; lunch is included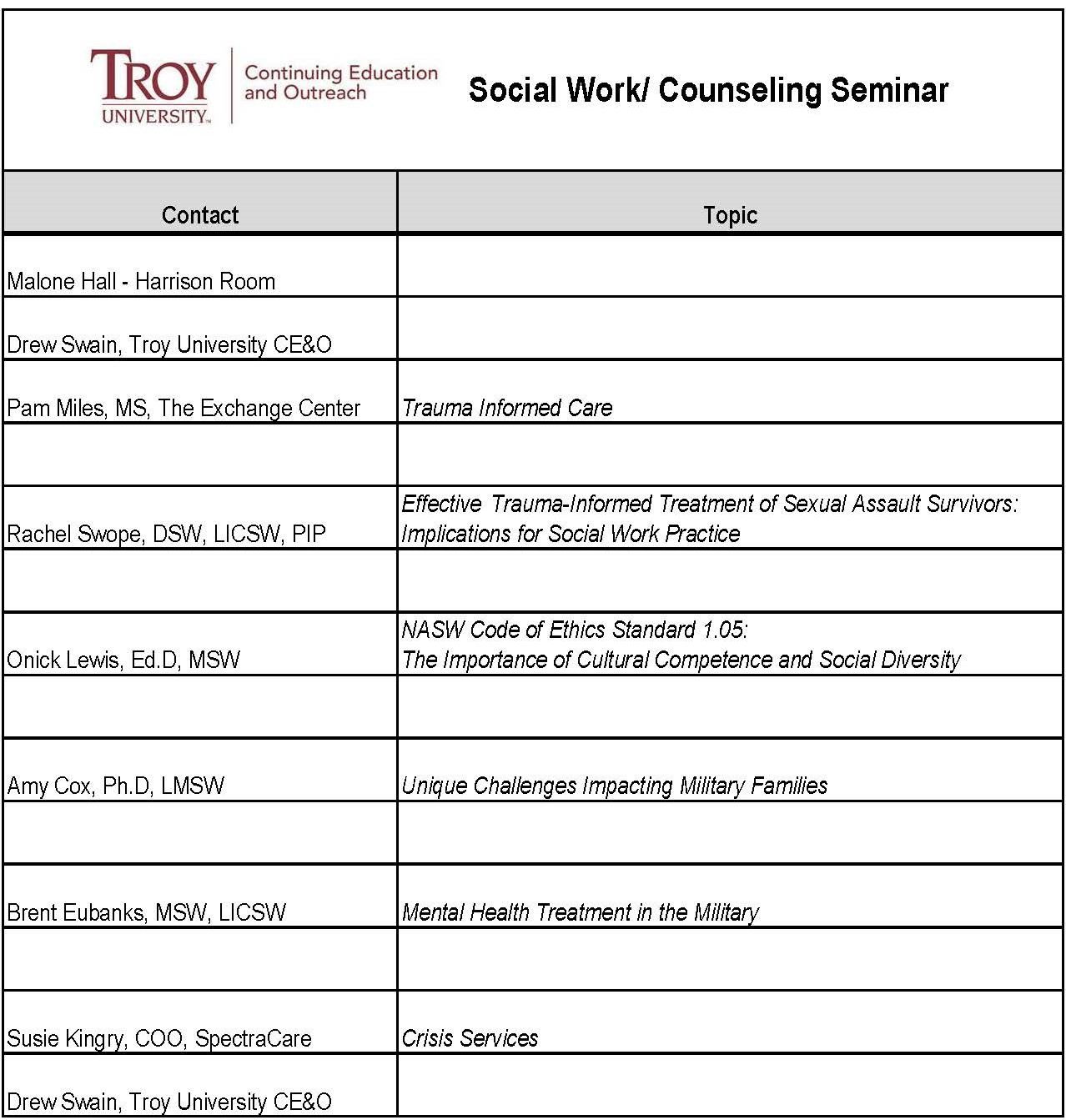 Click here to register for CE260.
Community Healthcare Worker Training Program
This program aims to equip participants with the skillsets needed to provide effective community outreach and build trust within their communities, increase access to care, and assist individuals in prevention services, and recovery from the COVID-19 pandemic and other public health emergencies in underserved communities. Click here to view program.
CBCS Medical Billing and Coding (voucher included)
You will learn to function as an important member of the healthcare team by providing key skills such as abstracting from medical records, assigning codes to diagnoses and procedures using the ICD-9-CM, ICD-10-CM, CPT and HCPCS Level II code books, developing insurance claims according to third-party guidelines, and understanding the legal, ethical and regulatory concepts that are vital to this field. Click here to view program.
Certified Personal Trainer (voucher included)
This online program blends the best of academic and hands-on training, offering online instructor-facilitated education, four days of live practical training, and a required 30-hour internship that will give you real-life experience you can put on your résumé. When you successfully complete all course requirements and the necessary CPR/AED first aid training, you'll receive your nationally-recognized World Instructor Training School (W.I.T.S.) Personal Trainer Certification. Click here to view program.
Pharmacy Technician (voucher Included)
Learn the skills you need to become a pharmacy tech in a hospital or retail setting with the Pharmacy Technician Online Certification Training Program. You'll gain the skills and knowledge to qualify for entry-level positions in pharmacies, and you'll be prepared for national certification.
All materials are included in the cost of the program. Upon completion of this program, you will be prepared to sit for the National Certification Exam which is the Pharmacy Technician Certification Exam (PTCE), offered by Pharmacy Technician Certification Board (PTCB). The registration fee for this exam is also included with the program. Click here to view program.


Handling Medical Emergencies
This course will identify common medical emergencies affecting children and adults, help you recognize signs and symptoms, and teach you how to render appropriate emergency care. For more information and a course demo visit our partner website at ed2go.


Assisting Aging Parents
Learning how to help parents or other loved ones through their transition can prepare us for our own. You'll understand the impact of retirement, learn how to choose a nursing home, and be prepared to deal with death. You'll learn about financial and legal considerations, health issues, and family interpersonal relationships. For more information and a course demonstration visit our partner website at ed2go.