Historical Scenes of Alabama
Dr. Wade Hall ('53) was an avid "postcard collector".
He collected approximately 25,000 vintage postcards from all over the world during his travels. The dates of these postcards range from the early 1900s to the 1960s.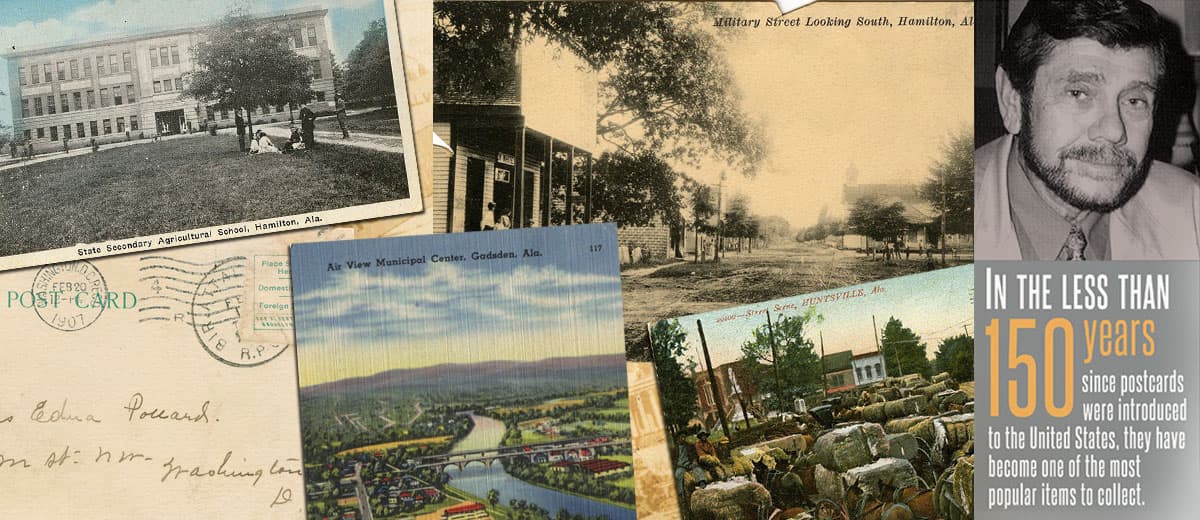 Dr. Hall donated his collection to the Troy University Archives on the Troy Campus and we are making it available for viewing in various forms: this website, which features the Traveling Exhibits and also the Alabama Mosaic website.
---
Dr. Wade Hall was a deltiologist, the formal name for a postcard collector. Hall grew up near Union Springs, attended the small Inverness Consolidated School and Troy State Teachers College, graduating in 1953. After teaching in Opp and serving in the U.S. Army in Germany, he earned a master's degree from the University of Alabama and a Ph.D. from the University of Illinois. Hall taught English at the University of Florida, Kentucky Southern College, and Bellarmine University. Hall collected these postcards during his travels around the country.
A postcard is a card sent through the mail at a lesser postage rate than a sealed envelope, one side usually has a picture and the other has space for a written message and the recipient's address. The first postcards were issued in America in 1873. Postcards became popular because people could send a quick "hello" or show a friend or relative where they were staying for only a penny. Many postcards took the place of pictures in the family albums showing vacation scenes. The Golden Age of postcards lasted from 1900 until about 1920 when widespread use of the telephone began.
Many postcards were, and still are, made from photographs. Early postcards were black and white so companies started the practice of colorization to make them more attractive. Colorization was the process of sending the postcard photograph to another country to enliven with color. India and Italy were often chosen because they specialized in using exotic colors which caught the eye of the common person. Colorization had a major effect on a picture. It could make an ordinary scene look beautiful or idyllic. Many of the postcards in this collection are examples of colorized sights in Alabama.
Photographs can depict social history without words. The postcards in the Wade Hall collection demonstrate that fact. Most of these are known as "view cards" and they document a certain place in time. They give historical references to buildings, streets, tourist attractions, and even towns which may no longer exist or that have changed significantly. By looking at the front of these cards, we can learn about the history of an area, including early forms of travel, architectural styles of the time, the beginning of power and telegraph/telephone lines, and monuments that may or may not be there now. The messages on the backs can provide a "snapshot" of the moment since the sender often refers to the weather, travel experiences, and their relationship to the recipient.
Today, you might snap a photo with your smartphone and send it to someone with a quick message. In a very similar way, postcards provided an easy way to stay in touch while away from home or on vacation. A postcard has advantages over smartphone pictures, namely: it is always a good picture, the photographer could take it from the right angle, and the weather is always perfect. All of these are iffy when you are "there" in person. For this reason, buying postcards is still common for vacationers. They buy them to keep as souvenirs to remember their trip or to send back home to impress friends, co-workers and family and to say "Wish you were here."
---