Daniel: From Antarctica to TROY Online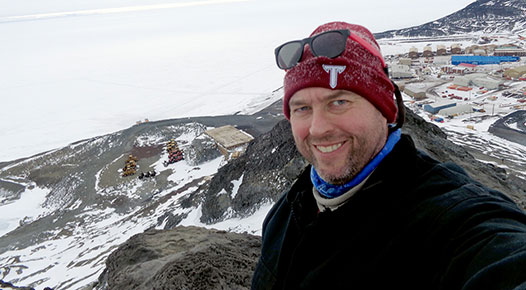 Daniel, 41, is a junior resource and technology management major at TROY Online and a former boatswain's mate originally from Jackson, New Jersey.
He was stationed in Gulfport, Mississippi, from where he drove once a month to take care of his house in Virginia Beach. Coincidentally, he noticed TROY's billboard on I-65 between Evergreen and Georgiana, Alabama.
Having finished his associate degree and retired from the U.S. Navy in 2015, he took TROY's billboard and its location as a sign to become a Trojan.
"I was planning to go to school and got accepted to a local Virginia Beach school, when I found out that Troy has an office in the next town over, Chesapeake," he says. "I took that as a sign and applied there, rescinded my other acceptance and have been a Trojan ever since."
Daniel joined the Navy after high school and served 22 years as a boatswain's mate on four ships: USS Enterprise, USS Arctic, USS Detroit and USS Ramage. A boatswain's mate is responsible for anchoring, mooring and driving the ship, as well as conducting replenishments while underway, handling helicopter operations and driving small boats.
After his retirement, he worked various jobs while continuing his classes with TROY Online.
"After work I would go home, eat lunch and log in to my assignments," he says.
He says the flexibility and customizability of TROY's online classes allowed him the opportunity to juggle the demands of his classes with his dual job.
"The classes are short with weekly deadlines for assignments, which allows me to balance what courses to concentrate on each day," he says. "I choose to frontload my weeks with class so I only need to monitor the discussions and announcements the rest of the week."
During winters (late October to March), he has been going to McMurdo Station, a United States Antarctic research center on the south tip of Ross Island in Antarctica, on a contract to work as a senior cargo handler since 2013. There, he organizes and processes all cargo heading to the field or home for further transport by air or vessel.
As for people who are undecided about going back to school, Daniel says that the advisers and instructors are always ready to help, and life's experiences can help in class, as well.
"Anyone out there" can go back to school and juggle a job alongside, he says. "I wish I got started on it earlier."