Shay: Single Parent Seeking a Degree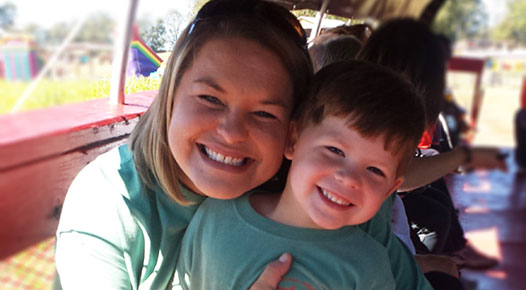 Shay is a 33-year-old TROY Online student from south Alabama. She has been working as a radiologic technologist in hospitals and clinic settings for many years. Shay is also a single parent to a 7-year-old son.
"I realized there is a difference between just making ends meet and making a life. I want the things all people desire to own my own home and to take my son on vacation things like that. I want to be able to provide for the unexpected things, like needing new tires on my car, without having to borrow money to do it. Something had to change and furthering my education seemed like the only way to make a positive turn."
Going back to school was a challenge while playing the busy roles of single mom and employee.
"Being a single parent is hard. I am the only one here to get him ready for school, get him on the bus, pack his snack, pick him up in the afternoons, do spelling words, read stories, make sure he takes a bath, cook supper and make sure he eats it. There is no help with day-to-day things in a one-parent home and they are numerous, and unending but worth every minute."
Shay says that being a mom may be tough at times but it is her young son and family who keep her motivated.
"I want to prosper and grow for my son. He deserves the best I can give him and I want him to see me working hard for my dreams. My degree will pay off for him one day too.
"My mother is my support system. I watched her return to school as a single mom of two children and obtain her education. I know that, although it will be hard, it can be done."
TROY Online classes allow Shay the flexibility of growing her education during a very unpredictable time of life.
"I am excited to be an online student at TROY. Online classes are a great benefit for me as a working adult. I never imagined I would be a single parent in college, but I have a secret weapon: knowledge that it can be done."