The Global Leadership Ph.D. for the world ahead.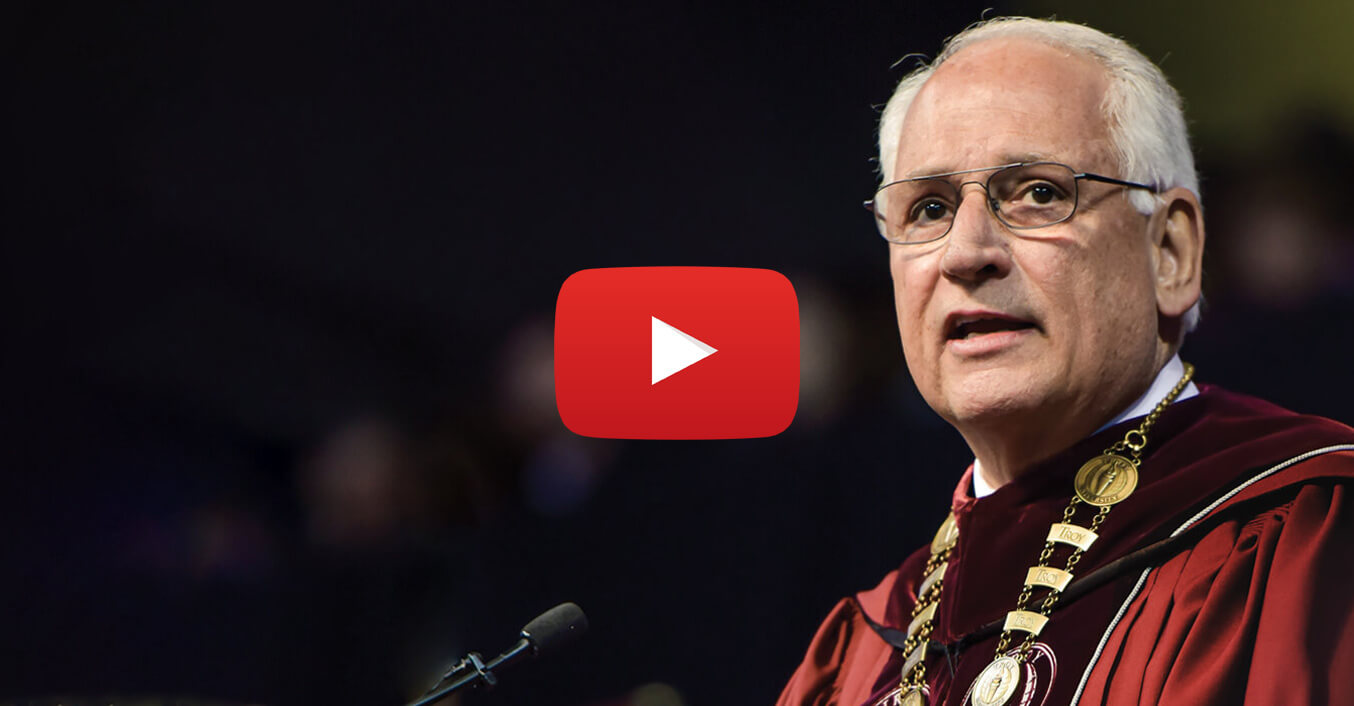 Our greatest challenge in the preservation of democracy is growing well qualified, principled leaders with vision. – Thomas Jefferson
As one of U.S. News and World Report's "Most Innovative" universities, TROY is tackling this challenge head on. And, as Alabama's International University, we know today's successful leaders need a global viewpoint that works within all cultural contexts.
This one-of-a-kind, online Ph.D. program gives leaders global opportunities through travel, innovative teaching, and shared values. It will push leaders to become visionaries to guide the world ahead.
Apply today if you have what it takes to change the world.

Jack hawkins, Jr., Ph.D.
Chancellor
---
Why choose Troy University for a doctoral degree in global leadership?
Interested in taking your career to the next level? By earning a Ph.D. in Global Leadership and Innovation from Troy University, you hold the keys to unlocking a world of opportunities. This applied doctoral program seeks to provide working professionals with skills and knowledge necessary to become global leaders within today's complex work environments, both private and public, domestic and international.
As a doctoral student within TROY's College of Education, you'll have the opportunity to focus your Ph.D. studies in one of five dynamic areas that best fits your career:
Organizational Leadership
Public Administration
Strategic Communication
Higher Education
Instructional Leadership and Administration
Within TROY's Global Leadership and Innovation doctoral program, you'll continue to develop leadership skills and greater understanding of the theory and practice involved in the areas of research, policy analysis, and human capital development. You'll also learn more about developing systems that are used to create and effectively lead organizational change. These skills will prepare you for effective communication, improving organizational effectiveness, and the facilitation of global teams.
No matter what program specialization you choose, your core coursework will allow you to examine global leadership from various contexts and settings, continue developing a global perspective by learning to better understand, respond to, and influence the larger political, social, economic, legal, and cultural context of global leadership. You'll take a look at changing environments in complex, global, and domestic organizations and explore how globalization impacts and are impacted by these environments.
Course Requirements:
The Ph.D. in Global Leadership and Innovation requires 63 credit hours—45 of which are core, research and dissertation courses that must be completed no matter the specialized area of study you choose. The program's core courses include:
GLOL 8801: Global Leadership Seminar (maximum of three (3) times)
GLOL 8802: Introduction to Doctoral Study in Global Leadership
GLOL 8804: Innovation in Global Leadership
GLOL 8805: Cultures, Values, and Ethics in a Global Environment
GLOL 8803: Global Leadership
GLOL 8806: Policy and Politics in Global Leadership
GLOL 8807: Internship in Global Leadership
Required research courses include:
RES 8801: Mixed Methods in Research Methodology
RES 8802: Qualitative Research Methodology
RES 8803: Quantitative Research Methodology
RES 8804: Assessment and Evaluation in Global Organizations
Required dissertation courses include:
GLOL 8898: Writing the Dissertation in Global Leadership
GLOL 8899: Dissertation
Intentionally International
As Alabama's International University, TROY is an internationally positioned institution with a mission to promote the economic and social growth of Alabama, the southeastern United States, and the world. To continue pursuing this mission, TROY created the Ph.D. in Global Leadership and Innovation in order to prepare new generations of global leaders with the skills they need to thrive in ever-changing environments driven by technology and innovation. Learn from top-notch, experienced faculty members through your courses and gain leadership experience in a professional setting as you participate in an international internship.
At TROY, we are intentionally international. We are not only going to bring a world-wide focus to the coursework; we are going to take you to the world. As part of the Doctorate in Global Leadership, you must complete an international internship prior to being eligible for graduation. Each student will travel to a country outside of the United States seeing and understanding, firsthand, the challenges facing international organizations as well as meeting those leaders who are changing the world.
A unique aspect of the International Internship is a mentorship component where students will learn from a leader with experience in their field. Each doctoral student will be provided with one to help facilitate the 14-day Internship experience. The mentor will serve as a guide, sounding-board, and coach. Ultimately, the mentor will invest time and expertise in the next generation global leader. This approach combined with a global emphasis will prepare each candidate to succeed in the international marketplace.
"This Ph.D. is a response to a need for leadership with an international perspective in diverse areas— education, the military, business and the non-profit sector." Dr. Jack Hawkins, Jr. | Chancellor
Internship Information
Your international Internship should relate to your dissertation research. The Internship must be done away from the country of origin or the country in which you currently reside.
The cost of the International Internship is the responsibility of the Doctoral candidate. An average Internship will be a minimum of 12 -14 days including travel. Length and cost will vary based upon candidate's research and consultation with a faculty advisor, dissertation chair and/or international site location mentor.
Ready to be the Next Trojan?
Is this the right degree for you? Ultimately, this is a question you must answer for yourself. We are looking for the best and brightest leaders from business, industry, education, and public administration who are ready to take the next step in their professional development. Your previous work could only take you so far. To thrive in a demanding inter-connected world within organizations that must compete domestically and internationally, what you've done is not going to be enough. You need to be globally prepared by faculty who are experts in their fields and have extensive international experience. Are you ready to be the next Trojan?
Application Deadlines
Fall Admission (August): February 15th. Acceptance notification received by April 15th.
Spring Admission (January): October 1st. Acceptance notification received by November 15th.
What can you do with a degree in Global Leadership?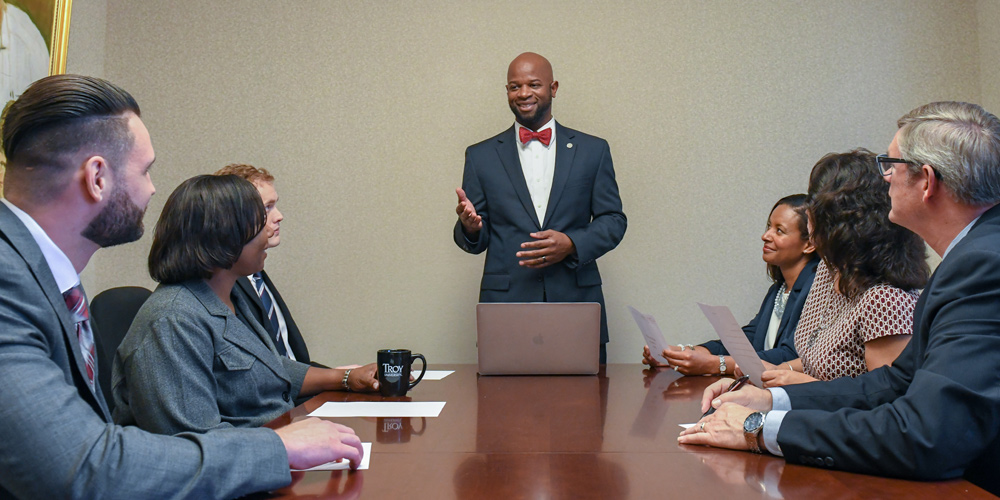 The success or failure of organizations is often times determined by the effectiveness of the leader of the organization. The reality of this statement is proven repeatedly in countless organizations today.
Because of the inter-connectedness of the world's economies, organizations need a new type of leader-one that can function effectively in both domestic and international situations. However, leaders with these qualifications are scarce.
Where are they? They will be among the graduates of the Ph.D. in Global Leadership. These leaders will bring tested experience to be forged at Troy University into global leaders capable of taking their organization to the highest levels of success. It is cliché to say the "sky is the limit" but with a degree in global leadership, your imagination is the only limit to what you can do with this degree!
Return on Investment
Tuition costs continue to rise across the country and it is not surprising that potential students are asking if the cost of a university degree is worth what you have to pay in tuition. Leaders don't look at tuition as a cost. They see it as an investment in their future. They measure the value in terms of the return on their investment. Looking to the future, the link between domestic and international opportunities is going to strengthen. Only those properly prepared will be able to capitalize on the global opportunities.
---
Program Track Information
---
Expert Faculty
"As a lifelong practitioner who has been more interested in the application of what I've learned, I appreciate the expertise and experience of our TROY faculty and their ability to translate the theoretical into the practical."
Maj. General Walter Givhan
Senior Vice Chancellor for Advancement, External Relations
Interested in applying to TROY?
The deadline to apply to this program for Term 3 (January) is February 15, 2021. Helpful Links
Program Locations