CPT Jacob White III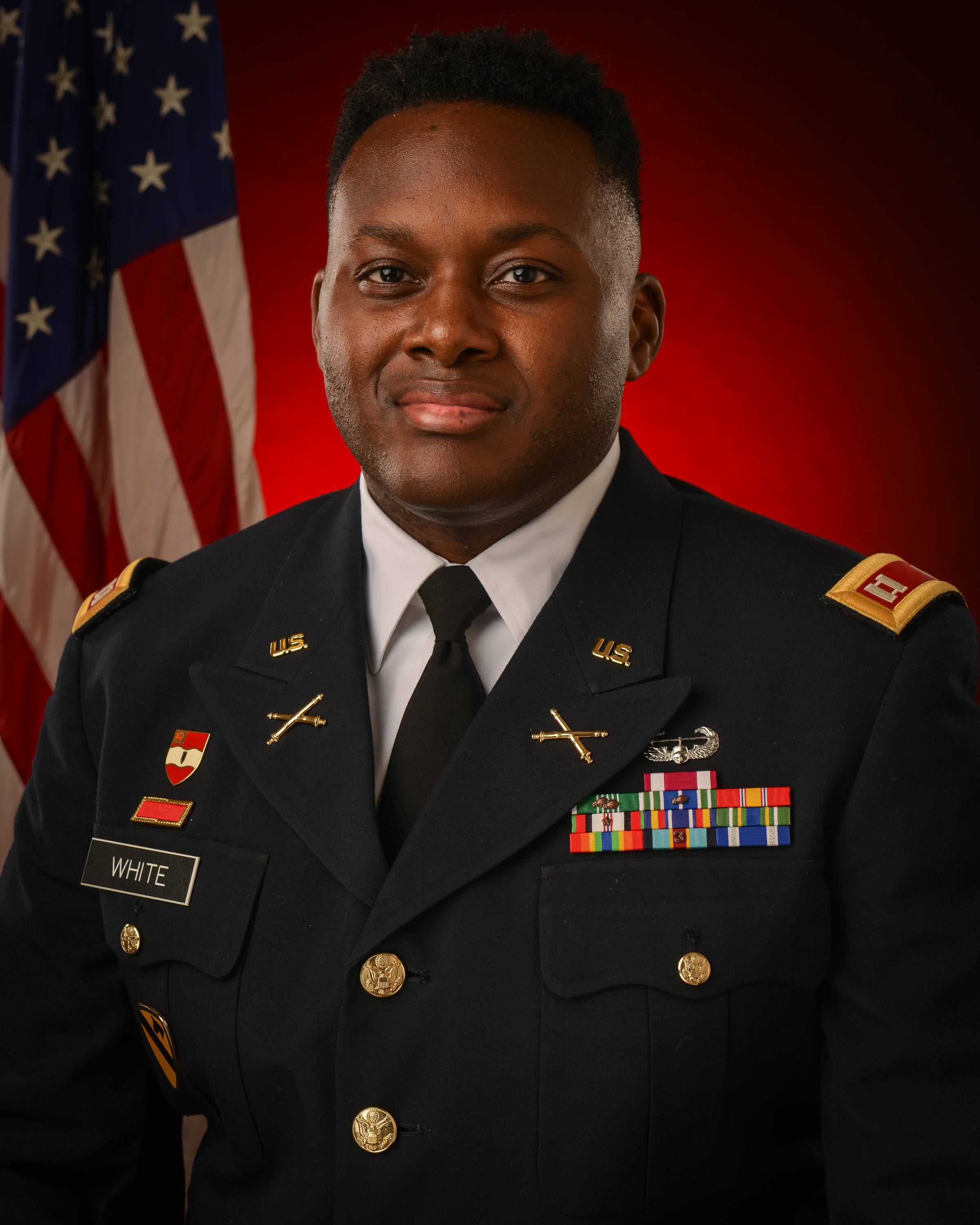 PERSONAL:
Captain Jacob "Trey" White III hails from Beaufort, South Carolina and was commissioned in May 2012 through the Reserve Officer Training Corps at Augusta State University as a Second Lieutenant of Field Artillery. Some of his hobbies are spending time with family, football, basketball, brazilian jiu-jitsu, and cooking. Captain White is married to the former Jessica Smith of Hinesville, GA and they have three children: Arianna (8), Laila (5), and Amir (1).
CIVILIAN EDUCATION:
Bachelor of Arts Degree in Political Science from Augusta State University (2012); Master of Arts in Management and Leadership from Webster University (2020).
MILITARY EDUATION:
Field Artillery Basic Officer Leaders Course, Field Artillery Captain's Career Course, Joint Operational Fires and Effects Course, Paladin Commander's Course, Security Cooperation Management Overseas Course, Company Commander and First Sergeant Course, Cadre Training Course, Equal Opportunity Leaders Course, Air Assault School, and Basic Combatives Course.
MILITARY ASSIGNMENTS:
Key assignments were Company Fire Support Officer, 1st Battalion, 8th Cavalry, 2nd ABCT, 1st Cavalry Division; Firing Battery Platoon Leader, Battalion Ammunition Officer, and Assistant S3 in 3rd Battalion, 82nd Field Artillery (later reorganized as 3rd Battalion, 16th Field Artillery), 2nd ABCT, 1st Cavalry Division; Battalion S3 at 95th Adjutant General Battalion, 434th Field Artillery BDE; Battery Commander, Charlie Battery, 1st Battalion, 40th Field Artillery, 434th Field Artillery Brigade; and Advisor, United States Military Training Mission, United States Central Command.
AWARDS AND DECORATIONS:
Captain White's awards and decorations include: Meritorious Service Medal, Army Commendation Medal (3rd award), Army Achievement Medal (2nd award), Afghanistan Campaign Medal (with campaign star), Korean Defense Service Medal, NATO Medal, Overseas Service Ribbon (Numeral 3), Meritorious Unit Award, and Air Assault Badge. Captain White has been bestowed with the Honorable Order of Saint Barbara.
DEPLOYMENTS:
Operation Enduring Freedom, Zabul and Herat Provinces, Afghanistan (2013-2014)
Korea Rotational Unit, Republic of Korea (2015-2016)
United States Training Mission to Saudi Arabia, Kingdom of Saudi Arabia (2019-2020)