Capturing the world from above?
Are you interested in embracing new technologies like drones, GPS, GIS, and scanners? Looking for a degree with multiple job opportunities? Want to work with leading applications? The demand for UAS graduates is HIGH!! The Bureau of Labor Statistics predicts that job availability in drone technology integrated with Geographic Information Systems (GIS) will grow "much faster" than average over the next ten years. The current median income for someone with this skill set is approximately $64,000 per year.
Troy University is the first university in Alabama to join the Federal Aviation Administration (FAA) Unmanned Aerial Systems College Training Initiative (UAS-CTI). Troy is among 70 other universities across the U.S. to join including Embry-Riddle, Georgia Tech, Kansas State, Middle Tennessee State and University of North Dakota. The purpose of the UAS-CTI is to prepare students for careers in all aspects of UAS. The FAA is collaborating with universities that will deliver up-to-date UAS training that matches the requirements of the National Airspace System (NAS) and help provide qualified applicants for careers involving UAS.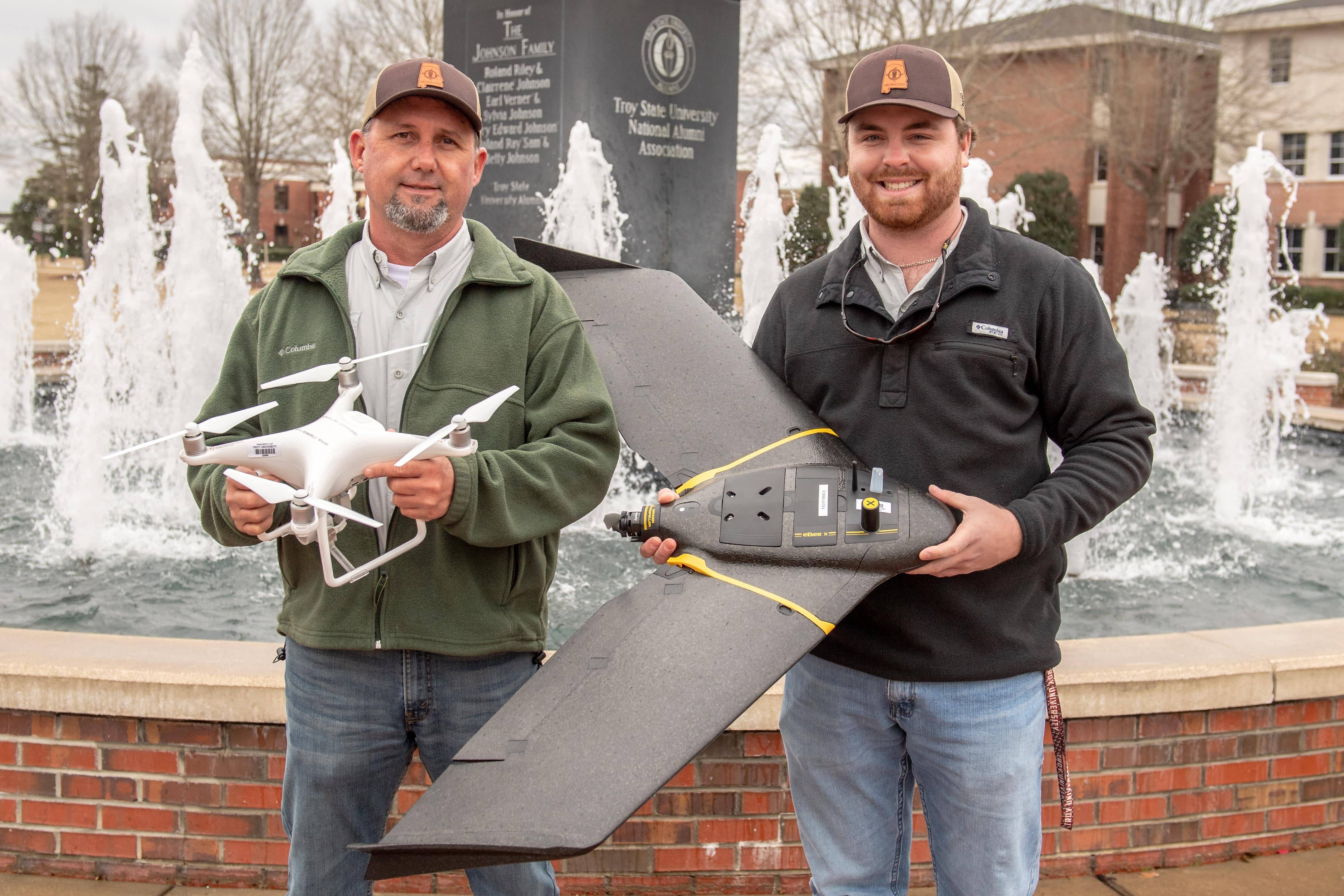 Degree Options
The Unmanned Aerial Systems (UAS) Minor complements many different majors in various colleges at Troy University.
Geographic Information Sciences (GIS) major
Resource and Technology Management major
Criminal Justice major
Anthropology major
Applied Computer Science major
Political Science major
Social Science major
Sociology major
History major
Mathematics major
Biology major
Chemistry major
Physics major
Hospitality, Sports and Tourism Management major
Global Business major
Multimedia Journalism major
Art Major
Graphic Design major
The UAS minor may also be combined with two other minors to earn a Bachelor's of Interdisciplinary Studies. Interdisciplinary Studies | Troy University. The UAS minor, GIS minor and a minor from a different department can be combined for an online degree that will prepare you to follow a career path you choose.
An Associate in General Education may also be earned with an emphasis in UAS. Associate of Science in General Education | Troy University
Job Opportunities in UAS
Public Health
Oil and gas exploration
Transportation Planning
Accident and Hot Spot Analysis
Environmental Impact Analysis
Geological Applications
Agricultural Applications
Census Survey
Crime Analysis
Community Planning
Renewable resource mapping
Urban planning
Site suitability mapping
Virtual Reality Mapping
Artificial Intelligence Mapping
Business Management
Tourism Information System
Power Company
Wild Fire Monitoring and Control
Weather Forecasting
Public Infrastructure Facilities Management and Inventory
Disaster Management and Mitigation
911
Precision Agriculture
Postal Services Route Management
Engineering
Marine and Land Surveying
Land Development
Related Careers
Anthropology
Biology
Business Marketing
Criminal Justice
Economics
Environmental Science
Geomatics and Surveying
History
Social Science
Sociology
Tourism
Emergency Management