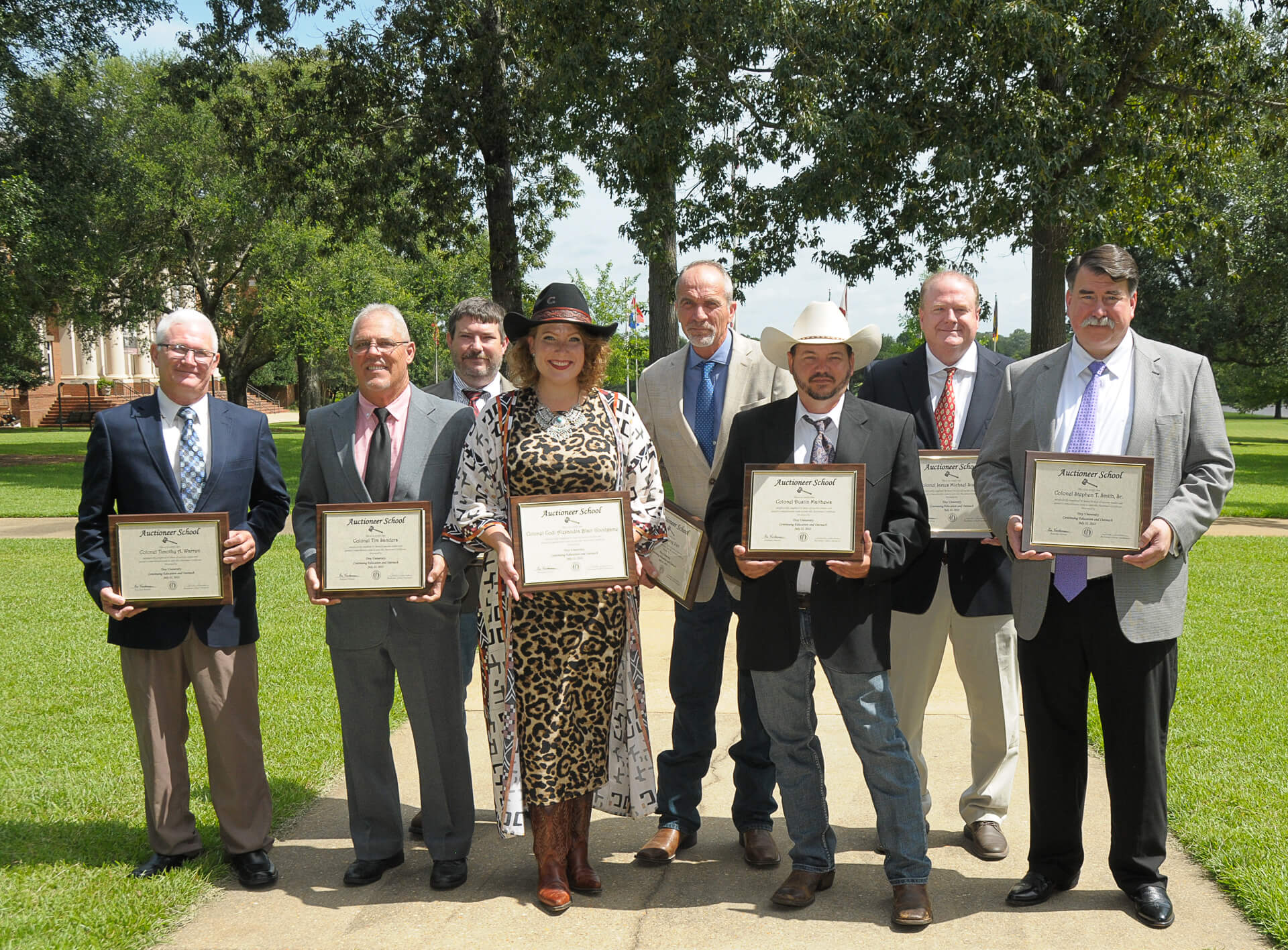 Auctioneer class of 2022
"Would recommend school to anyone who is wanting to learn the business." ---David L. Harris
Troy University's Continuing Education & Outreach office is proud to offer the oldest – and only – Auctioneer School in the State of Alabama. Auctioneering is a part of history and can be a very rewarding profession. The goal of our auctioneer school is to train good auctioneers and to promote high standards of ethics among auctioneers. During the school, each participant will develop a style of auctioneering that will be unique.
The school consists of 85 hours of auction instruction, as required by the Alabama State Board of Auctioneers, plus direct application exercises covering a wide range of topics including:
Auctioneering History and Ethics
Auction and Commercial Law
Uniform Commercial Code
Clerking and Cashiering
Advertising an Auction
Site Preparation and Restoration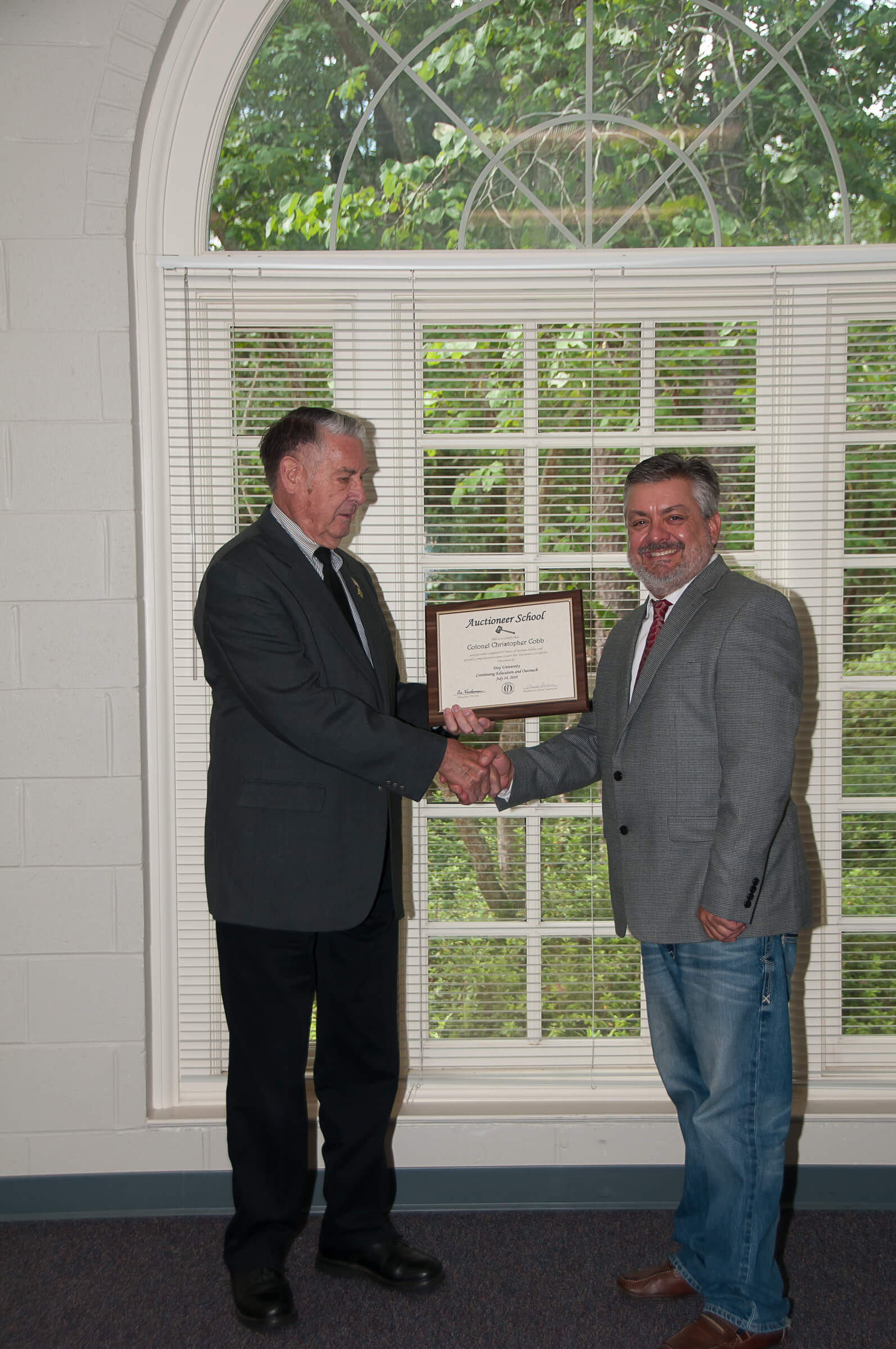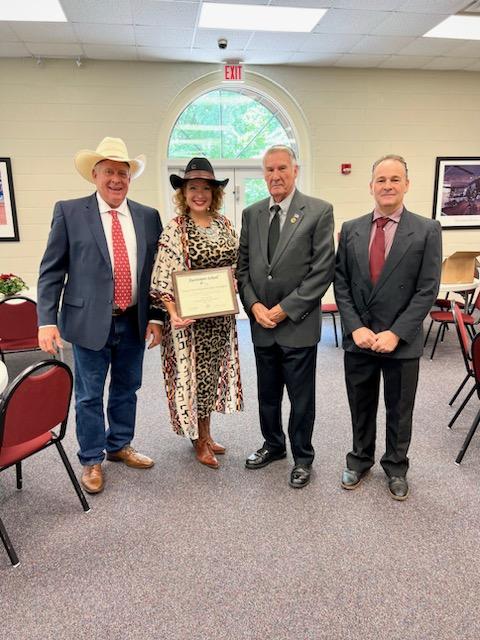 Participants will learn and receive information on the many different auction types from experienced auctioneers. The school is instructed by licensed professionals with a focus on quality in the area of auctioneering law and business.
Troy University Auctioneer School believes a valuable part of the experience is the opportunity to develop the auction chant. Much class time is spent practicing drills and verbal twisters. Participants will actually participate in conducting an auction which will be open to the general public.
In addition to attending classes, participants must successfully complete a comprehensive practical and written examination in order to graduate from Auctioneer School.
"I really enjoyed the teachers, staff and fellow students. I would highly recommend the program and campus. Well done!" ---Rebecca A.
Dates: Thursday, July 13, 2023 at 2:00 pm through Friday July 21, 2023, noon. Georgia residents will begin on Wednesday, July 12 at 3:00 pm.
Register online here or call the Continuing Education office at (334) 983-0005. Once you click to register, the next page will be a catalog of our courses. Scroll to the bottom, and then click the blue search button at the bottom of the page. Scroll down to BUS119, and add that section to your cart.
Course Fees: Tuition is $975*. Save $50 – Register and pay the full tuition by Monday, June 29, 2023 and pay $925. Upon receipt of registration and payment, students will receive an email which will include a tentative agenda and local hotel information. Students will receive course materials upon arrival on the first day of class.
Registrations received after Monday, June 29, 2023 will need to call the office, so we can make sure to have your materials ready.
Cancellation Policy: Course cancellation must be received, in writing, before the course begins in order to receive a refund. Once the course begins, refunds will not be granted. Send cancellation to: Continuing Education, P.O. Box 8368, Dothan, AL 36304 or email to continuinged@troy.edu.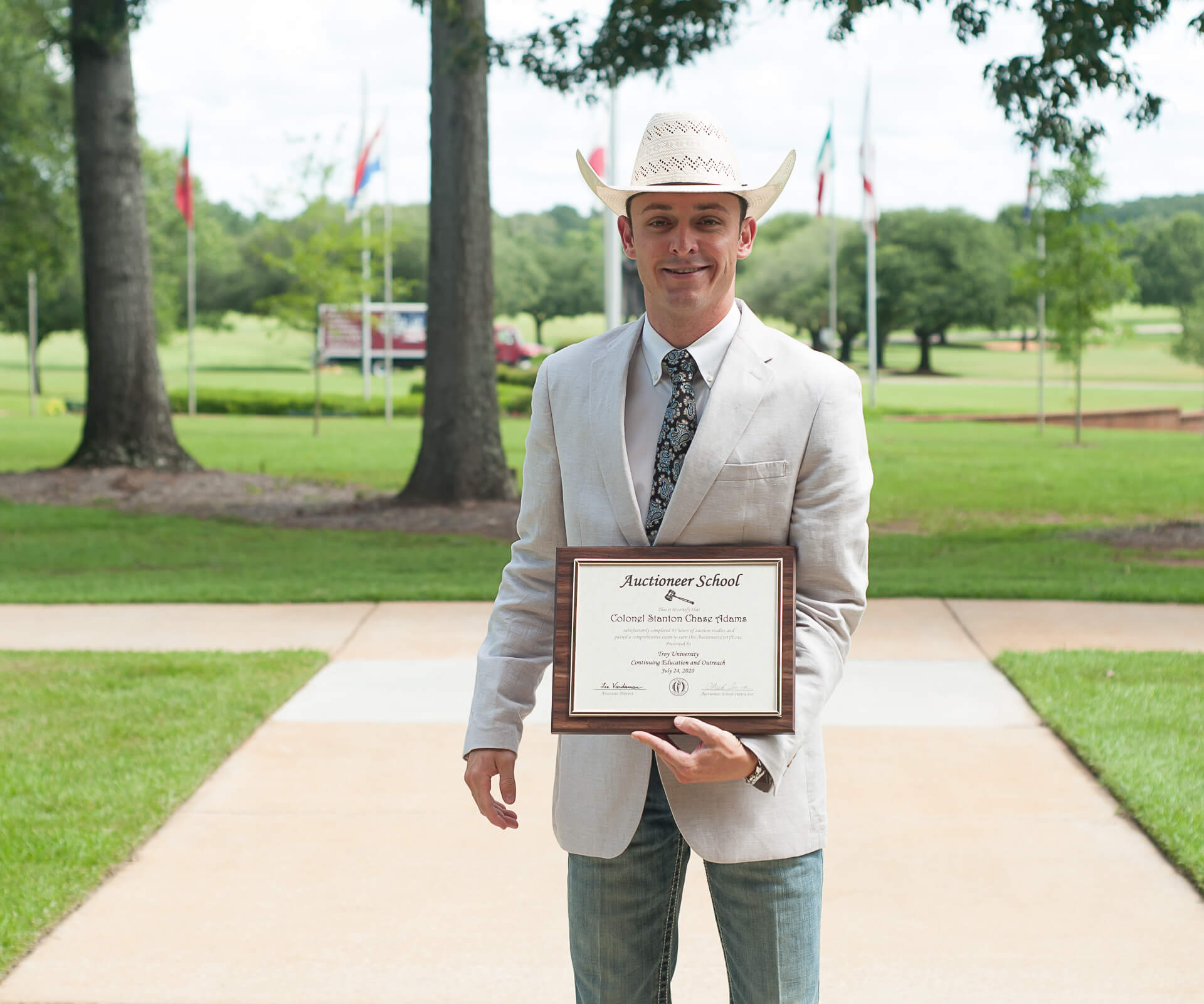 2023 Auctioneer Continuing Education Class
Alabama licensed auctioneers must earn six hours of continuing education. Other states requiring eight hours will stay an extra two hours to receive credit. Pre-registration is required. Call 334-983-0005 to ensure your place in class.
"Great experience and very helpful in my Auctioneer career. Teachers are great!"
Classes may be offered in various locations and will be posted soon. Please visit this website again for updates.
CE Course Date: Sunday, July 16, 2023, 8:00 am until 3:00 pm (For Georgia residents: 8:00 am until 5:00 pm)
Seminar Fee: $125*
*Course and seminar fees are subject to change without notice. Contact the Continuing Education & Outreach office for current pricing.