About our Community Health Care Worker Training Program
Troy University's Community Health Care Worker Training Program is funded by the Health Resources and Services Administration (HRSA) and aims to equip participants with the skillsets needed to provide effective community outreach and build trust within their communities.
Troy University has partnered with The Wellness Coalition in an effort to increase access to care, and assist individuals in prevention services, and recovery from the COVID-19 pandemic and other public health emergencies in underserved communities. These combined efforts are intended to advance public health, strengthen the public health workforce, reduce health disparities, and help underserved populations achieve health equity.
The Community Health Care Worker Apprenticeship Program gives employers the unique opportunity to offer jobs in their community with the ultimate goal of providing knowledge and retention of those service workers in your community.
Program Registration Announcement
Registration for the Community Health Worker Training Program is presently closed. We have received an overwhelming response from those interested in participating.
We expect to make decision notifications by mid-December 2023. Everyone will receive a reply to the email you provided in the application, letting you know if you were or were not selected for one of the upcoming training dates. Please be sure to check your spam email box around this time to be sure you don't miss our notification.
---
Please continue to monitor this site as we will post updates for upcoming training opportunities. You may also complete the "Interested in becoming a CHW?" contact form below to be placed on our notification list.
The CHW training program will be delivered online over a period of 12 weeks. The first 10 weeks will involve weekly modules that trainees will complete at their own pace. These modules will require anywhere from 8-12 hrs of time per week to complete all learning activities. The last 2 weeks of the program will provide students with a 60 hr internship experience.
This training opportunity is funded by HRSA and therefore trainees are eligible for stipends in the amount of $5,000 for successful completion of the 12-week training program. These funds will be awarded to participants in incremental amounts as training is completed. Stipend funds are for the purpose of supporting trainees in order to be successful. Funds are intended to reduce barriers such as child care expenses, travel expenses, training costs, technology needs, and etc.
Eligibility:
Hold a minimum of a high school diploma, GED, or equivalent;
Be a United States citizen or a foreign national having possession of a visa permitting permanent residence in the United States;
Resident of the state of Alabama – priority for trainees from underserved/vulnerable communities;
Willingness to complete the online training program in its entirety.
CHW Professional Development Opportunities
Are you a current Community Health Care Worker looking for professional development opportunities to expand your knowledge and skills. Troy University will also be planning future training and upskilling opportunities for CHWs. Please submit your interest to be placed on our notification list.
CHW's interested in professional development


Employers Interested in CHWs
Are you a community employer that may want to consider hiring a CHW or having a CHW complete an internship or apprenticeship with your agency? Troy University and TWC will be glad to meet and discuss this opportunity further. Please complete the interest form and a representative will contact you.
Employers interested in Community Health Workers
Benefits of becoming a registered apprenticeship employer:
Federal studies show 91% of apprentices remain with the employer who is training them.
You will have a direct impact on the community you serve.
Apprenticeships can help you create workers with the necessary skills for the job.
Apprentices get direct experience with your company.
Your company drives the work processes and standards apprentices must meet.
Learning in your facility ensures employees are familiar with equipment and processes used in your setting.
Shared benefit of employee growth and development into a career employee encourages positive culture and applications.
The mentorship associated with an apprenticeship program connects veteran workers directly with the next generation, minimizing the continuity gap between seasoned employees and junior ones.
Participating will give you tax credit benefits.
This project is supported by the Health Resources and Services Administration (HRSA) of the U.S. Department of Health and Human Services (HHS) as part of an award totaling $3 million. The contents are those of the author(s) and do not necessarily represent the official views of, nor an endorsement, by HRSA, HHS, or the U.S. Government.
New certificate course becomes state's first apprenticeship program for Community Health Workers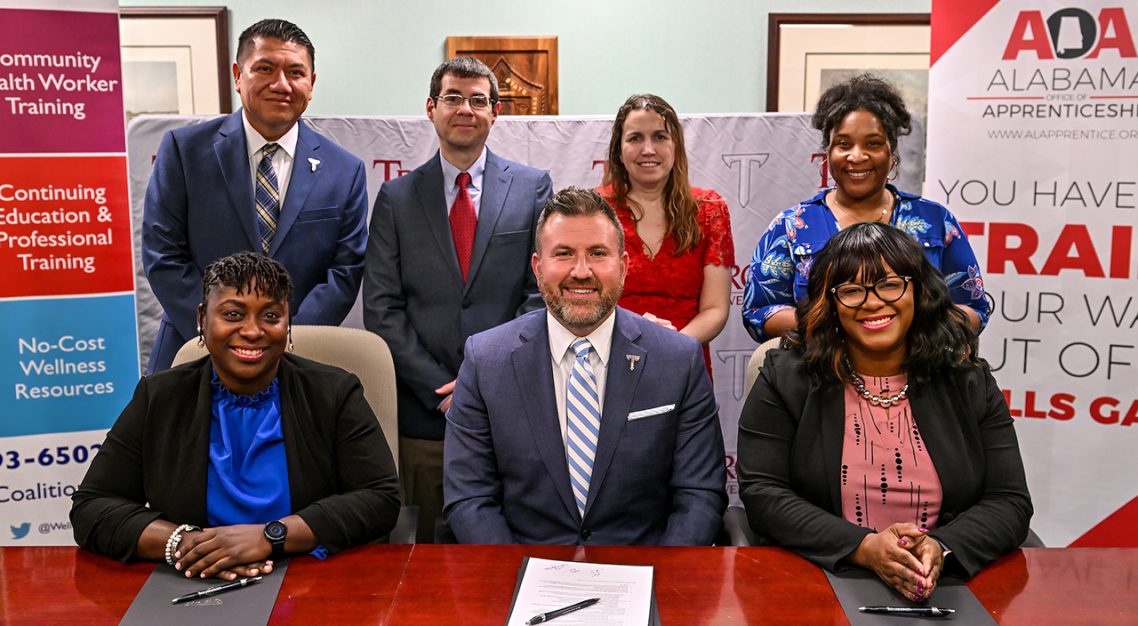 Federal grant will aid Troy University in training, placing Community Health Workers