Fall 2020 HSTM Newsletter
HSTM News
HSTM is now part of the Sorrell College of Business
Exciting things are always happening in the School of Hospitality, Sport, and Tourism Management. Whether that is a new event or a study abroad trip we are always evolving. We are immensely proud to have transitioned into the Sorrell College of Business this semester.
Dr. Judson C. Edwards, Dean of the Sorrell College of Business, expresses his enthusiasm for the transition.
"I am extremely happy to have the School of Hospitality, Sport, and Tourism Management (HSTM) relocate to the Sorrell College of Business at Troy University (Sorrell College). In my opinion, it offers several advantages in the short and long term for the Sorrell College and HSTM. First, it immediately provides a doctoral degree to our inventory of programs, which was not available in the Sorrell College before the relocation of HSTM. Second, there is a much closer relationship to the traditional business disciplines taught in the Sorrell College, such as marketing, economics, and management, to the HSTM course content and curriculum than disciplines housed in their former home, the College of Health and Human Services. Over time, I see the faculty within these business disciplines and HSTM faculty working more closely together to support one another both in terms of teaching and research. Finally, we are adding high-quality faculty and staff, hundreds of current students, and thousands of alumni in HSTM to the Sorrell College. Specifically to faculty additions, I am very pleased as to the teaching and research excellence demonstrated by HSTM faculty and falls directly in line or even exceeds our current high expectations of performance. Over time, I have no doubt this move will prove very successful and will raise the quality of all of our programs, which will graduate better prepared students and further enhance our academic reputation of the Sorrell College, both domestically and internationally."
HSTM Student Spotlight
Matthew Pisarski, HSTM - Sports Management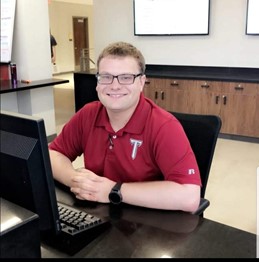 Matthew Pisarski is a first-year graduate student obtaining a Master of Sport Management. He graduated from Troy University with a Bachelor of Science in Hospitality, Sport, and Tourism Management and a minor in Recreation Management. Matthew chose to come to Troy University from Bowling Green, Ohio. He quickly became incredibly involved by being a member of Circle K where he held offices as the treasurer and president and a member of the Sport Management Club where he was president his senior year. Matthew also served on the planning committee for the Spring 2019 Senior Summit and the Christmas party. His dedication to his studies awarded him Sigma Alpha Phi National Honor Society and Omicron Delta Kappa National Honor Society. Matthew started graduate school on a Graduate Assistantship for facilities and aquatics for campus recreation and in his 3rd, semester achieved the position of Facilities and Aquatics Coordinator. We would like to congratulate Matthew on his recent job offer.
How has your education and coursework in the HSTM program helped prepare you for your career?
"The education and coursework in the HSTM program helped prepare me for my career by offering a very wide number of projects that correlates with the current happenings in the industry. The different presentations in each class have helped me better myself as a presenter and boosted my confidence in talking in front of large groups. The coursework in the different classes was not all geared towards one specific occupation, the professor did a great job of making sure the students were prepared with the information that they need to start a career. I chose recreation as my minor and the classes offered for it helped get me to the position I am in now. Each class that the School of HSTM offers I have used in my career. That ranges from the hospitality classes that hit on customer service to the sport classes that help shape the toolbox that I am using today. The senior seminar class was the most helpful class that I took at Troy because everything that you learned through the years at Troy you had to put together and create a business that had to be successful on paper."
Camryn May, HSTM - Hospitality Management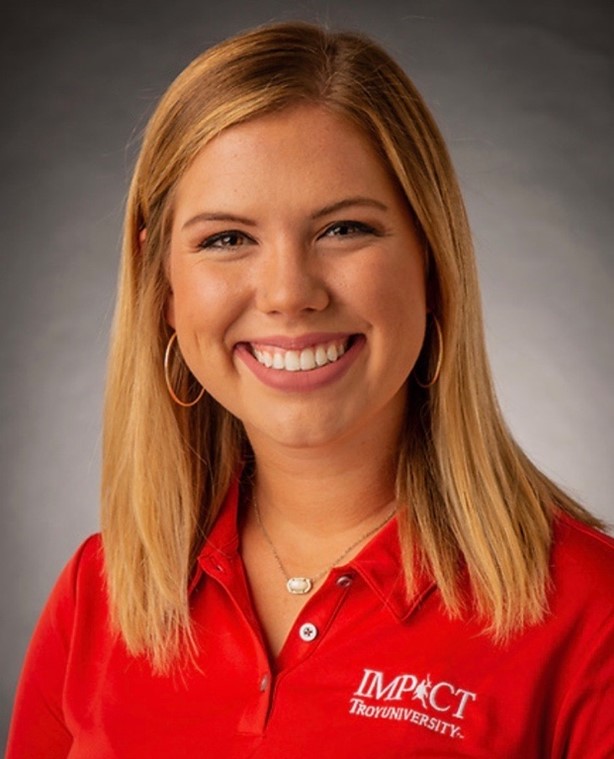 Camryn is a Senior, Hospitality Management Major with a minor in Event Management from Panama City, Florida. She dedicated a lot of her time to being involved in many different organizations on campus including Chi Omega Sorority, Freshmen Forum, Student Government Association, Hospitality and Tourism Club, and an IMPACT Leader. Camryn served as Treasurer and Philanthropy Chair for her sorority and was awarded SGA senator of the month. She also worked in the Office of Event Management at Troy University, Office of Student Involvement and Leadership, and Pike County Chamber of Commerce. During her busy schedule, she also was available to volunteer at Make a Wish, Tornado Relief, Troy University Athletics, School of HSTM Fall, Food, Fun, Ariton Parks and Recreation, Clean Up Troy, Operation Christmas Child, Hurricane Relief, and Backpack for Kids. A recent notable achievement for Camryn is being chosen for the Homecoming Top 5 for Senior Court. She will be graduating this semester and has accepted a job as an event coordinator with Kendall Hall, and Event Venue in Downtown Troy. She is very excited about staying in the city of Troy.
Edita Sklenska, HSTM - Tourism Management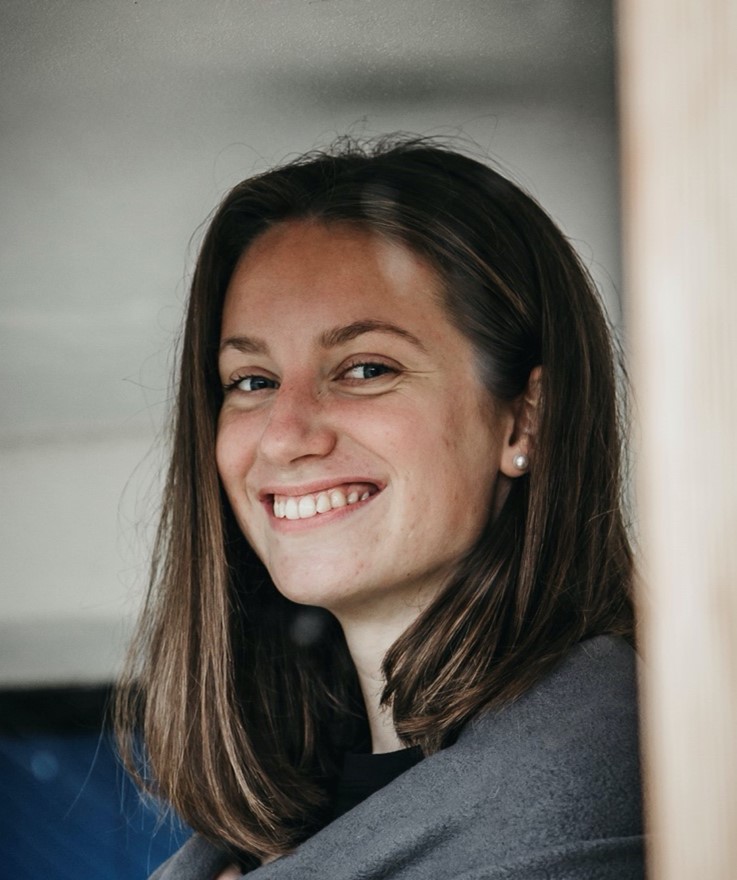 Edita is currently a junior in the school of HSTM with a concentration in Tourism and a minor in Global Business. She is an international student that came to Troy from Ivancice, Czech Republic, Europe. Edita is also a student-athlete on the track team.
What made you chose Troy University?
"The school provided many opportunities I was looking for academically. Along with a welcoming community of people to help me learn, grow, and become a better person."
Edita did volunteer work for four years in her country for Project "Bila Pastelka". Through that she assisted disabled people with their mobility needs and well-being, engaged in community events to increase awareness, performed housekeeping duties, and helped transfer patients. She has spent her summer breaks from Troy as a team leader and organizer for a children's camp. Her responsibilities were to ensure the overall coordination and quality of the program and plan and lead both the indoor and outdoor activities. Edita will soon be starting her internship working with The Greenbrier in West Virginia. We look forward to seeing all Edita accomplishes in her senior year at Troy.
HSTM Events
Namaste In Bed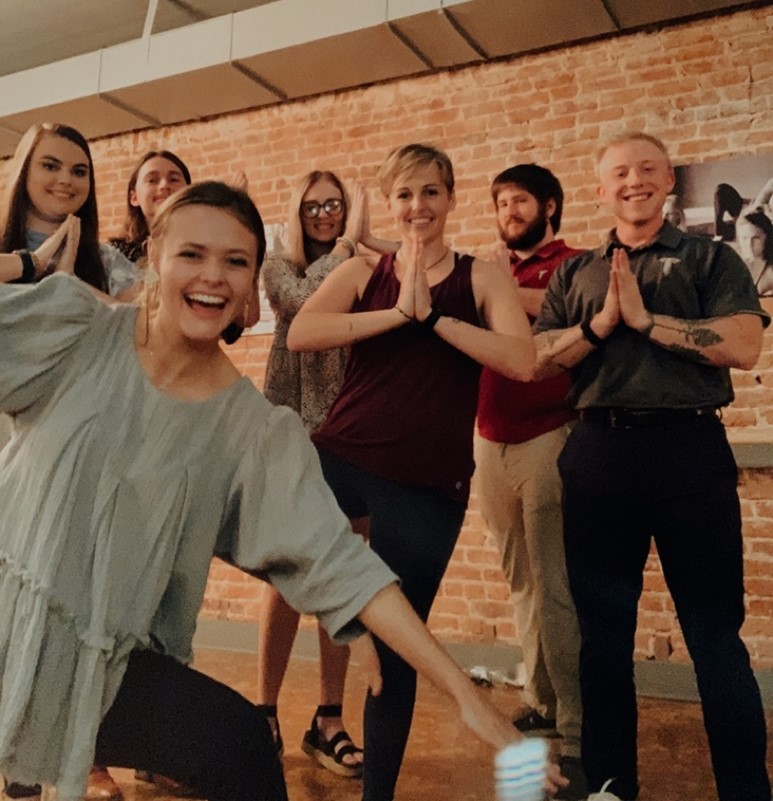 The School of Hospitality, Sport, and Tourism has made many events possible this semester. The first event was a Yoga class put on by the Festivals and Special Events Class. The mission of the event was to promote student health, increase involvement, and support local businesses. Troy University students were able to find rest by participating in the yoga session from their own home through Microsoft Teams. The event was led by Jessica Phillips, a yoga instructor at Neighborhood Barre. The class that hosted the event wanted to thank everyone who participated by giving $200 to the sorority with the highest attendance and two $25 gift cards through a raffle. The Namaste In Bed Yoga session had a great turnout.
HSTM Webinar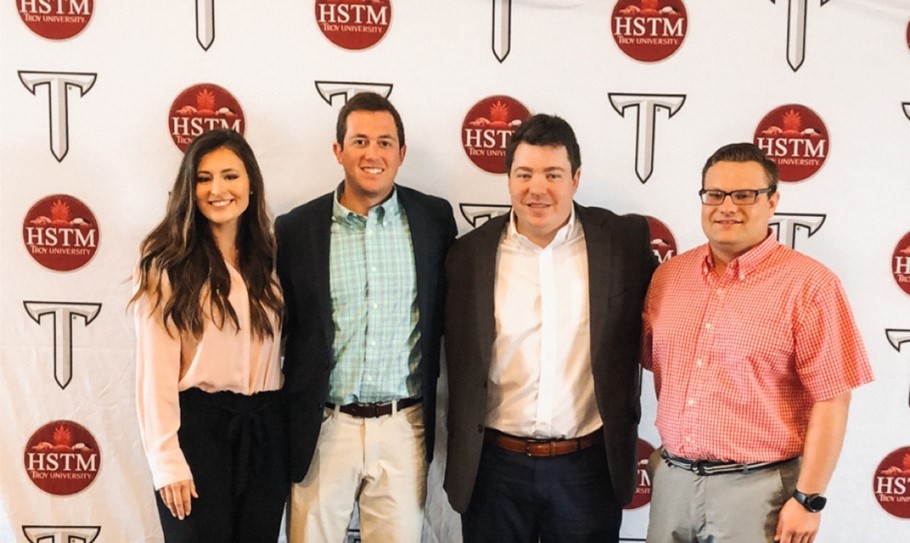 The Hospitality, Sport, and Tourism Webinar was another successful event put on under the supervision of Dr. Green and his committee from his Graduate Revenue Generation class. The webinar took place over 2 days and included 12 guest speakers from the hospitality, sport, and tourism field. The goal of this event was for HSTM undergraduate students to make connections and learn from professionals in their area of interest. We would like to thank all the students that participated and our guest speakers for their time.
T-Roy's Table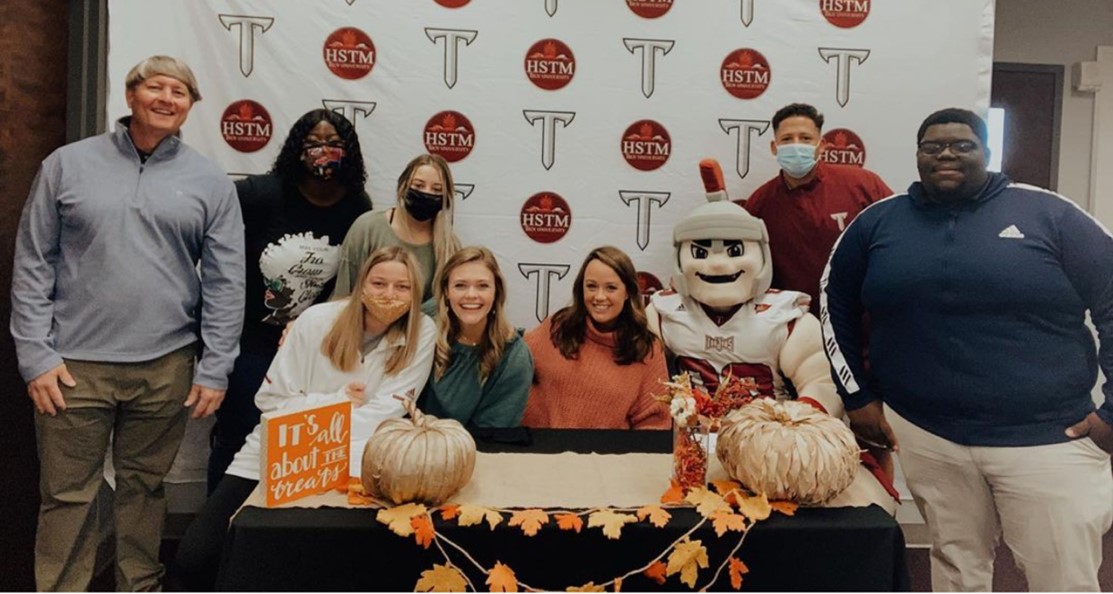 T-Roy's Table was a fun event put on by The Event Management and Operations Class. This event was to highlight a few local and out of town chefs and their favorite dishes to prepare. It also featured how to make a specialty fall cocktail. The chefs included Tanner, a Troy University Student, who showed us how to make an Apple Cider Cocktail, Dr. Dixon, the Director of the School of Hospitality, Sport, and Tourism Management, prepared a delicious sweet potato side dish, Chef Eric Huvar prepared a Cajun Butter Roasted Turkey, and Josie Boyd, a Troy University Alumni, baked Dairy-Free Pumpkin Muffins. T-Roy's Table was posted live on the HSTM Facebook and Instagram for all to enjoy with interactive trivia questions. The first to answer the trivia questions won a prize. Three prizes were awarded to Anna Cobb, Madalyn, and Jack Ryan. Thank you to everyone that helped make this event a huge success.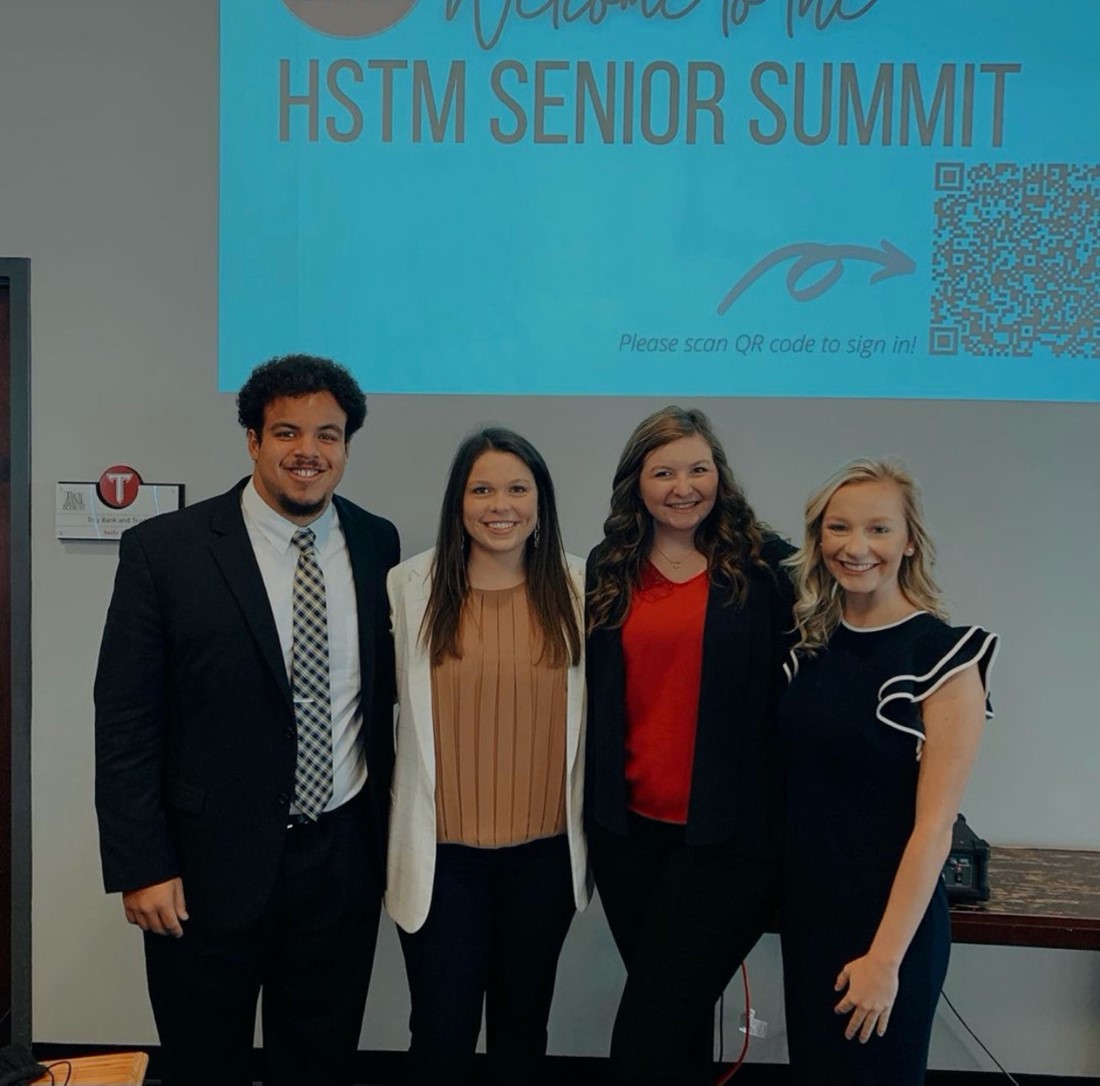 Members of the Pins and Pints Seminar group celebrating after winning best presentation at the event.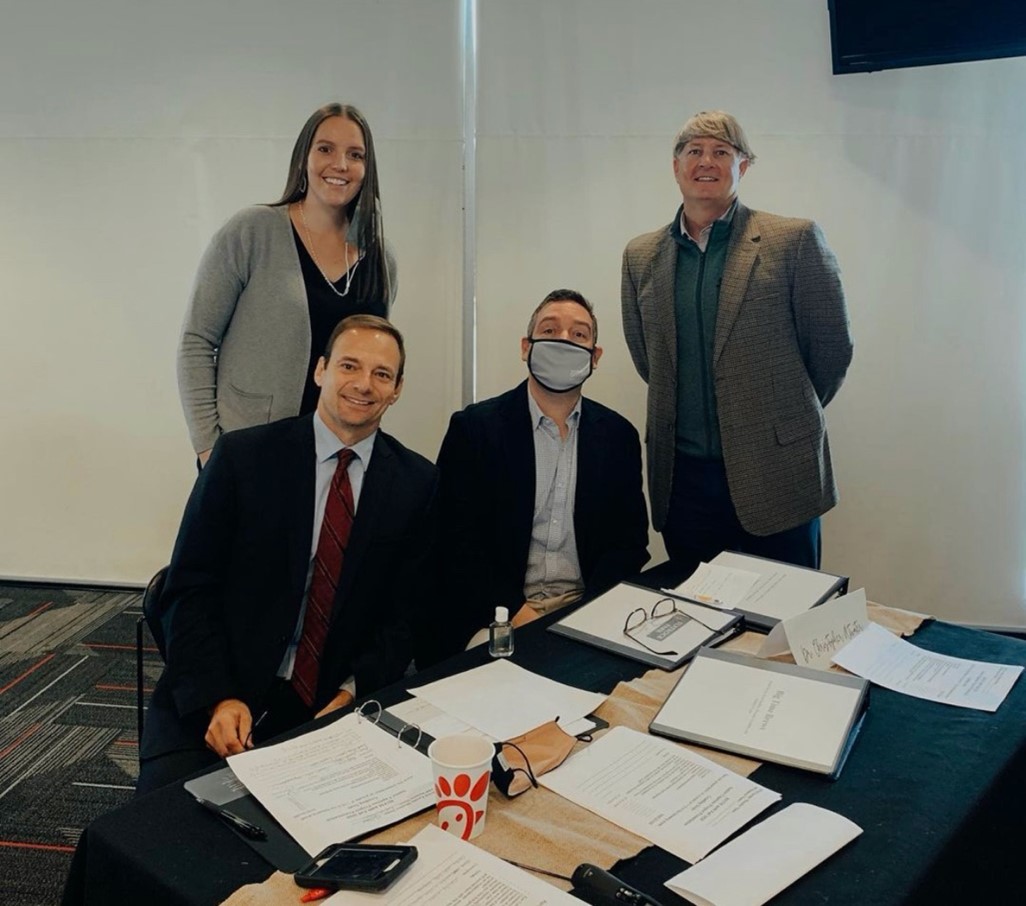 HSTM faculty members socializing between student presentations.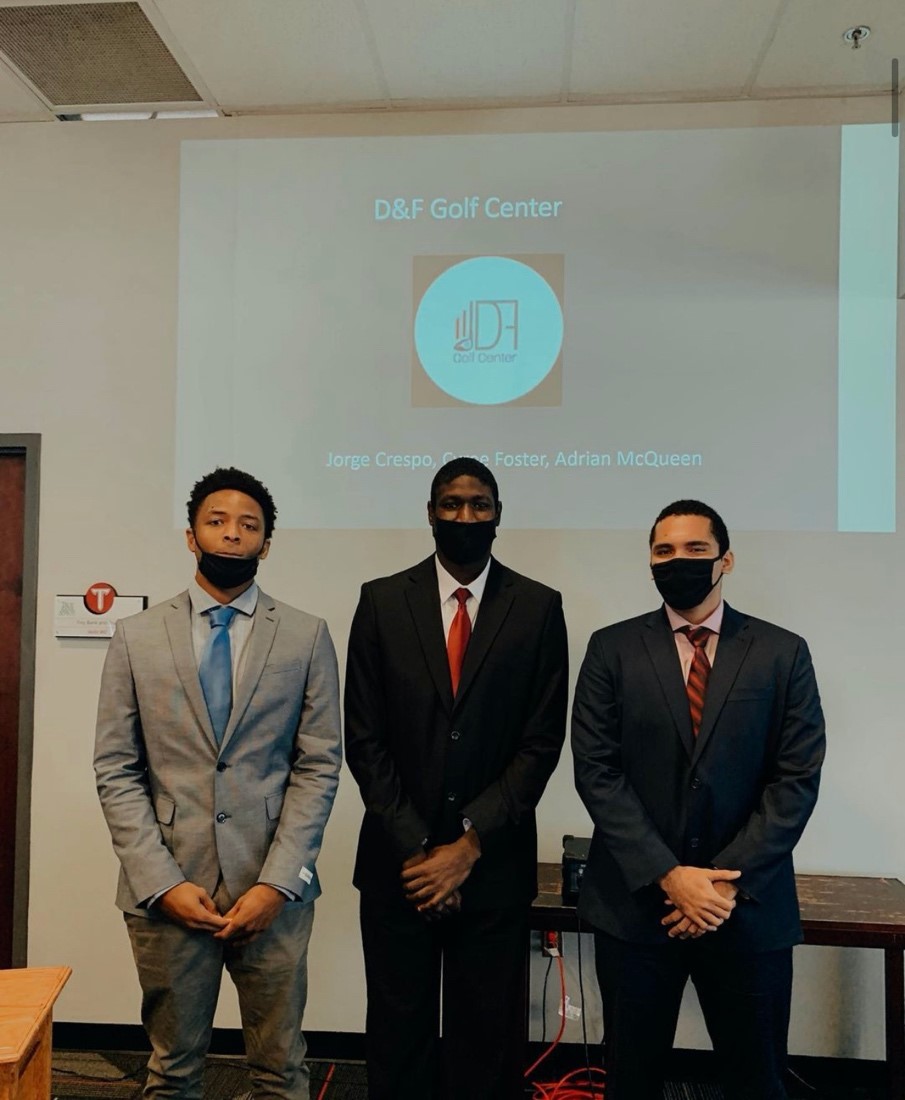 D&F Golf Center group members.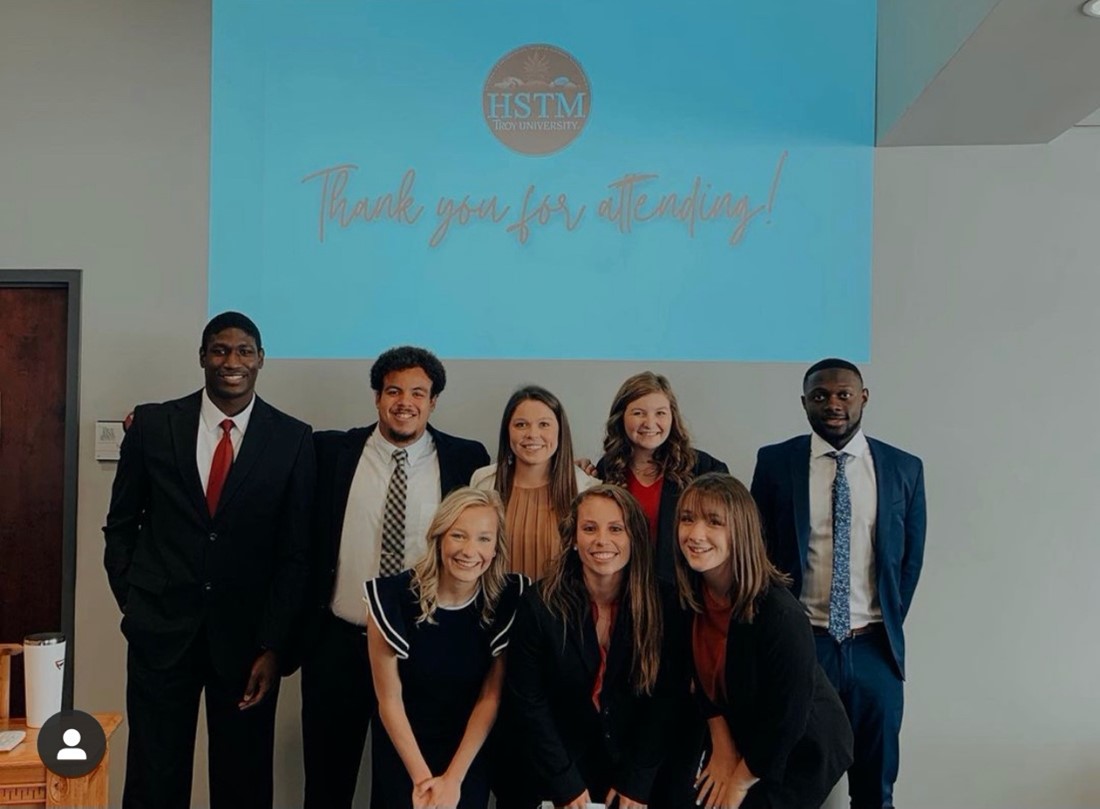 HSTM presenters celebrating after the event.
HSTM Summit
Each semester, the HSTM Summit is held to allow our senior students the opportunity to present their business plan projects. Their audience includes a panel of judges and their family and friends. This fall, there were four group presentations given. For this assignment, the students work persistently throughout the semester with HSTM faculty and business consultants to develop a business plan with components focusing on facilities, finances, and marketing. To conclude their presentation, they give an overall sales pitch asking the "investors" for support of their business based on the information they have presented. The floor is then opened for a Q&A session to make sure the teams are well prepared and understand their business plan fully. The creative business plans this semester included Pins and Pints, D&F Golf Center, Flat Rock Adventure Park, and Big Time Brews.
This is always a major event for the School of HSTM as all students are expected to attend, learn, and participate. The Event Planning and Operations class also is tasked with planning and setting up for the event. Congratulations to all the students who completed this class and are preparing for graduation. We are always proud and extremely impressed with HSTM students' projects.
Thanksgiving Party
In the Fall 2019 semester, the HSTM faculty and staff celebrated Thanksgiving at their first ever Thanksgiving party. The school of HSTM enjoyed a huge Thanksgiving feast brought by everyone that attended. They also played trivia and sang karaoke. The event was a fun time to take a break from the semester and celebrate the holiday.
Christmas Party
The HSTM Christmas Party was also a new event that took place in the Fall 2019 semester. All HSTM students and faculty were invited to attend the party. They celebrated the ending to a great semester with many fun activities that included playing Kahoot, dirty Santa, decorating gingerbread houses, a photo booth, and singing karaoke. The students and faculty also participated in a food competition won by David Sims, enjoyed a hot chocolate bar, and presented senior seminar awards. This event was held on the 4th floor of stadium towers that was decked out in Christmas decorations.
2020 Internship Placements:
Wesley Abrams: Chicken Salad Chick
Troy, AL
Kyle Bateman: Troy Athletics - Baseball
Troy, AL
Justin Byrd: Troy Athletics - Marketing
Troy, AL
Alexandros Caldwell: Country Club of Fairfax
Fairfax, VA

Jeremiah Cartwright: Troy Athletics - Football
Troy, AL
Austin Esch: Auburn University at Montgomery Athletics
Montgomery, AL
Devonte Franklin: Troy Athletics - Men's Basketball
Troy, AL
Yuyang Guan: The Yihe Garden Hotel
Nanjing, China

Brianna Haisten: Bailey Consulting Services
Huntsville, AL

Megan Heier: Troy University - Student Athlete Services
Troy, AL

Daniel Hilton: Cornerstone Church
Gadsden, AL

Kelly Horne: National Pro Fastpitch
Hermitage, TN
Yunbo Jin: Regal Kangbo Hotel
Shandong, China
Carter Kauffman: Nashville Predators
Nashville, TN
Zhiqi Li: Regent Chongqing
Chongqing, China
Camryn May: Troy University - Event Management
Troy, AL

Andre Nowak: Hurricane Junior Golf Tour
Winter Garden, FL

Somer Roberson: M. Elizabeth Events
Birmingham, AL
Titus Sizemore: Troy Athletics - Track and Field
Montgomery, AL
Sage Wallace: Troy Athletics - Football
Troy, AL
Brian White: Troy Athletics - Communications
Troy, AL
Marquis White: Crunch Fitness
Campbellton, FL

Nan Zhou: Chongqing Lijing Hotel
Chongqing, China

Kexin Zhu: Hilton Hotel Management Branch of Wuhan
Wuhan, China
HSTM Alumni Spotlight
Leanne Propst, Project Coordinator - Yamaha Motor Corporation USA, Motorsports Division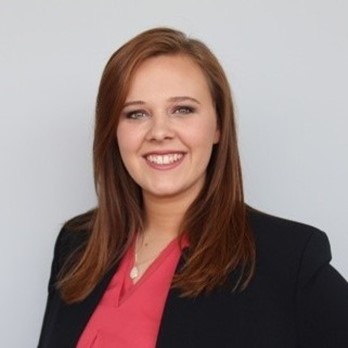 Leanne's education and experience prepared her for many roles in the sports industry. She is currently a Project Coordinator for Yamaha Motor Corporation USA in the Motorsports division. Here Leanne assists with various projects internally and communications as well as external events and marketing. Prior to this position, she was a program manager for an event staffing agency where she managed over $3M in client programs. Prior to that Leanne was at an experiential marketing agency as an account coordinator where she was able to work with now Truist Park regularly through the client's partnership and execute various events around Super Bowl 53 in Atlanta. Leanne graduated from Troy University with a Bachelors in Sports Management and a minor in event management. While at Troy, she was a member of Alpha Delta Pi and a member of the T-Squad, marketing and promoting for the athletics department. Leanne also worked as an intern for the event management department on campus as well as the athletics department. Last, she volunteered as a championship's assistant for the SunBelt conference in the spring of 2017.
Ella Rutledge, Event Coordinator - Bay Gourmet Catering & Crown Hall Events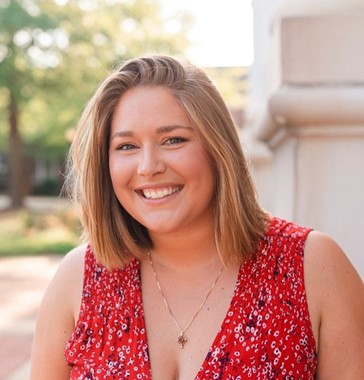 Ella graduated in May 2020 with a concentration in Hospitality & a minor in Event Management. She grew up in Destin, FL, which had a huge impact on her choosing the school of HSTM. Living in a resort town for most of her life, Ella grew an appreciation for people in the service industry that really make the magic happen. She wanted to be the one planning the party and scheduling the parade. Ella chose Troy because it was only 2.5 hours from Destin and the campus is so beautiful. While at Troy she was a member of Alpha Delta Pi sorority and when she was not doing something class or sorority related, she bartended. Ella completed an internship at Fernwood Country Club in McComb, MS where she shadowed the general manager and did a practicum with Pike County Chamber of Commerce. Ella states "my favorite college memory is definitely the study abroad trip I took to Switzerland, Germany & Austria with the Dr. Dixon's (both of them lol)". She currently resides in Mobile, AL, and works as an Event Coordinator for Bay Gourmet Catering & Crown Hall Events. Ella mostly coordinates wedding receptions, cocktail parties, and offsite catering. She looks forward to the next few months as Mardi Gras is approaching and her venue has a few balls booked.
How has your education and coursework in the HSTM program helped prepare you for your future career path?
"The most beneficial thing that the HSTM program does differently would be having more projects than just tests. I feel way more prepared for real life scenarios because of that. Also being required to work in the community. I think it holds us to a higher standard when your coursework is taken outside of just the classroom. I think we as HSTM students are more comfortable talking with professionals due to the exposure we've had with community service, senior seminar, doing interview projects, etc."
Where are the HSTM Alumni now?
Cameron Christopher (2019): Get Engaged Media - Account Manager
Atlanta, GA
Peyton Loyless (2019): City of Douglasville - Tourism Program Coordinator
Douglasville, GA
Matthew Powers (2019): Fayette County Parks and Rec - Athletic Coordinator
Fayette County, GA
Percy Richards, Jr. (2019): Troy Athletics Ticket Office - Graduate Assistant of Development
Troy, AL
Michael Stopak (2019): Nantahala Outdoor Center - Guest Service Lead
Bryson City, NC
Jacob Williams (2019): Montgomery Biscuits - Group Sales Associate
Montgomery, AL
If you are an HSTM graduate, please let us know of your career updates by emailing Morgan Sims at masims@troy.edu.