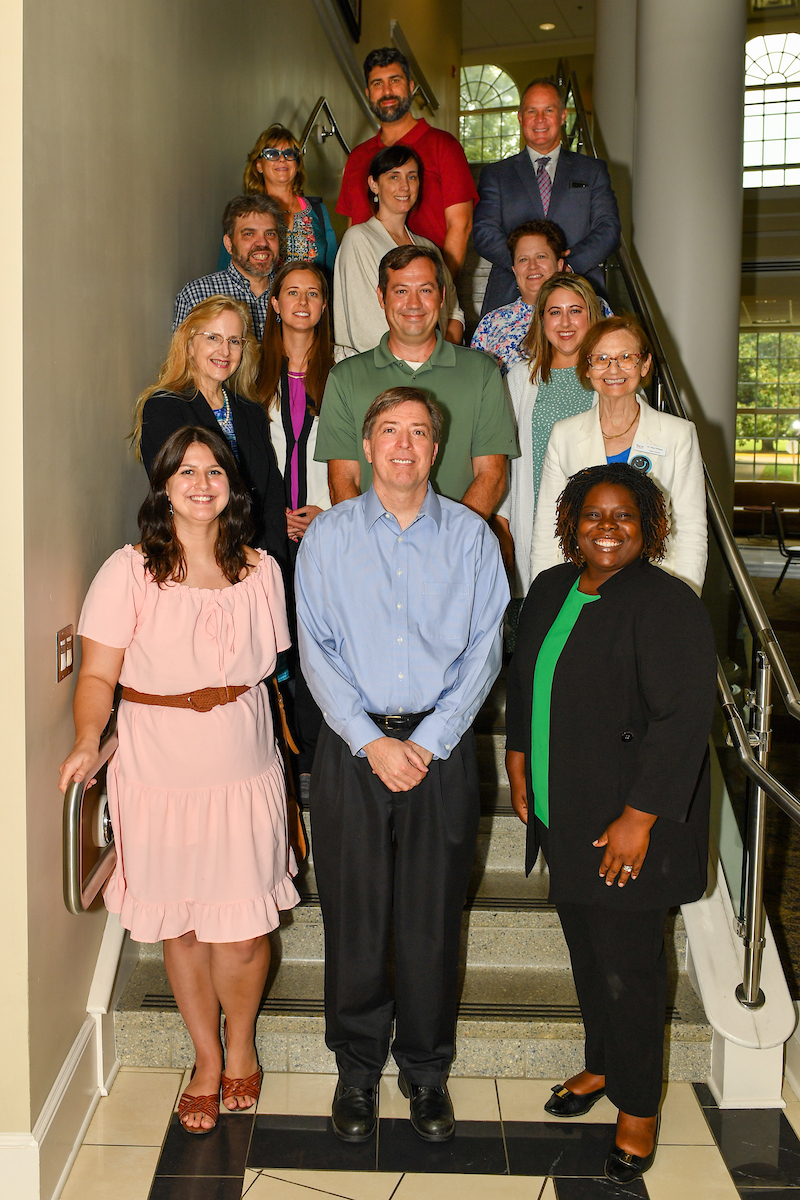 Chair's Welcome
Welcome to the Department of Psychology! Psychology is one of the most popular majors at Troy University with well over 1000 students pursuing degrees in the program. Students may seek an associate's, bachelor's degree or master's in our program or choose to minor in Psychology. Our Program is offered at all four Alabama campuses (Dothan, Montgomery, Phenix City and Troy), and entirely online. As such, students can earn their degree in the classroom, online, or a combination of both from our highly-educated and trained faculty.
The Department of Psychology consists of faculty with expertise and professional experience in many fields, including:
Addictions
Abnormal Psychology
Applied Behavior Analysis
Clinical Psychology
Developmental Psychology
Educational Psychology
Experimental Psychology
Industrial/Organizational Psychology
School Psychology.
Along with our major, our program offers three minors in differing fields of Psychology. We have a general psychology minor for those students in other majors. For Psychology students we have two additional minors:
Applied Behavior Analysis - This minor will expose students to behavioral treatments used to improve the lives of those with autism and other developmental disorders; , which will assist those students looking to move into Master's Programs in Applied Behavior Analysis or different psychology fields
Substance Addiction Education - This minor will help academically prepare students seeking a position in the professional field of Addictions.


Mission Statement
The Department of Psychology provides a student-centered education in both theoretical and applied aspects of psychology that prepares students for graduate studies or direct entry into the workforce as well as life in general. Students will encounter an experienced and highly trained faculty, small class sizes, and an interesting curriculum covering most areas in psychology. Students are taught critical thinking, effective communication, ethical behaviors, and to value diversity in human nature.


Clubs and Organizations
Applied Behavior Analysis (ABA) Club (Troy Campus)
Applied Behavior Analysis (ABA) is a scientific discipline concerned with designing and implementing techniques based on learning principles to change behavior of social significance. In other words, ABA uses our understanding of how behavior works and applies it to real world situations. You can teach someone academic skills, daily living skills, social skills, etc. ABA is often used for children or adults with developmental disabilities and autism. However, ABA can be used to change socially-relevant behavior in a wide range of contexts (e.g., health, sports, organizations, education). Troy University offers an ABA minor with eighteen credit hours, including Practicum classes, during which students gain direct experience in ABA assessment and interventions. The ABA Club is open to all majors and minors.
Faculty Advisor: Dr. Barbara Metzger
Email: metzgerb@troy.edu
Hawkins Hall 374
Troy, AL
Twitter: @troyuniversityaba
Psychology Club (Troy Campus)
The Psychology Club located on the Troy Campus strives to teach students about the field of psychology through fun interactive meetings and events that center around psychological issues. Each year the psychology club chooses an organization to fund-raise for, which helps us better connect with the community. Past organizations the club has donated to include: Troy's Boys and Girls' home, The Magnolia Home located in Troy, and Magic Moments (a children's wish granting charity). The club is open to all students on the Troy campus regardless of major.
Faculty Advisor: Michael McCormick
Email: psychologyclub@troy.edu
Psi Lambda (Phenix City Campus)
Psi Lambda is a service-learning psychology club that encourages students to become leaders through community volunteerism, participation in charity fund-raising events like the United Way, and through excellence in research scholarship to advance the scientific discipline of psychology. Membership includes students majoring in psychology and, also, any students inducted into the Psi Chi International Honor Society of Psychology who maintain a 3.0 grade point average who have completed 9 hours at Troy University.
Psi Lambda Psychology Club Advisor: Dr. Judy Van Doorn
1510 Whitewater Avenue, Suite 402-E
Phenix City, AL 36869
334-448-5189
Troy University Psi Chi Chapter
Psi Chi, The International Honor Society in Psychology, is the largest student psychological organization with more than three-quarters of a million members. Click here to learn about the many benefits of membership in the honor society. The Troy University Psi Chi chapter is open to all undergraduate psychology majors who meet the academic requirements for membership. The chapter welcomes applications from psychology majors twice per year (fall and spring).
Psi Chi Chapter Advisor: Dr. Kristen A. Rost
330 Whitley Hall (Montgomery Campus)
334-241-5492